Hello, sweet Fabanistas. The weekend approaches, and for us, it's going to be a busy one!
Luau, Baby!
There's still time to get tickets for the CHOC Ambassador Luau this Saturday night. There will be food, fun, Disney characters and hula lessons – and much, much more!
Click here to buy tickets and/or make a donation to CHOC
CHOC Walk in (or Sleep out) of the Parks
The big event takes place Sunday morning, October 11! Get up bright and early, or sleep in, it doesn't matter so long as you raise money for the kids at Children's Hospital of Orange County! (But you see cooler stuff when you walk).
Register as an Individual ($65 minimum)
Register as a Sleeping Bear ($65 minimum)
Take a Trip Back in Time
The walk is finished well before lunch time, giving you plenty of time to put your feet up or take a nap so you'll be fresh as a daisy for the 4PM showing of Charles Phoenix:Anaheimland – Celebrating the Magic Kingdom Inside and Out, a wondrous slide show through time to celebrate the oh-so-colorful (no, seriously) history of Anaheim before and after Disneyland. You'll also be giving back to Disneyland's home: the show benefits the Anaheim High School Alumni Association and the Anaheim Halloween Parade, a decades-long community tradition. It's a funny, affectionate look back; I love Charles' shows. He's been featured at several D23 EXPOs as well.
Trader Sam's Second Annual Mahaloween Luau
I'm going! Are you going! After the swell Tahitian Terrace shindig, I have high hopes for this event. I think we're all going to have a ball. I hope King Kukulele comes back! There are still some places left!
And hey – I hear they ARE going to have that same fantastic halau back from the Tahitian party, including the fire dancer!
Book your spirited adventure HERE!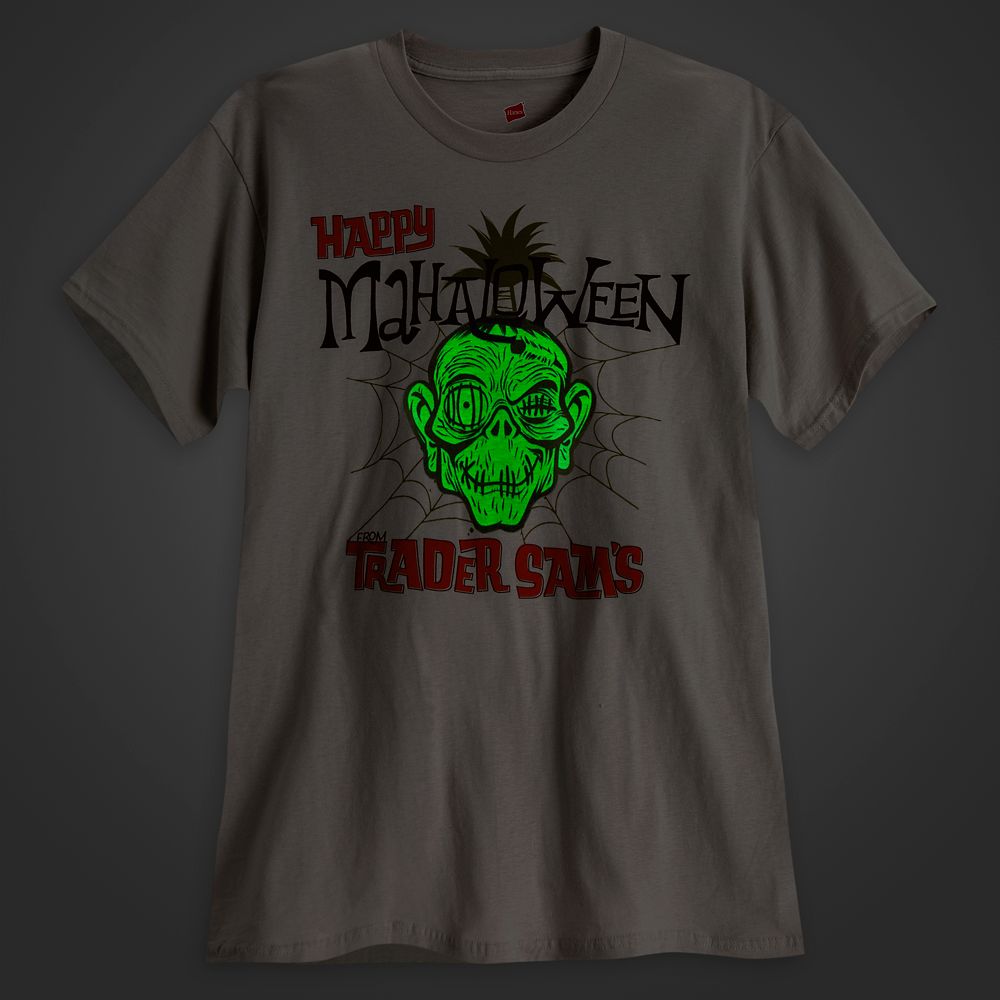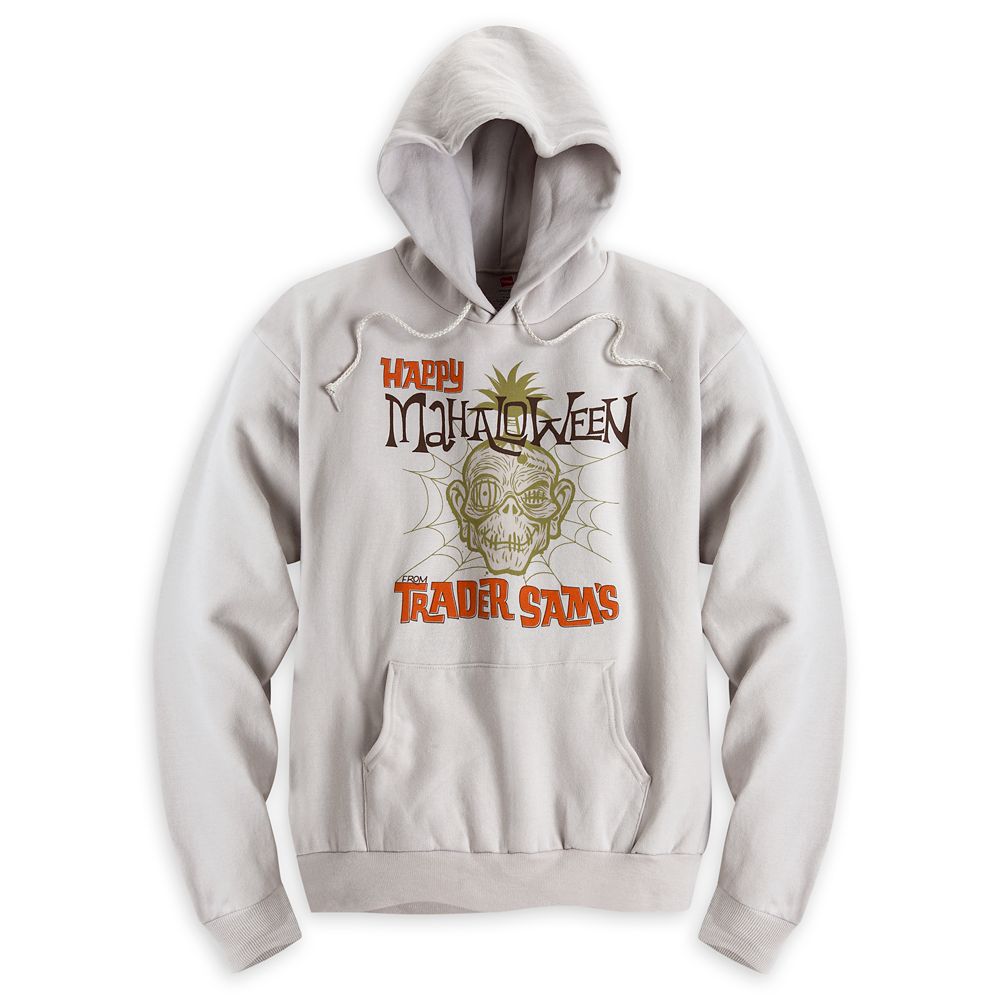 The Disney Store has this T-shirt and  hoodie, buy one, get the second 50% off. 
Even if you can't make it to the luau, you can wear the t-shirt! I hear there's also another shirt in the works, a little more formal. More on that later. I'd like a fez, please. Dear Steven and Michelle, please get with Fez-O-Rama and make this happen. And take my moolah. Love, Fabby.
Invasion!!!
No rest for the wicked! Less than two weeks later, we are on the ground in Orlando and having some fun!
Oct 22 – Splitsville Dinner (and bowling if you'd like). Contact Teresa Cory for details and to be added to reservation.
Oct 23 – 11am – Epcot Food and Wine Festival Sip & Nibble
Details on the Facebook page HERE
Get your Sip and Nibble Tickets HERE
Oct 24 – Disney's Animal Kingdom Day 
Oct 25 – Magic Kingdom Meetup
Noon Meet at the Partners Statue
Late lunch at Chef Mickey's (contact Teresa Cory for reservations)
Meet at 4pm for Mickey's Not So Scary Halloween Party
Hallowishes Dessert Party (contact Teresa Cory for reservations)
Oct 26-30, 2015 All aboard the Disney Dream on its first trip following a big refurbishment. We'll be Visiting Nassau and Disney's private Island Castaway Cay!
For more information on the WDW Invasion & Caribbean cruise, please email Fairy Godmother Travel or call 832-284-4002. Thanks to the MiceChat Round-Up Crew!
A Beautiful Body of Work
We'll have a week to recover, but sometimes, you get the post-vacation blues. How about something beautiful, creative, imaginative and wonderful to cheer us all up? Did you see Maggie Parr's designs for the carousel in Shanghai? Wow! I love her art in the first place, but that just blew me away. My hubby Noe is a nut for Fantasia. When he and his orchestra (he plays cello) finally got to perform The Sorcerer's Apprentice, it was a dream come true…and it was really, really impressive. I was there. Usually, he just wants to rest after a concert, but he was on cloud nine after that one. You'll be on cloud nine, too, if you go see this one-day pop-up show in Burbank the evening of November 7 from 6PM to 9PM.
You can also do your Christmas shopping while you're there, if you're the coolest person on earth.
GIF Your Friends a Message
I know, that was terrible.
But this is pretty cool:
Marvel Assembles in Disney Gif

Marvel fans have a new super power of their own – the ability to share moments from some of their favorite Marvel movies and shows with friends via Disney Gif, a mobile keyboard extension that lets users easily send gifs and emojis via text, email, and other messaging and social platforms. 

Disney Gif debuted a new Marvel category, which features key scenes from Marvel's Avengers: Age of Ultron as well as Marvel's Ant-Man. Dozens of Marvel gifs are live now, letting fans select and send clips of Iron Man, Captain America, Black Widow, Thor, Ant-Man, Hawkeye, Hulk, and Nick Fury. The category will regularly refresh with new gifs, so check back for more fun options! 

Containing hundreds of hand-selected gifs and emojis, Disney Gif also gives users access to some of their favorite moments from Disney's "Frozen," "Star Wars", ABC's "Scandal," Disney•Pixar's "Inside Out," classic Disney films, and much more. Whether they're feeling happy, sassy, or villainous, fans can find the perfect gif in the keyboard's curated galleries, which are categorized by emotions as well as by films and shows. Keep an eye out for new additions in the featured and recently added sections. The trending category will also give users a pulse for Disney Gif's most popular content.
Bottom center, Sydney. Bottom center!
Wanna Cheap Thrill?
Knott's is offering a discount on Scary Farm tickets for select nights, but only if you buy them online.
For tickets as low as $29.99 October 8-11.
MOANA Finds Her Voice!
Oh, this is just adorable!
Today, it was announced that 14-Year-Old Native Hawaiian Newcomer Auli'i Cravalho has been cast as the Voice of Film's Title Character.
With Maui, the Trickster (Dwayne "The Rock" Johnson)
I'm putting up the whole release, because it has so much new information.
BURBANK, Calif. (Oct. 7, 2015) – Walt Disney Animation Studios' "Moana" has found her voice following a worldwide search to cast the film's title character. Native Hawaiian newcomer Auli'i Cravalho, 14, joins Dwayne Johnson in the big-screen adventure about a spirited and fearless teenager named Moana (voice of Cravalho) who, with help from demi-god Maui (voice of Johnson), sets out on a daring mission to prove herself a master wayfinder.

While hundreds of talented people from across the Pacific Islands were eager to try out for the role, Cravalho set her sights firmly on her sophomore year of high school. "I didn't think I would have a chance," she said. "When I was little, I used to dance around the house singing at the top of my lungs. In my mind, that was performing and I loved the feeling of it. But I never imagined being in a Disney movie, being Moana—representing my culture in that way."

Fortunately, the film's Hawai'i casting director remembered an unrelated audition Cravalho did as part of an a cappella group, which had been submitted for a talent showcase for a charity. Feeling the local teen would be perfect for the Disney role, she tracked her and her mother down and invited Cravalho to audition. "Her audition was fantastic – she was such a raw talent," said producer Osnat Shurer. "Auli'i was among a small number of girls we brought back for a second round of auditions. Then we flew her and her mom over to audition at our studios in Burbank."

"Auli'i demonstrated a certain fearlessness in her auditions and call-backs," said director John Musker. "She has a playful, mischievous wit. She can project vulnerability, she doesn't seem intimidated at all by the challenges ahead, and her Polynesian background has helped shape her connection to family, hard work and music. These are all qualities she shares with Moana."

"Moana is a vibrant, tenacious 16-year-old growing up on an island where voyaging is forbidden," added director Ron Clements. "But Moana has been drawn to the ocean since she can remember and is desperate to find out what's beyond the confines of her island." 

Cravalho has already started recording for the role.

"Moana" sails into U.S. theaters on Nov. 23, 2016.

ABOUT THE MOVIE

Three thousand years ago, the greatest sailors in the world voyaged across the vast South Pacific, discovering the many islands of Oceania. But then, for a millennium, their voyages stopped – and no one today knows why. From Walt Disney Animation Studios comes "Moana," a sweeping, CG-animated adventure about a spirited teenager who sails out on a daring mission to prove herself a master wayfinder and fulfill her ancestors' unfinished quest. During her journey, Moana (voice of Auli'i Cravalho) meets the once-mighty demi-god Maui (voice of Dwayne Johnson), and together, they traverse the open ocean on an action-packed voyage, encountering enormous fiery creatures and impossible odds. Directed by the renowned filmmaking team of Ron Clements and John Musker ("The Little Mermaid," "Aladdin," "The Princess & the Frog"), and produced by Osnat Shurer ("Lifted," "One Man Band"), "Moana" sails into U.S. theaters on Nov. 23, 2016.

Like 'Moana' on Facebook! https://www.facebook.com/disneymoana
 New Good Trailer!
The new trailer for The Good Dinosaur is up! And yes, little child, wherever you are, there ARE "T-Rexseses" in it!
Thanks to everyone for their news, views and occasional schmooze. It was great spending time in Walt's Park today with an old friend I've never seen before. If you have anything newsworthy, or have a question or just want to say "HI FAB!!!!" I'm on Twitter, on Facebook, and also available at [email protected]
If you want to help support Fab News, click on one of the banners below. Thanks!