Howdy folks, I've got some great news for you from down on the Farm. This week, Knott's announced an unprecedented restoration and refurbishment of a huge portion of the park in honor of Ghost Town's 75th Anniversary.  This will include the full renovation of Knott's Chicken Dinner Restaurant, the construction of an all-new Ghost Town stage, an all-new interactive game ("Ghost Town Alive"), and the full refurbishment of the classic wooden coaster, Ghostrider. All of this news came hot on the heels of a hugely successful haunt season. They are hardly wasting time on the farm, basking in success, they are also in the middle of rapidly changing the park over from Halloween frights into Christmas cheer.
Ghost Town 75th
Knott's is investing a ton of money and time into doing right by the history of this wonderful park.  They renovated the classic Timber Mountain Log Ride and Calico Mine Ride, now they are not only renovating the wooden Ghostrider coaster, but they are fully refurbishing and remodeling Knott's Chicken Dinner Restaurant, building a new stage in Calico Square, and introducing a new game, designed to fully immerse visitors in the old west. That's an ambitious agenda for a park on a budget, we are certainly encouraged by Knott's new found respect for its past!
Chicken Dinner Restaurant
In what is a welcome turn for the fans of Knott's heritage, they have decided to completely renovate the venerated Knott's Chicken Dinner Restaurant. While still open now, the facility will close on January 4th and reopen sometime in late Spring 2016.
Harkening back to the original concepts that Cordelia Knott had for the eatery, the project will refresh and preserve the "tea room" dining room and bring cosmetic and thematic upgrades throughout the restaurant's other dining areas. Everything from the restaurant's four main dining rooms and two banquet rooms, to all of the furniture, flooring, lighting, and décor will be renovated. The large dining room to the right of the main entrance will be remodeled with a look inspired by Mrs. Knott's kitchen pantry, as the room will be adorned with a potbelly stove and nods to Cordelia's home kitchen, evoking themes of warmth, family, and togetherness. The main dining room, accessible from the courtyard entrance, will be divided into two smaller dining rooms, with a theme inspired by farmhouse motifs.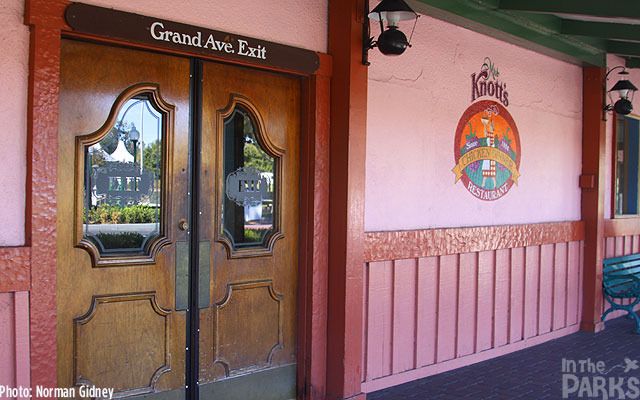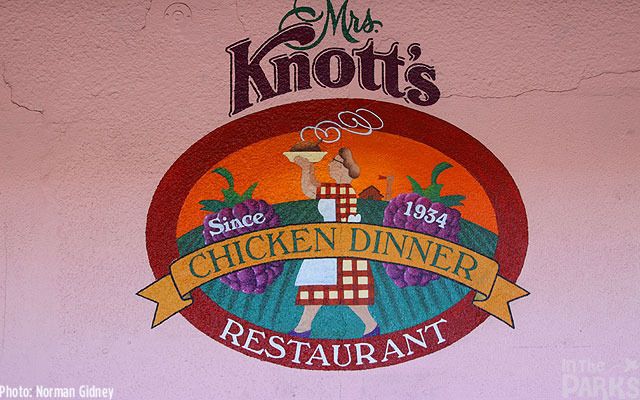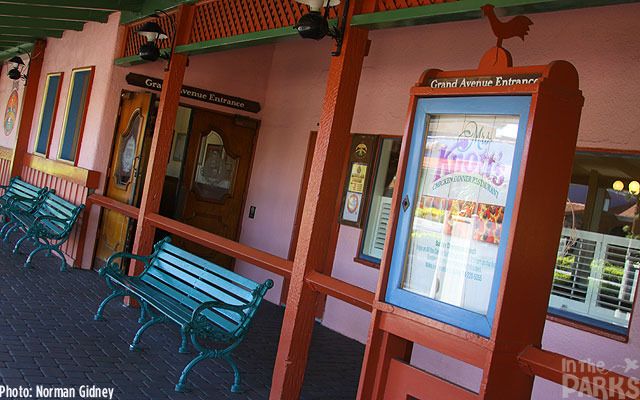 The restaurant will feature a new welcoming lobby area where diners who provide a cell phone number will be sent a text message when their table is ready, allowing more time and flexibility to explore the Knott's Marketplace or to grab a drink around the restaurant's new full service bar, which will replace the restaurant's Garden Room.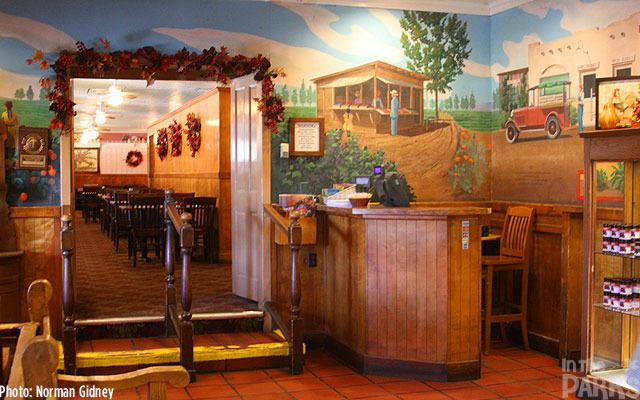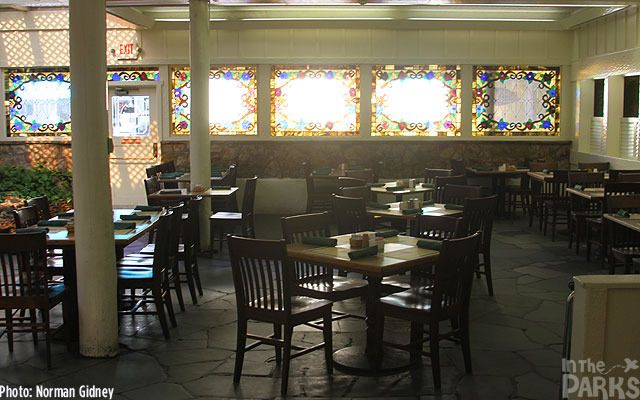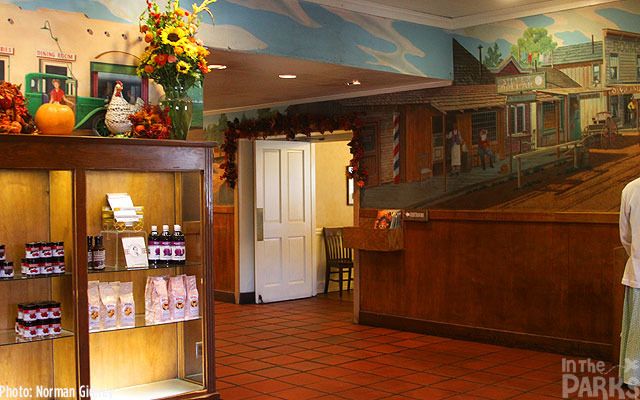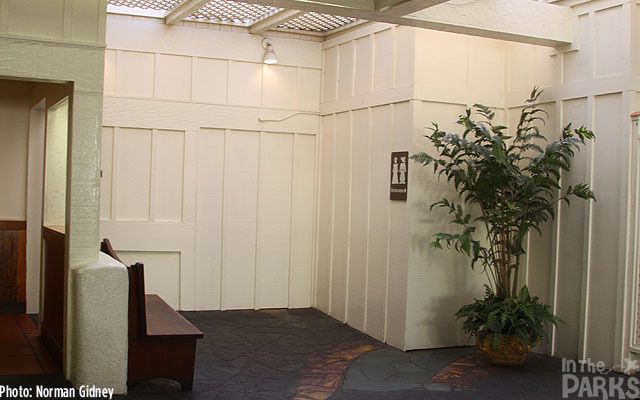 For the first time, a new outdoor seating area on the restaurant's north side will allow guests to dine al fresco with beautiful and unique views of the MarketPlace fountain, the theme park's Ghost Town, and the newly restored GhostRider roller coaster.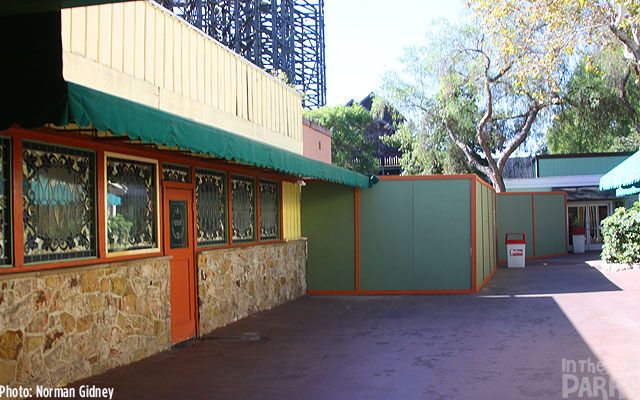 Ghost Town Alive
According to Knott's, the centerpiece of the summer 2016 celebration is the interactive entertainment experience, Ghost Town Alive!, which immerses guests in new stories and adventures in the familiar town of Calico. Ghost Town Alive! will allow guests young and young at heart to live the west through inventive new ways to interact with characters and environments as each day, a different story will unfold throughout all of Ghost Town.. Guests will play an active role in shaping the events of the day.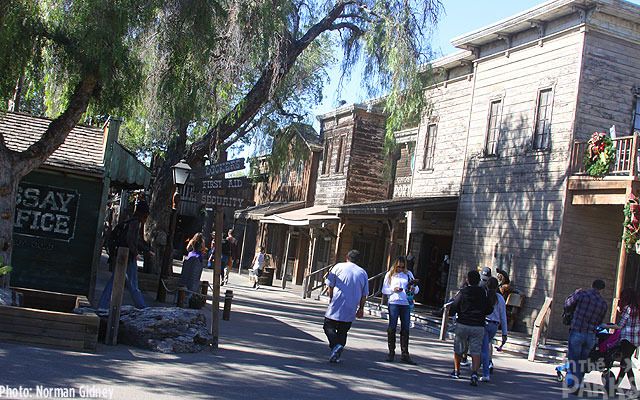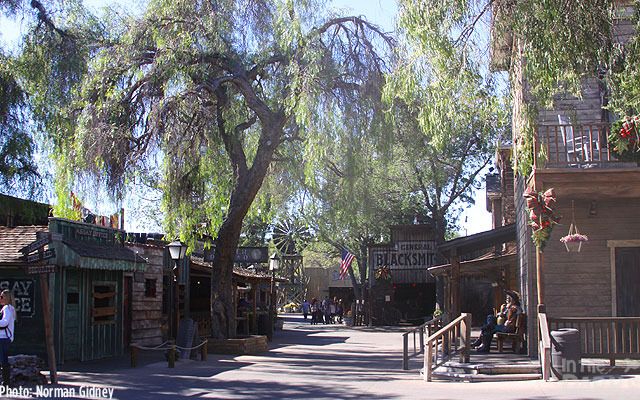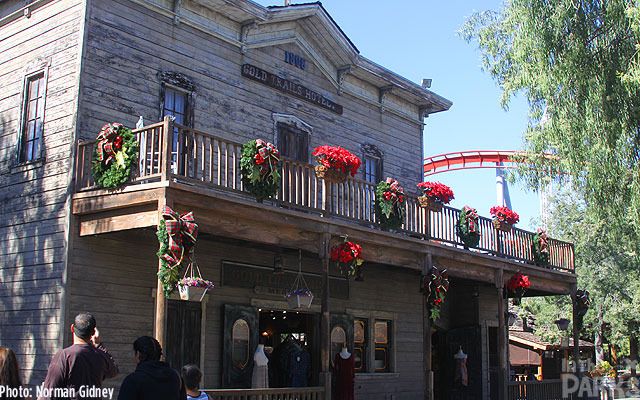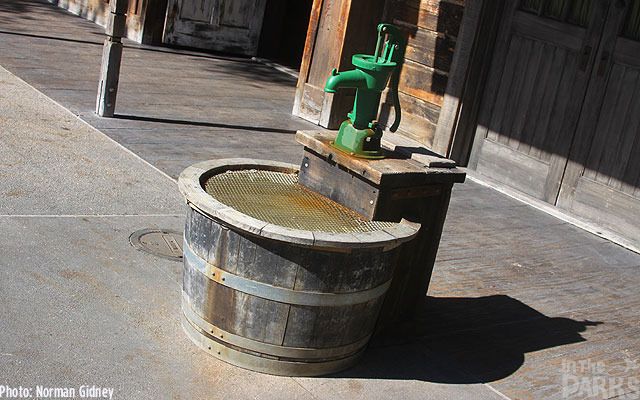 Ghost Town Stage
Construction is underway on a new Calico Stage, which will open across the train tracks from its current location, in the area Screamin' Swing formerly occupied. The stage, themed after an old abandoned mine, will feature an all-new show for summer 2016. Below are current construction pics.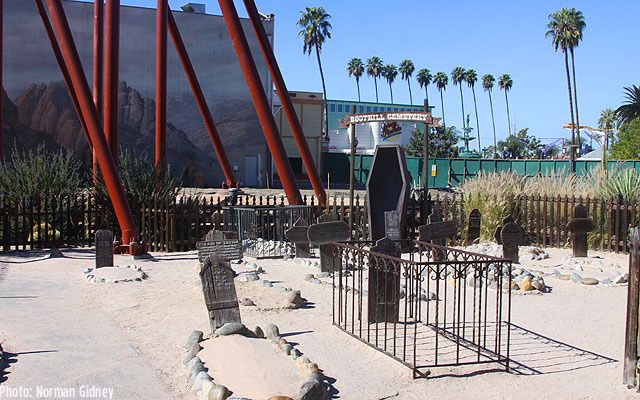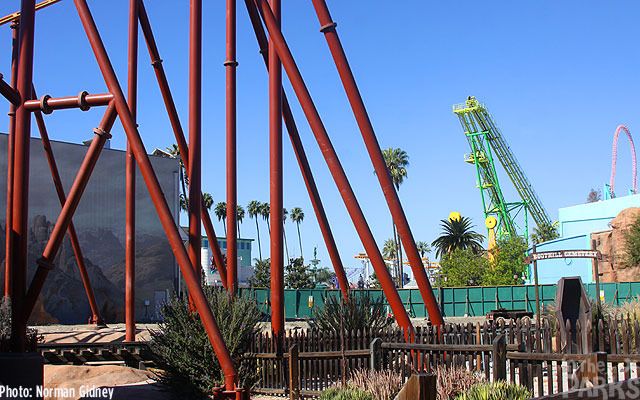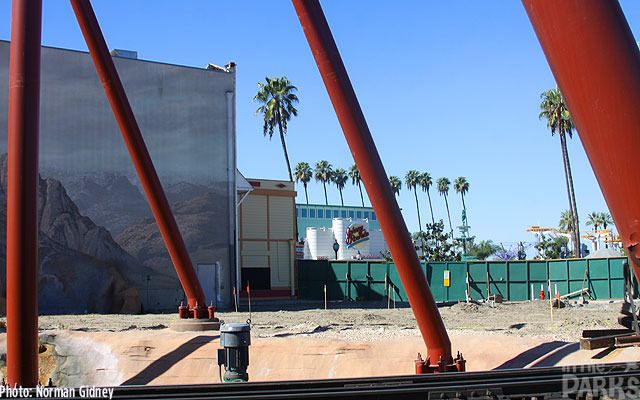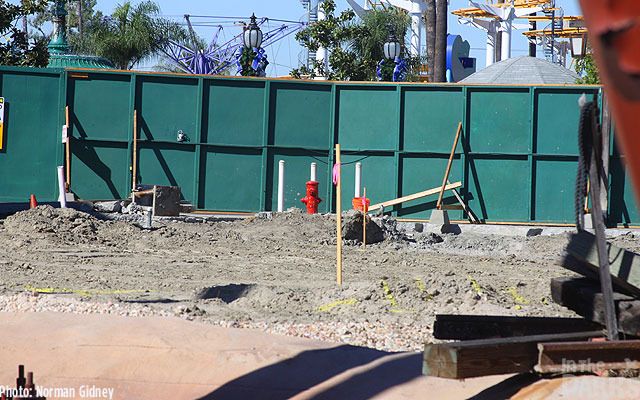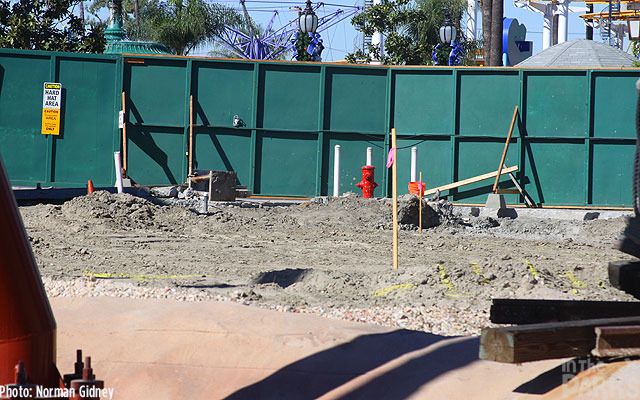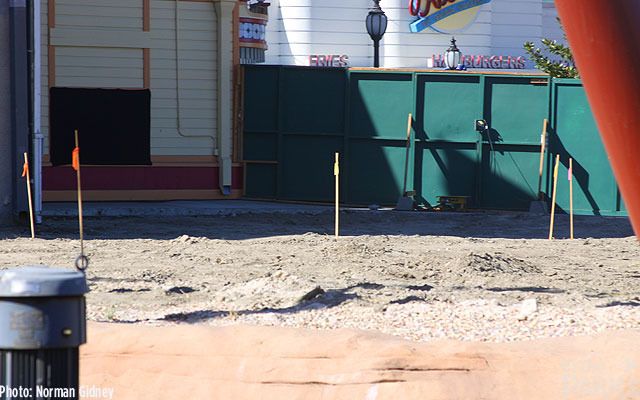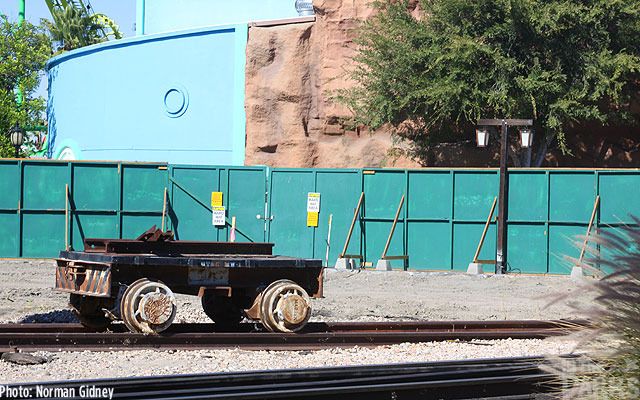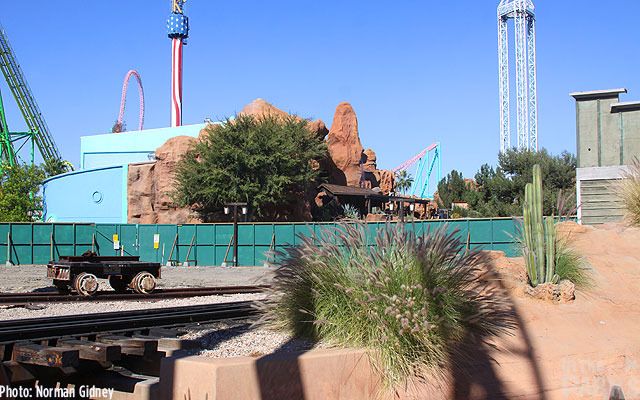 The former Calico stage is now seeing the strike of The Hanging set. The stage will be used one last time for the holiday season and then it will be removed.
Ghostrider
The west is about to get even wilder when GhostRider, the longest, fastest and tallest wooden rollercoaster on the West Coast, returns from its nine month restoration with all new trains that will gallop along over 4,500 feet of new wooden track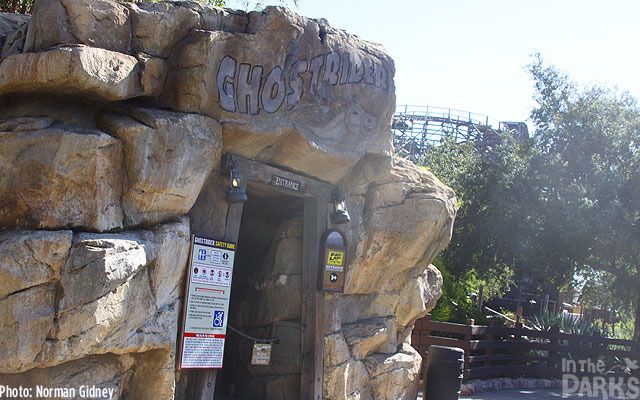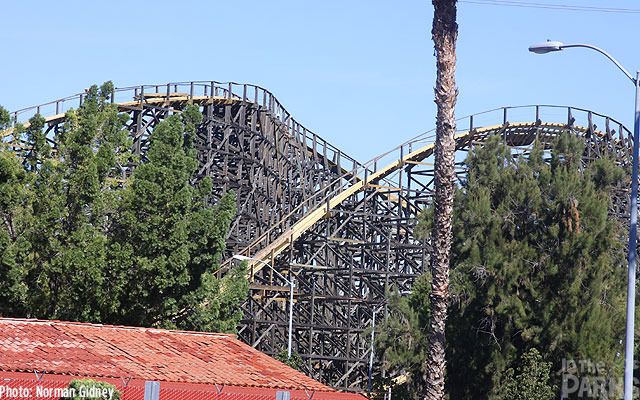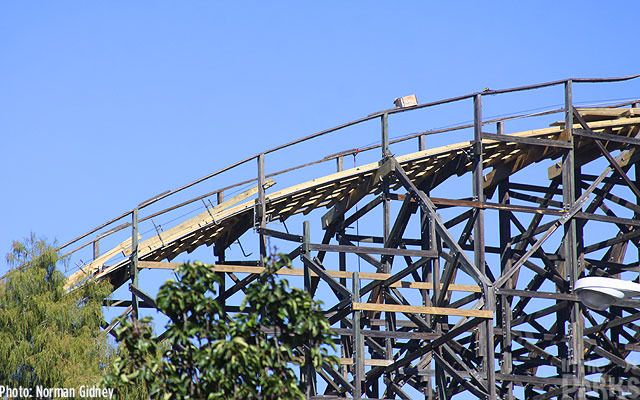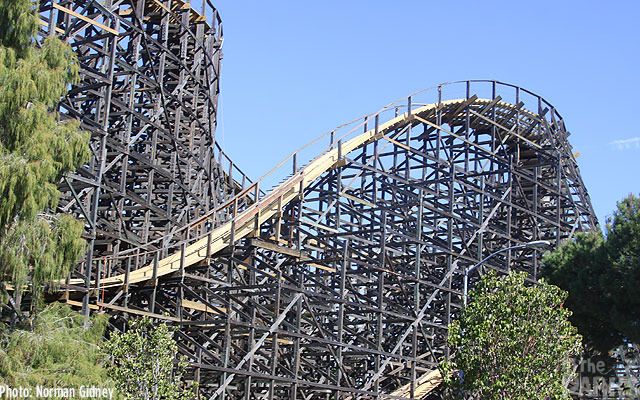 Since September 2015, work has been in progress to completely restore and preserve this classic wooden rollercoaster.  The project is a partnership with Great Coasters International and includes re-profiling and a complete wooden re-tracking of the entire 4,533 ft. long track.  All of the coasters trains will be replaced with new state of the art Millennium Flyer trains designed to look like mining cars, each with gold, silver, or copper accents.  As part of the construction, the mid-course brake run will be removed, allowing riders to enjoy a relentless, ride from the moment the train descends the first 108 ft. drop to the moment it returns to the station's new, smooth magnetic brake run.
We now take a look at both The Timber Mountain Log Ride and Calico Mine Ride as fine examples of how committed Knott's is to getting these things right.
Peanuts The Movie meet and Greet
The character meet and greet in Camp Snoopy has been adorned with banners and signage for the new Peanuts movie coming out soon.  Let's hope the movie is a hit.  We'd love to see a Peanuts themed dark ride in this area of the park.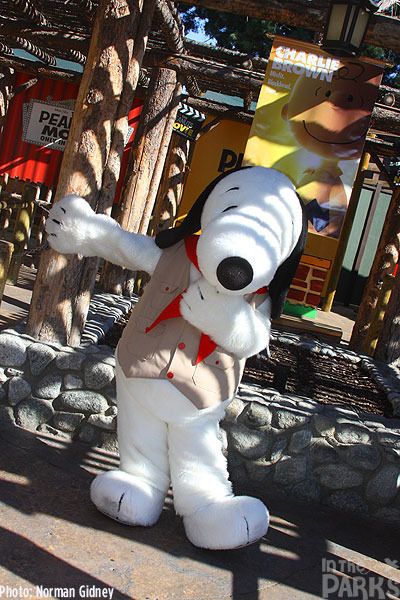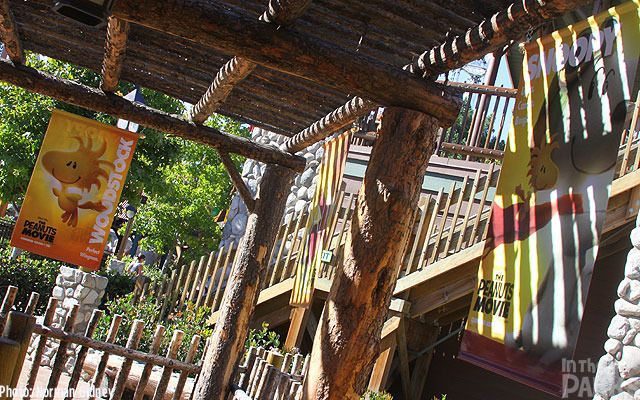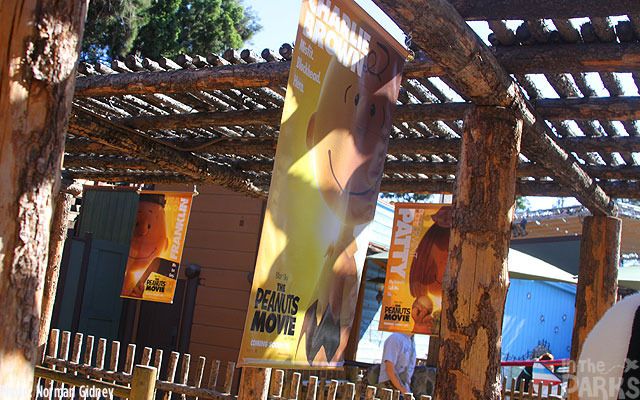 Scary to Merry
Finally, we close with shots of Christmas creep at Knott's Merry Farm.  In just 15 days the park will be fully switched over from scary to merry as the decor team and the entertainment teams rapidly scour the park and change its overall feel.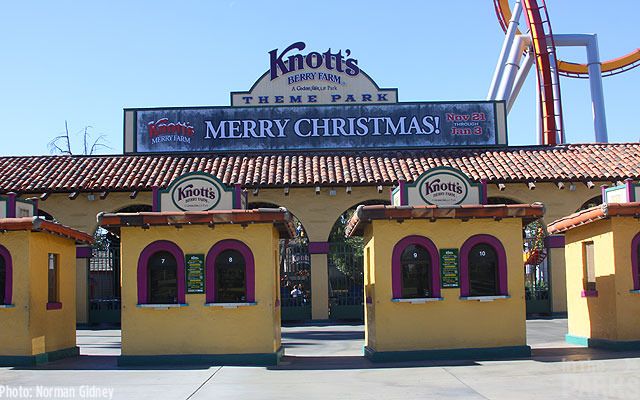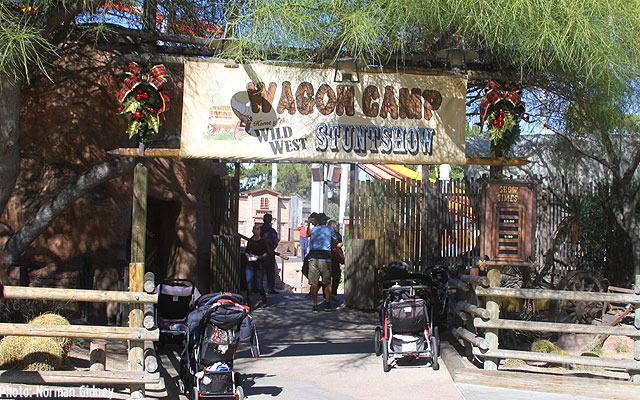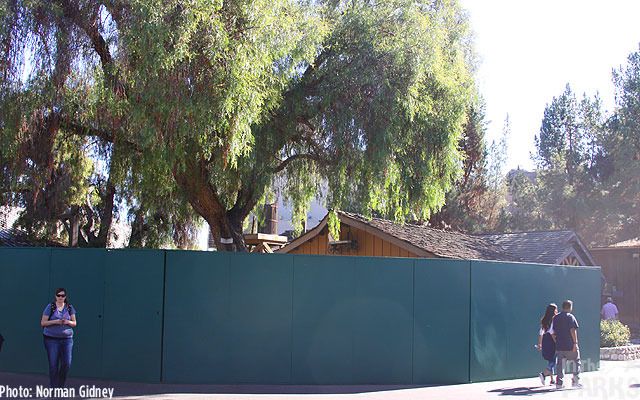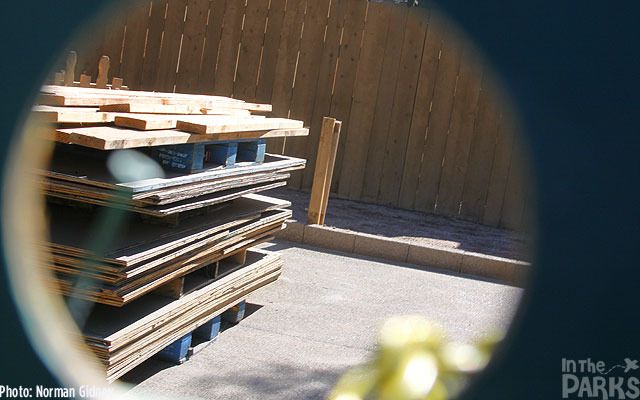 Even Boardwalk is getting festive.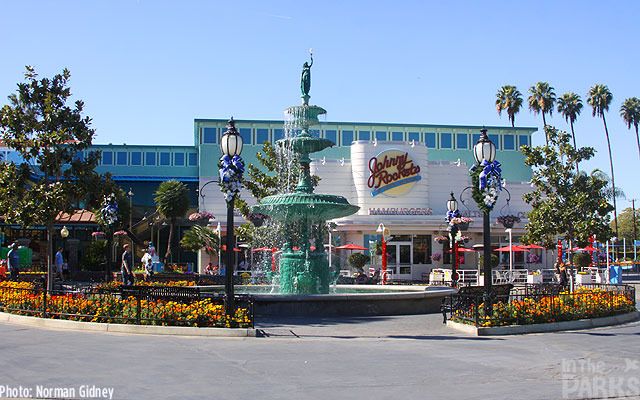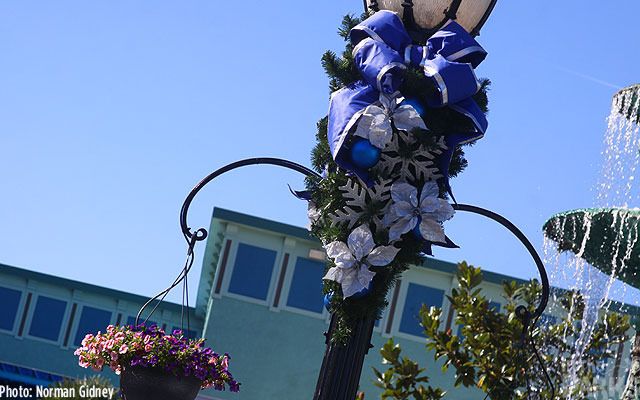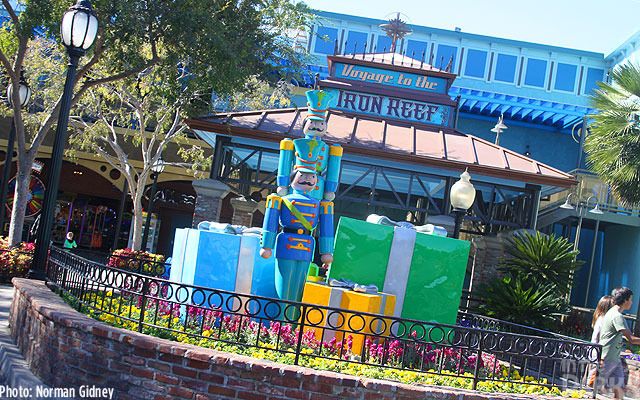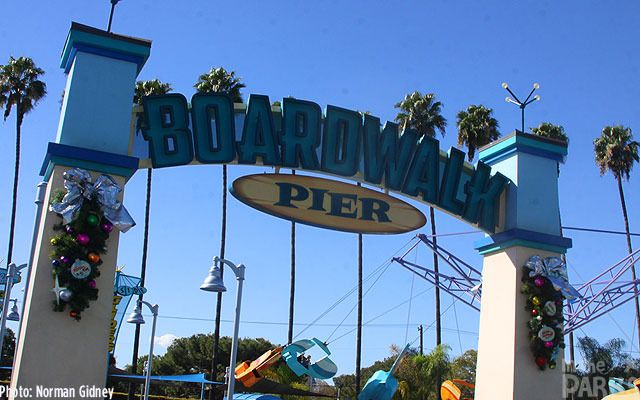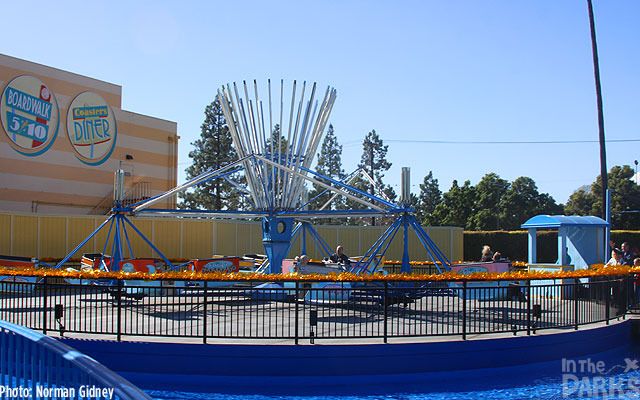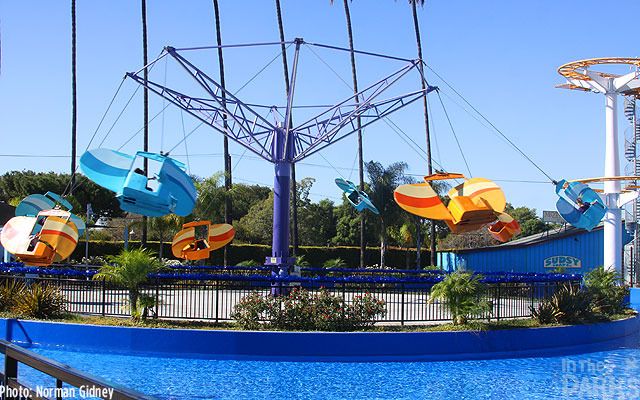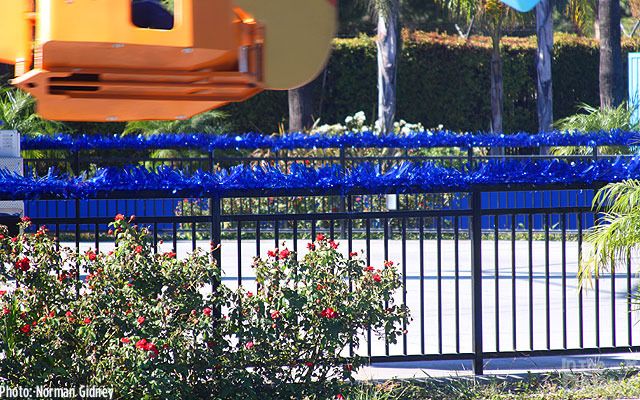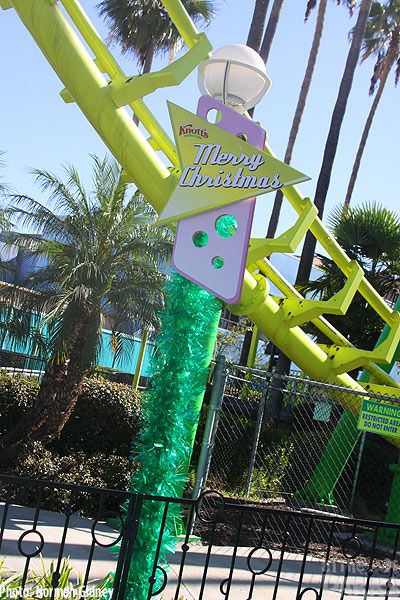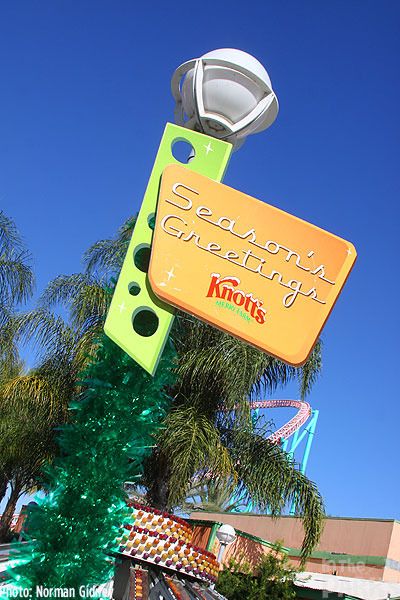 Holiday Highlights
No visit to Knott's Merry Farm would be complete without catching a performance by Snoopy as he performs an ice spectacular, Merry Christmas, Snoopy! inside of the 2,100 Charles M. Schulz Theatre. This all new show will be filled with whimsy and spectacular skating, including trimming the Christmas tree, awaiting Santa's arrival, and attending the festive Christmas Ball!
Snow storm: When the sun sets on the Farm, the buildings and paths in Ghost Town will twinkle to the beat of holiday music while snow gently falls.  This year, snow falls across even more of Ghost Town, from the School House to the Saloon and down to the Assay Office.
Back by popular demand, the Ghost Town and Calico Railroad celebrate Christmas on Engine 41. Climb aboard a vintage railcar and meet an ever-changing group of Ghost Town residents eager to share their Christmas plans and songs with you.
Experience a unique live performance of Charles Dickens' A Christmas Carol or O. Henry's A Gift of the Magi in an intimate setting of the historic Bird Cage Theatre.
When the sun sets on the Farm, Calico Stage lights up with the celebration of the season in Snoopy's Merriest Tree Lighting. This whimsical tree lighting features a cast of Toy Soldiers, Snowmen, Elves and Snoopy of course.!
The toe tappin', hand clappin', comedy and bluegrass of Krazy Kirk and the Hillbillies continues their Knott's Merry Farm residency this holiday season in the Birdcage Theatre on select nights.  Plus, the upbeat blue grass quartet, the Ghost Town Miners, make their eagerly awaited return to the Fireman's BBQ stage. Southern California's finest live bluegrass bands can only be seen at Knott's Merry Farm.
Special Programs and Discounts
Additionally, Knott's offers FREE admission with their 26th Annual Military Tribute Program and 22nd Annual Fire and Police Recognition Days.
Military Tribute Program: Knott's Berry Farm pays tribute to U.S. veterans, retired and current military personnel with free park admission during its Veteran's celebration November 1, 2015 through December 20, 2015.  This offer is valid to all past and present armed forces personnel and one guest.  Six additional tickets may be purchased at a discounted rate of $25 each from November 1 – 20 and for $30 from November 21- December 20. Knott's will also conduct a special flag ceremony at Park opening on Veteran's Day honoring all those who have served our country. For information, call Knott's at (714) 220-5200 or visit knotts.com.
Fire and Police Recognition Days: As a thank you to all fire and police personnel in our community, Knott's Berry Farm will once again be hosting Fire and Police Recognition Days. From November 30 through January 31, 2016, Knott's will offer free theme park admission for fire and police personnel and one guest. From November 30, 2015 through January 3, 2016 up to six additional tickets can be purchased for only $30 each. January 4 – 31 up to six additional tickets can be purchased for only $25 each. Fire or law enforcement ID is required.  For information and promotion details visit knotts.com.
On a personal note, I'd like to extend my apologies for the long leave of absence on this column.  I am still recovering from the rigors of running a Haunt site during Halloween season. But I'll be back again very soon with more theme park news for you!
That about wraps up our update from Knott's Berry Farm.  Are you excited about the upcoming refurbishments and changes?  We sure are!