This hectic week is starting to wind down. I have yet to see Season of the Force at Disneyland, and I'd better get over there before the holiday crowds really get going (and get Noe's brother that Tie Fighter popcorn bucket). I'm getting some great emails and messages with suggestions for "Shelly's Fabulous Things" list – please, keep them coming! Here's the newest thing that appeared on my personal "Santa Baby" list. It's from the new Shop Disney Parks app: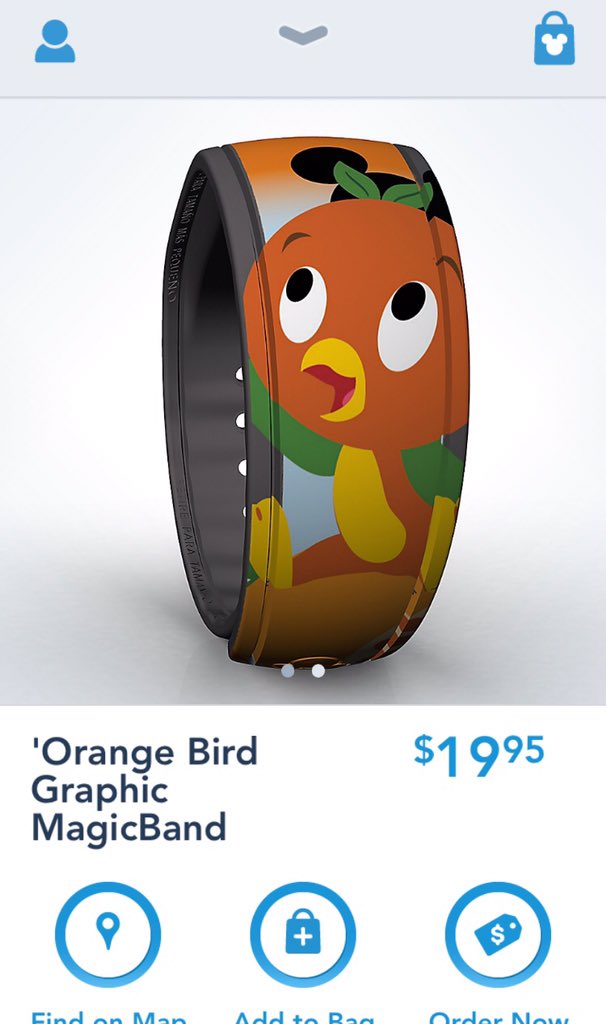 ¡Bienvenidos, los Tres Caballeros!
Speaking of birds I love at Walt Disney World, that I missed seeing the first time around; the Three Caballeros from The Mickey Mouse Revue made a surprise return to their home base, just slightly south in the Mexico pavilion at Epcot instead of where Mickey Mouse Review was in the Magic Kingdom (where Philharmagic is now). They're the stars of the grand finale of the Grand Fiesta tour boat ride! This wasn't advertised, it wasn't focus grouped, it's not the latest hottest thing with the tween set, it is just a cool, nice thing that Disney did to make a ride better and to make long-time Disney fans and Disney history buffs happy. Wow. I think that is super! Magnifico! Muy bueno! (I checked both expression out with my mother-in-law last weekend, but I'm pretty sure my punctuation is entirely wrong.) D23.com has the story. And, Eeyore, while the limited-edition shirts ARE yellow, the normal "Three Caballeros" shirts they sell in the pavilion are red or green. I saw blue in kids' sizes, so maybe blue too.
It's a Jolly Birthday with Dick Van Dyke!
But let's start with the night before: The Wonderful World of Disney returns to television on ABC Saturday, December 12, with the broadcast of Mary Poppins! The film turns 51 this year, so there's something to celebrate. Dick Van Dyke will be hosting interstitials from the Walt Disney Archives, a first EVER for television, and a wonderful holiday gift for Disney history buffs.
Dick will be interacting with props from Mary Poppins such as a familiar-looking carousel horse, but keep a sharp eye out for things from other Disney productions. You never know what you might see!
Bullseye, the Target Dog, will be joining Dick, and the adorable bull terrier's "Holiday Odyssey" will be presented in full for the first time. Target is sponsoring this very special event.
What better place to spend your 90th birthday than Disneyland? And who better to spend it with than several thousand of your dearest and closest personal fans? Well, that's what our favorite chimney sweep, inventor, comedy writer and physician-slash-detective has in mind. Here's the breakdown of the day's events:
Come on down to Disneyland and join the fun. Sunday is also MiceChat NOON MEET day, and we'll be celebrating along with Dick Van Dyke. So come to the meet and Dusty will lead us all to the special celebrations. Here's a link to the MiceChat Sunday's in the park group on Facebook for more details – HERE. Anybody who's anybody will be there!
Rubber Trees Don't Stand a Chance
Hey, you! Let's talk about Ant Man. Everything Iron Man 3 should have been, amirite? Hit the shelves yesterday, and to celebrate, Marvel sent me a couple of cool clips to share with you and this picture showing what it would be like if we were smaller than a cup but bigger than…I think at this point, Peyton is just messing with me.
To Train a Thief:
The Suit:
If you think I'm bad with Ant Man, get me started about my poor Dr. Banner or what's happening on Agents of S.H.I.E.L.D. Oh, my poor Dr. Banner. It kills me! Have you read Planet Hulk?
An Hour of Code, A Lifetime of Cake-Related Therapy
or, I bet this is how the people who made Portal got started.
This is the third year for Hour of Code, which gets people, mostly kids, to try coding for an hour, so that they can see that it's actually pretty easy and relatable, and can even be fun. They have people doing it all over the world, and this is the second year Disney is involved. Last year, they used the Frozen characters to guide would-be coders along their adventure. This year, they used Star Wars characters.
You might remember a few weeks ago when I wrote about the announcement. Disney Interactive held an event on the Glendale Campus for several busloads of kids in after-school programs to come and participate in the Hour of Code with Code.org, Disney Interactive, Lucasfilm and other volunteers (and VoluntEars!) helping them along the way.  The kids knew they were in for something special when Chewbacca and R2-D2 were there to greet them and take photos.
Each kid got a cool notebook, lightsaber pen, and Disney Infinity Yoda figure.
There were a bunch of Disney Infinity setups in the back of the room for kids to blow some steam (again, big kids too) playing the games.
Karan Brar ("Ravi" on Disney Channel's Bunk'd and Jessie), Sophie Reynolds ("Ashley" on Disney XD's Gamer's Guide to Pretty Much Everything) were shooting segments throughout the event, surprising and talking with thrilled kids and clueless adults, but not getting in the way of any of the tech stuff, which is really admirable, seeing that they were walking backwards, narrating with a selfie stick for their taping at the time. I was really impressed with it. Once the professionals came in, they were all over everything, because that is what we professional whatevers do. Get all over everything.
I spoke to several of the people involved, from Lucasfilm, from Code.org, from Disney, and I kept hearing the same thing: get science and coding to underserved populations. Not just in the USA, all over the world. There's a ridiculous imbalance between the scientific and engineering demographics and those of the rest of society, and things like this are meant to help change that. That's why they went with characters that just about anyone would want to work with and play with, and why they have the two levels; the one with the regular javascript coding that is typed in and a simpler one that is drag-and-drop for the very, very beginning levels. They understand the basic concepts when the hour is over,  BB-8 to hop around the screen on command in an adorable manner.
This really does make coding easy. If they had this when I first started coding, I probably would have stuck with it and I wouldn't have cried so much. Seriously, it's so easy even I can do it. Or you. So, I'd love to see it. Go to https://code.org/starwars, make a game, send me the link, and we'll play it! I'll post the most fun ones up here next time!
When the hour was over, some of the kids had to be torn away from the computers with promises of cookies, which there were, along with sandwiches, salads and chips. There were also thank you's and one more big surprise:
A beautiful BB-8 cake by the butter end cakery in Santa Monica, CA. You may have seen their famous Millennium Falcon cake, or some of the cakes they've done for Hollywood studios. This is Kimberly's first cake for Disney, but she hopes it isn't her last. She also does cakes for the general public, so click on the link and let your imagination run wild.
Noe was able to get a few shots of her finishing up the cake; later, of them carrying the cake – very carefully – to its stand, where everyone oohed and aahed and posed for photographs. Then, Kimberly pulled out a very large knife to make the first slice into the cake.
Later, someone in a blue shirt said to me, "In hindsight, maybe it wasn't a great idea to have the kids' companion for the past hour made into something that would be cut apart and eaten."
As she lowered the knife, all of the children started screaming "NOOOOO!!!!!" Bemused, she paused. The adults explained to the children that it was a cake, and she started again, apparently joining us in trying to not crack up. "NOOOOOO!!!!!!" rose the horrified chorus. My daughter Alice was channeling her inner April Ludgate and was happier than I've seen her in months.
Dave will be at the Disneyana Shop on Main Street USA at Disneyland this weekend, December 12-13 from 11am-7pm. He'll have some great items with him:
Dinner with Tony Baxter at Walt's Favorite Restaurant
And if my guess is correct, they'll be sitting at Walt's table, too. The nice thing is, when you give this gift, the recipient can take three other people along with them, so you have a pretty good chance of going along, right? You'll also be making a gift to thousands of kids from Walt Disney's childhood neighborhood for generations to come.
Just make a donation at the "Dinner with Tony Baxter" level here. If that's a little too rich for your blood (but if you're a hardcore Disney fan and you've never met Tony and want to bend his ear for a good two hours, it's totally worth it!) There are other cool things you can make a donation for, then give to a fan who loves Walt and history and will think you're awesome for making a donation for them (and even more of you for getting them cool swag!)
Dave Bossert's Two Awesome Books!
I saw Dave Bossert at the Walt's Office opening, and that reminded me: Dave worked on two really, really good books recently.
Dali & Disney: Destino: The Story, Artwork, and Friendship Behind the Legendary Film
Walt was even more adventurous than we knew. I watched the finished version of Destino that they did a few years back. I was too distracted by "what if?" to really get into it as much as I should have. But the book is incredible. I devoured Jim Hill's copy before I had to hand it back to him. David A Bossert wrote this with Juan M. Sevillano. You can get it at Amazon or your favorite Disney bookstore.
An Animator's Gallery: Eric Goldberg Draws the Disney Characters
For Shanghai Disneyland, part of one of the restaurants on Mickey Avenue, Tony's, will have Hirschfeld-like caricatures of Disney characters in it, just like in Sardi's restaurant in New York has of human characters, celebrities, mostly. These were done by Master Animator Eric Goldberg, who gave us Genie in Aladdin and Rhapsody in Blue in Fantasia 2000, so he is most definitely no stranger to the Hirschfeld style. Bossert thought it would be a good idea to share these wonderful artworks with the rest of the world, and this book is the result. Buy this book, and you're actually holding the first piece of Shanghai Disneyland souvenirs in your hand, after a fashion. Available at Amazon and your favorite Disney bookstore. 
And don't forget about these great gift ideas from our friends and sponsors:
Tickets to Medieval Times (MiceChat Readers get a 40% DISCOUNT!!!)
MiceChat readers get 40% off adult tickets to Medieval Times Dinner & Tournament. My family had a fantastic time here. Great for a gift basket premium, gift for people who prefer experiences over objects and people who just love FUN!  Information & tickets HERE
A Lifetime of Magic with DVC Resale Market!
Pre-pay your vacations by buying points for their favorite Disney Vacation Club resort, and save money by buying it through Fab News' sponsor, DVC Resale Market.  Check out some of the resorts and points available here. In case you missed it earlier this month, here's their introduction video:
Check out their website. It's a great way to learn about the intricacies of DVC ownership, buying, selling, and how points work, and how best to use them (and how NOT to use them!) Whether you're looking into buying or selling, or just looking into looking into it, Nick and his team are patient, knowledgeable and have a lot of experience and happy customers who will happily refer them to you.
Next time, I'll have even more Fabulous Things, Plus, Unforgettable Christmas is Coming, and so is A Spoonful of Sherman!
I promised some more photos of the office. Noe took these. There are more to come, but it's 4:15AM and I should try to get some sleep.
Oh! Wait!
If you want to reach me I'm on Twitter, on Facebook, and also available at [email protected] . If you'd like to support Fab News, I'd appreciate it. You can pledge a dollar or more a month through Patreon or you can make a one-time donation of a dollar or more through Square. Just click on the banners below. Thanks!
We're going to be doing Navidad en el Barrio Saturday, and if we can move Sunday, we'll see you at the Jolliest Birthday ever! (There's a lot of frozen turkeys and canned goods) Meanwhile, I can't wait to see what games you've coded up!