Scarlett Stahl previously shared the adventures of the "Flat Twins" with us, in which they met Disney dignitaries. Today we start a three part story about the twins' Disney-themed adventures this past summer. Today's installment finds the twins spending a lazy summer day at Disney Imagineer Alice Davis' beautifully decorated and landscaped home. ~~Rick
THE TWINS NEW DISNEY ADVENTURES
By
Scarlett Stahl
After interviewing Alice Estes Davis and her husband, Marc Davis in 1998, we developed a lasting friendship.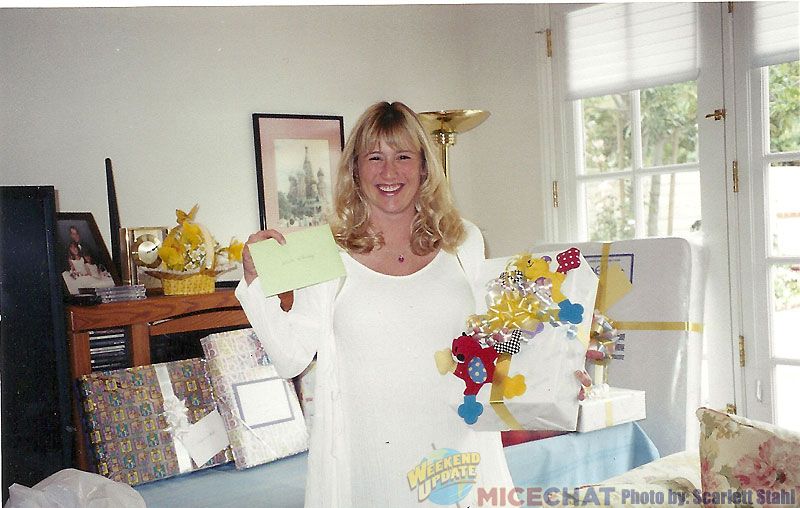 Because of our friendship, Alice was invited and came to my daughter's baby shower.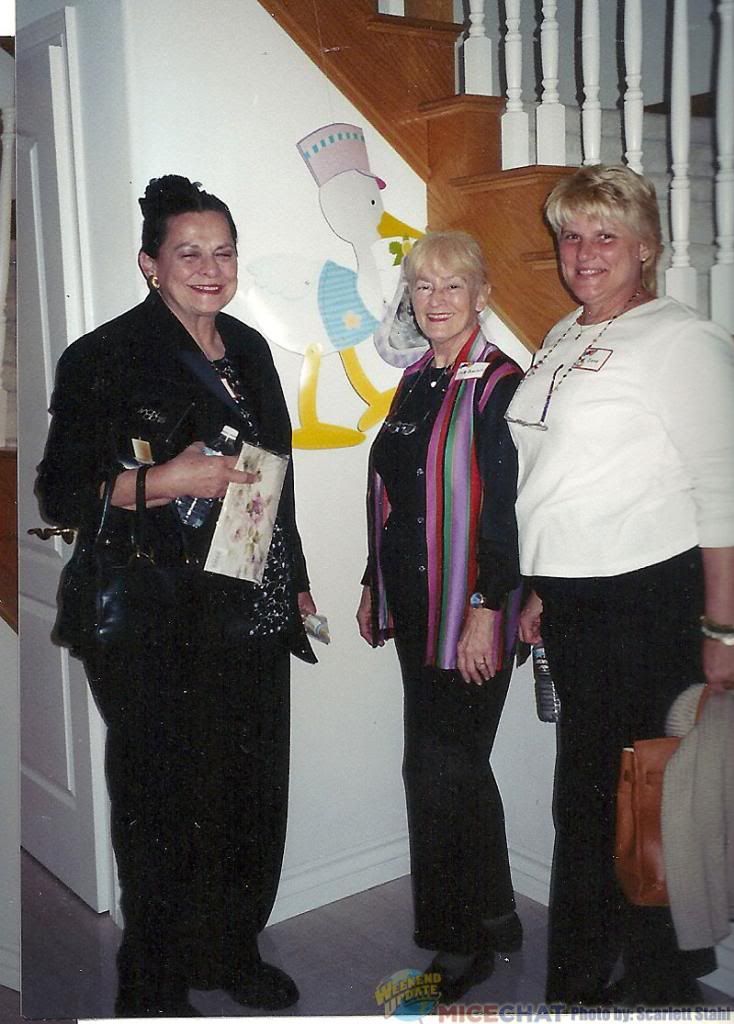 Alice Davis, Scarlett Stahl and friend at the Twins Baby Shower
Now most Disney fans know Alice Davis but for those few, who are new to Disney lore, I will share a little information about her. Alice is a famous Disney costume designer, who developed costumes for films, television and theme parks. She was originally hired by Walt Disney to make a costume for Helene Stanley, the live reference model for Sleeping Beauty, so that Marc Davis (her future husband) could see how it flowed. She worked on the Disney film, Toby Tyler, and various Disney television shows. Alice worked with Mary Blair on creating the costumes for It's A Small World. Alice also worked on costumes for Pirates of the Caribbean as well as other theme park attractions. In 2004 Alice was named a Disney Legend with handprints and signature cast in bronze to be placed on the pillars at the Walt Disney Studios Legend Plaza. In 2012 Alice was honored with her own window on Main Street at Disneyland, next to her deceased husband, Marc Davis' window. Alice still makes many appearances at Disney related functions as she is very popular with the fans.
As my original article on the Flat Twins Adventures was so favorably received and as my twins had so much fun, I decided to continue their Disney adventures again this summer. And our first adventure was a visit to Alice at her home up in the hills. Alice graciously gave them fruit juice and allowed them to roam her multi tiered gardens and pick her fruits of bananas, avocados and lemons to name just a few. The twins had never seen anything like the gardens that were landscaped down the hill and to be honest, it always overwhelms me to see it too. It is incredibly beautiful and unique.
Alice*and Catherine*with dogs, Beau and Circe on patio
Catherine, Alice and James on patio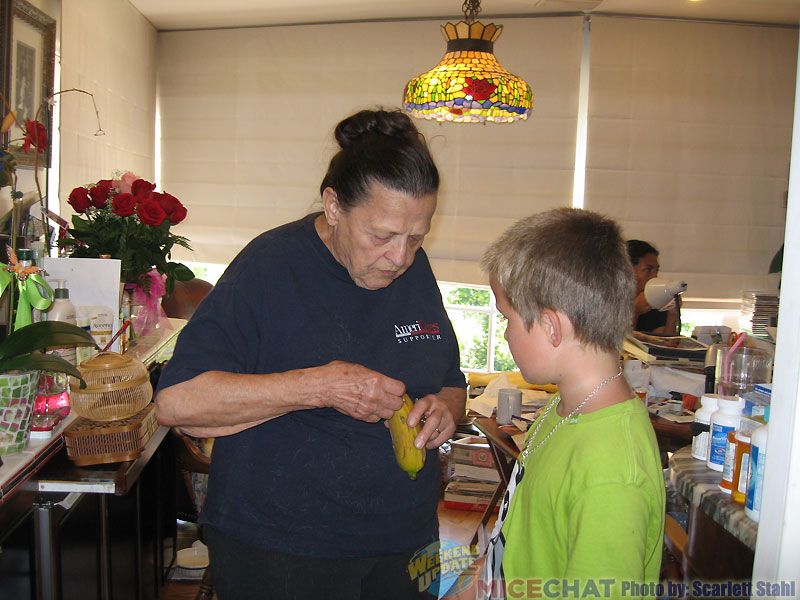 Alice helping James with the banana from her tree in the kitchen
Catherine especially loved being able to visit with Miss Alice's dogs, Circe and Beau. She tried to share her pats with both as she loves animals and animals love her but Beau did get between Catherine and Circe, trying to get the majority of the pats. Alice shared that Beau is very selective of those with whom he shares his attention, which was quite a compliment to Catherine. Catherine loves animals and is planning on becoming a veterinarian when she grows up. However she is kind to both animals and people. When she was in second grade, her teacher shared a story with me. One of the other children had brought a pet bug to class and another child squashed it. When the child saw her pet squashed, she began screaming and crying. All the other children backed away from her but Catherine went over to put her arm around her and said "It's okay, your little bug is with God now." Their mother (my daughter) calls them pride and joy with James being pride and Catherine being joy.
James is the artist and loved seeing all of Alice's and Marc's artwork. Alice had already commented on his beautiful blue eyes and both twins' polite manners. And when Alice saw his genuine interest in the art, she opened other rooms for them to visit. There was a unique sculpture that Marc had done of Snow White and his lovely picture of two nude girls with a bull, as well as art from New Guinea. I loved the red dancers that Alice had painted and learned that was one of Marc's favorites as well. It is just like being in a museum with all the incredible artwork, filling all the walls in all the rooms, including the halls.
New Guinea art room
Marc Davis' Snow White sculpture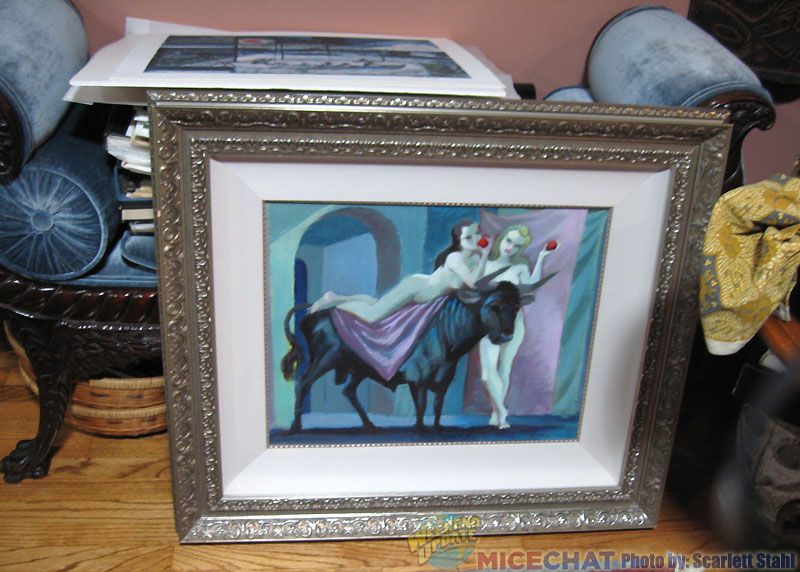 Marc's painting
more art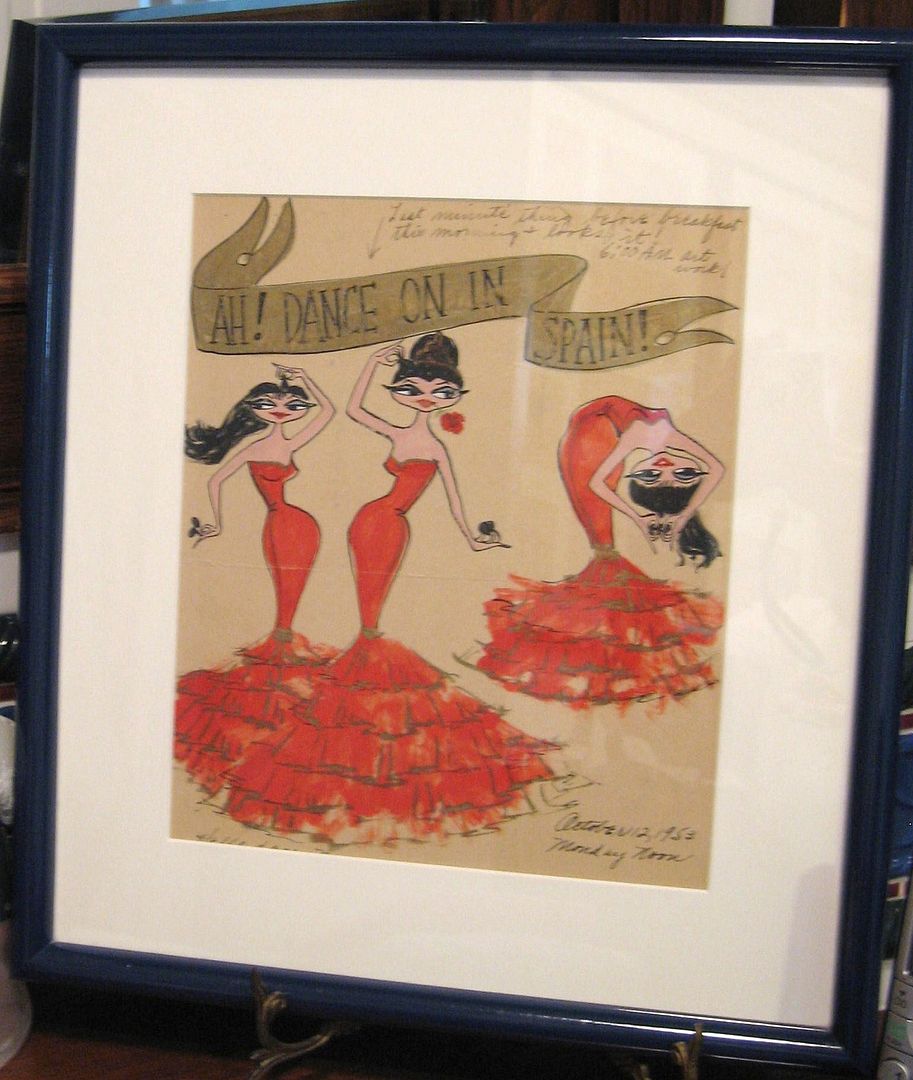 Alice's Spanish Dancers painting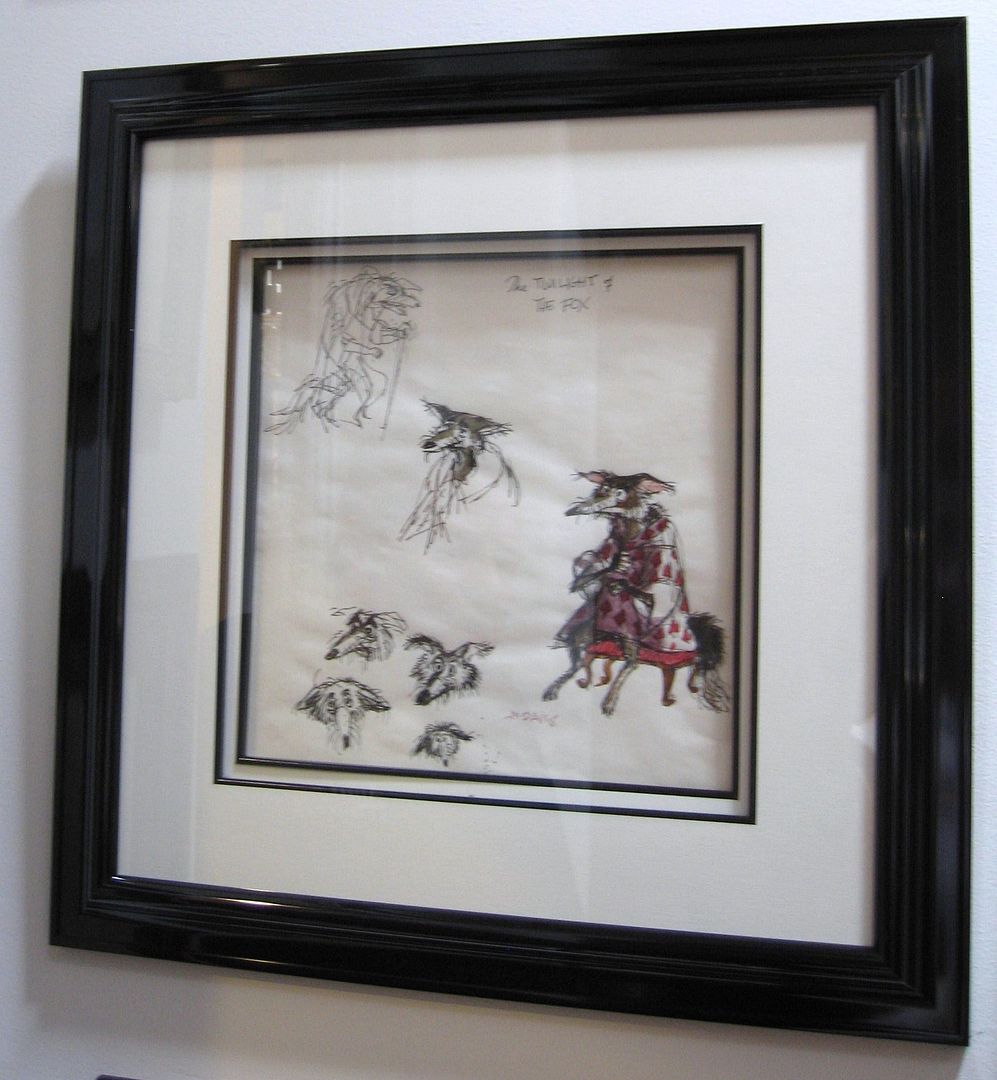 Marc Davis' Chanticleer drawing (a well developed but never completed Disney animation feature)
James and Catherine with the art
And the twins noted the unusual gate that separated two of the rooms. Alice told them that it had been created for the Haunted Mansion, but was rejected. However Marc decided to have it adjusted between the two rooms in his home, so it wasn't wasted. And as we were leaving, we saw an original beautiful white cat painting done by Mary Blair, which I recognized as I am also a fan of hers as well!!! Alice invited us to come back again soon and gave us her special wave for family and friends as we drove away.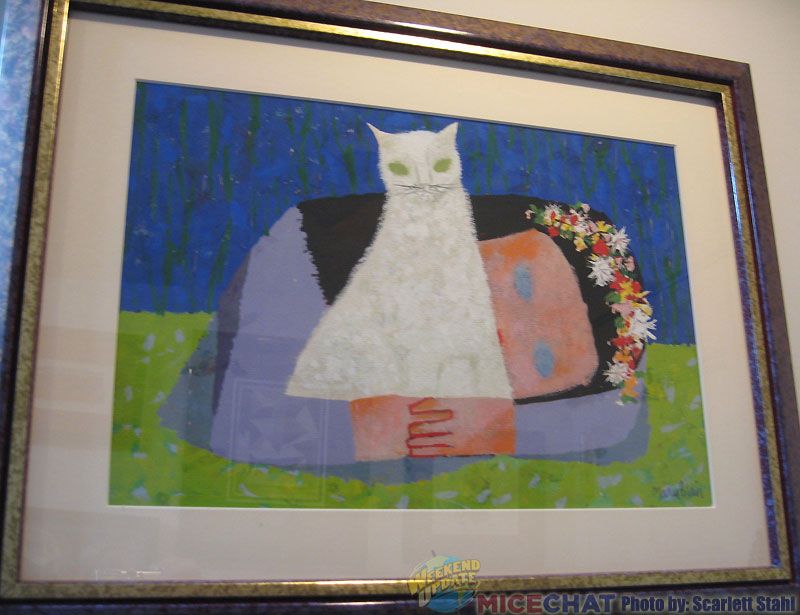 Mary Blair's original white cat painting
The twins with the gate from the Haunted Mansion in Alice's house
Alice with Mickey and a replica of her window on Disneyland's Main Street at her window's dedication
Well folks, that was a pretty good start to the Summer for the Twins, don't you think?!