Just when you think there's nothing new left to talk about from the Disneyland Resort, new surprises pop up to keep the conversation pump primed. This week brings some old favorites, such as Star Wars land construction and Halloween Time, but it also brings the first signs of scaffolding at Tower of Terror and a blitz for Rogue One.
Halloween is always a great time at the parks. If you don't want to pay for the extra-cost Mickey's Halloween Party in the evenings, you can still enjoy the holiday decor and seasonal versions of Haunted Mansion and Space Mountain. And while the weather may feel like Summer right now with temps in the 80's, it sure does look like Fall.
Tilly is in her Halloween costume and is always a nice treat to see her all dressed up for the holidays.
Changes to the Cannons
As it was reported in our previous updates, Disneyland has decided to move the canons out of the pathways and into the nearby gardens (safely behind fences). I actually like this move as it will help with crowd flow, particularly at parade times. The raised concrete pads for the cannons have been leveled and repaved and the new pads have been installed in the gardens, awaiting the re-installation of the cannons.
Disneyland Castle & The Hub
Looks like the faux diamond roof-toppers installed for the 60th anniversary will be staying all the way untill the Holiday Overlays are in place. The average guest likely doesn't even notice. But for those of you how miss the 60th, this is one spot where you can remember the past year and a half.
Peter Pan's Flight
Work continues on the exterior of Peter Pan's Flight. We caught these photos at just the right moment when the sun made the scrims look transparent.
It's a Small World
In about a month it's a small world will close for its holiday overlay. I actually prefer the holiday version versus the original, what about you?
ToonTown
ToonTown is getting some much needed TLC on the bridge and some of the facades are receiving a fresh coat of paint. It's a constant struggle in ToonTown to keep those bright colors vibrant against the harsh California sun.
The Matterhorn
Some nice views of the Matterhorn bobsleds. It's a sure bet that this will be one of the new FastPass+ rides in the near future.
The Sad State of Tomorrowland
With StarWars land now the focus of the park's efforts, Tomorrowland is looking more and more dated and with an increasing lack of continuity. Rumors abound that Season of the Force will be coming back sooner or later. That makes sense since the infrastructure for it was largely left in place.  But it also makes the land feel even more like a hodgepodge of themes. Is it retro? Future? A Star Wars display area? Tomorrowland needs some love, and the sooner the better in our opinion. The question is, should Tomorrowland reflect the hopeful optimism of Walt Disney or the the more distopian themes of modern Disney (Star Wars, Tron, the Tomorrowland film, etc.)? Or perhaps it should cease being Tomorrowland at all?
We'd really like to hear your thoughts on what should be done with this land, which hosts some very popular attractions, but feels a bit off in its connective tissue.
Star Wars Launch Bay continues to operate with very low crowd levels. If you want to meet a character, this is a great spot to do it. Lines are usually pretty short and there is great air conditioning in here.
Here's some good news. The D-Tech custom smart phone case program now offers iPhone 7 and 7+ cases. You can find all sorts of Star Wars cases in the system in Launch Bay.
It was Rogue One Friday this past week. New merchandise has been flooding into stores nationwide. That includes Launch Bay, which got a new litho, some pins and other merch.
Unfortunately for Disney, there doesn't seem to be the same fever around this merchandise as there was on Force Friday last year before the release of The Force Awakens.
Fronteirland
Fronteirland has great seasonal décor right now.
Frontierland has some well themed merchandise which really fits the theme of the land.
Of course, there's Halloween merch here too. . .
One of my favorite touches at Disneyland is the wonderful Halloween Tree honoring novelist and friend of Walt Disney, Ray Bradbury.
Disneyland Filming
Some sort of Halloween themed filming was being conducted on Friday, they took over a large part of the ride as well as used the fountain area.
And here's a holiday treat for you. Dusty takes us on a full ride-through of Haunted Mansion Holiday. So sit back and reflect, feel free to take pause, while we tell you a tale about dear Sandy Claws.
Rivers of America Refurbishment
As the rest of the river is still not really a river at all, the parts that have water are getting a lot of TLC and reworking to prepare for an updated Fantasmic, and new infrastructure to support all the upcoming changes.
The dock for the rafts to Tom Sawyer Island is also under major reconstruction.
StarWars Land Update
Darth Daver recently covered the current state of Star Wars Land construction. He also brought news that Disneyland has been sending out a survey regarding possible AP Blackouts For Star Wars Land? The shadow of the Dark Side is upon us. A great disturbance in the Force is suggesting some of us may get shut out of Star Wars Land. Obviously, fan sentiment has been heated. Below, we've selected some photos from the current state of the construction, you can discuss and read even more about Star Wars Land HERE!
Lets take a ride on Big Thunder Mountain Railroad for some different views of Star Wars Land.
Disney California Adventure
Now, let's drop in to Disney California Adventure, where there are some big changes on the way.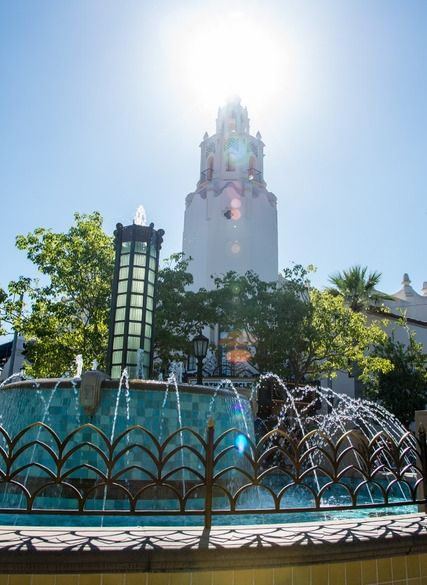 Carsland
Carsland has been aging well and as you can see still very picturesque!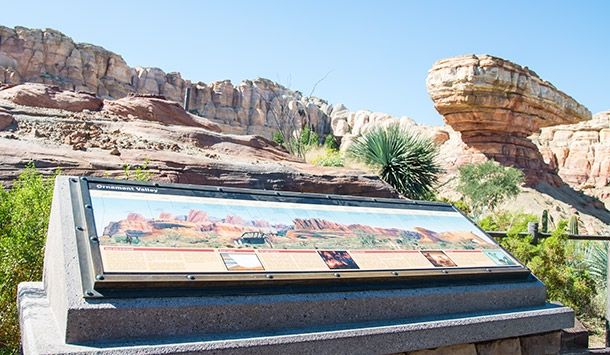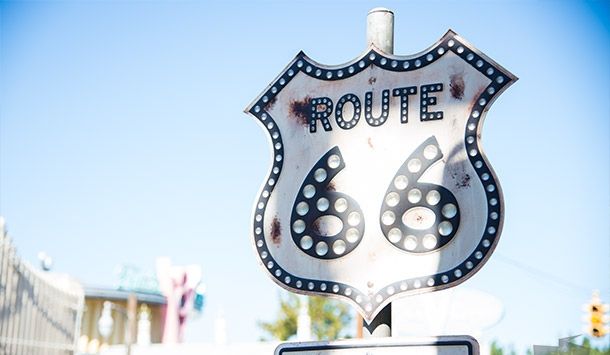 Luigi's Rollickin' Roadsters were not in the mood to dance today. During my visit cast members were running the cars through their syncing phases but the vehicles where still not functioning as they should be.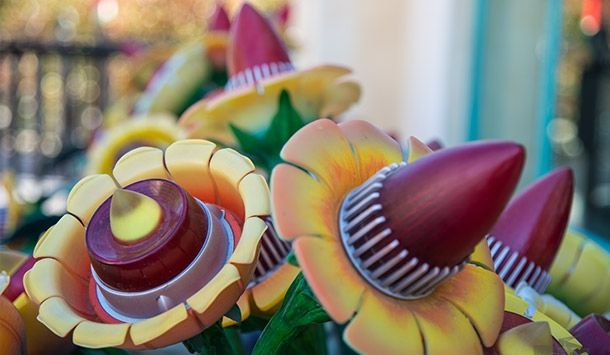 Dusty recently rode the attraction with the MiceChatters:
Hollywood Tower Hotel / Warehouse / Power Plant / Museum
During the "Final Checkout" PR campaign – and Disney's way to market a ride and dismantle it at the same time – the attraction had a 40-minute wait at park open and in the evening had a 120-minute wait. There was even a 20-minute wait to take a photo with luggage in front of the ride with a nice background of scaffolding.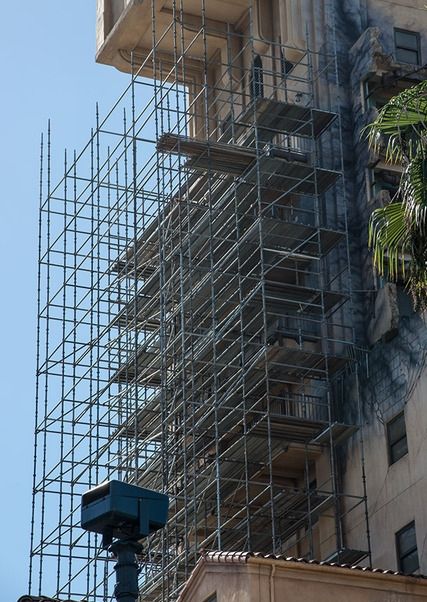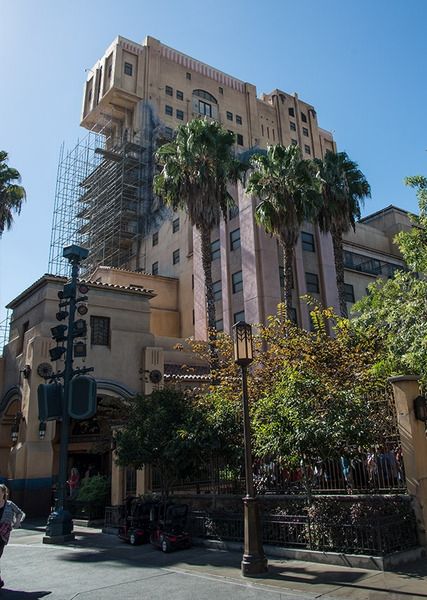 Merchandise was flying off the shelves as people were trying to buy up every last bit of exclusive and non-exclusive merchandise.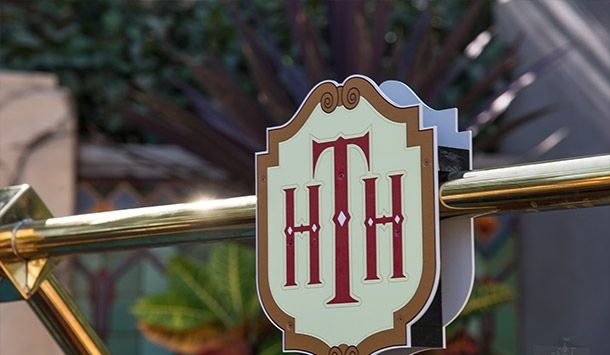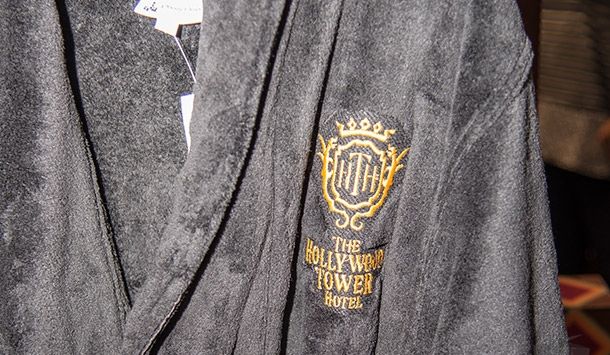 We are all for change, but replacing a popular attraction just to promote a new movie seems like a shortsighted way to add a ride to the park.  Wouldn't it have been better to build a new Guardians attraction from scratch in a different location and kept the popular Tower of Terror?
A Bugs Land
From Bug's Land you can clearly see the Tower of Terror in the background.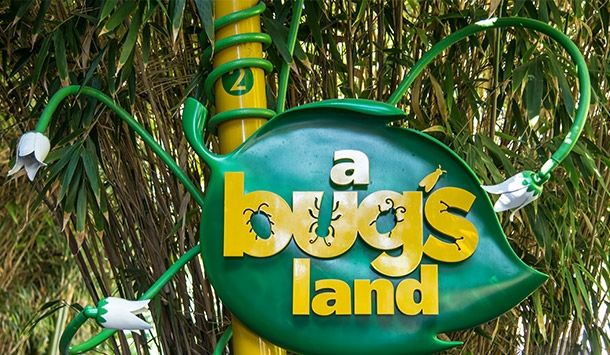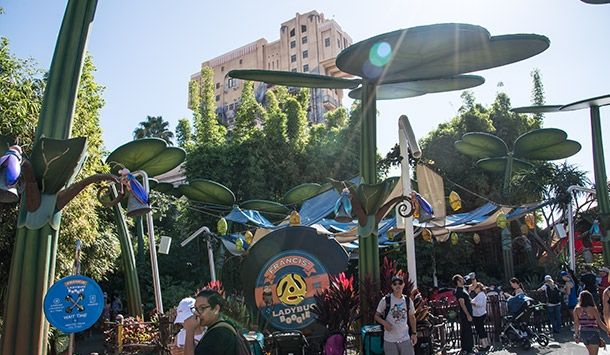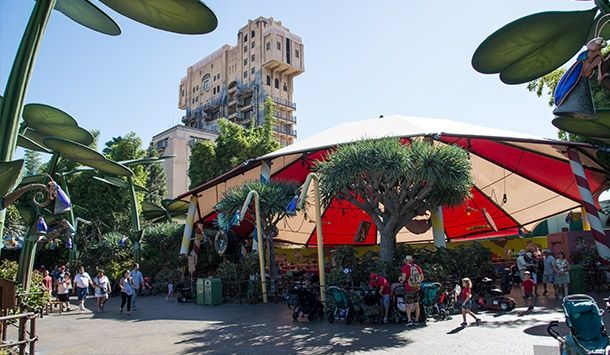 Bug's Land isn't perfect, this is a simple collection of flat rides. But it is a great area for the Kiddos, and its very popular on any given day. But with that new Guardians of the Galaxy ride going right up behind it, this would be prime real-estate/expansion for Marvel.
Hollywoodland (Or should we call it Catch-all Land?)
Over in Hollywoodland there are lots of changes happening, it looks like they are very slowly dismantling the Mad T Party Stage and also installing a Dual Preview for Dr. Strange and Beauty and the Beast in the old Muppets Theatre.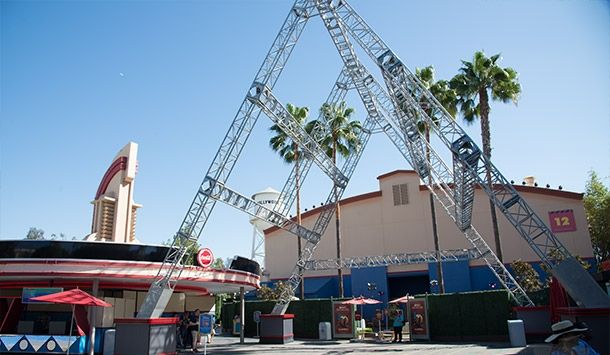 Frozen Live at the Hyperion
Looks like the demand for frozen has finally chilled, usually fastpass tickets are sold out at park opening, but now you can usually get tickets much later in the day.
World of Color Work
During our visit, World of Color appeared to be getting some last minute work before the nighttime show. They had the entire platform raised and boats were going out with parts to fix some broken fountains.
Downtown Disney
Downtown Disney has been getting lots of TLC before the holiday season catches up with us.
Disney recently announced that Sprinkles will be coming into the area but still no word on what will be moving into the old House of Blues venue.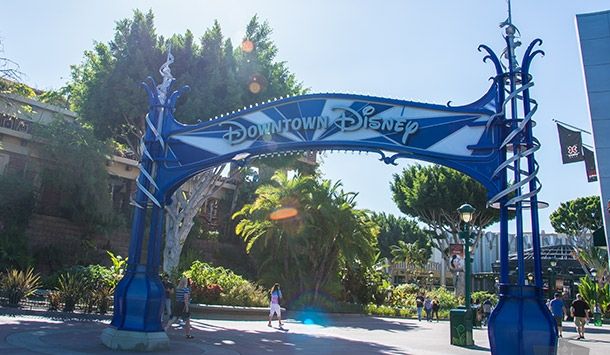 The Something Silver construction blocks the Southern path around the Uva Bar.
Landscaping has been completed over the bridge area and looks great!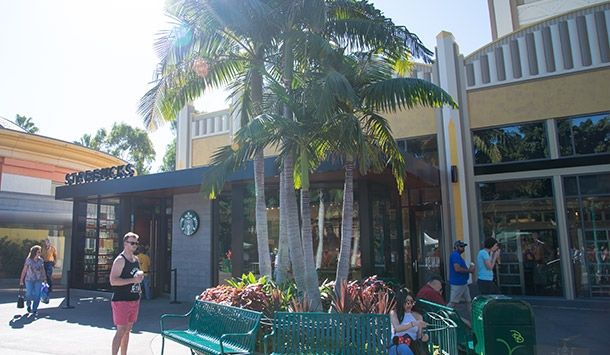 The new Starbucks location on the other side of Downtown Disney had some paint work completed up above its roof, looks like there a new faux texture effect been painted over this area and continues over Disney Vacation Club.
The right side of World of Disney still has exterior façade work being performed, the entrance remains open.
The old quicksilver location looks to have new tenants getting ready to move in. The old footprint was divided into two spaces. Another cast member said that THIS was the spot for Sprinkles. Hmmm. Either way, we've got cupcakes on the way in November!
D-Street and D-Tech on Demand
As we showed you in Launch Bay, iPhone 7 & 7+ cases have been added here as well. You can get all sorts of designs at this location.
Vault 28
There are always fun things in this store.
Disneyland Hotel Fall Protection
Disneyland Hotel's fall-protection fencing, which was installed quite a while ago, is finally getting a permanent fix, as you can see, they are duplicating the original detail on the awnings but for some reason has taken many months to complete and fabricate. 
Gay Days 2016
This past weekend was GayDays 2016 at Disneyland, officially Disney does not endorse the group but they have always done some small "nod" to the park-goers who are wearing red. This event originally started in 1998 and has been going strong ever since.
This year Disney has some nice photo op frames to snap a colorful photo with!
This is also the first year that they have Rainbow Embroidery available for Hats and not it seems Shirts!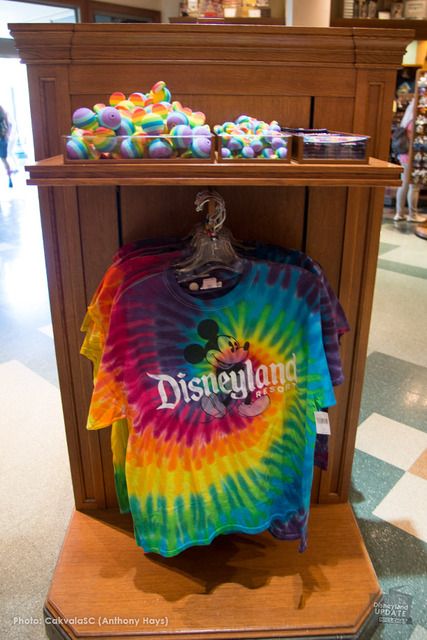 Get Disneyland Wait Times with Mouseaddict

Get Mouseaddict Here You can keep track of the wait times and even where in the park people are congregating by downloading the app (iPhone only at this time).
Thank you !
All of us on the Disneyland Photo Update crew would like to thank you for joining us today. Each week we'll feature different photographers and commentators (often more than one). Today's MiceChat Disneyland Update was photographed and assembled by CV-DisneyFan, with help from our very own DustySage!

Are you a member of the MiceChat Sunday Meet-up Facebook group? If you are interested in meeting up with fellow theme park lovers in the parks, please be sure to follow this group: MiceChat Sundays in the Park. And please follow the MiceChat Facebook Page for news and updates from the Disneyland Resort and beyond:
Goodbye For now!
That's it for this week's Update.Are you a photographer? Do you love the parks? Would you like to contribute to the Disneyland Update or other MiceChat columns? Contact Dusty Sage: [email protected]