Hey there. Jim Hill here. The Fabulous Disney Babe isn't feeling particularly fabulous at the moment. So while she recovers from her recent surgical procedure, Michelle asked me if I could cover her Fab News column for a few weeks. I said "What the hey?" (Which is ex-husband talk for sure).
The next thing I know, my e-mail box is full of press releases for all sorts of cool upcoming Disney-related events (which – because I live out in the woods of New Hampshire – I'm not going to get to. Insert sad face here). And the item at the very top of this pile is …
Hocus Pocus Overture at the El Capitan Theatre
Academy Award nominated composer John Debney will be premiering his new "Hocus Pocus Overture" this Friday, October 21st at  El Capitan Theatre in Hollywood.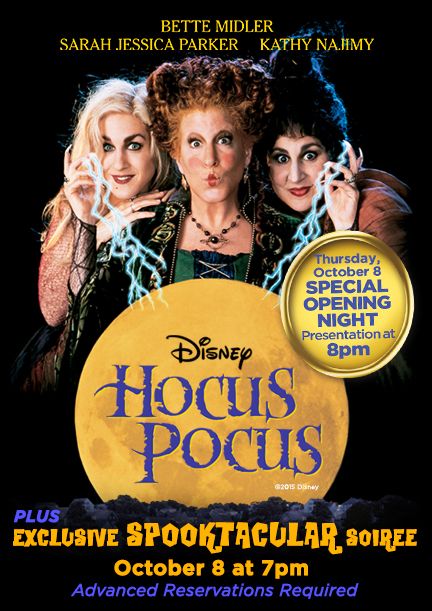 Dear Lord, has it really been 23 years since "Hocus Pocus" was first released to theaters? Fab and I actually caught a preview screening of this Kenny Ortega film at what was then known as the AMC Pleasure Island 10. And while she & I greatly enjoyed the Sanderson Sisters go through their paces ("You know, I've always wanted a child. And now I think I'll have one … on toast!), I have to admit that I wondered about the wisdom of Walt Disney Pictures releasing what was so obviously a celebration of Halloween right in the middle of summer blockbuster season. Yep, believe it or not, "Hocus Pocus" was originally released to theaters on July 16, 1993.
Anyway … Given that Debney is one of Michelle's favorite composer (He wrote the music for the "SpectroMagic" parade at WDW's Magic Kingdom as well as Phantom Manor at Disneyland Paris), I know that Fab would be at the debut of the "Hocus Pocus Overture" if she could. Here's some more info about this week's event at the El Capitan Theatre if you'd like to attend.
HOLLYWOOD, Calif. (October 18, 2016) – Academy Award nominated composer John Debney will premiere live his new "Hocus Pocus Overture" on Friday, October 21 at 7:10 p.m., followed by a screening of Disney's "Hocus Pocus" at the legendary El Capitan Theatre in Hollywood.
Debney had only two weeks to write the entire score before taking the podium and recording his music for "Hocus Pocus."  Debney conducted the score himself, featuring the musicians and a female choir.   Debney will return to the podium to conduct his "Hocus Pocus Overture" prior to the film's screening.
Debney's original music set the tone for another holiday classic, "Elf" directed by Jon Favreau. Recently, Favreau and Debney collaborated on their fourth film, Disney's "The Jungle Book."
"We are thrilled that composer John Debney is going to premiere his new 'Hocus Pocus Overture' here," said Ed Collins, General Manager of The El Capitan Theatre.  "He has been awarded a Gold Record and three Emmy Awards as well.  Incidentally, his father Louis Debney was a Disney producer and production coordinator who's credits include "Zorro," "Walt Disney's Wonderful World of Color," and even an episode of the original "Mickey Mouse Club."
Disney's "Hocus Pocus" will have additional screenings on October 22 and 23.  Also prior to every screening of "Hocus Pocus," The El Capitan Theatre's own award-winning organist Rob Richards will accompany the 1929 classic Disney short "The Skeleton Dance" live on the Mighty Wurlitzer Organ.  In the lobby, theatre guests may enjoy props, costumes and photo opportunities from the film before and after each performance.
This year, in addition to the movie-going experience, The El Capitan Theatre introduces its new Spooktacular BACKSTAGE Tour.  Guests will be guided through areas of the theatre rarely open to the public — history will be shared about the Ghouls and Haunts of this historic venue, including the origins of The Mighty Wurlitzer Organ.  Ghosts and Goblins of all ages are encouraged to attend in costume. Advance reservations are required as there is limited space per tour.
Showtimes are 12:30 p.m., 4:00 p.m., 7:10 p.m. and 10:35 p.m. Tickets are on sale now, and available at The El Capitan Theatre (6838 Hollywood Blvd.), online at www.elcapitantickets.com, or by calling 1-800-DISNEY6. Special group rates for parties of 20 or more are available by calling 1-818-845-3110. Showtimes are subject to change.
"Hocus Pocus" will also be screened at the El Capitan Theatre on October 22 and 23, but Debney's "Hocus Pocus Overture" will NOT be performed on those days.
Snapchat Stories
But before we get to Friday's event at the El Cap, there's another Southern California institution that's got a fun Disney-related event getting underway this week. The Los Angeles County Museum of Art has joined forces with the Mouse House to launch Snapchat Stories. Check out this social media collaboration (which officially got underway yesterday, by the way).
DISNEY AND THE LOS ANGELES COUNTY MUSEUM OF ART JOIN FORCES TO RETELL CLASSIC DISNEY TALES LIKE NEVER BEFORE
Collaboration Premieres Exclusively on Snapchat, October 19–20, 2016
LOS ANGELES (Oct. 18, 2016) – Disney announced today a new social media collaboration with the Los Angeles County Museum of Art (LACMA) that is designed to retell classic Disney tales in a way like never before: Snapchat Stories. Beginning this month, LACMA, the largest art museum in the western United States, will launch the digital collaboration on the @OhMyDisney Snapchat account. Drawing from over 130,000 works in LACMA's encyclopedic collection, which spans thousands of years and from all around the globe, the teams will use references from pop culture, filters, memes, and whimsical hand-drawn Snapchat overlays to retell some of Disney's most iconic stories in a lighthearted and contemporary tone. The collaboration will continue on a bi-monthly basis.
"LACMA's intentionally humorous Snapchat account not only has made important artworks from our collection vastly more accessible to new audiences, but it has also allowed us to explore these artworks from new points of view," said Michael Govan, LACMA CEO and Wallis Annenberg Director. "Partnering with Disney—one of the most influential and dynamic storytellers of our time—is a perfect marriage of two Los Angeles institutions that love to engage the public with images."
The premiere, a retelling of Beauty and the Beast, will be featured on both the LACMA (@lacma) Snapchat account, as well as on the OhMyDisney (@OhMyDisney) Snapchat account. Told as a series of four Snapchat stories, Beauty and the Beast will begin on LACMA's Snapchat account on October 19 and finish on OhMyDisney's Snapchat account the following day.
In July 2014, LACMA became the one of the first museums to join Snapchat. Since then, LACMA's Webby award-winning account has garnered the attention of major media companies, social media influencers, and an ever-growing audience for its perceptive commentaries on pop culture. By highlighting significant artworks from the collection in an approachable and playful context, LACMA has successfully sparked a curiosity and interest in art history among younger generations.
"Our Snapchat campaign with LACMA opens up new ways for our audiences to experience art and their favorite Disney stories," said Dan Reynolds, VP of Content and Audience Development, Disney Consumer Products and Interactive Media. "The LACMA Snapchat account already captures that contemporary and culturally savvy voice and tone that our OhMyDisney Snapchat audience loves, and this collaboration is a natural way to add a little magic to art and storytelling to reach a new generation of art and Disney fans alike."
Oh My Disney delivers original and shareable content about classic and current Disney characters to fans through a variety of videos, GIFs, quizzes, and quippy editorial. The editorial process is nimble enough to capture the zeitgeist of what is happening in the moment, yet is still entrenched in the classic Disney stories fans have come to know and love throughout the years. Offering original and shareable content through a variety of listicles, videos, GIFs, and images, Oh My Disney is the ultimate digital destination for a daily dose of Disney.
Walt Disney's Los Feliz
And since we've basically been focusing on LA with this week's edition of Fab News, I thought that I'd also mention a very cool tour that's taking place this Saturday: Walt Disney's Los Feliz.
This tour (and – just to be clear – there may only be a couple of spots left) is well worth doing, if only because you're going to get to peek inside of Walt's Woking Way house. Over the past 5 years, I've been lucky enough to get the chance to visit this Tudor-and-French-Normandy style structure that the Disney family called home from 1932 – 1950 a couple of times. And Russian filmmaker Timur Bekmambetov, the new owner of this building, has done an amazing job with the restoration of this house. Making it look as close as he could to the way things were when Walt lived here (while – of course – also making this nearly 85 year-old structure a space where a family from 2016 can actually live comfortably).
If you sign up for this tour, be sure – when you're at the Woking Way house – to check out the Seven Dwarfs-style playhouse out in the backyard that "Santa" delivered to Diane & Sharon Disney during one Christmas in the 1940s.
Anyway … Here's some info on Saturday's event (which will feature an appearance by Disney Legend Bob Gurr).
Take A Magical Trip Through Walt Disney's Los Feliz! – Oct 22, 2016, 11:00 AM
Join the Walt Disney Birthplace on a tour of Walt Disney's Los Feliz, California! When Walt hopped on a train to California from Kansas City, it was his Uncle Robert's house in Los Feliz that became his first home. 4406 Kingswell Ave., was Walt's first home in Los Angeles, and the birthplace of The Walt Disney Studios!
That property is now under threat of demolition. The Walt Disney Birthplace and friends have stopped that process for now. We'd like to share this beautiful little corner of Walt's story by showing you a cluster of quaint spots associated with the start of Walt's career.
During this tour, you'll see:
Walt's early homes and business addresses at the very start of his career
The merry-go-round where Walt sat and thought up the idea for Disneyland
Locations which further Walt's story and his life with Lillian
The Woking Way residence Walt moved to when he became successful
Walt's final resting place
The tour will wrap up with a lunch and presentation at Walt's favorite restaurant, the Tam O'Shanter!
Your guide is Disney historian and author Mindy Johnson, accompanied by special guest and Disney Legend Bob Gurr.
Tickets are limited; get yours today! If the event is sold out, please email [email protected] to add your name to the waiting list (they may be able to open more spots or add an additional tour date). For more information and to purchase your tickets, please visit http://los-feliz.bpt.me/
Star Wars Rebels
Okay. So if you're not out in LA this coming weekend, not to worry. There are still lots of cool Disney-related things you can do. Take – for example – "Star Wars Rebels." There's a brand-new episode of this Lucasfilm-produced television series, "The Last Battle," which will feature an appearance by Captain Rex. Who's a clone trooper character that "SWR" executive producer Dave Filoni carried over from the "Star Wars: The Clone Wars" animated series.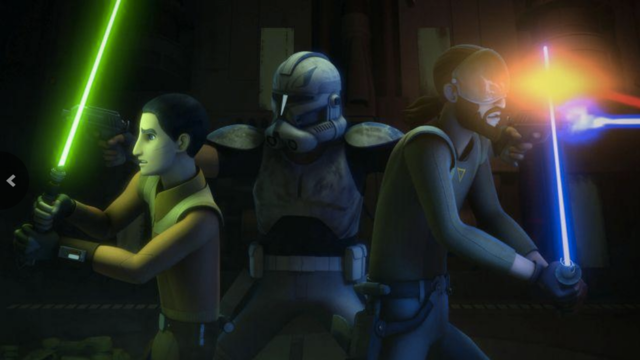 And if you haven't been watching Season 3 of "Star Wars Rebels" (which occupies a lot of the same pre-"A New Hope" turf that "Rogue One: A Star Wars Story" explores), this Disney XD show is hugely entertaining. More to the point, "SWR" 's core group of characters have grown and developed in some very interesting ways. Anyhow, in this week's episode, which airs on Disney XD on Saturday, October 22nd at 8:30 p.m. ET/PT …
… Ezra, Kanan, Zeb and Chopper are captured by a unit of old battle droids determined to fight one last battle to end the Clone War during a s salvage mission.
Rogue One
And speaking of "Rogue One," have you seen the very cool character posters for this "Star Wars Story" (which will hit theaters on December 16th) that popped up online earlier this week?
Ever since I heard Gareth Edwards first speak about "Rogue One" at Star Wars Celebration 2015 at the Anaheim Convention Center, I have been aching to see this Lucasfilm production. Largely because Garth is – of all the directors in Hollywood – the guy who should be directing this prequel to "A New Hope."
"And why is that, Jim?," you ask. Because Edwards is the real deal. He's been a Star Wars super-fan for decades now. So much so that – for his 30th birthday – Gareth actually traveled to Tunisia so that he could then visit the places where "A New Hope" had actually been filmed. Not only that, but Edwards brought blue food coloring and a container of milk along with him. So that – once he arrived at the Troglodyte hotel in Tunisia (which was where the scenes at Uncle Owen & Aunt Beru's house were shot) – Gareth could then do what Luke Skywalker did in that same location. Which is drink a big, tall glass of blue milk.
But before "Rogue One: A Star Wars Story," is released comes "Dr. Strange." Which – just like "Agents of S.H.I.E.L.D" has been doing this season with the introduction of Ghost Rider – will bring the element of magic to the Marvel Cinematic Universe. And as we get closer to the stateside release of this Scott Derrickson film (which will bow in 3D, RealD 3d and IMAX 3D on November 4th), Marvel Studios is marching the stars of "Doctor Strange" around the globe to do promotion for this motion picture. A "Sneak Peek" at the movie is now available at Disneyland Resort and Walt Disney World. Earlier this week, Benedict Cumberbatch & Tilda Swinton were in Shanghai meeting with Chinese Marvel fans.
Shanghai? Didn't I hear something about Disney building a theme park out there?
That's it for this week's edition of the Fab News. Don't worry. Michelle is on the mend. And she'll soon be back here giving you her trademark take on all sorts of doings at Disney.
But until then, you're stuck with me. The guy who's stuck out in the woods of New Hampshire and really wishes that he had a way to get out to LA this weekend so that I could then check out all of the cool stuff that I just mentioned.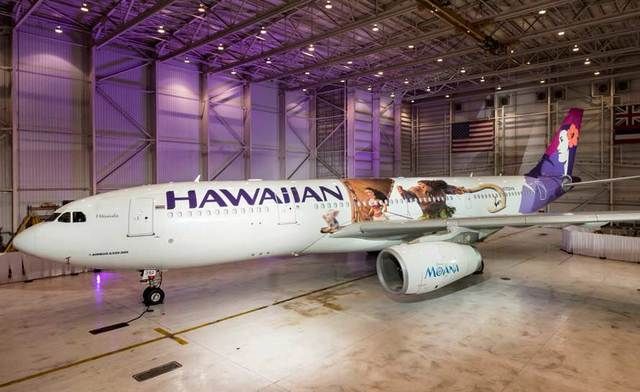 That's do, pig. That'll do.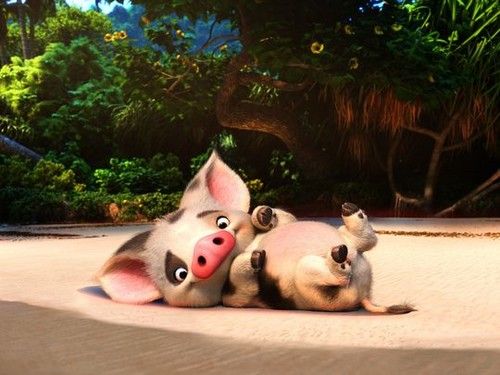 Your thoughts?