It's just a little bit of Fab News for the holiday – Happy Thanksgiving for those of you in the USA, and for those of you not in the USA, Happy probably not-Thanksgiving! Happy Holiday Sandwich season for all Earl of Sandwich customers not near a Disney resort, happy being too cool to leave the house for Black Friday since 2007 for just about everyone I know, It's also the beginning of Shelly's Fabulous Things!
It's my annual (hey, second year running!) gift list. Once a week, I'll showcase three or four fabulous items that would make a perfect gift, and sometimes even have one to give away – plus, there's a special gift at the end, December 22, for one lucky entrant. The first Fabulous Things will appear next Thursday, December 1st.
If you are a creator or representative of something that is already planned for, or that you think might be a nice addition to the Fabulous Things list, please email me at [email protected] ASAP.
You'll be Thankful if you Give!
Leading Animators To Create One-Of-A-Kind Custom Artwork Rewards For The Walt Disney Birthplace's Winter Fundraising Campaign
The Walt Disney Birthplace Restoration has launched the "Walt's 115th Birthday" fundraising campaign at Indiegogo to support the start of the interior renovation phase: Walt's 115th Birthday at Indiegogo
$5,000 – Become an Animated Caricature Courtesy of Character Designer Craig Kellman!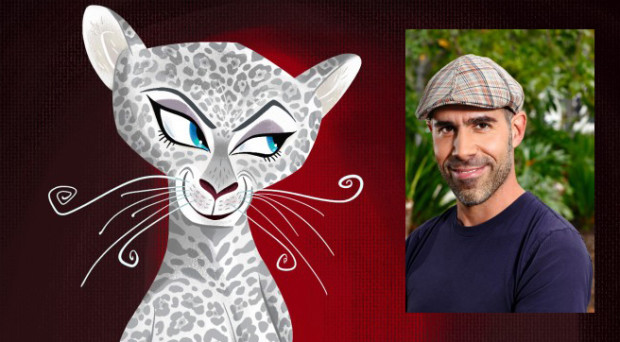 For the first time ever, the Walt Disney Birthplace project is offering commissioned, personalized artwork to be created by some of the world's most talented working animators.
Award Winning Character Designer Craig Kellman will take a picture you provide, along with a brief description of your interests, and incorporate your personality into a fun, lovable, humorous animated caricature worthy of an award winning animated movie!
Craig's work for Trolls, Sausage Party, Hotel Transylvania 1, 2 and 3, The Powerpuff Girls, Madagascar, Cloudy With A Chance of Meatballs 2, The SpongeBob Movie: Sponge Out of Water, and Samurai Jack are just a few examples of his amazing talent.
Read more about Craig and see samples of his work by clicking here!
$5,000 – Be Transformed into a Frozen-style Animated Character by Disney Character Designer Bill Schwab!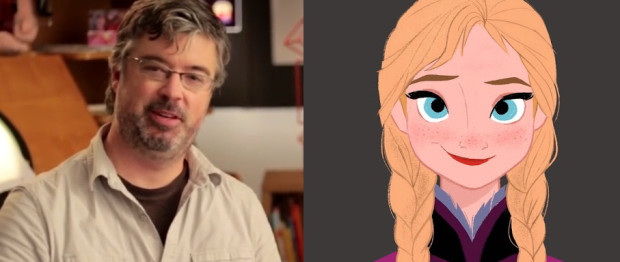 Award-winning Disney Character Designer Bill Schwab will transform you into a Frozen-style animated character! Based on a photograph you supply, Bill will create a one-of-a-kind drawing of you in the beautiful style of the world's most successful animated film!
At Disney, Bill has been an award-winning character designer/ character design supervisor on films and TV specials including Moana, Frozen, Zootopia, Wreck it Ralph, Princess and the Frog, Tangled, and more! 
See some of his amazing work by clicking here!
Todd Regan, the Executive Director of The Walt Disney Birthplace said, "We are so grateful to these phenomenally talented individuals for their fantastic support of this campaign. The actual value of these bespoke artworks from Craig Kellman and Bill Schwab far exceeds their pledge amounts. And a lunch with Floyd Norman is simply priceless."
$2,500 – Lunch with Disney Legend Floyd Norman at The Tam O'Shanter!
You and one guest will enjoy a one-of-a-kind private lunch with Disney Legend Floyd Norman, at Tam O'Shanter, Walt Disney's favorite restaurant in Los Feliz, California!
Floyd is a master animator whose work with The Walt Disney Company includes Sleeping Beauty, The Sword in the Stone, The Jungle Book, Mary Poppins, One Hundred and One Dalmatians, Toy Story 2, Monsters, Inc. and more! This will be an afternoon you will treasure always! (And the reward will include a signed keepsake, too!)
To purchase any of these truly unique artworks and/or the lunch with Floyd Norman, simply make a pledge by visiting: Walt's 115th Birthday at Indiegogo
Brent Young, a Walt Disney Birthplace Project Founder, said, "Anyone who is even a casual fan of animation has seen the work of these three stellar artists. We can't thank them enough for donating their time and talent to this campaign." Dina Benadon, a Walt Disney Birthplace Project Founder, said, "The mission for The Center for Early Childhood Creativity and Innovation is to inspire everyone, young and old, to follow their own creative passions. Craig, Bill and Floyd have done that their entire lives. They are inspirations themselves and that is why we are truly humbled to have them involved with the project."
About The Center for Early Childhood Creativity and Innovation at the Walt Disney Birthplace This two-story wood cottage was designed by Flora Disney and hand-built by Elias Disney in 1893, in the Hermosa neighborhood of Chicago. After the family moved in with their sons Herbert and Raymond, Roy Disney was born in the home in 1893, followed by Walt on December 5th 1901, and sister Ruth in 1903. The several years all seven Disneys lived in this house was the longest period the entire family would spend together under the same roof.
CECCI at the Walt Disney Birthplace will be the flagship site for an immersive creativity and innovation program that will initially serve Hermosa and the surrounding community's children aged 0-8, along with their parents, teachers, and caregivers. In time, CECCI hopes to share the approach with similar neighborhoods across the country. The Center for Early Childhood Creativity and Innovation (CECCI) at the Walt Disney Birthplace is a non-profit 501(c)(3). Contributions are eligible for tax deductions. The Walt Disney Birthplace and CECCI are not affiliated, associated, authorized, endorsed by, or in any way officially connected with The Walt Disney Company, Disney Enterprises, Inc., or any of its subsidiaries or its affiliates. Reference to Walt Disney and their trademarks is used purely for historical reference and informational purposes.
Geeky Gratitude
One of my favorite websites mentioned MiceChat while I was down for the count! EEEEEE!!!!
The Wonderful World of Disney – Tonight!
Tonight's Wonderful World of Disney: Magical Holiday Celebration kicks off the Holiday Season in a big way even though Holiday Time has been going a few weeks now, the rest of the world gets to find out about it from this ABC-TV special. Hope your relatives still get network TV! I have my ABC app on my phone!
In the time-honored tradition of WWoD shows since E.J. Peaker declared "…it must be him, or I shall die!", there is a lot of pop music and host network television stars, ABC and Dancing with the Stars in this case. Julianne and Derek Hough host, with stars from the recording and Disney Channel worlds, including Flo Rida, who looks like he's having a ball, Garth Brooks and Trisha Yearwood, Boyz II Men, singer Jojo, singer and body image activist Alessia Cara and ONEREPUBLIC. Here's a peek at what to expect, plus some really cute character photos mixed in, just for fun!
Gallery Nucleus Features Gorgeous Disney Tribute Art
I've mentioned Gallery Nucleus before, the Steven Universe show a while back and the vinyl records and a couple other cool things, but this is actually something I never expected to see there. It seems so…legit. It's so exciting! It's a really daring thing for both sides to do! It actually opened two days ago, but it will be there until December 6th, so you have time and really, this is something you should make the trip to see. And then you should go up the street and check out the AMAZING Chinese furniture and antique stores! But wait, what am I talking about? THIS:
Announcing An Art Tribute To The Disney Films of Ron Clements and John Musker, Coming This November
With Moana, Disney's next animated feature directed by Ron Clements and John Musker, set to hit theaters on November 23, we've been thinking a lot about how magical the directors' previous films are. To give you a bit of perspective, they released movies like: The Little Mermaid, Aladdin, Hercules, and Princess and the Frog—just to name a few. To celebrate their upcoming film, as well as those from the past, we teamed up with Walt Disney Feature Animation, Cyclops Print Works, Disney Fine Art, and Gallery Nucleus to put together "An Art Tribute to the Disney Films of Ron Clements and John Musker!"
The special limited-time show will open on November 19, 2016 at Gallery Nucleus in Alhambra, CA. Artwork will be on display until December 6, 2016.
There will be over 100 new pieces of art at the gallery, including originals, limited-edition serigraphs, and limited-edition gicleés from over 60 artists.
It's Thanksgiving. Feast your eyes on these: And Lorelay Bove art for dessert. Le sigh…
…and speaking of those two fellas:
Moana at the El Capitan Theater
Our fearless leader, Dusty Sage, ventured to Hollywood yesterday to see Disney's newest animated musical, Moana, at the El Capitan Theater. He sends us the following notes, and now I am even more excited to see this film.
Howdy folks, wanted to share a Disney dream with you. First, if you are in the Los Angeles area and seeing a Disney film, you should really try to see it at the El Capitan on Hollywood Blvd. Even if the film doesn't live up to your expectations, you'll end up loving the theater, the live pipe organ music, the curtain show, and all the little extras which make the El Capitan an LA treasure.
 It's Disney's "House Theater", so you're always going to get something extra, something better than  if you see it at  your local megaplex. There's no IMAX, but the ATMOS is incredible, and there's really nothing else like seeing a masterfully-crafted film in an actual classic Hollywood movie palace. 
Lucky for me, the film I went to see was a sweet confection from Disney's current animation gods, John Musker and Ron Clements (Little Mermaid, Hercules, Princess and the Frog, etc.), and they didn't disappoint. Unlike Lilo and Stitch, which offered a cartoon depiction of Hawaiian culture (both visually and story wise), Moana is steeped deeply in South Pacific lore and offers a rich and careful interpretation of the islands, though the characters retain an elegant animation style which will appeal to kids. This film is some serious eye candy. Just beautiful!
I found the story to be just the right mix of funny and serious, and like any good Disney film it brought tears to my eyes . . . twice. Did you know that I'm a sentimental sap? Well, I am and I fell in love with the character Moana. She's strong, goes on a treacherous journey, finds her purpose in life and doesn't need a prince to save her. In fact, she makes it quite clear that as the daughter of the Chief, she isn't a princess. But she's a great role model and a lot of kids are going to want Moana dolls this Christmas.
Moana is also a musical. While the songs are quite lovely, they are far from catchy, which is a departure from previous Disney Animated musicals. I didn't leave the theater humming any tunes. There's no "Let it Go," or "Under the Sea." The attachment of Lin-Manuel Miranda as songwriter for the film has surely led many to expect a Hamilton level of excitement. For me, this was the one bit of the film I was least impressed with . . . the songs. Don't get me wrong, the songs are fine and you'll likely enjoy them, they just aren't the blockbuster material that we've come to expect from Disney.
One of the best surprises of my visit wasn't in the film at all. The El Capitan has been offering a delightful pre show to Moana which features Disneyland's Side Street Strutters. The band warms you up with hit songs from John and Ron's previous films. And just before the film starts, Moana herself takes the stage with a bit of wild dancing. This is one of the things I just love about the El Capitan. The pre shows don't even need to be all that great, it's just a neat treat to get a little something extra with your movie ticket.
There's one more treat before Moana, the film is preceded by the new animated short film called "Inner Workings." It's a sort of Inside Out look at the struggle between a man's brain and organs. What the heart wants and the brain demands isn't always in sync. It's a really cute and beautifully animated piece.
A couple quick tips. On select dates, Guests can meet Moana, take pictures and have breakfast at the Ghirardelli Chocolate Shoppe and Studio Store for $30 (extra) with the 10AM showing. There is also a Moana Movie & Meal Package with Dave and Busters in the Hollywood and Highland center which gives you a movie ticket, meal and $10 playing card for $40.00 per person. That's a pretty good deal and Hollywood and Highland is your easiest parking as well, so it makes a lot of sense; it's $2 if you get validation at the theater.
Disney's "Moana" is playing at the El Capitan from  November 23 to December 11. You can check on tickets by visiting www.elcapitantickets.com or calling 1-800-DISNEY6
Fab News is supported by my Patreon Patrons and by DVCResaleMarket.com
If you are thinking of buying or selling Disney Vacation Club points and you want to save money, go to the DVC Pros at DVCResaleMarket.com. Nick Cotton and his team have over 75 years of experience buying and selling DVC points both inside and outside Disney, and have sold hundreds of millions of dollars' worth of points. They have a long roster of happy clients who return to buy and sell later and refer others. If you want to make a purchase, make a sale, or simply learn about how it all works from their information-packed website, go to DVCResaleMarket.com
---
Would you like to advertise on Fab News? Email me at [email protected]
When's Fab News on MiceChat.com? Find out – and SO MUCH MORE! with the FREE Mouseaddict app! PLUS FIREWORKS!!!
If you want to reach me I'm on Twitter, on Facebook and also available at [email protected] If you'd like to support Fab News, I'd appreciate it. You can pledge a dollar or more a month through Patreon. Just click on the link or the banner below. Thanks!
---
FTC-Mandated Disclosure: Sponsorship for this edition of Fab News was provided by DVC Resale Market..