Happy Holidays! We've got a huge update for you this week as Disneyland kicks off its annual holidays season with all-new offerings across the Resort! New this year are spectacular seasonal decorations and entertainment in Disney California Adventure's Buena Vista Street and Cars Land areas, bringing a lavish allotment of holiday cheer to the recently re-imagined theme park. At Disneyland, Santa has new digs in the Jingle Jangle Jamboree in Big Thunder Ranch. Meanwhile, Tom Hanks paid a visit to the park last week as his upcoming movie, Saving Mr. Banks filmed on location at Disneyland.
November marks Dateline Disneyland's 5th Anniversary! To celebrate, Dateline Disneyland has teamed up with our friends at the Howard Johnson Anaheim and TouringPlans.com to give back to you, our readers! It's our way of saying thanks for reading for the last five years. Details on our 5th Anniversary Giveaway Celebration can be found in today's column.
Before we get started, thank you to Ryan Pastorino of the ISO 5571 Disney Photography Podcast for contributing some additional photos today!
Get a closer look at today's update! Click on any photo in today's column for a large, high-resolution version of the image.
We're Celebrating 5 Years!
Dateline Disneyland is turning 5 years old!


To celebrate, we're giving back to you, our readers, with 5 weeks of prizes from our friends at the Howard Johnson Plaza Hotel & Water Playground and TouringPlans.com!

Starting today, we're giving out prizes for five weeks through December 10!
Find out what you can win and how to enter below!

Enjoy a 2-night getaway at Howard Johnson Plaza Hotel!

One (1) Grand Prize winner each week will enjoy a two-night stay at the Howard Johnson Plaza Hotel & Water Playground, Anaheim's premier family hotel! Named 2012 TripAdvisor Travelers' Choice "Best for Families" in Anaheim, the Howard Johnson Plaza Hotel & Water Playground is located across the street from the Disneyland Resort. A short eight-minute walk to Disneyland and Disney California Adventure, the seven-acre Howard Johnson Plaza Hotel & Water Playground features free Wi-Fi, free parking and is home to the pirate-themed Castaway Cove – A Watery Pirate Playground featuring a 30-foot pirate ship with drench bucket, slides, water canons and much more!
Win a year subscription to TouringPlans.com!

Two (2) winners each week will receive a one-year Disneyland Resort subscription to TouringPlans.com, where they can enjoy access to 365 days of Disneyland crowd predictions, accurate attraction wait times, Computer-Optimized Touring Plans and much more! TouringPlans.com will help you get the most out of your Disneyland Resort vacation, allowing you to do more and wait less.
Celebrate and save 25% off at TouringPlans.com!
Even if you don't win our 5th anniversary giveaway, TouringPlans is offering all Dateline Disneyland readers (that's you!) new TouringPlans.com Disneyland Resort subscriptions for 25% off!
Click here and use promo code HAPPY5THDATELINE when subscribing!
Win a TouringPlans.com Disney eBook!

Two (2) winners each week will win their choice of a TouringPlans.com eBook, including two new holiday eGuides for the Disneyland Resort and Walt Disney World. The Holiday TouringPlans eGuides are spectacular volumes packed with hundreds of gorgeous photos, plus:
92 pages (Disneyland) and 111 pages (Walt Disney World)
Information & tips for enjoying all holiday entertainment
Tips to avoid the holiday crowds
Full November & December 2012 TouringPlans.com Crowd Calendars
Holiday snack recommendations
Historical tidbits, facts, and more
Also available from TouringPlans eBooks is the beautiful Disneyland: Sunrise to Sunrise — a photographic journey through Disneyland's 2012 24-hour Leap Day party.
Save 25% off on all TouringPlans eBooks!
Didn't win the giveaway but still want to add to your library?
As a Dateline Disneyland reader you can take 25% off your entire TouringPlans.com eBooks order!
Click here and use promo code DATELINE25 when ordering!
Enter-To-Win!
Leave a comment and win! All you need to do is leave a comment about today's blog in the comments section at the end of the column and you'll be automatically entered-to-win!
Rules and Restrictions:
No purchase necessary. To enter for free, you must be a registered MiceChat.com user. Click here to sign up for a free MiceChat.com account.
Entrants must be 13 years or older to win.
Grand Prizes can only be mailed where allowable by law and in the United States of America.
Winners will be selected at random using Random.org at the end of each week during the giveaway period.
By entering-to-win you give MiceChat.com including Dateline Disneyland, its staff and its sponsors permission to publish your name, city of residence and/or your birthday online and in print.
Winners will be notified via Private Message on MiceChat.com. Please check your MiceChat.com Private Messages inbox to see if you won.
All prizes must be claimed within 30 days. Unclaimed prizes will be awarded to another entrant.
Contest may be altered or canceled at any time and for any reason without notice.
Happy anniversary and good luck!
The holidays have returned to Disneyland including the snowflake sculptures atop the main entrance turnstiles.

This week should be relatively quiet before Thanksgiving draws massive crowds next week. TouringPlans.com can help you navigate the parks with our per-park Crowd Calendar, Lines – Mobile Wait Times App that gives access to current and estimated wait times for attractions, and Touring Plans detailing the best plan of attack for hitting the attractions. With holiday crowds on the horizon, it's a good time to subscribe to TouringPlans.com to plan your strategy to avoid the crowds!

Below are the predicted resort-wide crowd numbers for select days generated by the TouringPlans professional statisticians as measured for the upcoming week. For the access to the full year and per-park crowd level predictions, visit our Crowd Calendar.

— Fred Hazelton, Statistician, TouringPlans.com
[center][/center]
[center]Overall
Crowd Prediction[/center]
[center]TouringPlans.com
Crowd Tips[/center]
Tues., Nov. 13
[center]1 

/10

[/center]
Here are some quick-hit notes that we hope you'll find helpful as you prepare your visits for the week:

Tuesday is the best day to do Disney California Adventure.
Partial blockouts on Saturday and Sunday.
Crowd levels are a 9 and 8 on Saturday and Sunday.
Due to its incredibly low capacity, consider riding Luigi's Flying Tires standby right after starting your day by grabbing a FASTPASS for Radiator Springs Racers.

Wed., Nov. 14
2 

/10

Thu., Nov. 15
2 

/10

Fri., Nov. 16
6

/10

Celebrate 5 Years of Dateline Disneyland
with 25% off a TouringPlans.com Subscription!

TouringPlans.com is celebrating Dateline Disneyland's five year anniversary by giving Dateline Disneyland readers (that's you!) a 25% discount on new one-year TouringPlans.com Disneyland Resort subscriptions! Subscribe to TouringPlans.com and get 365 days of access to premium Disneyland Resort trip planning tools including crowd predictions, accurate wait times, Computer Optimized Touring Plans and much more!

Use promo code HAPPY5THDATELINE when subscribing!

Crowd levels are based on a scale from 1 to 10, with 1 being the least crowded conditions and 10 being most crowded.

See Disneyland crowds for the next 365 days.
Get Disneyland wait times on your iPhone, Android, or Smartphone.Do more. Wait less.



Dateline Disneyland is sponsored by TouringPlans.com.
Disneyland's popular holiday season officially kicks off today, November 12, but guests over the weekend were treated to a soft-opening of sorts for the holiday season.

Not all decorations were up yet along Main Street, including the overhead garlands down the street.

The Christmas tree is back, with some new ornaments this year…

New clock ornaments…

Oversized holiday cookie ornaments…

Period-appropriate Christmas greeting cards

By Friday, the Castle had most of its icicle lights in place but guests watching the seasonal debut of the "Believe… In Holiday Magic" fireworks didn't get to see the Castle snow light up while light installation was still underway.

The Castle lights and fireworks show won't see any big changes this year, but Disney did announce that the "Glow with the Show" ear hats will soon work with the holiday fireworks show.

Last week we filled you in on the holiday decorations already up elsewhere in the park, but Friday marked the opening of the new Jingle Jangle Jamboree in the Big Thunder Ranch Jamboree area.

The new Jingle Jangle Jamboree has evicted Santa's reindeer from the ranch and relocated Santa Claus from his traditional meet-and-greet location in the Big Thunder Ranch cabin to an outdoor area in the Jamboree.

The Big Thunder Ranch cabin is still decorated for the holidays, but Santa isn't here…

Not quite…

The Jamboree is all done up for the holidays and it looks great.

Snacks and cookie decorating…

New Monte Cristo Bites available at the Jingle Jangle Jamboree

Mickey in his holiday wear

Santa's new meet-and-greet area is an nicely-decorated outdoor area with an unshaded queue

It's not as nice as meeting him inside the cabin, but it'll do.

Mrs. Claus makes appearances here, too

Holiday crafts include free reindeer masks kids can color

On the main stage, Billy Hill and the Holiday Hillbillies perform a fun set of holiday tunes

Construction Kingdom

Not far from the Jingle Jangle Jamboree, the Big Thunder Mountain Railroad FASTPASS Distribution area has reopened after a brief closure that reduced the footprint of the distribution area.

The downsizing of the FASTPASS Distribution area certainly frees up much-needed space in the area, which is often a point of significant bottlenecking, thanks in part to the large and poorly-placed outdoor vending structure that opened last year across from the Big Thunder FASTPASS Distribution.

Facade work continues nearby in Frontierland.

Out on the Central Plaza, the new Fantasy Faire princess meet-and-greet area continues to show some good progress.

New Fantasyland-style trim going up on the canopy structure

In Fantasyland, work continues on the Casey Jr. Circus Train and Storybook Land Canal Boats refurbishment and safety enhancement project.

The attractions are scheduled to reopen later this week… we'll see if they'll meet their goal.

Walls have come down around the waterfall here

Early last week Disneyland saw film crews turn parts of the park into a snapshot of the park from the early 1960s for filming of the upcoming "Saving Mr. Banks" movie. The film tells the behind-the-scenes story of how Disney's classic "Mary Poppins" came to be. It hits theaters December 2013 and stars Tom Hanks as Walt Disney, Emma Thompson as P.L. Travers (author of "Mary Poppins") and Colin Farrel as Travers Robert Goff (P.L. Travers' father).

Guests visiting the park were treated to areas of the park re-dressed with props evoking the park as it appeared in the 1960s and extras dressed in their 1960s finest.

Walt's car parked in the esplanade

The gate along the Mickey floral with classic Disneyland attraction posters on display, much as they were in the 60s.

A window display underneath the Elias Disney window on Main Street was filled with vintage souvenirs and had a bronze Castle placed above the window, similar to the one seen in this vintage photo.

Banners on the Castle drawbridge were swapped out for filming.

For more photos from filming, including pictures of Tom Hanks on set, see MiceChat's In the Parks blog from November 9.

Welcome to California Adventure
The western edge of California Adventure's main entrance continues to come together… Trees have gone in and it looks like it should be finished very soon.

California Adventure's new Buena Vista Street and Cars Land areas may have skipped Halloween Time this year, but it certainly hasn't passed up the holidays. Buena Vista Street greets guests with a spectacular 1930s-style community holiday celebration, complete with a gorgeous Christmas tree and bell ringers.

Disney released its 2012 Christmas TV commercial last week. Of course, the spot makes a big effort to focus on Disney California Adventure's new Buena Vista Street and Cars Land offerings.

Poinsettias add holiday color to Buena Vista Street

Period-appropriate garland and light-up bells line storefronts along Buena Vista Street.

The Buena Vista Street Community Bell Ringers sing carols as they play the bells for guests.

Take a listen with our video clip from the show:

The Bell Ringers are a fantastic addition to the Buena Vista Street atmosphere for the holidays. Much like the Christmas carolers on Main Street, USA during the holidays, the Bell Ringers add an important element to the overall Buena Vista Street holiday experience.

Shop windows have been made over with themed displays

Some windows at Big Top Toys and Elias and Company have been completely replaced with giant pop-up book style window displays inspired by the 1932 Silly Symphonies cartoon "Santa's Workshop"

Fun stuff!

The Elias and Company jewelry room has been converted into a 1930s department store-style meet-and-greet for Santa Claus. It's a great throw-back and they did a great job transforming the space.

Santa's elves pass out candy canes to guests as they leave

The store still functions as retail space, even with the meet-and-greet. It's been almost completely dedicated to holiday merchandise now.

Lovely displays retell the "A Visit from St. Nicholas" poem (commonly known as "'Twas the Night Before Christmas")

Outside of Elias and Company, the Buena Vista Street Christmas tree is on display, surrounded by a oversized toy train that blows steam and decorated with great, themed ornaments.

You'll spot a building that looks a lot like Walt Disney's Carolwood Barn. A fun nod to Disney history.

It's the DCA Express!

An oversized Red Car Trolley ornament features Mickey and Minnie (you can buy a smaller version of this ornament in the park for $12.95)

The tree also features large bell-shaped ornaments that light up at night and feature classic Disney characters.

It's a small issue, but it's interesting Disney featured Disney characters on and around the Buena Vista Street tree — after going on about the "story" of Buena Vista Street this summer being when Walt first stepped off the train, wouldn't most of these characters not exist yet, let alone be featured on public Christmas trees?

Thematic contradictions aside, the tree and Buena Vista Street's holiday decorations look great.

Carthay Circle Restaurant is decorated inside for the holidays

At night, Buena Vista Street lights up beautifully for the holidays

Nearby, Hollywood Land has just a touch of the holiday spirit with garland on its streetlights and some holiday additions to the Mad T Party.

The T Party lanterns overhead have new blue covers

T Party-style blue garland with snowflake designs using the Mad Hatter's hat

Snow has been added to the nighttime projections

Meanwhile, Disney has completely transformed Cars Land with wacky decorations themed for the land.

Air filter garland strung up over Route 66

The story goes that the Cars have decorated for the holidays and each ride, shop and restaurant reflect the interests and personality of the car that lives there.

…but how did the Cars build the Gingerbread Cozy Cones?

In true Cars Land fashion, many questions are raised by the land's holiday overlay — how exactly do the cars decorate, for example… and most importantly — why do they decorate with car parts? Isn't that kind of… weird?

The expansion space for Ramone's looks like it's almost ready to open as the entrance to the expansion has been uncovered.

Snow in the desert?

Overall, the Cars Land holiday decorations are more or less what would be expected from the Cars universe… Interestingly, a lot of the decorations feel very much in the DCA 1.0 vernacular — tongue-in-cheek, kitschy, intentionally tacky… The difference here is that the Cars Land decorations had a sufficient budget, unlike much of the original park.

The land really lights up at night and the holiday decorations tend to work a lot better aesthetically after dark.

In celebration of Dateline Disneyland's 5th Anniversary, we're taking a look back at photos from the Dateline Disneyland archives. Over the next five weeks we'll look back at some photos from past updates and talk about the changes seen at the Disneyland Resort over the last five years. It's a fun look back at some big changes over the last half-decade.
This week we go back to our very first month, back in November 2007. Our very first edition of Dateline Disneyland from November 22, 2007 took a look at the holiday offerings at Disneyland, including returning holiday favorites as well as new offerings including the Sleeping Beauty Winter Castle overlay…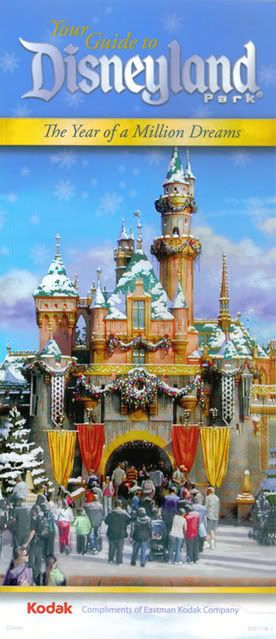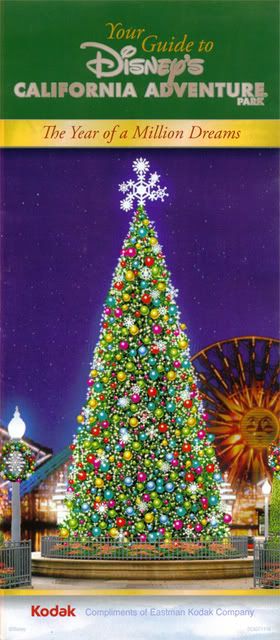 The Christmas Tree in Town Square was still a real tree. The real tree was replaced in 2008 with an artificial tree to accommodate special lighting effects, breaking a 50+ year tradition.

Sleeping Beauty Castle got its winter snow overlay for the first time in 2007 and the first year saw plenty of unfinished areas and lighting glitches that have been refined and worked out over the last several years.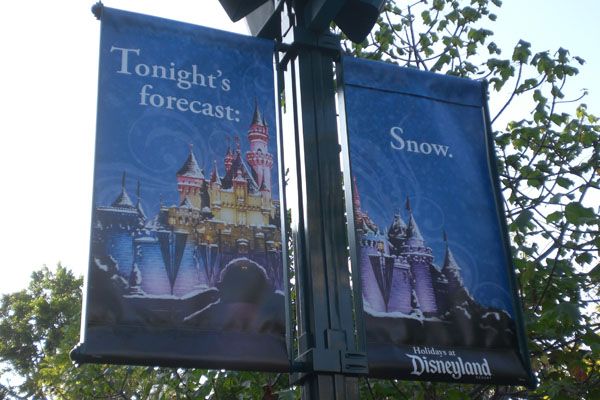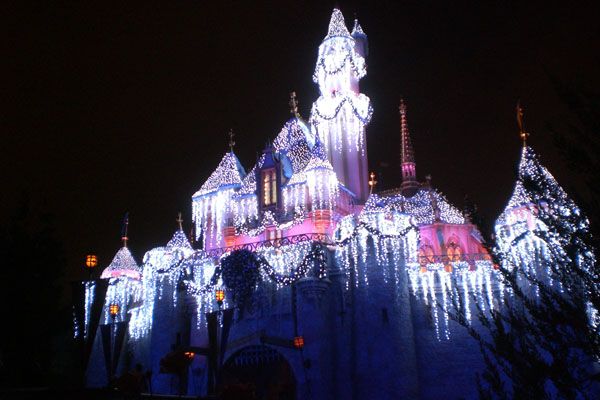 Sections of lighting just didn't work the first year

Over in Critter Country, Pooh and Friends decorated for the holidays in a much more noticeable way than in they do now.

Garland strung up with Pooh's balloons floated over Critter Country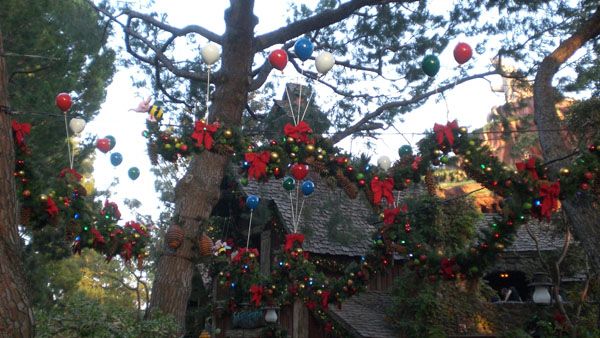 The following week, we took a look at progress at the then-under construction Toy Story Midway Mania at Disney California Adventure. The new Toy Story attraction had been under construction for months at this point, but the community was excited to see any progress as the new ride marked the start of the 5-year Disney California Adventure remodel and expansion project that Disney had just announced in October.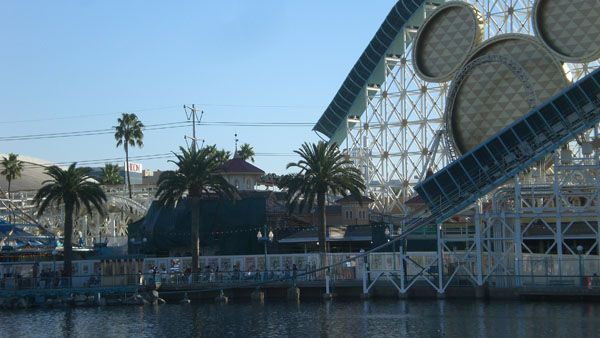 Facade details seen over construction fences were particularly exciting — this level of detail was new territory for DCA, a park that was built on-the-cheap and opened to terrible reviews.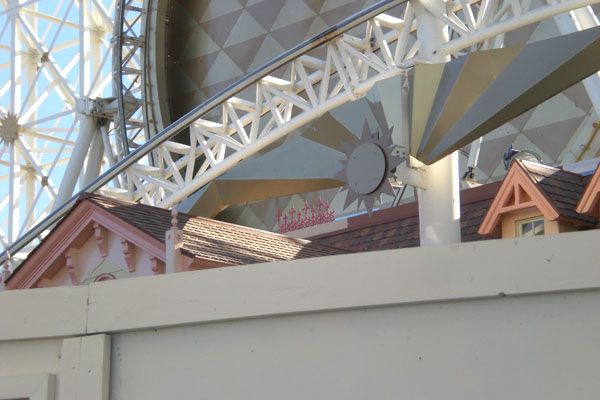 A short walk from the park, HoJo Anaheim is conveniently located next to Matterhorn Mountain at Disneyland with nearby dining, freeway access, FREE parking and FREE Wi-Fi. For more information on HoJo Anaheim, room rates, or to book your stay today, visit HoJoAnaheim.com/MiceChat

MiceChat.com and Annual Passholder Discounts
Available Every Day!
The HoJo Anaheim is now offering deeper discounts for Disneyland Resort Annual Passholders! On select nights, Disneyland Resort Annual Passholders can get rooms for as low as $59 per night, plus tax. For more information visit the HoJo Anaheim Innsider Boards which features an up-to-date listing of available nights, or call (714) 776-6120 and ask for In-House Reservations to book. If your date isn't listed, the HoJo Anaheim still offers rooms for 20% off their best available rate if you call (714) 776-6120.
Weekly News & Information Round-Up

Weekly Theme Park Hours




November 12—18, 2012

[B]Disneyland Park[/B]
[B]Disney California Adventure[/B]
Monday: 9 am – 10 pm
Tuesday-Thursday: 10 am – 8 pm
Friday: 9 am – 12 midnight
Saturday-Sunday: 8 am – 12 midnight
Monday: 9 am – 10 pm
Tuesday-Thursday: 10 am – 8 pm
Friday: 9 am – 10 pm
Saturday-Sunday: 8 am – 11 pm
[CENTER]For a complete listing of theme park hours,
visit the

Disneyland.com Theme Park Calendar

[/CENTER]
[center]

Expected Crowd Levels

[/center] [center]presented by TouringPlans.com[/center]
[CENTER][B]Disneyland Park[/B][/CENTER]
[CENTER][B]Disney California Adventure[/B][/CENTER]
[CENTER][B]LOW-HIGH[/B]
[B]1.1—8.5[/B]

out of 10

[/CENTER]
[CENTER][B]MEDIUM-HIGH[/B]
[B]2.7—8.2[/B]

out of 10

[/CENTER]
[CENTER]Crowd levels are based on a scale from 1 to 10,
with 1 being the least crowded conditions and 10 being most crowded.
[B]For crowd predictions for the next 365 days, visit
[/B]
[center]

Closure and Refurbishment Schedule

[/center]
[b][center]Disneyland Park[/center][/b]

[B]Storybook Land Canal Boats:[/B] Closed through November 15, 2012 for refurbishment.
[B]Casey Jr. Circus Train:[/B] Closed through November 15, 2012 for refurbishment.
[b]Indiana Jones Adventure:[/b] Closed through December 7, 2012 for refurbishment.
[b]Donald's Boat:[/b] Closed through through November 15.
[b]Mark Twain Riverboat:[/b] Closed January 7, 2013 through March 28.
[b]Big Thunder Mountain Railroad:[/b] Closed for extensive refurbishment January 7, 2013 through October 30.
[b]Haunted Mansion:[/b] Closed January 7-17, 2013 to remove Holiday overlay.
[b]Big Thunder Ranch:[/b] Closed January 7-17, 2013 to remove holiday overlay.
[b]Fantasmic!:[/b] Dark January 7, 2013 through February 14 for refurbishment.
[B]Alice in Wonderland:[/B] Expected to close early 2013 to install permanent safety railing on outdoor ride portion.
[B]Fantasy Faire:[/B] New princess-themed meet-and-greet area in former Carnation Plaza Gardens is under construction and expected to open in early 2013.
[B]Princess Fantasy Faire at the Fantasyland Theater:[/B] Fantasyland Theater closed August 12. Princesses have relocated to Small World Promenade allowing the Fantasyland Theater to close and prepare for a new show.

[b][center]Disney California Adventure[/center][/b]

[B]Mickey's Fun Wheel:[/B] Closed November 26-December 6 for refurbishment.
[B]Silly Symphony Swings:[/B] Closed January 7, 2013 through November 17 for refurbishment.
[B]Grizzly River Run:[/B] Closed January 7, 2013 through February 28 for refurbishment.

[b][center]Downtown Disney and Disneyland Resort Hotels[/center][/b]
[center]

Headline Roundup




A quick look at noteworthy Disney theme park headlines from around the web.[/center]
Okay, that wraps up this week's edition of Dateline Disneyland! Before we end for the week, I'd like to once again thank all of you for your support. Whether you just started reading today or if you've been with Dateline from the start, your readership is greatly appreciated. Dateline Disneyland couldn't be here without your support and it's because of you that this column continues to be published here on MiceChat every week. Thank you for reading, donating, click Amazon links, watching YouTube videos, and supporting our sponsors. Happy 5 years!

Don't forget to discuss this week's column in the comments section below! Your comment on the Cars Land holiday decorations or the Jingle Jangle Jamboree could win you a prize in our 5th Anniversary Giveaway Celebration!

We're only here because of your continued support. If you've enjoy Dateline Disneyland over the last five years, please consider helping us out by donating a buck or two so we can pay the bills and keep the updates coming! You can donate with a click of a button via PayPal — click here!

For more Disneyland news, be sure to read MiceChat's weekly In the Parks blog. And be sure to check out our sister blog, Dateline Disney World – a fantastic weekly photo blog covering Walt Disney World in Orlando, Florida!

Thanks for reading. See you at Disneyland!
[B]- Andy[/B]

Support Dateline Disneyland

[center]Follow Dateline Disneyland!


|

|
|
|
[/center]