Scarlett Stahl brings us another tale of a magical afternoon with a Disney celebrity. Join us as we travel to the Ronald Reagan Presidential Library for lunch with Margaret "Tinker Bell" Kerry. ~~Rick
The Ronald Reagan Presidential Library
and
D23 present Margaret "Tinker Bell" Kerry
By Scarlett Stahl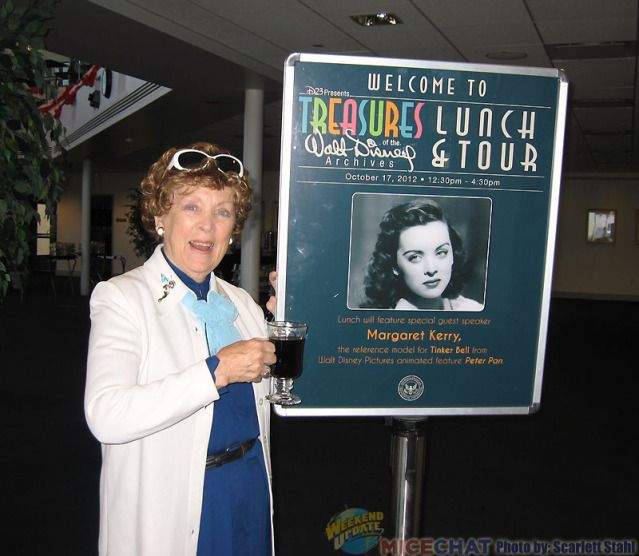 By special arrangement, the Ronald Reagan Presidential Library in Simi Valley and Disney's D23 have placed rare memorabilia from Disney Archives on display through April 2013. Seventy percent of the items have never been seen before! The entire exhibit has been designed by Disney with their own special theatrical flair. People may ask just what is the connection that brings the Disney event to the Library? First, both Walt Disney and Ronald Reagan have deep Irish roots. Secondly, Ronald Reagan had the honor of being one of the three host-announcers on opening day of Disneyland . (The other two were Art Linkletter and Robert Cummings.) The third reason is that the two men became close friends. Lastly, they shared common values and ideals.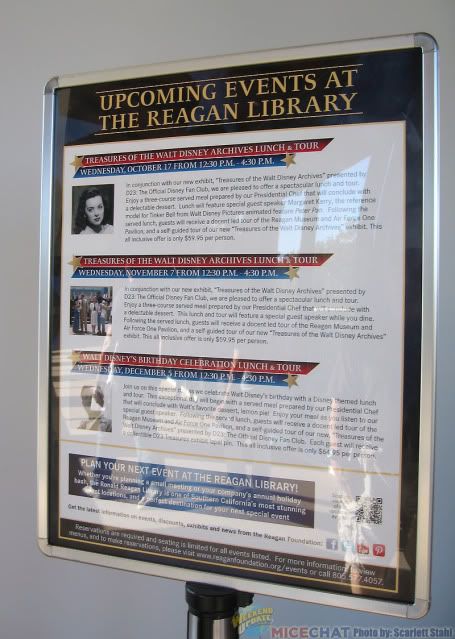 In addition to the exhibit, D23 is sponsoring special luncheons with celebrity guests speakers, followed by tours of the entire library and the Disney exhibit. The first of these afternoons on October 17th featured Margaret "Tinker Bell" Kerry, a very popular celebrity-guest with Disney fans. The meal itself was held in the "Presidential Learning Center" meeting room. While the guests dined, Christine Bernie of the Reagan Foundation introduced Margaret, who danced up the steps and onto the stage. She explained her reason for showing off her dancing skills. It seems that interviewers often asked about the rumor that Marilyn Monroe was the live action model for Tinker Bell. Margaret explained that Marilyn would not have been cast as Tink because the reference work for Tinker Bell required a dancer. Then she is asked whether she can dance. So she danced for the audience and now everyone in the room is a witness.
A Disney video with clips of Margaret on the studio's sound stage doing the scenes for Tink also showed how reference models work and how the animated character emerges. Margaret also mentioned that the little pixie was originally a brunette, then a red head and finally a blonde. Someone forgot to notify the publicity department of the final decision and Press Books had stories about the little red-headed sprite who was Peter Pan's side-kick!!
Margaret and Tink's costume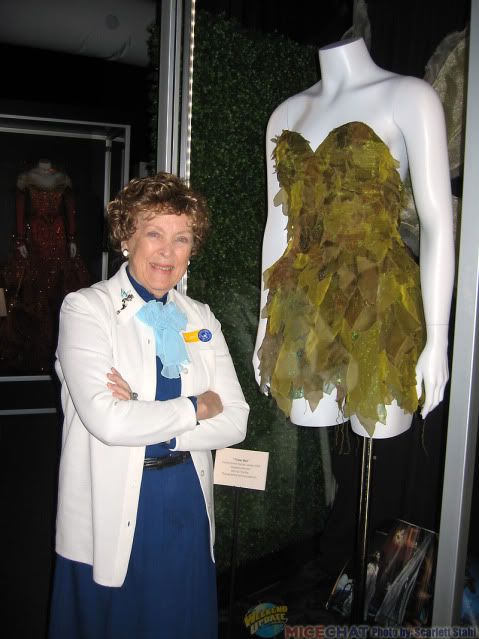 It was a more introspective moment, when Margaret mentioned the amazing long reach of the Disney magic and how it touches people. She talked of a fan, Lisa Warner, who told of being saved from deep depression by constantly reminding herself about her dear friend Tinker Bell's admonition to think "Happy Thoughts." The whole D23 exhibit by Steve Clark and Becky Cline brought magic to the Library by bringing all the wondrous and amazing memorabilia.
Margaret and her daughter, Christina McCarty, strike a famous pose.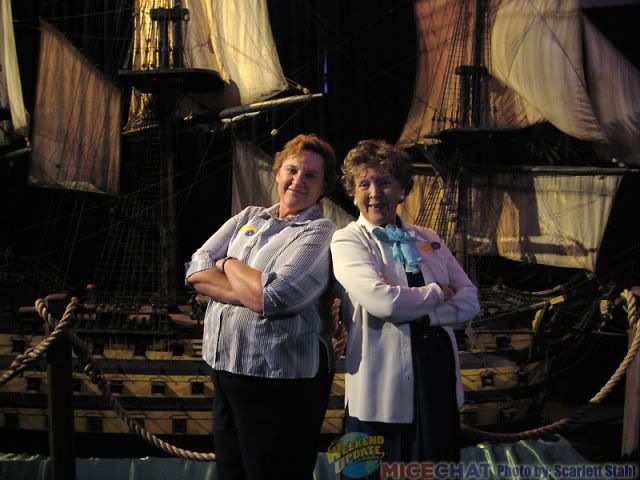 Margaret then perched on a little stool and, much to the delight of the audience, read a short scene from the book of Peter Pan. She used three voices: an English cultured woman as the narrator, a child's voice for Wendy with Peter having a gruffer young boy's voice. She is a skillful entertainer. In order that everyone understood how happy Margaret is to be part of Disney, she ended her performance by saying that there are people, who ask if she isn't getting tired of the "Tinker Bell thing." Her answer is always: "When I can intertwine my name with James M. Barrie, Walt and Roy Disney, Marc Davis, Peter Pan and Tinker Bell in one sentence … what's to get tired of?"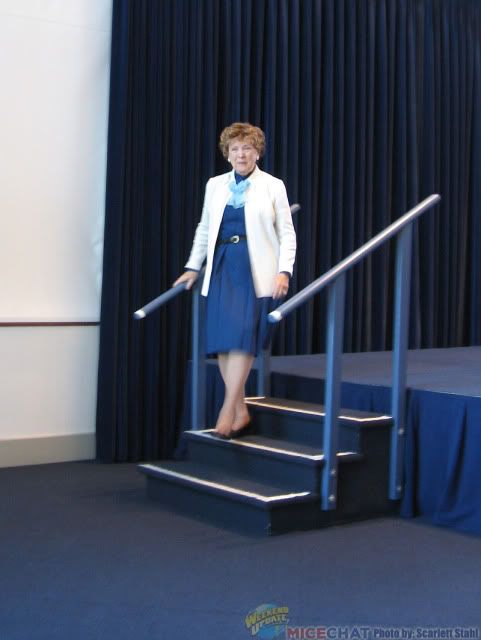 After receiving a standing ovation, Margaret spent another half hour or so with guests, who had lined up to meet and chat with her. She was like the Pied Piper when touring, adults and children (as well as Library docents) wanted photos with her or simply to chat. She did manage to see the exquisite D23 exhibit and go aboard the Air Force One presidential jet along with all the other visitors. That was one exhibit that her daughter Christina wanted to see. They both love planes and a little known fact is that Margaret had taken flying lessons and knows how to fly a plane (but not how to land it, she confided.)
Left to right are: docent Dennis O'Hanlon, Margaret "Tinker Bell" Kerry, docent Scarlett Stahl and Christina McCarty (Margaret's daughter),
The following D23 special events are scheduled for:
Wed. Nov. 7- Luncheon and Tour
Wed. Dec. 5- Walt Disney's Birthday Celebration Lunch and Tour
Wed. Dec 12- Mad Hatter Holiday Tea and Tour
A reminder that the first of these wonderful events, which is coming up this next Wednesday. Here are some details.
Treasures of the Walt Disney Archives Lunch and Tour on Wednesday, November 7, 2012.
Lunch will feature special guest speaker, Disney Legend Kathryn Beaumont (best known for providing the voices and* also being the live reference model for* Alice in Walt Disney's animated features "Alice in Wonderland"* as well as Wendy Darling in"Peter Pan").