Scarlett Stahl and her friend decided to take a trip to Beijing, China, but unlike most U.S. tourists, these two adventurous ladies decided to take their own self-guided tour. It's a good thing they were up for adventure, too, because their trip had some pretty wild moments. We have the first of two parts for you today. ~~Rick
BEIJING, CHINA
By
Scarlett Stahl
My friend, Linda Swisher, and I went to China, not on a tour but on our own. Leaving Los Angeles, Ca. we connected in Tokyo, Japan, for our flight to Beijing, with an arrival about 10 p.m. local time. This was 18 hours after we had left Los Angeles and needless to say we were really tired! We changed our money prior to leaving the secured area at the airport in Beijing as we had been told.
Once in the main terminal, we found a customer service counter where they spoke limited English but told us to take a shuttle to the Railway Station and then a taxi from there to our hotel, which was ideally located in the city centre at Wangfujing, within walking distance of the Forbidden City, Tiananmen Square and shopping, as well as easy access to subway lines.
One passenger on the shuttle heard us speaking in English and helped us obtain a taxi. Luckily the airport customer service counter had written the name of our hotel in Chinese for us to give the taxi driver. The cost was about $9, which we split between us.
Military near Tiananmen Square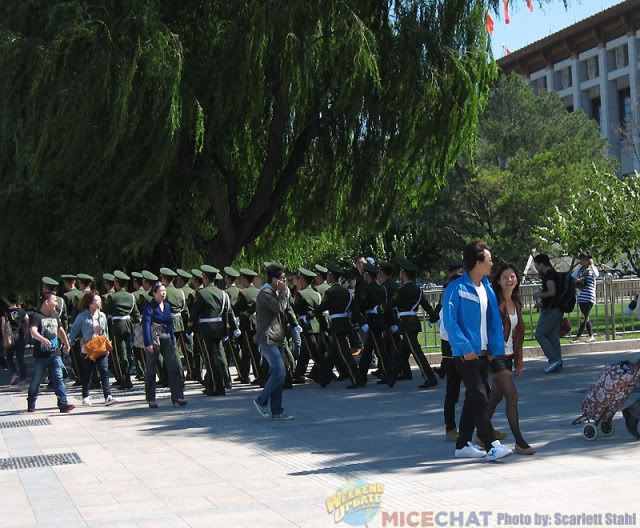 After five hours sleep we were up and ready to explore the city. We had noticed a Starbucks near the hotel and after coffee and a roll, we walked back to the hotel. A couple of Chinese art students heard us talking in English and wanted to practice their English with us. They offered to show us their art work at a Studio, which was near Tiananmen Square. We stopped by our hotel to get some things and the students were reluctant to come in the hotel, saying that the hotel was too grand and they didn't belong there.
We insisted that they wait in the lobby and told them just to say they were waiting for guests at the hotel, if asked. It did seem rather strange their reluctance to come in the hotel. However we did enjoy talking with them and seeing the art at their studio. Linda purchased some items and they accompanied us to the Square, where they left us. They had explained that this year the Mid Autumn Festival was followed immediately by National Day Week, which is when China became a nation in 1949.
Scarlett with Tiananmen Square in background, decorated for Mid Autumn Festival
Tiananmen Square with Forbidden City in background
Scarlett Stahl and Linda Swisher in Tiananmen Square*with Floral Arrangement for**Mid Autumn Festival with Forbidden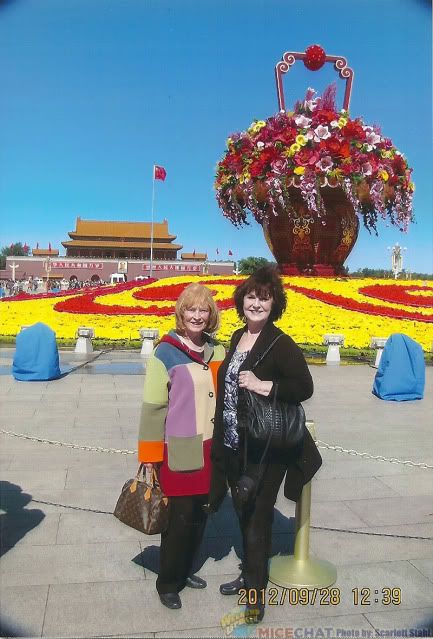 Tiananmen Square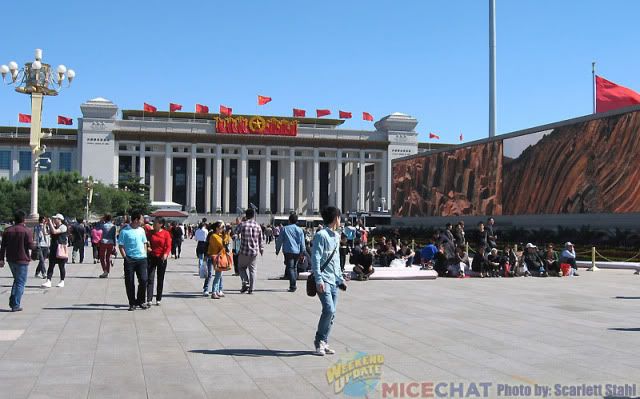 Front of Forbidden City with picture of leader Mao Tse-tung
There was a beautiful huge floral arrangement in the Square, celebrating the Mid Autumn Festival and directly across the Square was the entrance to the Forbidden City. After walking thru the Square, we went into the beginning area of the Forbidden City. We decidied that we would wait to explore it further on a tour that we would arrange with the concierge at the hotel as we wanted to hear more about it. As we left the Forbidden City, we realized that we didn't know our way back to the hotel and no one spoke English, including the police.
I suggested that we try to find a hotel where we could communicate but no luck. Finally I went on strike and had to sit down and rest for a bit as jet lag had hit me. Linda decided to walk another couple of blocks and look for hotels on the side streets. Some nice Chinese gentlemen, who didn't speak English, kept asking people in the passing crowd if they spoke English, in an attempt to help me.
No one did, but one man handed me a flag, which everyone seemed to have. I proceeded to use the flag as a fan, since it was warm. Then it struck me that I was sitting across from Tiananmen Square, where the students had so disastrously rioted some years ago and I was waving a Communist Chinese flag. I decided to fold the flag and save it for my grandson as a souvenir, as it occurred to me that as an American, it was strange for me to be doing this.
Linda did return and on the way to the hotel, a Chinese girl, who spoke English and Chinese, approached us asking for directions. Seeing Linda carrying the artwork, she thought we were locals. We took her with us to the hotel. They gave her directions to where she wanted to go and she thanked us, adding that she didn't know that she could go in a hotel for help! This was strange to me as well.
We learned that cabs were in short number due to the holiday. However the bellman called his friend, who had a private car to take us back to our hotel, as we were too tired to walk anymore. After that, we always checked with the concierge at the hotel for exact directions, a map and the name of our destination, written in Chinese, whether we walked or took the subway. I also carried a note, asking in Chinese for the nearest hotel for the rest of the trip.
Throughout our trip, we found that very very few people spoke English and routinely we were the only Caucasians there. We were such an oddity that people kept coming up, holding cameras to indicate they wanted a picture with us, to which we smilingly agreed. That night we did go to a little Chinese restaurant that the hotel concierge had recommended for dinner. However my rice was cold and we both really preferred the Chinese food we were used to back in the States.
The next day we left the hotel at 8 a.m. on a 10 hour tour. First we went to the Ming Tombs, which are the burial site of 13 emperors of the Ming Dynasty. Most of the unearthed relics are on display in the Hall of Eminent Favour, which is the largest wooden architecture in China, and is more like a museum than tombs. We saw a lot of jade, as pearls, silk and jade are plentiful there.
Scarlett and Linda at the Ming Tombs Museum
Ming Tombs Museum
Statue
Jeweled Crown in case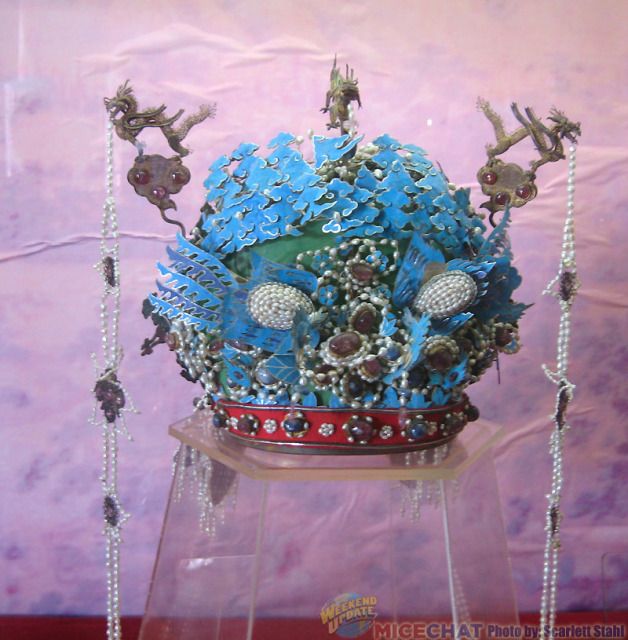 Another Building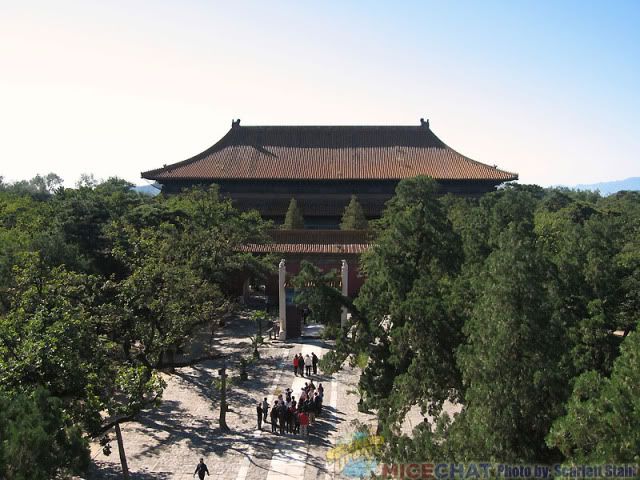 Countryside
After that we were taken to a jade factory, which we were told by the tour guide and sales personnel that it was government owned and that the prices were not negotiable, as they were so low. Other people told me later that the tour guides receive a portion of the sales and that the prices are inflated and that it is better to buy at the Pearl and Silk Markets, where you can bargain for much better prices.
I myself later found this to be true but we had not been anywhere to shop so far, other than the factory. For example a bangle style enameled bracelet cost $10 at the factory and I found the same identical bracelet at many, many stores a couple of days later in the Pearl and Silk Markets for only $4! After demonstrations of jade cutting and shopping, we had lunch at the factory.
Jadeite in first factory
Jewelery technician
Luncheon at the Factory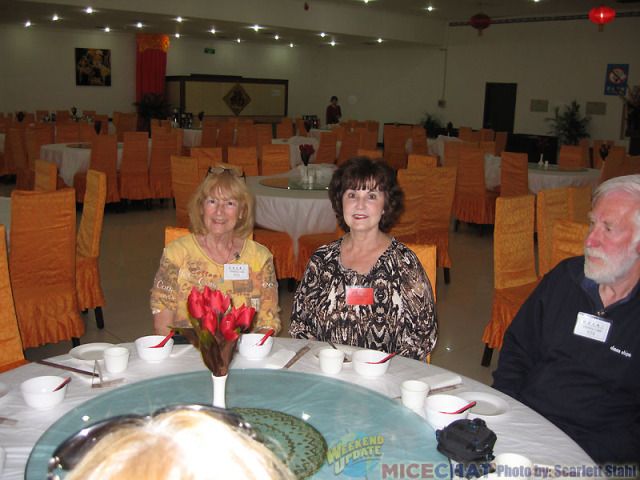 The high point of the tour was after lunch, when we were taken about an hour and a half away from Beijing to a portion of the Great Wall at Badaling. We learned that it took two thousand years for the Great Wall to be built in an east to west line across the northern borders of China.
Scarlett in cable car at Great Wall in Badaling, which is an hour and a half from Beijing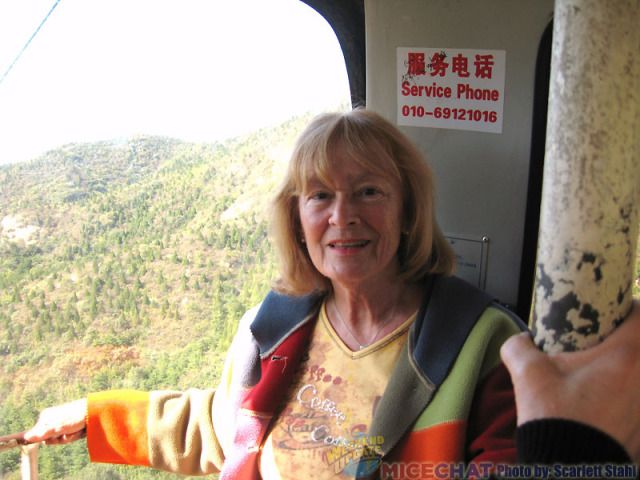 Great Wall and cable car
The Great Wall is known as one of the Seven Wonders of the World. To reach the top, we took a cable car. Linda and I started to walk farther up the wall to the top but due to the holiday the wall was crowded with people. Instead we chose to go back and walk along the lower part of the wall. Either way it was a spectacular view. After taking the cable car back down and looking in the shops, we saw a camel, which you could ride for pictures and of course, I did take advantage of that photo op. Apparently camels were used for transport in the olden days in China.
Scarlett and Linda on Great Wall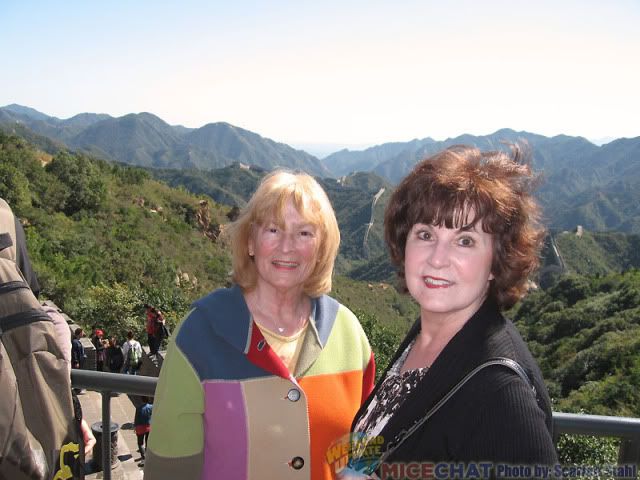 Crowd on Wall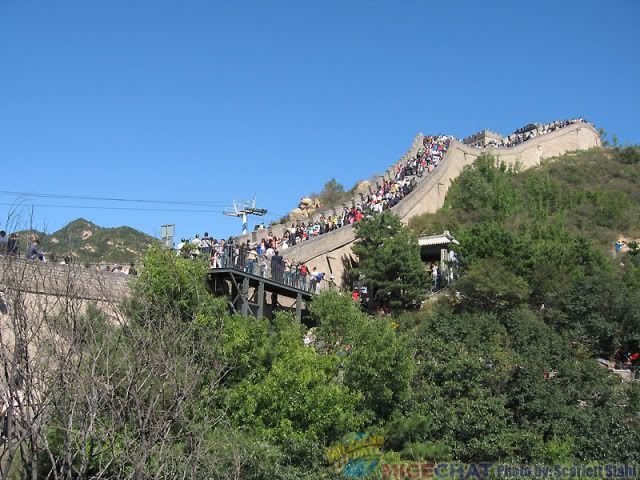 Scarlett and crowded wall
Scarlett on camel at bottom of the Wall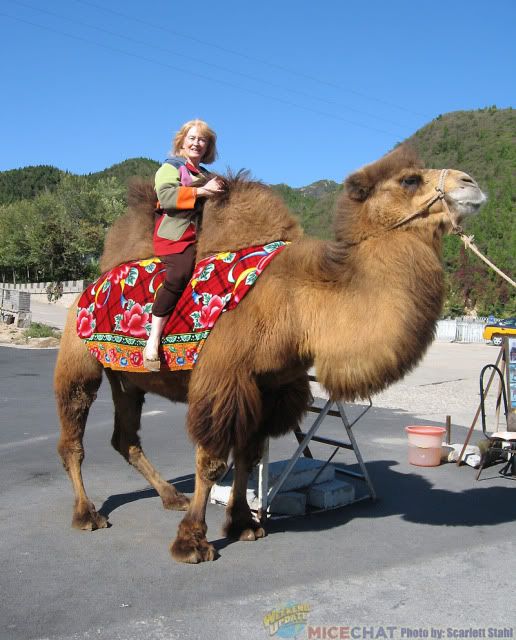 Another section of the Great Wall
After we boarded the bus, we saw other views of the Great Wall. We also passed the 2008 Beijing Olympic Site, where we saw the National Stadium, aka the Bird's Nest, located in the Olympic Green Village. The Olympic events of track and field, football, gavelock, weight throw and discus were held there. After the Olympics ended, it has been opened as a tourist attraction. Now, it's the center of international or domestic sports competition and recreation activities.
Olympic pillars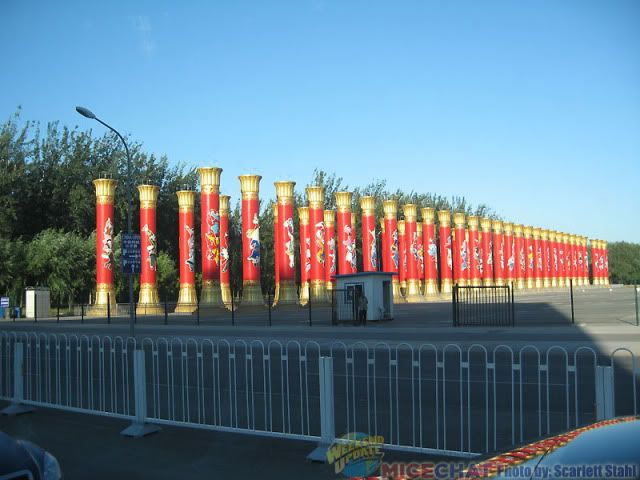 Olympic Torches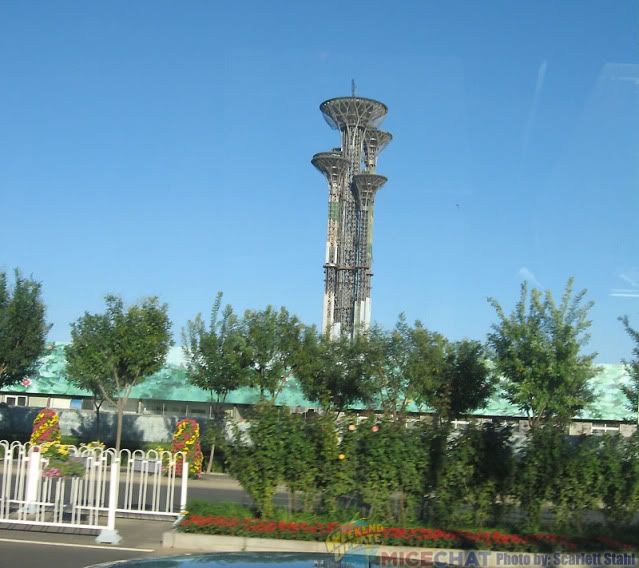 Bird's Nest or National Stadium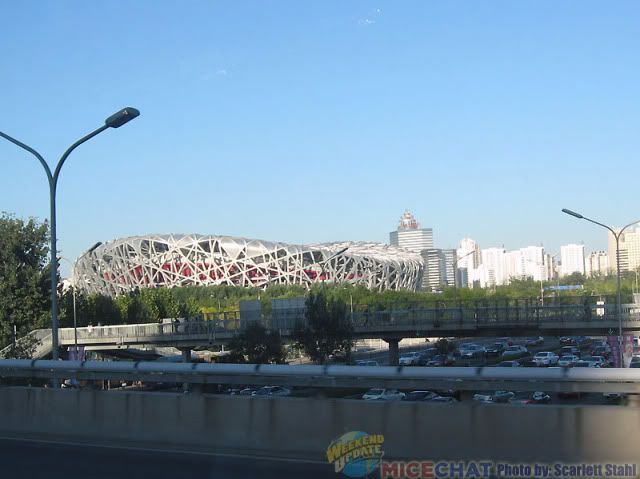 Then we were taken to a silk factory, where the process of silk making was shown. We saw the silk worms, then the silk being woven by the machines and then being stretched. There were comforts with silk inside, instead of down for sale, along with silken sheets and pillowcases.
Silk strands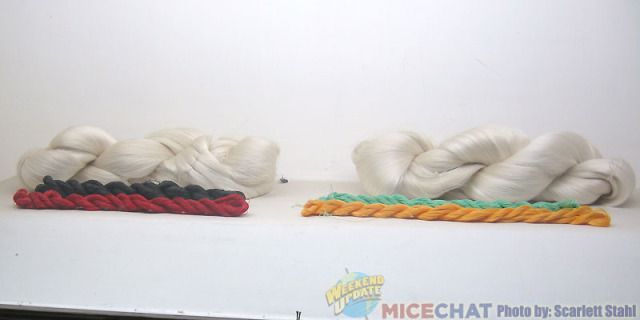 Live silk worms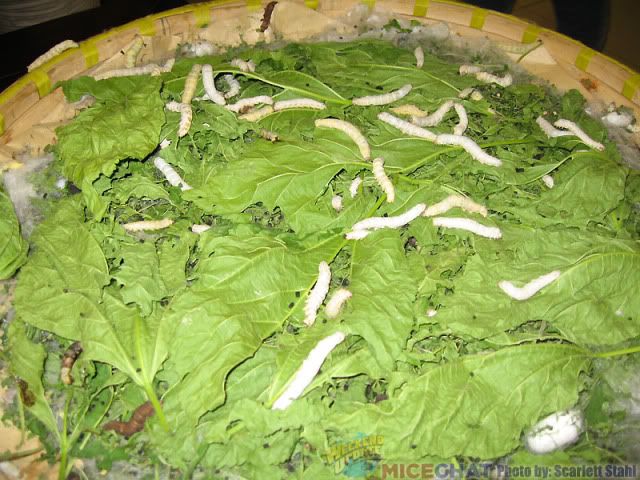 Silk being woven
Silk being stretched with the bags of comforts shown in the back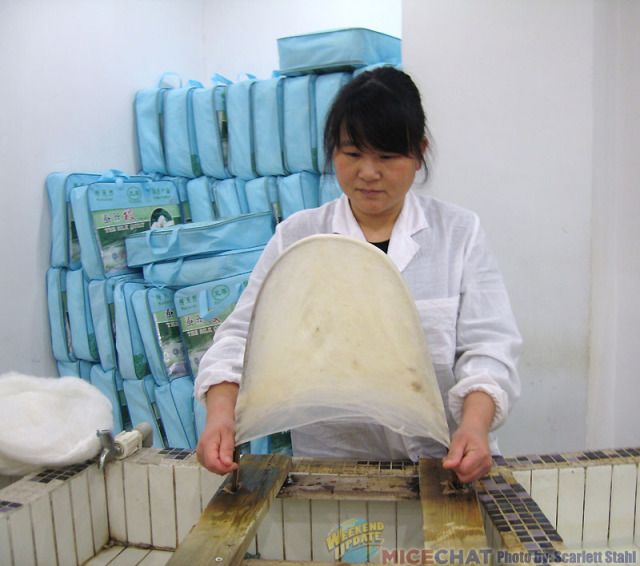 Again this was another government owned factory and they were able to pack the comforts flat with handles on the plastic bags to carry, like a little flat shopping bag. They said that the items were duty free. After the long tour and lunch, we chose to stay in the hotel and skip dinner for an early night.
The lobby of our hotel
To be continued next weekend…