Casey Jr Circus Train and Storybook Land Canal Boats reopened at Disneyland last week after a closure that saw the addition of new safety enhancements for Disney employees. While not major, the changes do alter the attractions' aesthetics in notable ways. Meanwhile, the busy holiday season continues as this week big holiday crowds will hit the parks for the Thanksgiving holiday. We take a closer look at various holiday decorations and offerings in both parks including some holiday treats available at Disneyland bakeries and restaurants.
This week marks Dateline Disneyland's 5th Anniversary! To celebrate, Dateline Disneyland has teamed up with our friends at the Howard Johnson Anaheim and TouringPlans.com to give back to you, our readers! It's our way of saying thanks for reading for the last five years. Details on our 5th Anniversary Giveaway Celebration can be found in today's column.
Before we get started, thank you to Norman Gidney (MiceChat's Fishbulb) for some additional help with some photos today!
Get a closer look at today's update! Click on any photo in today's column for a large, high-resolution version of the image.
We're Celebrating 5 Years!
Dateline Disneyland is turning 5 years old!


To celebrate, we're giving back to you, our readers, with 5 weeks of prizes from our friends at the Howard Johnson Plaza Hotel & Water Playground and TouringPlans.com!

We're giving out prizes for five weeks through December 10!
Find out what you can win and how to enter below!

Enjoy a 2-night getaway at Howard Johnson Plaza Hotel!

One (1) Grand Prize winner each week will enjoy a two-night stay at the Howard Johnson Plaza Hotel & Water Playground, Anaheim's premier family hotel! Named 2012 TripAdvisor Travelers' Choice "Best for Families" in Anaheim, the Howard Johnson Plaza Hotel & Water Playground is located across the street from the Disneyland Resort. A short eight-minute walk to Disneyland and Disney California Adventure, the seven-acre Howard Johnson Plaza Hotel & Water Playground features free Wi-Fi, free parking and is home to the pirate-themed Castaway Cove – A Watery Pirate Playground featuring a 30-foot pirate ship with drench bucket, slides, water canons and much more!
Win a year subscription to TouringPlans.com!

Two (2) winners each week will receive a one-year Disneyland Resort subscription to TouringPlans.com, where they can enjoy access to 365 days of Disneyland crowd predictions, accurate attraction wait times, Computer-Optimized Touring Plans and much more! TouringPlans.com will help you get the most out of your Disneyland Resort vacation, allowing you to do more and wait less.
Celebrate and save 25% off at TouringPlans.com!
Even if you don't win our 5th anniversary giveaway, TouringPlans is offering all Dateline Disneyland readers (that's you!) new TouringPlans.com Disneyland Resort subscriptions for 25% off!
Click here and use promo code HAPPY5THDATELINE when subscribing!
Win a TouringPlans.com Disney eBook!

Two (2) winners each week will win their choice of a TouringPlans.com eBook, including two new holiday eGuides for the Disneyland Resort and Walt Disney World. The Holiday TouringPlans eGuides are spectacular volumes packed with hundreds of gorgeous photos, plus:
92 pages (Disneyland) and 111 pages (Walt Disney World)
Information & tips for enjoying all holiday entertainment
Tips to avoid the holiday crowds
Full November & December 2012 TouringPlans.com Crowd Calendars
Holiday snack recommendations
Historical tidbits, facts, and more
Also available from TouringPlans eBooks is the beautiful Disneyland: Sunrise to Sunrise — a photographic journey through Disneyland's 2012 24-hour Leap Day party.
Save 25% off on all TouringPlans eBooks!
Didn't win the giveaway but still want to add to your library?
As a Dateline Disneyland reader you can take 25% off your entire TouringPlans.com eBooks order!
Click here and use promo code DATELINE25 when ordering!
Enter-To-Win!
Leave a comment and win! All you need to do is leave a comment about today's blog in the comments section at the end of the column and you'll be automatically entered-to-win!
You can enter-to-win until 11:59 p.m. this Friday, November 23 for this week's giveaway!
Rules and Restrictions:
No purchase necessary. To enter for free, you must be a registered MiceChat.com user. Click here to sign up for a free MiceChat.com account.
Entrants must be 13 years or older to win.
Grand Prizes can only be mailed where allowable by law and in the United States of America.
Winners will be selected at random using Random.org at the end of each week during the giveaway period.
By entering-to-win you give MiceChat.com including Dateline Disneyland, its staff and its sponsors permission to publish your name, city of residence and/or your birthday online and in print.
Winners will be notified via the e-mail address used to register at MiceChat.com. Please check your e-mail inbox to see if you won.
All prizes must be claimed within 30 days. Unclaimed prizes will be awarded to another entrant.
Contest may be altered or canceled at any time and for any reason without notice.
Happy anniversary and good luck!
Big crowds will hit the parks this week as schools and workplaces break for the Thanksgiving holiday. Our friends at Touring Plans can help you save time and money with their touring tools.

The Thanksgiving holiday is set to draw massive crowds this week as guests visit to celebrate the holidays and see the newly re-imagined Disney California Adventure in its Christmas finest. TouringPlans.com can help you navigate the parks with our per-park Crowd Calendar, Lines – Mobile Wait Times App that gives access to current and estimated wait times for attractions, and Touring Plans detailing the best plan of attack for hitting the attractions. With holiday crowds on the horizon, it's a good time to subscribe to TouringPlans.com to plan your strategy to avoid the crowds!

Below are the predicted resort-wide crowd numbers for select days generated by the TouringPlans professional statisticians as measured for the upcoming week. For the access to the full year and per-park crowd level predictions, visit our Crowd Calendar.

— Fred Hazelton, Statistician, TouringPlans.com
[center][/center]
[center]Overall
Crowd Prediction[/center]
[center]TouringPlans.com
Crowd Tips[/center]
Tues., Nov. 20
[center]10 

/10

[/center]
Here are some quick-hit notes that we hope you'll find helpful as you prepare your visits for the week:

While busy, Monday is the best day to visit the theme parks before huge Thanksgiving holiday crowds arrive for the week.
Full Annual Pass blockouts Thursday through Saturday.
Predicted Disney California Adventure crowd levels are a full 10.0 on Saturday.
More than ever, riding Luigi's Flying Tires standby right after starting your day by grabbing a FASTPASS for Radiator Springs Racers is a good idea to beat holiday crowds..

Wed., Nov. 21
10 

/10

Thu., Nov. 22
10 

/10

Fri., Nov. 23
10

/10

Celebrate 5 Years of Dateline Disneyland
with 25% off a TouringPlans.com Subscription!

TouringPlans.com is celebrating Dateline Disneyland's five year anniversary by giving Dateline Disneyland readers (that's you!) a 25% discount on new one-year TouringPlans.com Disneyland Resort subscriptions! Subscribe to TouringPlans.com and get 365 days of access to premium Disneyland Resort trip planning tools including crowd predictions, accurate wait times, Computer Optimized Touring Plans and much more!

Use promo code HAPPY5THDATELINE when subscribing!

Crowd levels are based on a scale from 1 to 10, with 1 being the least crowded conditions and 10 being most crowded.

See Disneyland crowds for the next 365 days.
Get Disneyland wait times on your iPhone, Android, or Smartphone.Do more. Wait less.



Dateline Disneyland is sponsored by TouringPlans.com.
Garlands weren't yet up in time for us to cover in last week's blog, but the traditional holiday garlands are now up over Main Street, USA.

Disneyland's popular A Christmas Fantasy Parade returned last week for the holiday season.

The parade is still as charming as ever, but I wouldn't mind if it got a serious re-think in the next couple years. It's a great parade but is showing its age in parts.

Of course, you can't have a Christmas parade without Santa…

Also back for the season is "it's a small world holiday."

The facade truly shines at night.

In Frontierland, Billy Hill and the Holiday Hillbillies perform daily at the Jingle Jangle Jamboree in Big Thunder Ranch

Take a look at a clip from their show below:

You can't complain when the Country Bears join the show during the finale!

Also at Big Thunder Ranch, a 6-month-old Babydoll sheep, born in Northern California, and a 7-month-old miniature Hereford cow, born in La Cresta, CA began appearing on Thursday. Guests were invited to vote on names for the new Big Thunder Ranch residents over the weekend:

Bolt, the new sheep that was welcomed to Big Thunder Ranch this summer with a similar name vote was also out to see guests on Friday.

Construction Kingdom

Back near Sleeping Beauty Castle, the new Fantasy Faire princess meet-and-greet area is making some great progress as more architectural detail can be seen over construction walls.

Nice to see the Castle wall extended out. Looks good.

Back in Fantasyland, work at the Fantasyland Theater is progressing…

This new structure is coming along nicely…

The Goofy's Gas refurbishment in Toon Town has wrapped up…

Not too far away, the Casey Jr. Circus Train and Storybook Land Canal Boats reopened after the attractions were closed to install safety railing and widen the bridges that Casey Jr. travels over.

From the Casey Jr. platform, you can see new decorative safety rail along a tiered planter. It doesn't look bad and isn't terribly noticeable.

The bridges were widened and safety rails were installed during the closure to reduce the risk of Cast Members working the attraction and performing maintenance work from falling into the Storybook Land canal.

The new safety rails and pillars added to the bridges. They aren't the prettiest things, but aren't that intrusive while experiencing the attractions.

The railing on the bridges are pretty plain, but that's likely to avoid being a distraction to riders passing over the bridges.

You can see how much the bridges were widened during the closure

Below, a video of the newly safety-proofed Casey Jr. Circus Train.

And here is our video from early September for comparison

Despite the changes, Storybook Land and the Casey Jr. attractions remain charming gems of Fantasyland.

Storybook Land miniatures are decorated for the holidays as well!

Welcome to California Adventure
Over at California Adventure, the final part of the Buena Vista Street project wrapped up when the west side of the park's main gate emerged from construction walls over the weekend.

The new planter matches the one on the other side of the main gate

It looks great, and it's nice to see the area finally completed and construction walls down.

The new backstage gate area

The walls are down at Carthay Circle Theater, showing the redone terrazzo floor. Not much is really noticeable from a guests' perspective.

This week we're taking a closer look at some of the new holiday decorations in California Adventure as well as some great new park-specific merchandise.

The new holiday edition of the Buena Vista Bugle is available now on Buena Vista Street

A lot of shops along Buena Vista Street feature their own Christmas trees and holiday decorations with unique ornaments reflective of shop themes.

Atwater Ink and Paint Supply

Trolley Treats is decorated inside with candy garland…

A festive Christmas putz (thanks to Foxxy for the tip) in the Trolley Treats window…

Pink garland and ice cream cone ornaments decorate Clarabelle's Hand-Scooped Ice Cream

Christmas garland on the Red Cars

Los Feliz Five and Dime is decked out for the season…

Elias and Company has a great little Christmas tree in the children's department.

Small trees covered in very 1930s-appropriate tinsel in the Elias and Company men's and women's departments

Glittery birch branches

The mannequin display has been decorated for the holidays.

Gone for the season is the fan-favorite Rocketeer mannequin. Hopefully he returns intact after the holidays.
It's often hard to find good park-specific merchandise but Disney stepped up its game a bit this holiday season with really great Buena Vista Street-themed holiday merchandise including t-shirts, ornaments, greeting cards and more.

Red Car Trolley ornaments!

I love the Buena Vista Street holiday art work

Of course, there's plenty of generic Disney holiday merchandise to be had, too

Every night at dusk, Buena Vista Street celebrates the holidays with a new tree lighting ceremony featuring the Buena Vista Street Community Bell Ringers and the Citizens of Buena Vista Street. It's a great new addition and a fun little added bonus for the holidays. We have video of the full ceremony below:

In Hollywood Land, the Muppet Theater is now showing a 4D presentation of "Prep & Landing: Naughty vs. Nice"

The main doors to Muppet*Vision are closed – guests enter and exit the theater at its regular exit doors

The "Prep & Landing" presentation is a nice alternative to the fun but poorly-attended Muppet*Vision 3D show.

In Cars Land, lots of unique holiday decorations can be found in the land's gift shops

Sarge's Surplus Hut takes an interesting approach with army supplies being used as Christmas decorations

Radiator Springs Curios has a unique Christmas tree

Not Christmas-related, but the shop expansion at Ramone's is just about ready. Peeks through the windows show the garage-themed expansion waiting for merchandise…

Flo's has a couple Christmas trees as well

Speaking of Flo's, the Cars Land diner has a couple of special holiday offerings for guests this year including holiday cupcakes and the Pear/Cherry Cream Cheese Ugly Pie

Special holiday kids meal containers

At the Fiddler, Fifer and Practical Cafe, Starbucks' full lineup of popular holiday drinks and pastries are available

Disney's baked treats are also available at the Practical Cafe as well as at other locations including Disneyland's Jolly Holiday Bakery.

Special holiday ice cream flavors and cones are available at Clarabelle's Hand-Scooped Ice Cream in California Adventure and the Gibson Girl Ice Cream Parlor at Disneyland.

Candy shops in both parks and in Downtown Disney have a selection of specialty holiday candies, cookies and baked treats

Holiday fudge flavors include the famed pumpkin flavor as well as peppermint chocolate and toffee nut.

In celebration of Dateline Disneyland's 5th Anniversary, we're taking a look back at photos from the Dateline Disneyland archives. Over the next five weeks we'll look back at some photos from past updates and talk about the changes seen at the Disneyland Resort over the last five years. It's a fun look back at some big changes over the last half-decade.
This week we take a look back at our two–part June 14, 2010 blog. It's hard to believe that World of Color's big debut was already over two years ago. The premiere of World of Color was a huge milestone for California Adventure as it was in the middle of its huge expansion and remodeling efforts. World of Color was the first big-budget project to debut as part of the five-year makeover and for fans, it was the first taste of the level of quality and dedication Disney was really putting into the California Adventure rebirth. Disney knew this and the park celebrated the World of Color debut as much as the fan community did. The park's main gate, still in its Sunshine Plaza incarnation, was decked out for the occasion.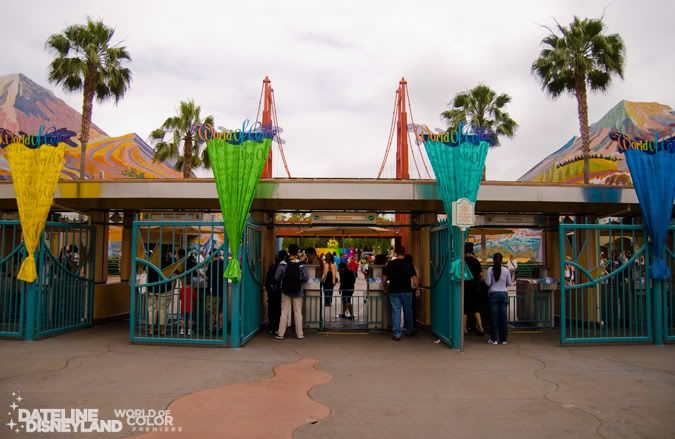 Remember the park's old main entrance plaza? What a difference a couple years makes, right? It's almost hard to believe Buena Vista Street wasn't always there!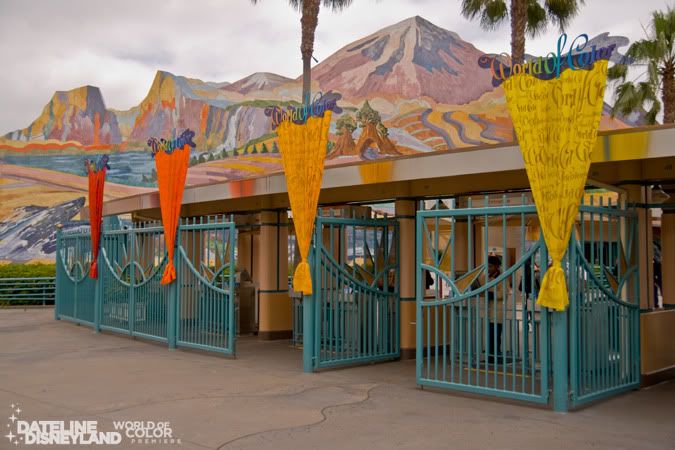 The show itself became an instant hit with park guests, despite a long 25-minute running time and a burdensome FASTPASS reservation system for the show.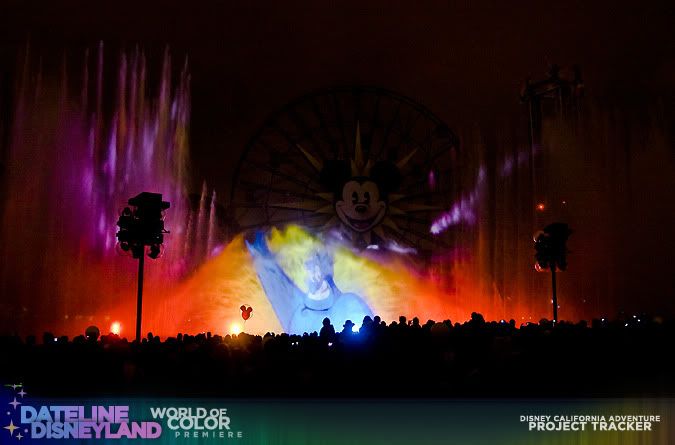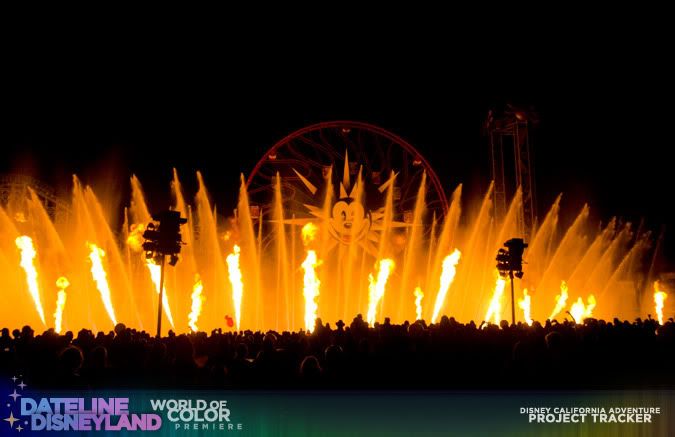 At the same time, Glow Fest debuted in the park's Sunshine Plaza and Hollywood Pictures Backlot areas. The temporary nighttime alcohol-soaked dance party was a huge hit with park guests, so much so that the dance party concept has continued with ElecTRONica and now the Mad T Party.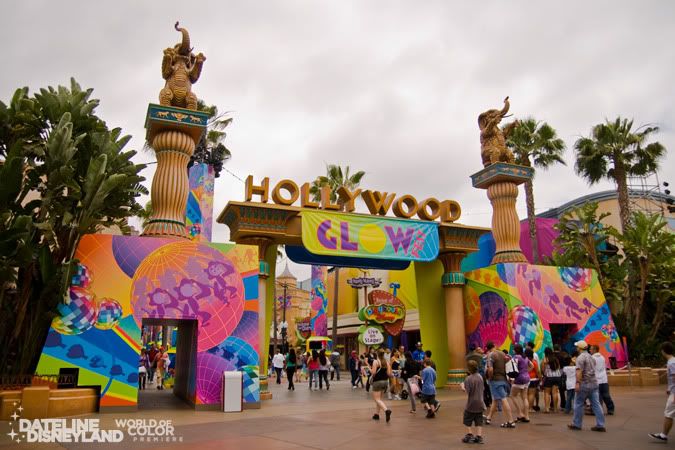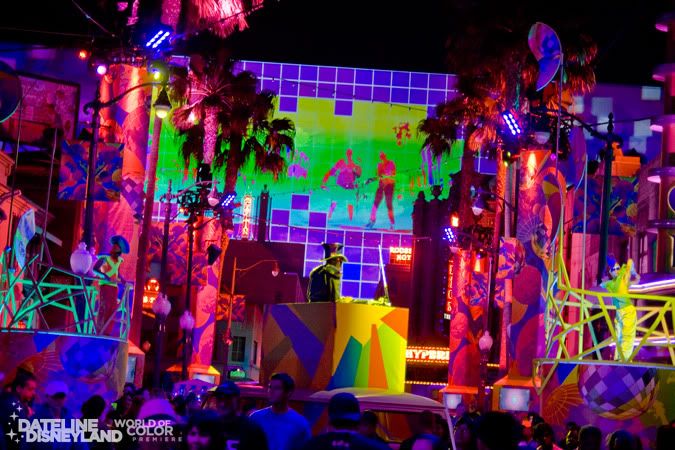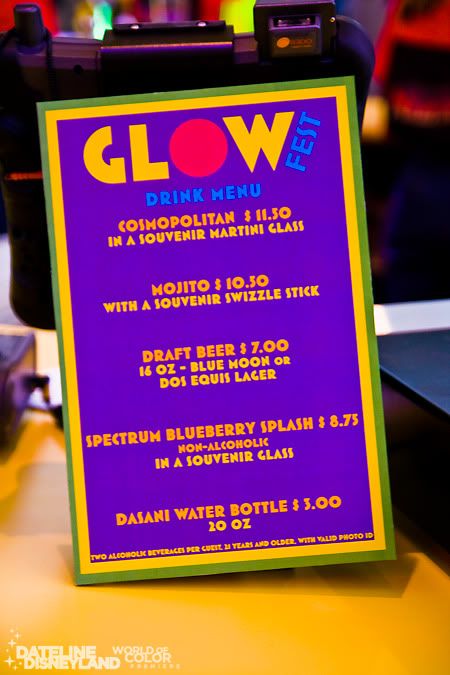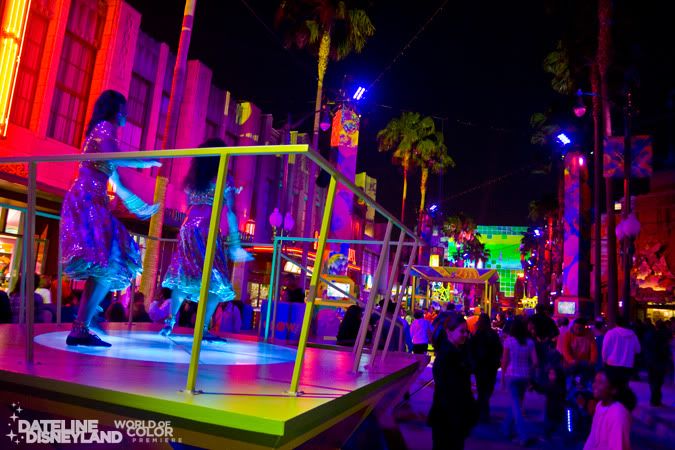 Meanwhile, as Glow Fest and World of Color lit up the night, California Adventure was still a frenzy of construction activity. The Little Mermaid ~ Ariel's Undersea Adventure and Cars Land was still under construction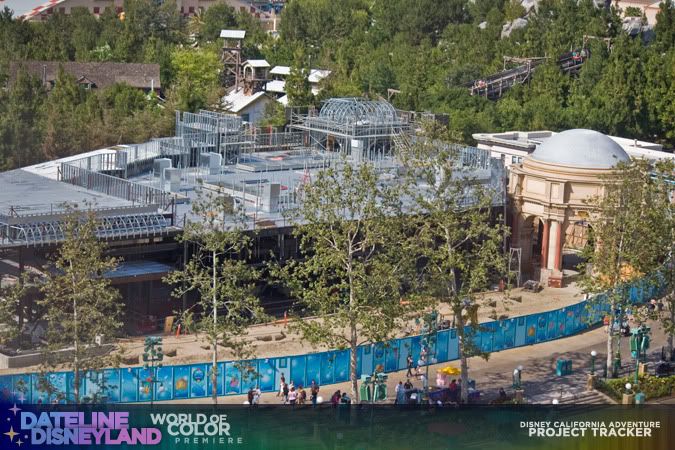 Cars Land was just a section of steel framework at the time…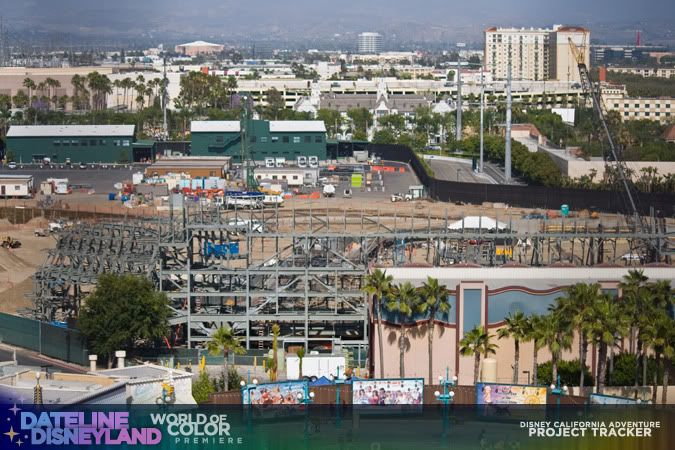 …and a small section of test track for the upcoming Radiator Springs Racers attraction. It's fascinating to see how far the park has come in just two years, isn't it?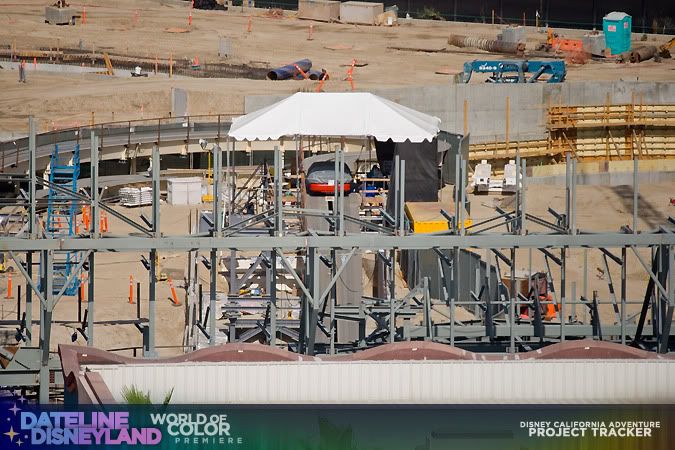 A short walk from the park, HoJo Anaheim is conveniently located next to Matterhorn Mountain at Disneyland with nearby dining, freeway access, FREE parking and FREE Wi-Fi. For more information on HoJo Anaheim, room rates, or to book your stay today, visit HoJoAnaheim.com/MiceChat

MiceChat.com and Annual Passholder Discounts
Available Every Day!
The HoJo Anaheim is now offering deeper discounts for Disneyland Resort Annual Passholders! On select nights, Disneyland Resort Annual Passholders can get rooms for as low as $59 per night, plus tax. For more information visit the HoJo Anaheim Innsider Boards which features an up-to-date listing of available nights, or call (714) 776-6120 and ask for In-House Reservations to book. If your date isn't listed, the HoJo Anaheim still offers rooms for 20% off their best available rate if you call (714) 776-6120.
Weekly News & Information Round-Up

Weekly Theme Park Hours




November 19—25, 2012

[B]Disneyland Park[/B]
[B]Disney California Adventure[/B]
Daily: 8 am – 12 midnight
Daily: 8 am – 11 pm
[CENTER]For a complete listing of theme park hours,
visit the

Disneyland.com Theme Park Calendar

[/CENTER]
[center]

Expected Crowd Levels

[/center] [center]presented by TouringPlans.com[/center]
[CENTER][B]Disneyland Park[/B][/CENTER]
[CENTER][B]Disney California Adventure[/B][/CENTER]
[CENTER][B]HIGH[/B]
[B]7.5—9.5[/B]

out of 10

[/CENTER]
[CENTER][B]HIGH[/B]
[B]7.7—10.0[/B]

out of 10

[/CENTER]
[CENTER]Crowd levels are based on a scale from 1 to 10,
with 1 being the least crowded conditions and 10 being most crowded.
[B]For crowd predictions for the next 365 days, visit
[/B]
[center]

Closure and Refurbishment Schedule

[/center]
[b][center]Disneyland Park[/center][/b]

[b]Indiana Jones Adventure:[/b] Closed through December 7, 2012 for refurbishment.
[b]Mark Twain Riverboat:[/b] Closed January 7, 2013 through March 28.
[b]Big Thunder Mountain Railroad:[/b] Closed for extensive refurbishment January 7, 2013 through October 30.
[b]Haunted Mansion:[/b] Closed January 7-17, 2013 to remove Holiday overlay.
[b]Big Thunder Ranch:[/b] Closed January 7-17, 2013 to remove holiday overlay.
[b]Fantasmic!:[/b] Dark January 7, 2013 through February 14 for refurbishment.
[B]Alice in Wonderland:[/B] Expected to close early 2013 to install permanent safety railing on outdoor ride portion.
[B]Fantasy Faire:[/B] New princess-themed meet-and-greet area in former Carnation Plaza Gardens is under construction and expected to open in early 2013.
[B]Princess Fantasy Faire at the Fantasyland Theater:[/B] Fantasyland Theater closed August 12. Princesses have relocated to Small World Promenade allowing the Fantasyland Theater to close and prepare for a new show.

[b][center]Disney California Adventure[/center][/b]

[B]Mickey's Fun Wheel:[/B] Closed November 26-December 6 for refurbishment.
[B]Silly Symphony Swings:[/B] Closed January 7, 2013 through November 17 for refurbishment.
[B]Grizzly River Run:[/B] Closed January 7, 2013 through February 28 for refurbishment.

[b][center]Downtown Disney and Disneyland Resort Hotels[/center][/b]
[center]

Headline Roundup




A quick look at noteworthy Disney theme park headlines from around the web.[/center]
Okay, that wraps up this week's 5th anniversary edition of Dateline Disneyland! I hope all of you in the U.S. have a safe and happy Thanksgiving holiday! Thank you for reading over the last five years and be sure to join in the discussion below — you'll be entered-to-win some great prizes!

Don't forget to discuss this week's column in the comments section below! Your comment on the Cars Land holiday decorations or the Jingle Jangle Jamboree could win you a prize in our 5th Anniversary Giveaway Celebration!

We're only here because of your continued support. If you've enjoy Dateline Disneyland over the last five years, please consider helping us out by donating a buck or two so we can pay the bills and keep the updates coming! You can donate with a click of a button via PayPal — click here!

For more Disneyland news, be sure to read MiceChat's weekly In the Parks blog. And be sure to check out our sister blog, Dateline Disney World – a fantastic weekly photo blog covering Walt Disney World in Orlando, Florida!

Thanks for reading. See you at Disneyland!
[B]- Andy[/B]

Support Dateline Disneyland

[center]Follow Dateline Disneyland!


|

|
|
|
[/center]