Chicago: where it all started. Where Elias Disney worked as a contractor at the Chicago World's Fair of 1893 (the famed White City) and brought home stories of a gleaming modern city, to his amazed little boys that they later passed down to their brothers and sister. Those tales must have planted quite a seed in young Walt Disney's already brilliant mind.
Get Creative at Walt's Birthplace – June 24th
Who knows what will spring from the minds of children who are allowed to grow and create at the Center for Early Childhood Creativity and Innovation at the Walt Disney Birthplace? Here's a great way to find out: Go see it for yourself! On June 24th, FREE Creativity Days makes its triumphant return to the Walt Disney Birthplace from 11AM to 2PM. That's a Saturday, if you're worried about work or school. And it's a rare chance to see INSIDE the home where Walt, Roy and Ruth Disney were all born.  NO TICKETS NEEDED for Creativity Days. Just show up at the amazing little house where Walt was born and enjoy:
The Big Draw — Everyone's a kid again as attendees are invited to draw on the sidewalk with colorful chalk. Help set the tone for the event by being as creative as you'd like.
Creation Stations — There will be a number of stations scattered around where anybody who wishes to can create, draw, dance and innovate!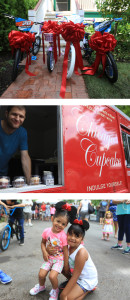 Win a Schwinn — The Schwinn company was founded nearby the Disney Birthplace. These nice folks will again be giving away 4 of their classic American bicycles through a special Creativity Days prize drawing! Thank you, Schwinn!
Food Trucks — Chicago dogs? Deep dish pizza? I don't know! I hope so! If I'm going all the way to Chicago, it's not for a kimchi burrito. Dusty tells me that they are incredible. 
The Creativi-TREE Ceremony — The Walt Disney Birthplace will add new magic to the "Creativi-TREE," a living, ever-growing celebration of the Disney children born in the home. The Creativi-Tree is a symbol of CECCI's mission to inspire the next generation of creative thinkers, dreamers, and doers. Children will be able to write their dreams on colorful ribbons to be tied to its branches and paint Creativity Stones to place under the tree!
The Walt Disney Birthplace is located at
2156 N Tripp Ave
Chicago, IL 60639
For more information about Creativity Days, please click HERE
NEW THIS YEAR: CONSTRUCTION TOUR INSIDE OF THE HOUSE – June 24th ONLY!!! For this year's Creativity Days event, there will be guided group tours inside the Birthplace! This is a very rare opportunity to see the parlor, kitchen, dining room and upstairs bedrooms(where Walt was born!), during the restoration phase, before the home is opened to the general public! Tickets are VERY LIMITED and the cost of these tickets helps keep Creativity Days free for the community! Click here to get your tour tickets today!
Oh, and last year, Dick Van Dyke showed up to say hello, as well as a bunch of cool Disney artists. So you never know what surprises might pop up. There's just something about Walt Disney's history and legacy that people love, and will love forever, and will never, never forget. And these children are going to be taught about him and his legacy from preschool age and carry his life lessons throughout life. I have a feeling that when they are adults, there just might be a higher rate of success stories stemming from the CECCI than from kids who don't learn these types of things. Just my opinion.
In case you think you can just sleep it all off the next day, you could not be more wrong.
Experience "The Magic of The Mouseketeers" – June 25th
In a rare, one-night-only extravaganza for the Chicago area (and, heck, any area that isn't Orlando or California, let's be brutally honest here); you're going to see all of WALT DISNEY'S ORIGINAL MOUSEKETEERS, the only ones he hand-picked himself, perform at the historic Tivoli Theater in Downer's Grove. And all ticket sales support the restoration of the Walt Disney Birthplace!
Opening for them will be those bombshells of be-bop, Letters from Home, bringing tunes from the fabulous forties and World War II.
The show takes place at 1PM, on the last day of Downer's Grove's Rotary Grovefest. So come early (so you can find parking), and enjoy the car show, food, rides, music ("Libido Funk Circus" is playing Sunday!) then head into the theater at noon, because that's when they fire up the century-old Wurlitzer!
The Mouseketeers will talk about their lives and amazing careers, recount their remembrances of working with the great Walt Disney himself, sing their classic songs, hold a panel discussion about the Mickey Mouse Club, and of course, there will be an opportunity to meet them live and in person!
If you want to save some dough for something deep-fried at Grove Fest, you can get 25% off your tickets. Use the promo code FAB. As in me. All caps. That is a huge discount. That is enough to get a deep fried unicorn horn or whatever. Here's that link and don't forget the discount:
TICKETS TO SEE THE MOUSEKETEERS ON JUNE 25th HERE
You'll have fun, you'll help kids, and you'll see Mouseketeers!!!
Save
Save
Save
Save