Scarlett Stahl remembers Jeannette Thomas as a beautiful and unique lady, so it isn't a surprise that her memorial at Pasadena's Gamble House was also beautiful and unique. Here's Scarlett's wonderful tribute to Jeannette as well as her photos of the wonderful memorial. ~~Rick
Jeannette Thomas Memorial 
By Scarlett Stahl
Saturday, November 17 was rainy and gloomy. However the skies cleared on Sunday, November 18, with pleasant temperatures befitting the memorial for Jeanette A. Thomas. Some may ask who Jeanette Thomas was. If I may, I would like to go back in time to the year 2000, when I went to the home of Frank Thomas, one of Walt Disney's nine old men and one of Walt's original famous animators. I was there to do an article on Frank's life and career. I met a beautiful and unique lady, and lady is the correct word for Jeanette Thomas, Frank's wife. Instead of just an article about Frank, Jeanette featured prominently in my completed article. Portions are reprinted below from the NFFC FantasyLine EXPRESS, now known as the DFC Disneyana Dispatch.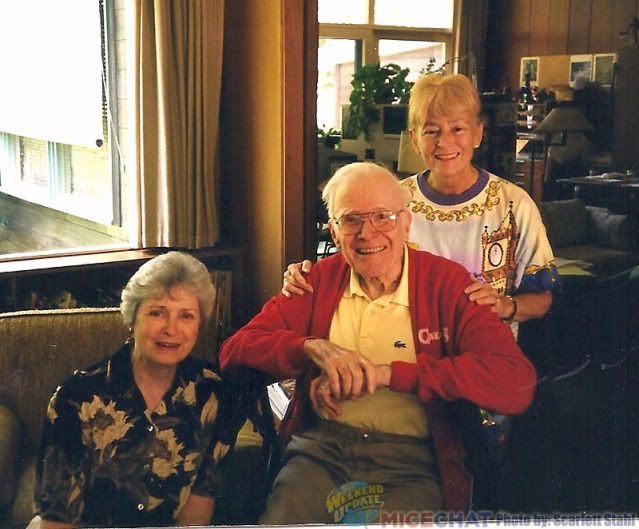 Jeanette and Frank Thomas with Scarlett in 2000
"Frank's oldest brother, who was a teacher at Stanford University, told Frank that he should settle down and stop playing around the "beautiful Hollywood starlets." With this in mind, his brother gave a party for Frank and invited several students, including young men, who would be no competition for Frank, and some lovely young ladies. Among the ladies was Jeanette Armentrout, whose father was an educator and by coincidence, also a friend of Frank's father. Needless to say, Frank was quite taken with Jeanette and carried on a 3 ½ year courtship via correspondence. Frank had joined the Air Force during World War II and was stationed in Culver City, California, with a special educational unit. (I can see that her beauty would have matched even the most beautiful starlets of her time!) Frank would write to stimulate Jeanette's interest and enclose pieces of music as well. In return, he said, "I received rather dull duty letters such as "I rode my bicycle into town and listened to some music." Jeanette was teaching in northern California when Frank was discharged from service. The tone of her letters changed and became more personal after his release. Soon they were married and began a family, which included one daughter and three sons. One summer, Jeanette took the children to visit her parents in Colorado and Frank couldn't get away to join them. He had saved the letters she had sent him during the war and each day he would send one of those letters back to her. When the family asked her what he had said, she replied "Oh it's another of my dull letters that he is sending back to me."
Alice Davis is the widow of another of Walt Disney's nine old men, Marc Davis and is a Disney Legend in her own right. Alice has always been close friends with Jeanette and admired Jeanette greatly. Alice said that there were numerous ceremonies where Frank Thomas was honored with awards and Jeanette was always invited to come to the stage with Frank, but she always refused. Jeanette told Alice that she loved Frank dearly, the honors were all his and she had nothing to do with it. (Writers comment: We all know that behind a great man is a great woman. However this great woman was obviously modest as well.) Through the years we would meet at events and I would always send pictures and articles to her. Every Christmas I would receive a Christmas card from Jeanette and would always reciprocate.
But let us continue with the Memorial now that you are more familiar with Jeanette Thomas. The Memorial was held at the Gamble House in Pasadena, California, which is an outstanding example of American Arts and Crafts style architecture. The house and furnishings were designed by Charles and Henry Greene in 1908 for David and Mary Gamble of the Procter & Gamble Company. The house, a National Historic Landmark, is owned by the City of Pasadena and operated by the University of Southern California and is open for public tours. There was valet parking and guests for the Memorial were directed to the back of the house, while regular scheduled tours of the house were still being conducted. There were a couple of ladies on the back porch, hand printing the names of guests onto name tags. In one area of the large landscaped back yard was a table with warm brie cheese in a pomegranate sauce with walnuts and crackers. There was wine and some liqueur as well as water for the guests to enjoy while visiting with friends before sitting at one of the numerous tables spread throughout the yard.
Guest speakers used the back porch above to share their memories of Jeanette. Paula Sigman Lowery shared that when she was director of the WDCC, she met Frank and Jeanette Thomas. A strong friendship developed and Paula also found a strong loving attachment to the beautiful old historic Gamble House. Jeanette offered to sponsor her as a docent and eventually Paula did accept her invitation. Paula is now President, Gamble House Docent Council. Jeanette had first become involved with the Gamble House in 1977, just two years after it opened to the public. Images of The Gamble House: Masterwork of Greene and Greene was written by Jeanette and contains 100 color photographs by Ted and Kuniko Thomas, her son and his wife that detail the artistry of the house. For her efforts she won awards from both the Gamble House Docent Council, and the City of Pasadena. Jeanette produced a documentary film introduction to the Gamble House, and also helped set up the junior docent program in which junior high students learn to guide elementary school students through the house. Jeanette was named an "honorary docent", a very special award from the docent council that is only given to outstanding individuals for extraordinary contributions to the community and understanding of the Gamble House. In several documentaries, including Frank & Ollie, and Walt and El Grupo, which were directed by Ted, Jeanette is visibly featured.
Ukiah Hoy (Jeanette's granddaughter)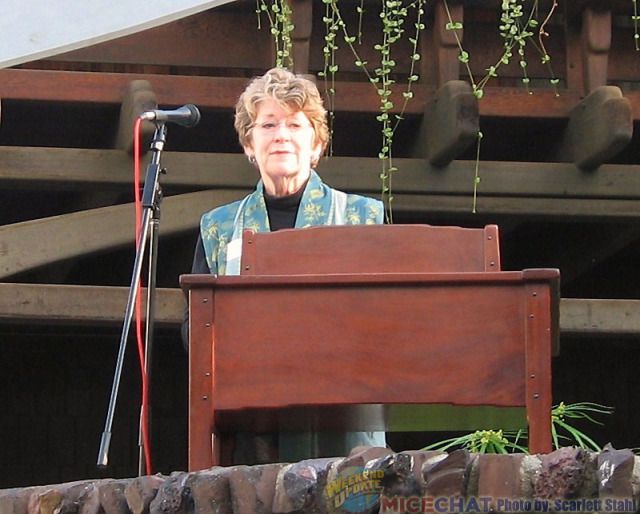 Susan Crancer Hunt (family friend)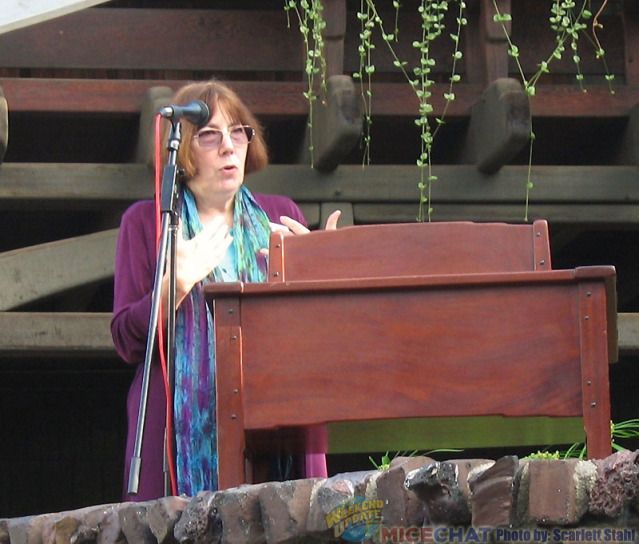 Paula Sigman Lowery
Kuniko Thomas (Jeanette's daughter in law…wife and partner with husband Ted in films and documentaries)
Ted Thomas (Jeanette's son) with Paula Sigman Lowery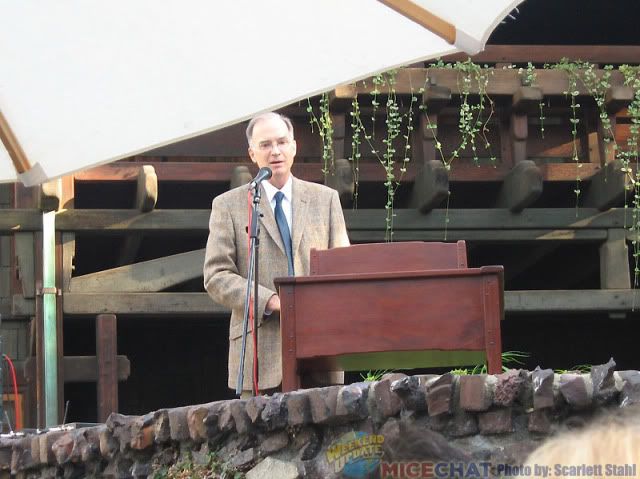 Ted Thomas
Ted Thomas said that when he asked his mother what type of memorial she would like, her response was "Do what you like, I wont be here to see it." He also mentioned the time she took the children to visit her parents in Colorado while their father had to stay in Los Angeles. When they would ask what their father had said, she would reply "Oh he just sent one of my old dull letters back to me."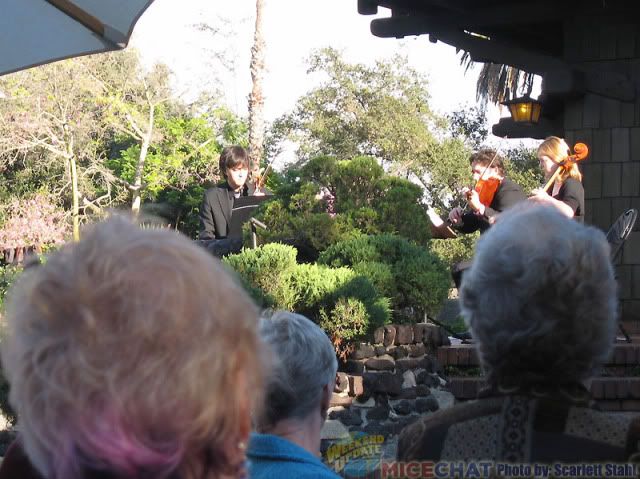 Young Musicians Foundation Debut Orchestra
In addition to Ted Thomas, family members present included the following: Ted's wife, Kuniko Thomas; Ukiah Hoy (Jeanette's granddaughter) and her husband; Gregg Thomas (Jeanette's son) with his wife; Micah Thomas (Jeanette's grandson) and his wife. Also present were Barbara Armentrout, Patrick Thomas, Michael Thomas and Sarah Thomas. Kuniko's brother, Gaku Okubo from Japan was there. But the prize for longest trip went to Ulf Sveningson, an artist friend of the family who came from Sweden just for the day.
Music was performed by members of the Young Musicians Foundation Debut Orchestra, playing harp, flute, violin, viola and cello. A piece from Fantasia was performed along with others. In her memory, the family asked that donations be made to the Young Musicians Foundation (195 South Beverly Drive, Suite 414, Beverly Hills, Ca 90212, 310-859-7668, or Donate | Young Musicians Foundation)
Guest and Mindy Johnson
Mindy Johnson (chaperone to the stars) and Kathryn Beaumont (voice of Alice in Wonderland and Wendy from Peter Pan)
Andreas Deja (animator extrordinaire), Russi Taylor (voice of Minnie Mouse) Fabrizio Mancinelli (composer)
Don Hahn center back (producer, director, animator)
Bottom left to right, Tyrus Wong (Tyrus is 102 years old and*his most famous work was for the Disney animated classic, Bambi) Fabrizio Mancinelli, June Foray ( voice of Rocky in Rocky and Bullwinkle) back of Russi Taylor and unknown guest
Tyrus Wong accompanied by his daughter
Group shot as crowd was breaking up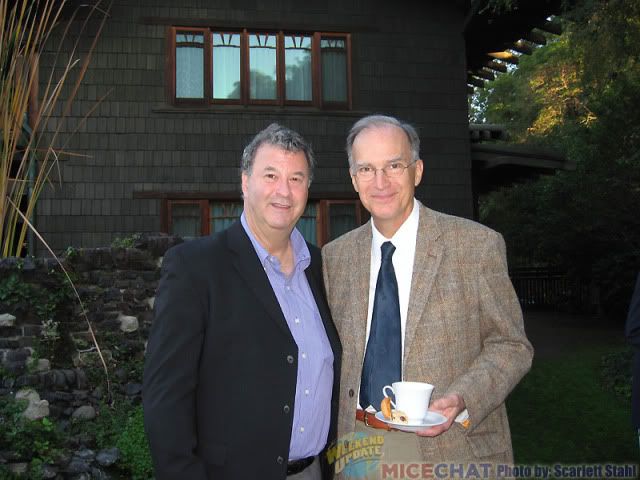 Howard Green (VP of Communications for the Walt Disney Animation Studios) and Theodore*(Ted)*Thomas (well known photographer and documentarian, producer, director and writer, who has won several awards)
Howard Green and Ted Thomas
At the end of the program there were tables in the garden, laden with the special tea that Jeanette had favored along with all her favorite tea sandwiches as well as cakes and cookies for us to enjoy. These were made by the docents, who also sat at the tables to pour the tea and assist the guests. And some of the docents even stayed in the house after the regular tours to answer questions for the guests, who were delighted to tour the beautiful house after the tea. It was a most unique and lovely memorial for a unique and lovely lady, Jeanette Thomas, which everyone enjoyed! It is with Ted and Kuniko Thomas permission that this article is being written, for those who could not be there.