Welcome to the MiceChat Disney News Roundup!
Welcome to this week's Disney & Theme Park news roundup. A lot has happened over the past seven days, with fires in Anaheim and records crowds at the Disneyland Resort.
Some interesting news and great events ahead.
Disneyland Resort Update – Force, Frenzy and Fires
What a strange week it has been at the Disneyland Resort.  Since our Monday Disneyland Update a lot has happened. Crowds have been insane, in part due to the Columbus Day holiday. Terrible nearby fires turned the sky to orange and filled the air over the Disneyland Resort with smoke and ash. And even more change has come to Downtown Disney, including a mad rush for tickets to the new Star Wars VR experience.  Fear not, we'll fill you in on all the spooky details.
There isn't a more fun way to visit WDW than with lots and lots of your MicePals.
Sip and Nibble around Epcot's Food and Wine Festival
Enjoy the lower crowd levels between Halloween and Christmas
Tour Universal's Wizarding World
Meets, dinners, special events and more!
DON'T MISS THIS – The next 8 people to book this trip with Fairy Godmother Travel will join us on a VIP Tour of the Magic Kingdom. You'll be a celebrity with our very own plaid!
---
MiceChat

at HEX –

October 27th & 28th
You're invited to hottest Halloween party in Orange County as eSports Arena is transformed into 'HEX.'
Enjoy intoxicating tunes from Jason Jass, the DJ who captivated audiences at the Mad T Party at Disney California Adventure from 2012 until it closed.
In addition, a special performance from Monte Revolta and his Band of the Living Dead will wake the spirits and have everyone running to the dance floor. Taking a chainsaw to classic tunes and mashing them up with modern day hits, they've stitched together a Frankenstein'd monster of music that will have any audience rocking in the aisles.
If you dare, venture through a gypsy encampment and visit one of the oracles to uncover your final fate. Perhaps the snake enchantress will relieve your worry and charm you into submission with her boa constrictor.
MICECHAT DISCOUNT – Use Promo Code "CURSE" to get $10 off.  Tickets are on sale now at SinisterPointe.com
Disneyland's sky turned orange this week, but not due to Halloween. It was the unfortunate outcome of the Anaheim fires. We also have several great Halloweentime Photos this week.  We also noticed some changes in Mickey's Toontown house. Be sure to tell us which Disneyland songs are your favorites! ~ Aladdin
Changes in Mickey's House
Some changes were made to the films being shown, just before you visit Mickey, in his house. Details are here.
What is your favorite Disneyland song of all time?
Part of the magic at Disneyland is the songs in all the lands and attractions. Tell us what your which of the songs created specifically for Disneyland are your favorites, and then tell us what other Disney songs, that play in Disneyland, top your list!
The New Omnitography
Ominitographer has some fantastic photos from Halloweentime in DCA, including some of the Not So Cozy-Cone.
One day at DLR during Halloween Time
Orange County's sky was orange for the Halloweentime visit by biggsworth. Take a look at all Halloween highlights, here!
Mickey's Not-So-Worth-It Halloween Party
In a review of the Magic Kingdom's "Not-So-Worth-It" Halloween Party, mtlchuck shares some of things Disney could improve.
Other Theme Parks & More!
Knotts – Where the Livin' Is Easy
Screwy Squirrel makes some very interesting observation and comparisons between Knott's Berry Farm and Disneyland.
Is Haunt better without the upcharge stuff?
Knott's removal of extras for Halloween to concentrate on mazes and scare zones has clippers6 contemplating whether it is better this year.
Don't Miss The MiceChat Podcast

Like sands through the hour glass, summer has slipped away and suddenly become Halloween! Pumpkins line Main Street USA at Disneyland and new Halloween treats have transformed Disney California Adventure. But that's not all, we have a few more tricks up our sleeve on this fun episode of the show.
Direct Download | Find on iTunes
Mousetalgia: This week, Mousetalgia welcomes Oscar Martinez, Disneyland's longest tenured cast member, to the show to talk about his 60-year career at Disneyland, 50 of which he spent at Carnation Café. Oscar talks about being hired at Disneyland, his job and retirement, and the state of dining at the resort. Then, Jeff reports on Halloween Time at Disneyland, with a focus on the new happenings at Disney California Adventure, and the seasonal food offerings throughout the resort. Finally, Jeff also takes us behind the scenes of the Disneyana "Swinging Wake" dinner at the Disneyland Hotel, which featured hours of Haunted Mansion discussion, amazing sights and sounds, and the unveiling of a Haunted Mansion prop long thought lost to time. Plus – Kevin and Jody sell more goods at Pop! Comics, Kristen sticks up for a cast member and gets rewarded, Becky and Button review the Little Mermaid on stage – and more.
Subscribe on iTunes | Direct Download
The Sweep Spot: In this episode we welcome back Disney Historian, and Author Jim Korkis to discuss Disneyland in the year 1987. Some exciting things opened in 1987 at Disneyland from The Disney Gallery to Star Tours and we talk about it, plus so much more. Lets head back to 1987. Plus the latest in the Disneyland Resort Current Events.
The Season Pass: Technology has been rapidly advancing over the last several years. Completely changing how we vacation as well as how we go about our daily lives. Cell phones, RFID, virtual queues, augmented reality, virtual reality, and so many other kinds of tools are redefining how a day is spent. Innovation pushes the themed entertainment industry forward. It provides new avenues for creativity and opens the doorway to possibilities for the audience. People who have that drive to keep pushing technological boundaries in innovative ways provide some of the most interesting Season Pass Podcast interviews. One of the best places to find those talented minds is the TEA Summit!
PLUS, more featured MiceChat columns!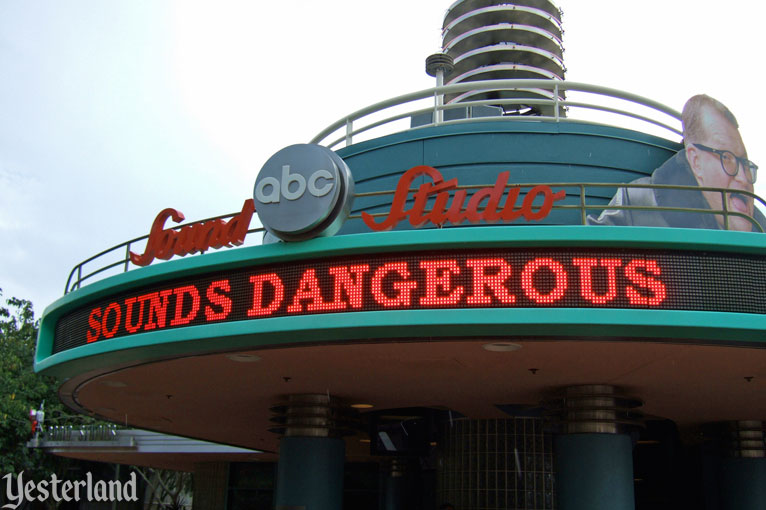 Yesterland: Sounds Dangerous with Drew Carey
Sounds Dangerous could also be called Sit in Complete Darkness. That's what you do during most of this 12-minute show starring actor-comedian Drew Carey.
The Round-up Crew Thanks you!
The MiceEars Crew puts a lot of time and effort into making the Disney News Round-up happen. Our thanks to: Editor CakvalaSC and the MiceEars Crew: Aladdin, TrekkieDad, DLandFansAZ, RJH76 and Dustysage.
If you have questions for our Editor or our MiceEars Disney News crew they can be e-mailed at: [email protected] !
Save
---
You're Invited To Something REALLY Special
Do you love Dick Van Dyke? Have you ever wondered how theme park props and animatronics are created? For one very special night you'll have the opportunity to see Dick Van Dyke, live and in person, at the Garner Holt Productions animatronics factory!
The stars will shine brightly as they come out to honor Mr. Van Dyke through one of a kind performances and tributes. You'll also be treated to an adventure tour through the Garner Holt Productions facility. Along the way you'll encounter special exhibits, demonstrations, culinary and beverage stations, and meet the GHP artisans. Then you'll make your way to a cocktail party and performance space surrounded by some of the most amazing animatronics ever created.
This magical event is a fundraiser for the Dick Van Dyke Foundation for the Performing Arts and will empower budding young stars to explore the performer within.
REGISTER HERE for an evening you'll never forget
---
Don't Miss Out! Friend and Follow Us:
Let us know what you think about fires, MaxPass and Star Wars. And how on earth is Disney going to handle the crowds of Star Wars land when they can't seem to handle the crowds of a minor holiday like Columbus
Day?! We look forward to hearing from you below.
Save
Save
Save
Save
Save
Save
Save
Save
Save
Save
Save
Save
Save
Save
Save
Save
Save
Save
Save
Save
Save
Save
Save
Save