All good things must come to an end, and alas, this applies to the recent MiceChat cruise on the Disney Wonder. Today, BC_DisneyGeek shares the final installment of his photo documentation of this incredible journey. Never fear, however, because MiceChat is planning another Disney cruise at the end of next year, and we'd like you to join us! You'll find more details on this trip at the end of the story. ~~Rick
More hallway artwork:

The lobby outside Palo:

Our final full day on board began with brunch at Palo:

Nice looking restaurant: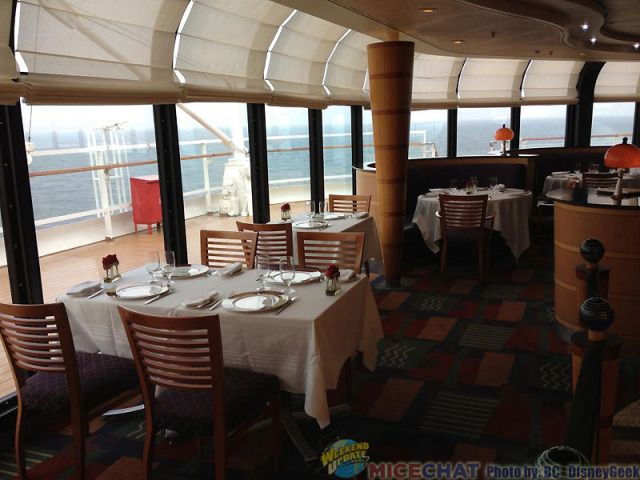 Waiting to be seated:

The meals always started with these fancy plates that they took away moments after being seated:

Brunch consisted of a buffet:

The crab legs were sliced down the middle for easy access, which was a nice touch: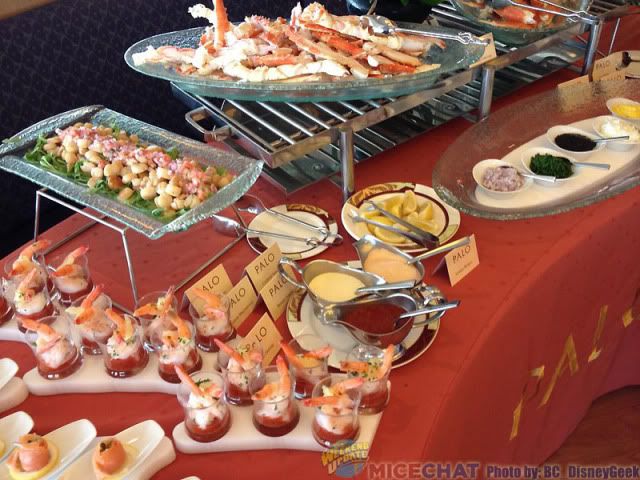 In addition to self-serve, there was a wide variety of hot food available as made to order as well: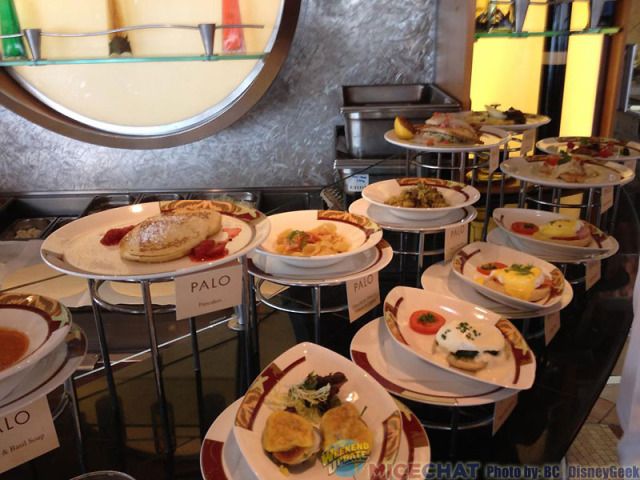 Palo was a $20 up charge for brunch as it was for dinner, and worth every penny (if I had to choose just one, I would go for dinner).
Where there's a buffet, there is dessert, and lots of it:

On the last day, I took a lot of photos around the ship: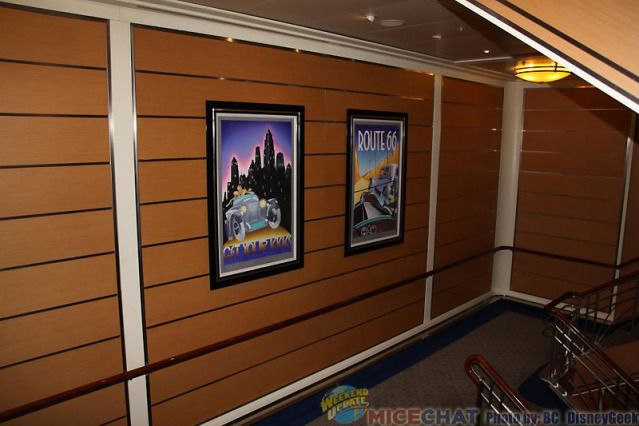 Heading down to the nightclub district: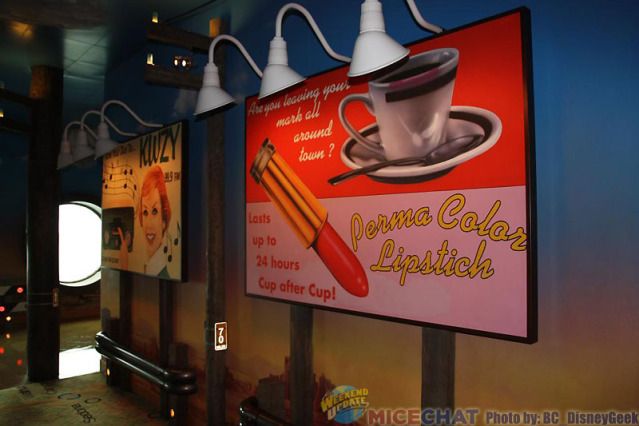 Plenty of options onboard for the adult cruisers. I would recommend a Disney cruise for anyone of any age. Some people think it will just be a mass of screaming children, but Disney does a fantastic job of keeping the younger guests occupied (and out of sight of the rest of us).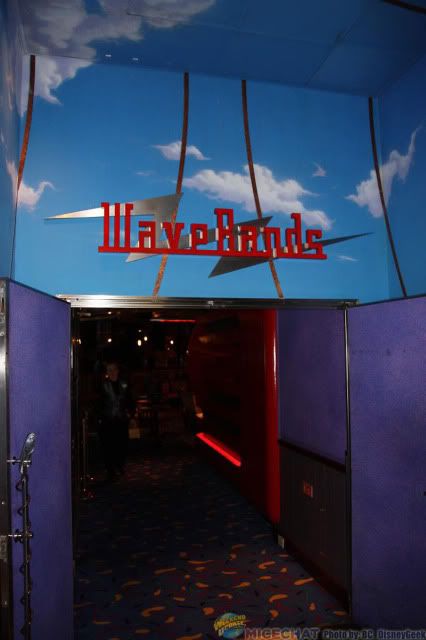 The stateroom hallways are the dullest area of the ship:

The movie theater was quite popular, showing some older movies such as The Muppets, but mostly first-run films like Brave, The Avengers, and Finding Nemo 3D. If you're planning a Disney cruise, you can skip paying for Disney movies in the months prior to sailing, as the odds are good you'll be able to catch them on the ship:

There were only two gift shops, and there was a good amount of cruise specific merchandise: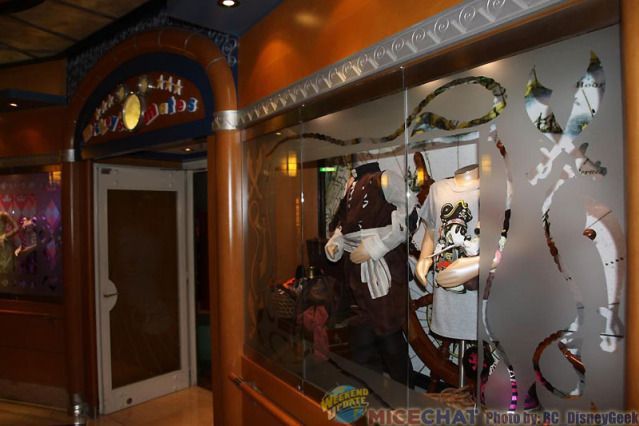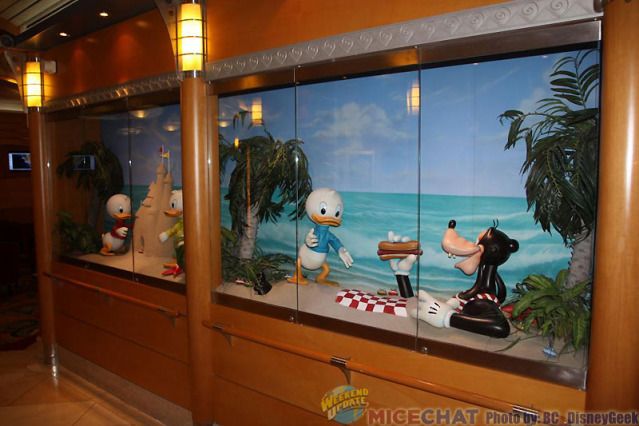 Right by the shops is the Walt Disney Theatre, home to the nightly musicals and stage shows:

This particular cruise was not very busy, there were always plenty of available deck chairs: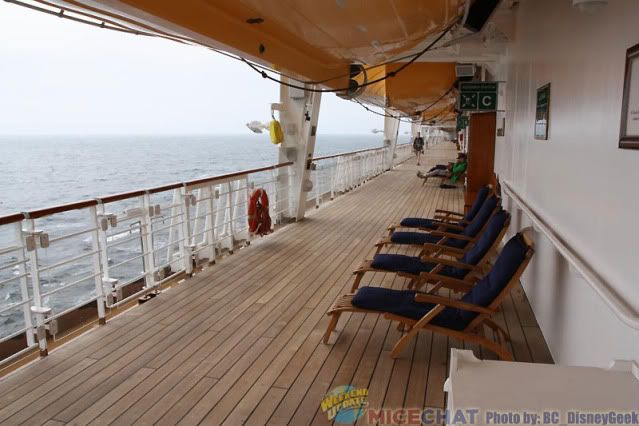 Promenade Lounge, often used for activities like trivia, and conveniently located for pre-dinner cocktails: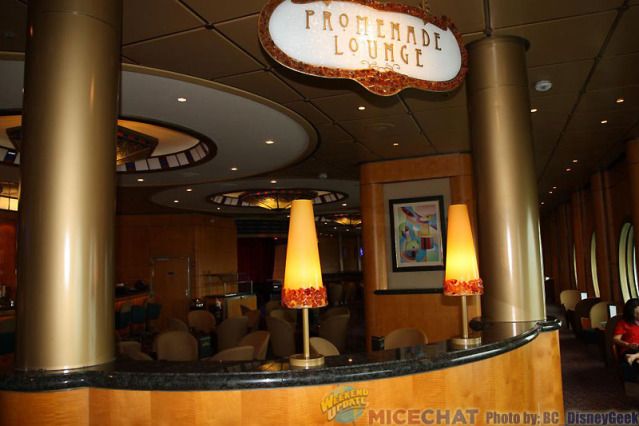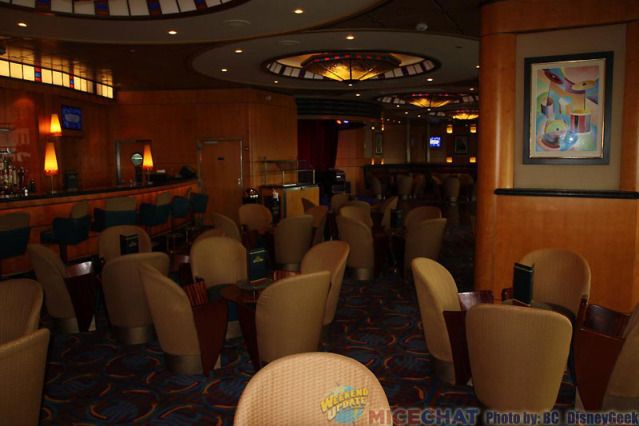 Pixar artwork was going up as the ship got ready to host upcoming Pixar-themed cruises:

Overcast day as we make our final (and slow) approach to Los Angeles from San Francisco: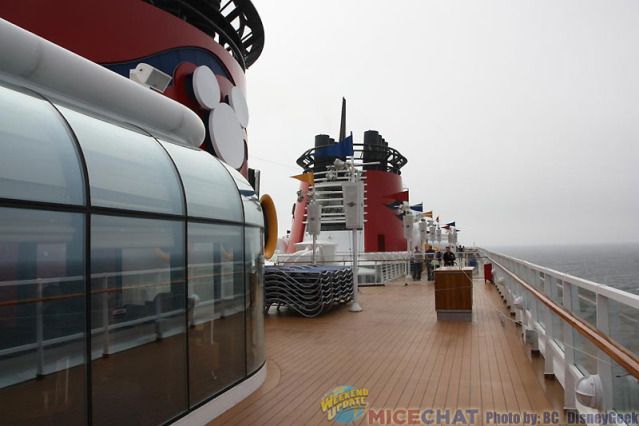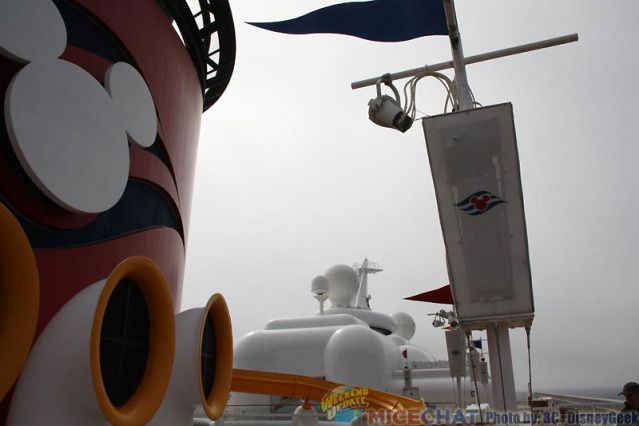 Unlimited pop was available on the top deck. Most cruise ships charge for it:

Coffee and hot beverages were included as well:

The quick service food on the deck was convenient, but nothing special. Mostly basic fare like chicken fingers and pizza: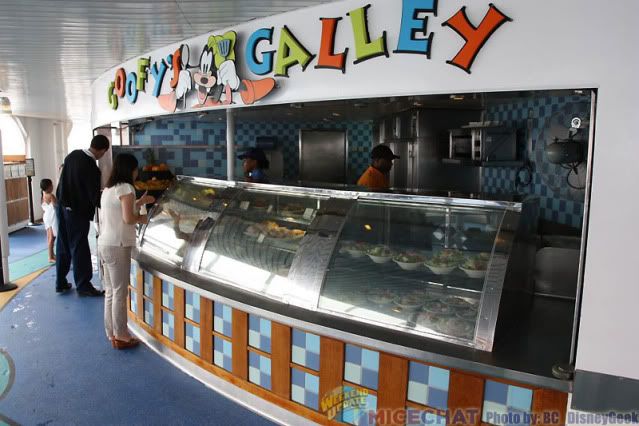 Night six brought us back to Animator's Palate. On a six-night cruise, you eat in each of the three main dining rooms twice:

Menu cover for the farewell dinner: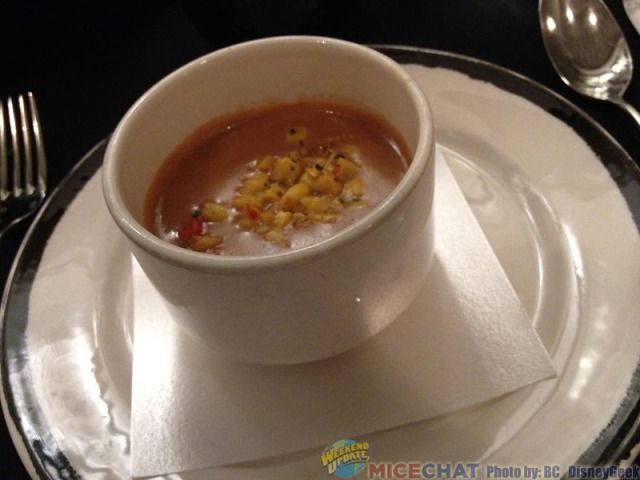 Beef in a puff pastry:

They did a little show where the waiters circled around with flags, while a techno version of It's a Small World (sure to horrify any Disney purist), played:

Baked Alaska:

Characters gather to say farewell in the lobby:

Some of the crew performed a rather cheesy sketch for closing night. While Disney cruises have some elaborate musicals, they also have what I would call standard cruise entertainment, such as this, ventriloquism, and magic: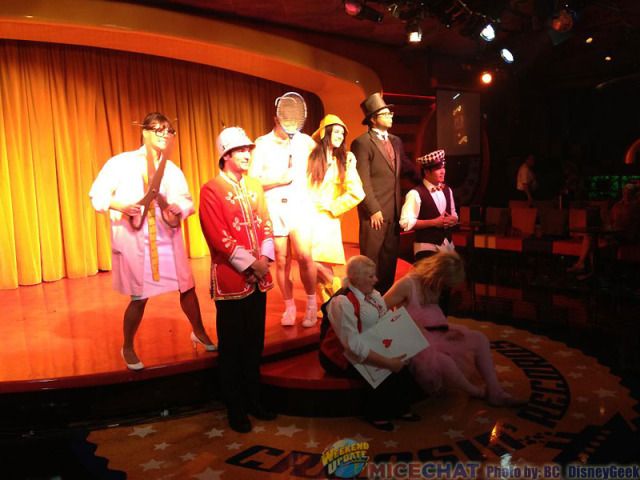 All good things must come to an end. For the final day, it's an early breakfast and then it's off the ship pretty quickly. Bags are collected the previous night, and you pick yours up in a designated spot once your group is given the go-ahead to disembark.
There is one last sit down breakfast. It's pretty basic compared to the other meals we had:
If you have enjoyed our special Weekend Update coverage of this MiceChat Cruise on the Disney Wonder, you might be interested in the next MiceChat Cruise on the Disney Fantasy on October 19th through October 26th of next year. Click on the link for more information: MiceChat 2013 Fall Caribbean Cruise