We have a great Hong Kong Disneyland update from Alain Littaye of the Disney and more blog. As we have seen over the years, Disney has brought the American-style Christmas tradition to the other countries that host Disney parks. As we see in these photos, the Christmas decorations used in Hong Kong Disneyland would be right at home in any stateside Disney park. ~~Rick
Hong Kong Disneyland Update: "A Sparkling Christmas"
Thanks for joining me for a new Hong Kong Disneyland update! Like all Disney parks around the world, Hong Kong Disneyland is now in its Christmas season. This year it's called "A Sparkling Christmas". We'll have a closer look at this, but first, let me share some news about the opening date of the highly anticipated Mystic Manor attraction.
I told you previously that Mystic Manor was supposed to open in Spring 2013 – and it was – but HKDL apparently has now decided to delay the opening until Summer 2013. No precise date is known but it might be in July – like they did with Grizzly Gulch – or possibly in June if the attraction is ready. I'll keep you posted as I learn more about the exact date.
Also, you may have recently read on other web sites about a second HKDL park. It's true that the land itself is ready, but I don't expect a second gate at HKDL before the end of the decade. Apparently park managers have decided to use all the land that is still available in the first park before they open a second gate. I think this makes sense and we will probably see new rides at HKDL Magic Kingdom before we see a second park. There is no news yet about when this will happen or what the new attractions might be.
HKDL has started its Christmas season. They did a press event for it last month – picture below.
Sure, HKDL has Disney characters in their Christmas costumes…
…but the park also introduced others characters like the gingerbread men below.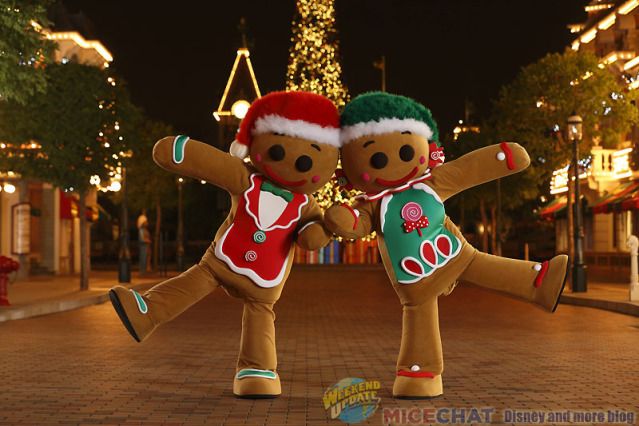 There is of course a Christmas parade called "Santa Mickey's Toy-riffic Street Party"…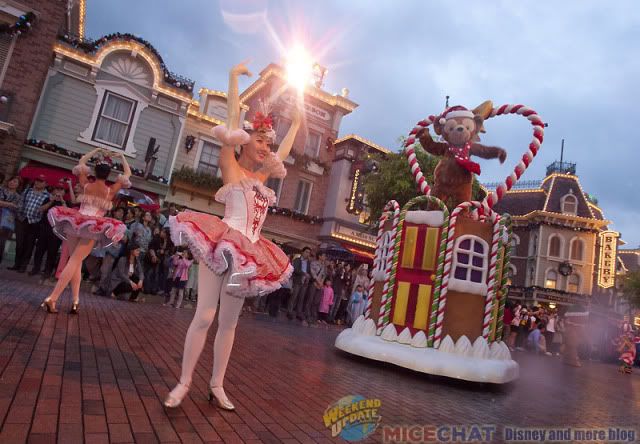 …in addition to the regular Flights of Fantasy parade.
There are also Christmas Carols singers on Town Square, in front of the Christmas tree.
…as well as the HKDL band, also on Town Square, playing Christmas themes.
And of course the Christmas Illuminations Ceremony with Mickey and friends.
In Fantasyland's Royal Banquet Hall, don't miss the Christmas buffet! By the way, speaking of the Banquet Hall, can you see the statue of Belle with the Beast in the background?
Now here's a look at the statue that is inside the new Be Our Guest Restaurant in WDW's New Fantasyland. It's exactly the same, except that the one in Be Our Guest is painted with colors and the one at HKDL is not.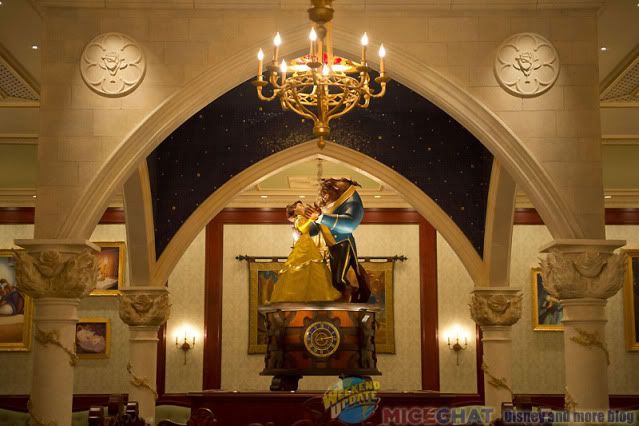 The HKDL Hotel also has Christmas decorations including this cute gingerbread house…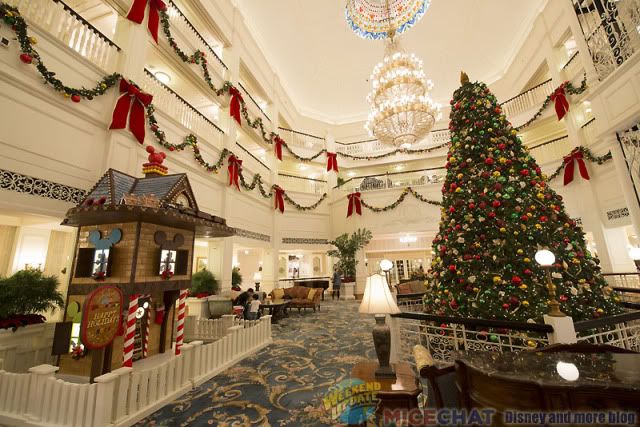 …and a bit of christmas theming in the rooms.
Let's end with this pic showing a selection of HKDL Christmas merchandise!
Alain has also asked me to let you know that he has extended the Disney and more brand to a new Facebook page. You will find new posts daily. It's right HERE!
See you soon for a new HKDL update.
Also, don't miss the great HKDL Wallpapers HD App for iPhone, iPad or iPod
Touch! Direct iTunes link HERE!