Star Wars: The Last Jedi began showing in select locations on Thursday to sold-out crowds. The film opens in wide-release today. But nowhere was the celebration more festive than in Disney's own theater in Hollywood, the El Capitan.
Fueled by a lifetime love of all things Jedi, I headed to the El Cap to see what the hubbub was all about. The first thing you'll see is the gigantic AT-M6 in front of the theater. 
Chris Hardwick of the Nerdist was hosting a 24 hour Star Wars marathon. The theater was filled with folks who sat in the theater for an entire day to see ALL of the previous Star Wars films! The grand finally? Episode 8 one day early.  I was there just as Episode 8 was getting ready to roll.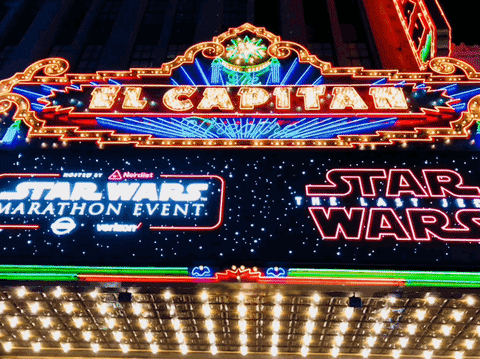 I was able to speak with Chris, who is a huge Disneyland fan, about the Star Wars Marathon, the El Cap, and his Disney addiction. You can listen in on the latest MiceChat Podcast.
Click PLAY to listen to Dusty and Chris Hardwick. You'll also hear the director of The Last Jedi, Lindalee Rose, Benny Madson, and lots of other surprises.
The El Cap really is an amazing place to see the film. Aside from reserved seats (so you don't have to wait outside for hours), there's a special laser light show before the film, you'll find a costume and photo collection under the theater, select shows have a Storm Trooper photo opportunity and there is even a package which includes dinner at the Hard Rock Cafe before the show.
The mini-museum is a nice touch and I got misty eyed when viewing Carrie Fisher's costume:
Here's the laser show (much better in person and in actual seats – I stood in the back corner so I wouldn't get in anyone's way):
All of that would mean nothing if the show you were waiting to see wasn't good. So how was the film? It is FILLED with surprises. Star Wars fans will delight in every moment. But don't get up out of your seat to use the restroom. This one is a roller coaster ride that you can't afford to miss a moment of. You've been warned (go before the show!).
When you exit the show, the Disney Studio Store and Ghirardelli Soda Fountain has Star Wars: The Last Jedi merchandise on sale for you.  Here are a few of the items . . . including the new BB-9 (yes, 9), and the Porgs of course.
Let the world know what you think by rating the film in our poll below. If you haven't seen the film yet, please wait to vote until AFTER you've seen it.
Star Wars is now playing EVERYWHERE . . . but if you'd like to see it at Disney's own theater you can find more info HERE.