Happy New Year! The Disneyland Resort will ring in 2013 tonight in both theme parks but it's been a spectacular 2012 at the Resort, with big changes in both parks and throughout Downtown Disney. Disney California Adventure emerged from a five-year re-imagining and expansion project that finally made the park a major player in the theme park industry. In addition to the park's new Buena Vista Street main entrance plaza and the new 12-acre Cars Land, California Adventure saw numerous changes, upgrades, and improvements over the last year. Today, we take a look back at all of the construction and changes that culminated in the park's grand re-opening in June.
Get a closer look at today's update! Click on any photo in today's column for a large, high-resolution version of the image.
If you missed our first part, covering 2012 at Disneyland, Downtown Disney and the Disneyland Resort Hotels, please click here.
[center]
[/center]
Celebrate 2013
Your Guide to New Year's Eve at Disneyland
Before we get started on our recap of 2012, our friends at Touring Plans have their crowd forecast for New Year's Eve and the first week of 2013.
Happy New Year! Expect heavy crowds during the first couple weeks of 2013. TouringPlans.com can help you navigate the parks with our per-park Crowd Calendar, Lines – Mobile Wait Times App that gives access to current and estimated wait times for attractions, and Touring Plans detailing the best plan of attack for hitting the attractions. Now is a good time to subscribe to TouringPlans.com to plan your strategy to avoid the crowds!

Below are the predicted resort-wide crowd numbers for select days generated by the TouringPlans professional statisticians as measured for the upcoming week. For the access to the full year and per-park crowd level predictions, visit our Crowd Calendar.

— Fred Hazelton, Statistician, TouringPlans.com
[center][/center]
[center]Overall
Crowd Prediction[/center]
[center]TouringPlans.com
Crowd Tips[/center]
Tues., Jan. 1
[center]9 

/10

[/center]
Here are some quick-hit notes that we hope you'll find helpful as you prepare your visits for the week:

DCA is the best park to visit on Thursday or Friday of this week.
Annual Pass blockouts are in effect for SL and SC APs until Sunday.
Disneyland Resort holiday decorations will be removed after January 6, 2013.
Fastpass tickets for Radiator Springs Racers usually "sell out" within the first hour of DCA's regular park hours.

Wed., Jan. 2
10 

/10

Thu., Jan. 3
8 

/10

Fri., Jan. 4
8

/10

Crowd levels are based on a scale from 1 to 10, with 1 being the least crowded conditions and 10 being most crowded.

See Disneyland crowds for the next 365 days.
Get Disneyland wait times on your iPhone, Android, or Smartphone.Do more. Wait less.



Dateline Disneyland is sponsored by TouringPlans.com.
Fog rolled in last New Year's Eve, blocking the view of fireworks but helping create a uniquely spectacular photo-op for Guests ringing in the New Year.

If you're planning on ringing in 2013 at Disneyland tonight, be sure to arrive prepared! The parks will be extremely busy and may close at times to new guests. Plan accordingly and be sure to pace yourself and be friendly and patient with others in the parks. Below is a look at what Disneyland and Disney California Adventure will be doing to celebrate the new year.
New Year's Eve 2013 Entertainment Guide

Disneyland Park


Park Hours: 8 am – 2 am
Extra Magic Hour*: 7 am
* Extra Magic Hour is available on December 31 to Registered Disneyland Resort Hotel Guests.

Disney California Adventure


Park Hours: 8 am – 1 am
Extra Magic Hour*: 7 am
* Extra Magic Hour is available on December 31 to Registered Disneyland Resort Hotel Guests.

New Year's Eve Countdown Central


at Sleeping Beauty's Winter Castle
9 p.m. – 12 midnight
Don't miss this exciting party, complete with a fab host, rockin' DJ and periodic appearances by Mickey and Minnie Mouse.

New Year's Eve
"Fantasy in the Sky" Fireworks
in the Skies above Disneyland
12 midnight
At the moment the New Year begins, look to the skies to see them light up in a Disneyland signature fireworks spectacular.

Rockin' the Rivers of America
Between showings of Fantasmic!
7:00 p.m. – 2 a.m.
Count down to the New Year at this rock 'n' roll show with live music, videos and special effects. Be part of the entertainment with your Glow with the Show Mickey Ear Hats.

"it's a small world"
Promenade Dance Party
at "it's a small world" Promenade
7:00 p.m. – 2 a.m.
At this fabulous Fantasyland party, Disney Characters join a spectacular DJ spinning popular music

Tomorrowland Terrace Dance Party
at Tomorrowland Terrace
8:45 p.m., 9:45 p.m., 10:50 p.m.,
11:45 p.m. and 12:45 a.m.
Suburban Legends rock Tomorrowland with their distinctive style.

World of Color Countdown to Midnight


at Paradise Park
12:00 midnight
Watch Paradise Bay spring to life with a spectacular countdown to 2013 with fountains and fireworks followed by a special showing of World of Color.

Mad T Party Countdown to 2013
in Hollywood Land
12:00 midnight
Step through the Rabbit Hole and enter this off-kilter Holiday T Party that features a dazzling display of pyrotechnics!

New Year's Eve in Carthay Circle
at Buena Vista Street
Performances throughout the night
"Swing" in the New Year dance to the big band sounds of The Tim Gill All-Stars.

A Paradise Garden New Year
at Paradise Pier
Performances throughout the night
Tap your toes to the snappy sounds of washboard jazz performed by The Ellis Island Boys.

Radiator Springs races into 2013
in Cars Land
Performances throughout the night
Hit the open road with The Kelly Rae Band's unique, high-octane brand of country music.

New Year's Eve Weather at Disneyland


from Weather.com

Day




High

61° F


Sunny skies. Winds light and variable.
Chance of rain 0%
Humidity 53%

Night




Low

40° F


A few clouds from time to time. Winds light and variable.
Chance of rain 10%
Humidity 68%
[center]New Year's Eve Party Favors
Complimentary New Year's Eve party hats and horns will be available beginning at 6:00 p.m. at designated distribution areas in each theme park:
Disneyland Park: Big Thunder Ranch Jamboree, Frontierland
Disney California Adventure: Near the Twilight Zone Tower of Terror, Hollywood Land

Glow in the New Year
Guests wearing "Glow with the Show" ear hats will become part of the New Year's Eve festivities, as the hats light up at countdown locations in both theme parks.

New Year's Eve Survival Tips[/center]

Arrive early! Disneyland Resort theme parks will be extremely busy and Disneyland often closes for periods of time on New Year's Eve to newly-arriving Guests. So arrive early, pick your park and stay put, otherwise you may be locked out!
Avoid traffic: When arriving to the Resort, avoid Harbor Blvd. and Ball Rd. if at all possible. Katella Ave. is generally a better option. When arriving or leaving the Resort, drive safely and defensively.
Smart Parking: For an easier parking experience, avoid the Mickey & Friends Parking Structure and utilize the Toy Story and Pumbaa Parking Lots instead.
Have a Plan: Arriving early will give you the opportunity to rent a locker and obtain FASTPASS tickets before they sell out. FASTPASS Return Times are not yet being enforced at Disneyland Resort theme parks, so keep this in mind throughout the day. Utilize services and smart phone apps like Touring Plans, which can help you track attraction wait times and get the most out of the day.
Pack a Game: Indiana Jones Adventure and Luigi's Flying Tires will be there next year (and with shorter wait times). Packing a small board game, a deck of cards or a book to read will give you something to do (instead of waiting in long lines) while you wait for the midnight countdown.
Keep in Touch: Don't forget to pack a charger for your cell phone (or other devices). You'll want to keep in touch with your party should you get separated. With so many people in the park, smart phone battery life is often reduced as phones try to remain connected to overwhelmed voice and data networks.
Don't forget to eat and hydrate: Long lines will be present at theme park restaurants throughout the day, but especially during peak meal times. To avoid even longer lines, plan your meals at off-hours. Also consider bringing lightweight but satisfying snacks like granola bars or Pop Tarts to help get you through the day.
Have fun!: Bringing a lot of patience will help make your New Year's Eve celebration one to remember. Plan for big crowds and don't expect to go on many rides. Instead, be kind and courteous to other Guests and Cast Members and focus on enjoying a day in the park with those you're celebrating with.
The fog that settled over the Disneyland Resort last New Year's Eve was so heavy that it even blocked out the New Year's Eve World of Color countdown and low-level fireworks in Paradise Bay.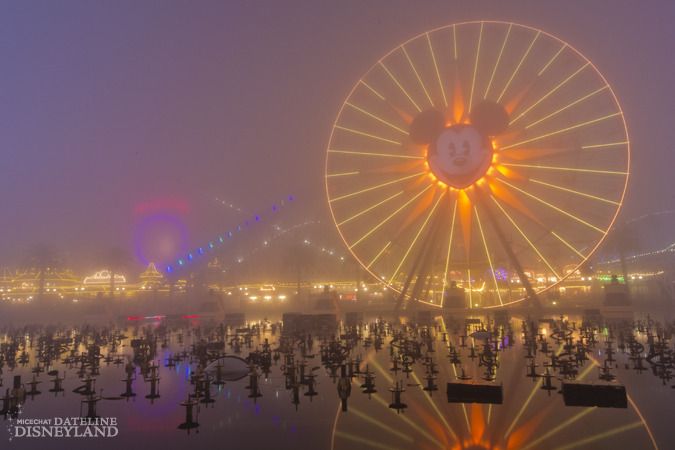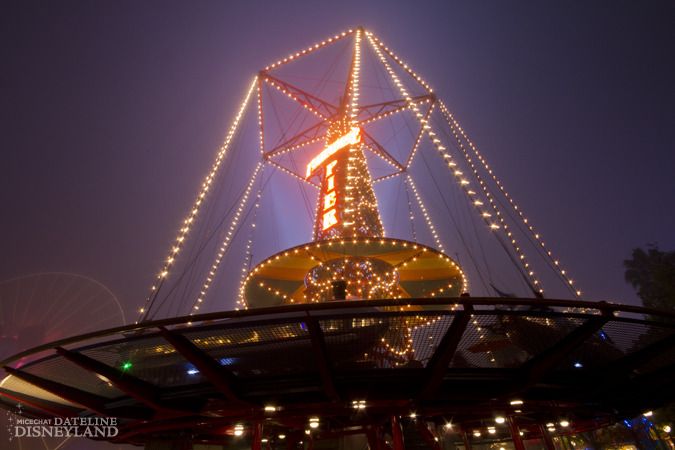 Below, our video of the fog-covered New Year's Eve 2012 World of Color countdown:

Disney California Adventure's old Sunshine Plaza entrance complex saw its final days in 2011, but a large majority of construction on the new Buena Vista Street entrance plaza was completed in the first several months of 2012 before the area's grand opening in June.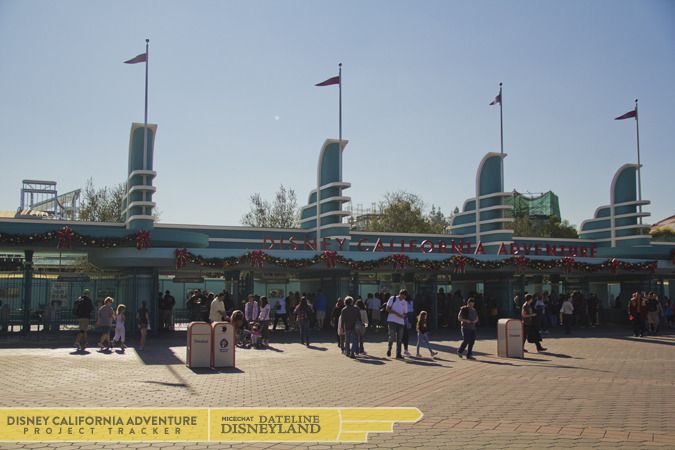 Aside from the Carthay Circle Theater, the first week of January saw Buena Vista Street primarily as a series of steel frameworks.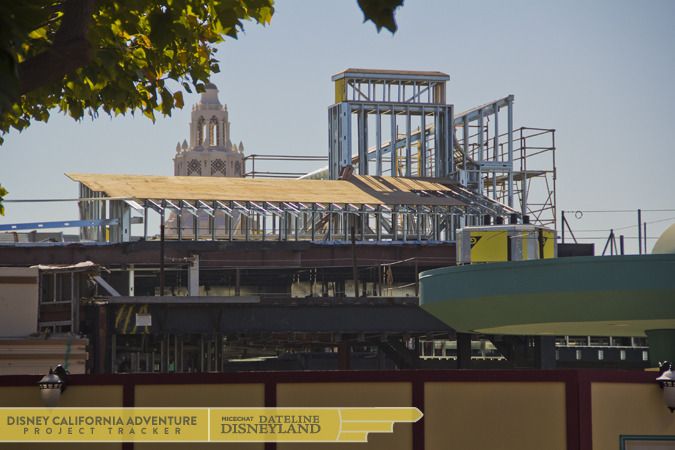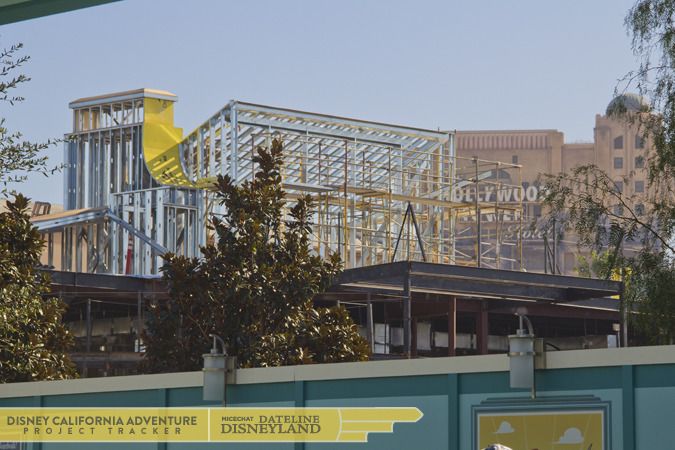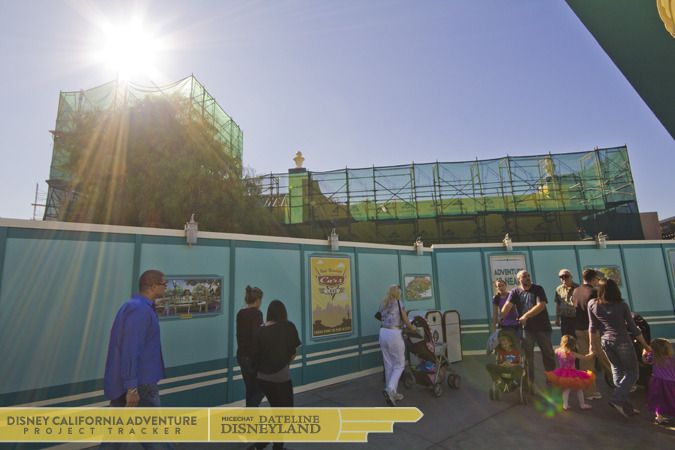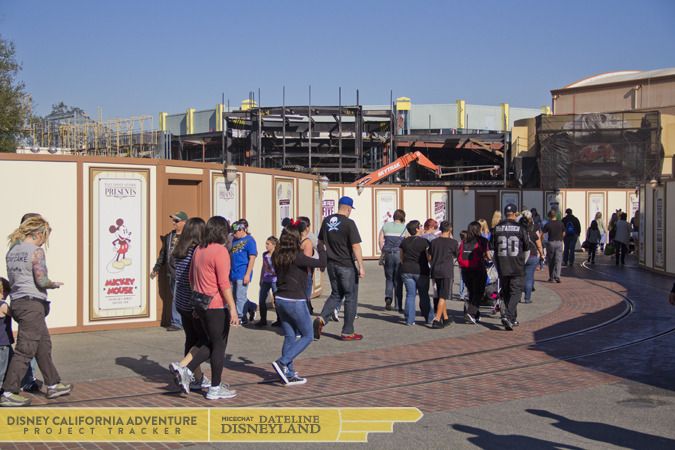 The Fiddler, Fifer and Practical Cafe was progressing nicely.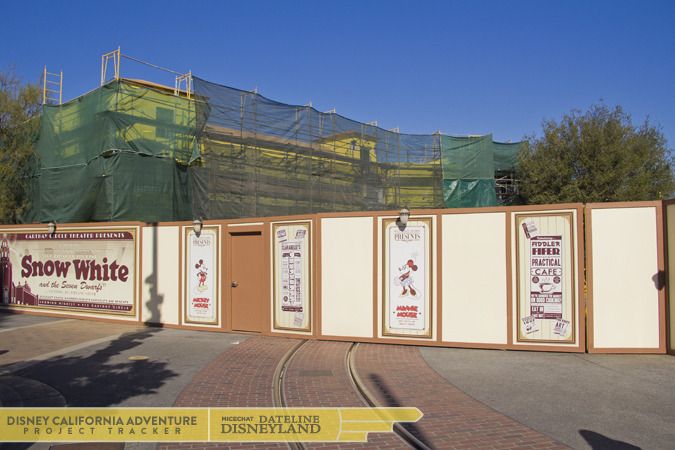 The new year saw the further unveiling of the Carthay Circle Theater as scaffolding came down from the new structure's tower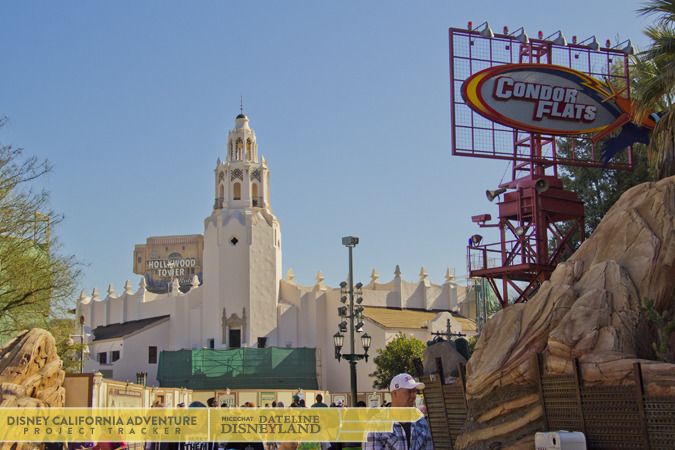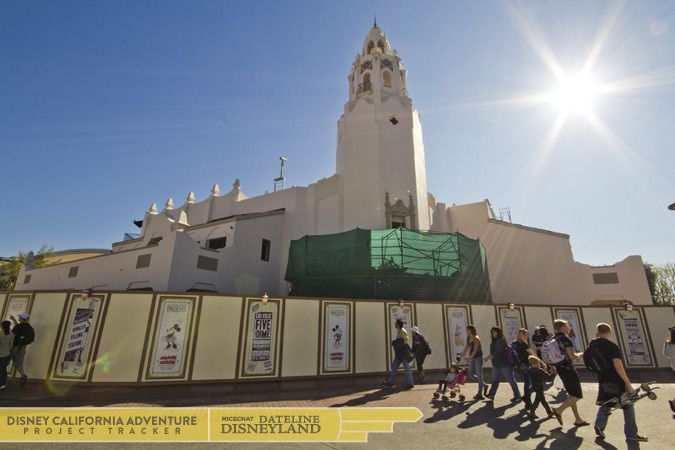 The wrought-iron marquee began to be installed on the theater facade

By mid-January, the new Carthay Circle fountain began testing behind construction walls.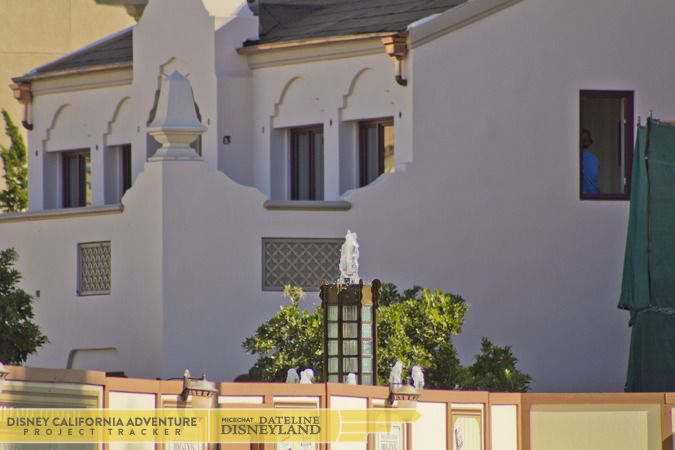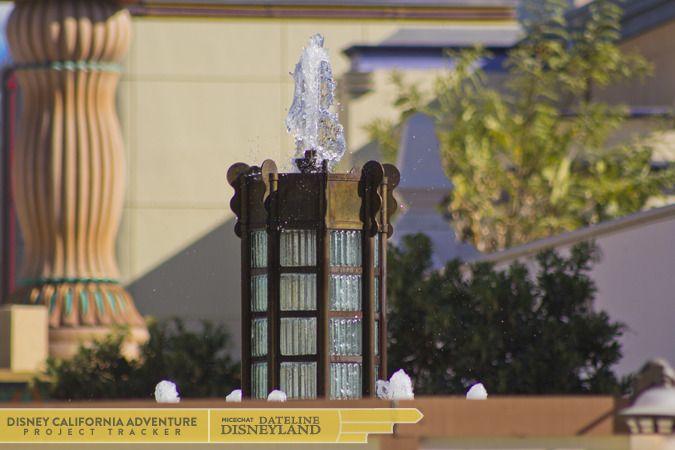 By March, with just over three months until the park's reopening, Buena Vista Street had made significant strides. Disney announced the California Adventure re-opening would officially take place June 15.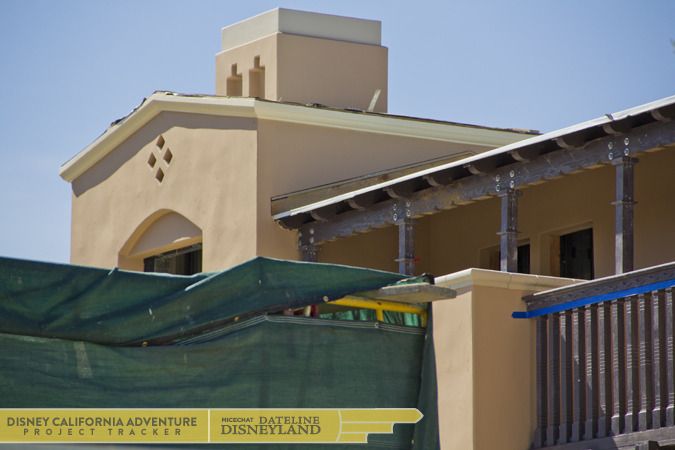 Disney Imagineers buried a time capsule by the flagpole at the northern end of Buena Vista Street

At the other end of Buena Vista Street, scaffolding had come down at the Fiddler, Fifer and Practical Cafe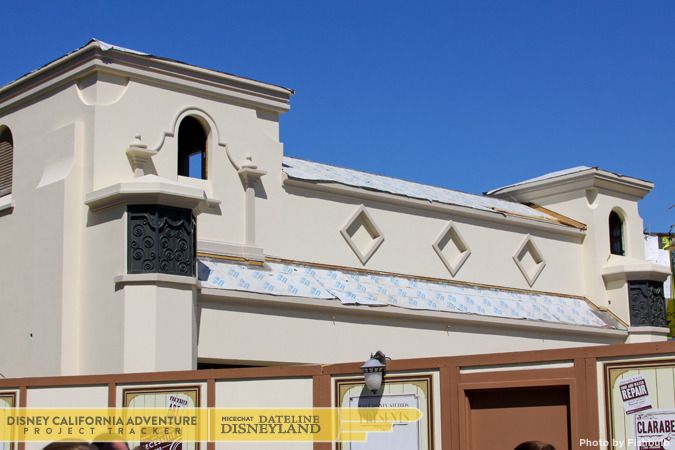 Trees were in place around the Carthay Circle fountain

…and Disney gave us the first behind-the-walls sneak peek at the new fountain.

And the nearby main entrance to the Elias and Company Department Store was showing new details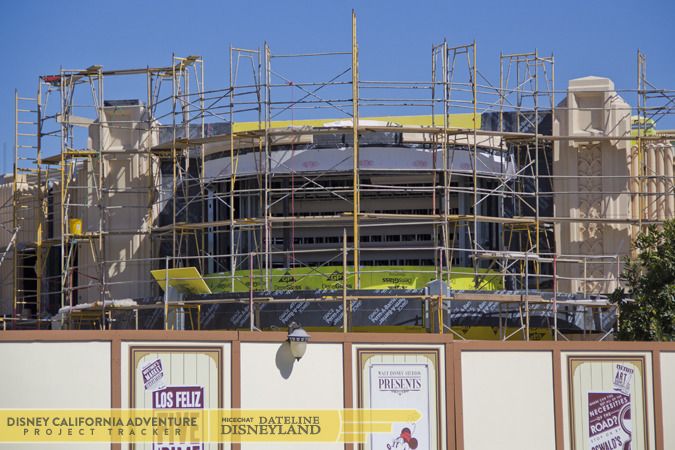 And the new Hyperion Bridge towers went up along the Monorail track that crosses Buena Vista Street.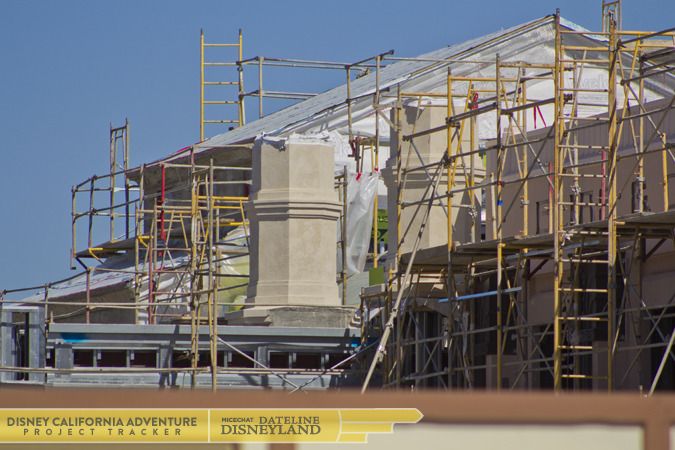 At the Carthay Circle Theater, scaffolding was taken down from the marquee area, revealing the new wrought-iron work.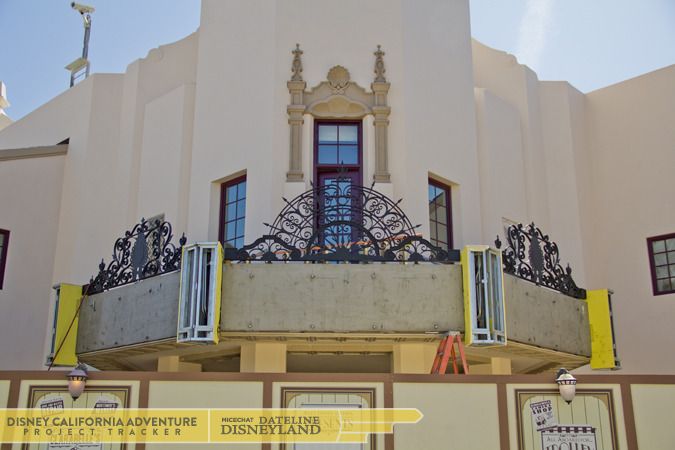 Red Car Trolley wires started going up along Buena Vista Street and in Hollywood Land by the start of April.

Disney also released photos of Red Car Trolley testing at the end of March, giving the public its first glimpse of the trolleys on the tracks.

Buena Vista Street construction by mid-April:

By early May, street lights were appearing all over Buena Vista Street, the marquee for Oswald's Gas was up, and signage was being painted at the Fiddler, Fifer and Practical Cafe.

Disney also gave us our first look inside the new Carthay Circle Restaurant and Lounge inside the new Carthay Circle Theater building.

The private 1901 lounge:

By the end of May, the new Carthay Circle Theater and fountain were unveiled, revealing a gorgeous new hub area for the end of Buena Vista Street.

The Theater shines at night: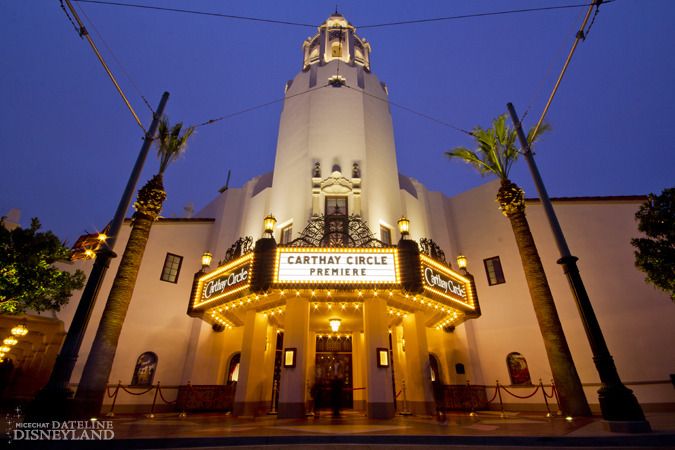 The fountain at night:

The start of 2012 brought new trees to the main entrance of the then-under construction Cars Land.

The first big sign of progress in the first week of January was the installation of the gorgeous new neon signage down Route 66.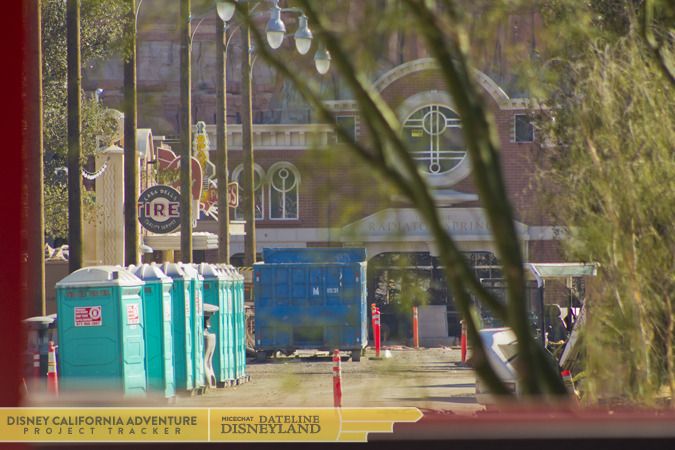 Meanwhile, the string lights over Mater's Junkyard Jamboree went up

…Just a couple weeks later, the Cars Land entrance marquee went up by the end of the month.

…and the Flo's V8 Cafe sign went up.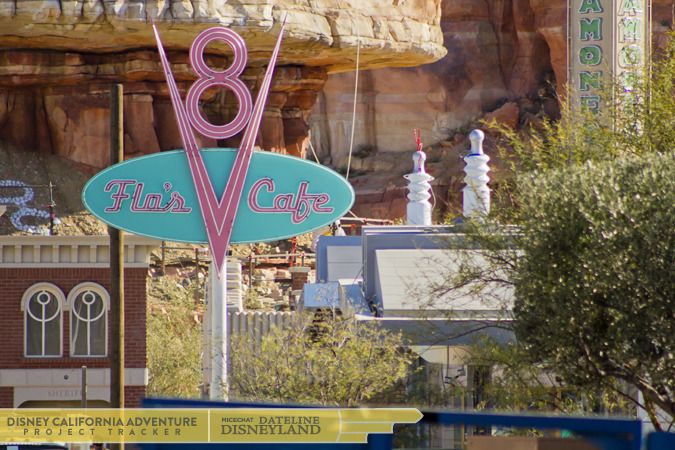 Meanwhile, construction continued throughout Cars Land.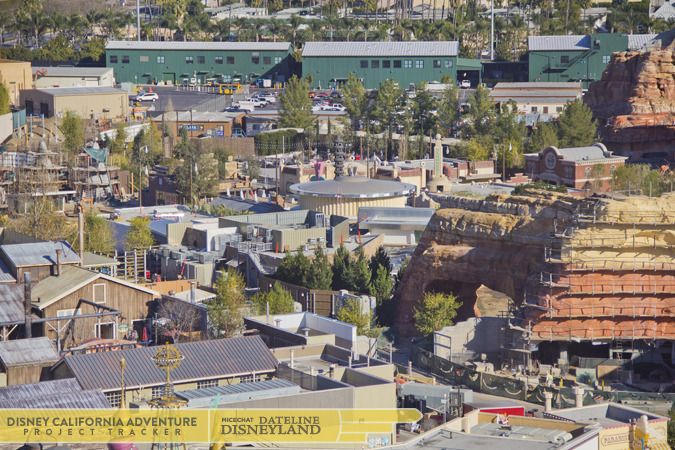 The Cozy Cones began to be painted orange by the end of January.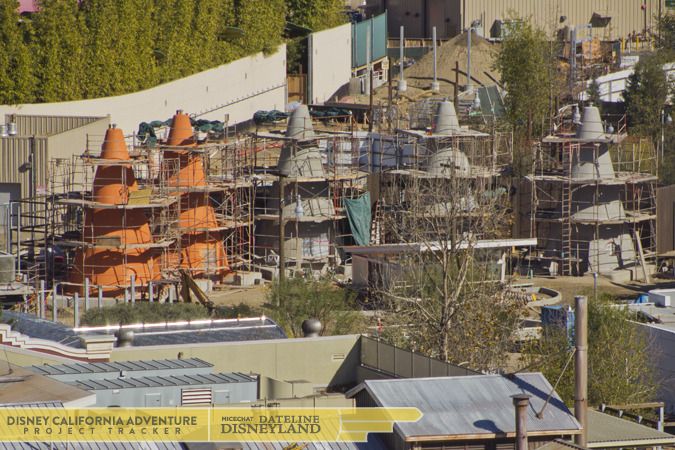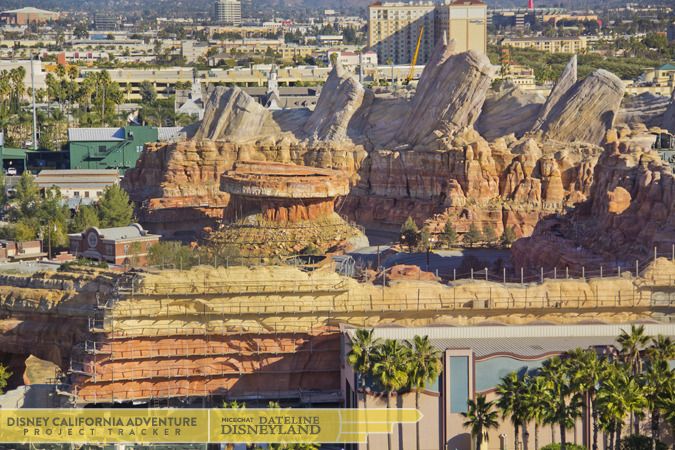 In early February, walls went up at the back of Flik's Fun Fair to begin work on the new Cars Land entry point.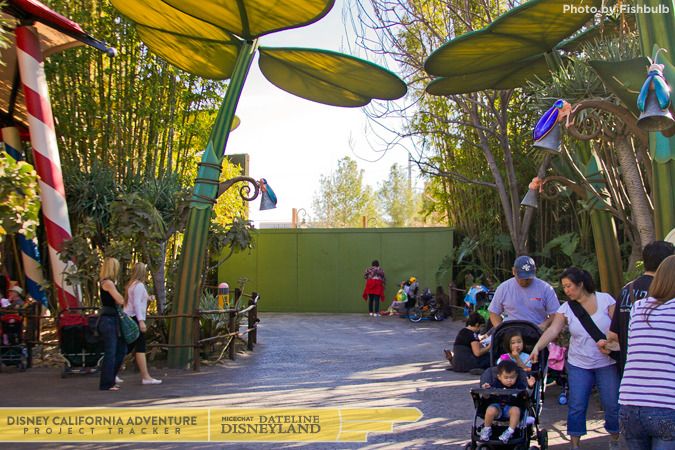 And new trees and lighting fixtures went in at the Cars Land entry point in Pacific Wharf.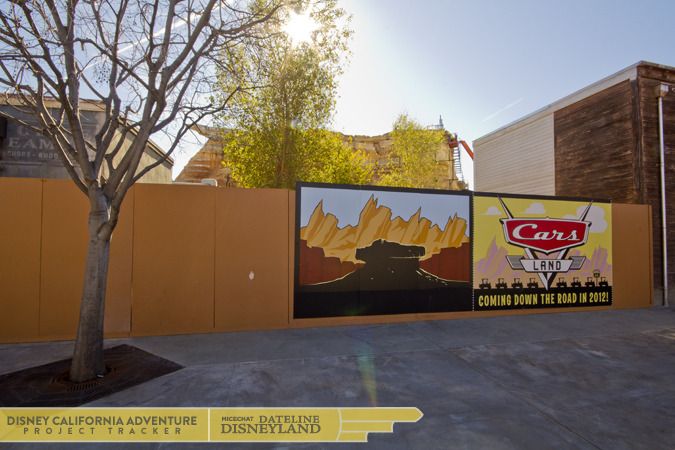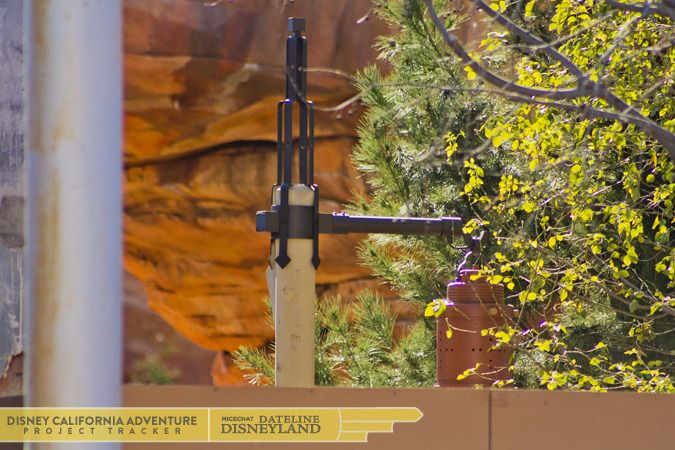 By the end of March, the Cars Land neon had begun testing and Disney had released a video of the new neon lighting up Route 66

…and the statue of Stanley, the founder of Radiator Springs, found its new home at the end of Route 66

By mid-May, Cars Land was starting to get some of its final touches and Disney was kicking its marketing machine into high gear with a TV spot and interactive web site advertising the new 12-acre land.

In January, Disney launched a park-wide initiative to spruce up existing areas and operations before the park's summer grand re-opening. The initiative, referred to as "Project Sparkle," first worked on fixing up Paradise Pier. New construction walls sprung up soon as the new year started and a remodeling project got underway at the midway shops.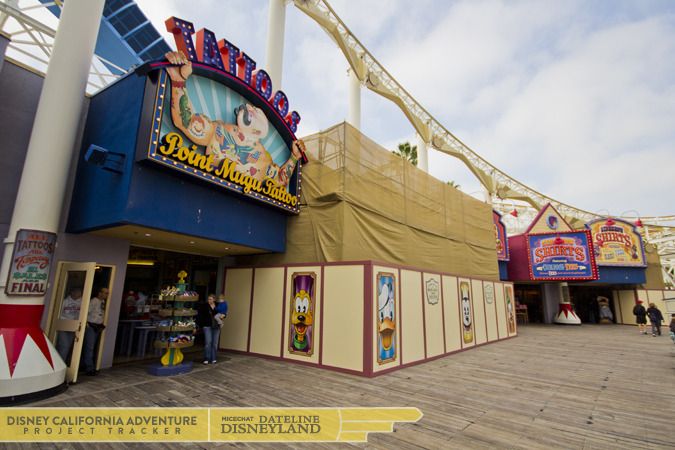 The jack-in-the-box clown face signage for the Man, Hat 'n' Beach shop was removed, making way for a more theme-appropriate facade.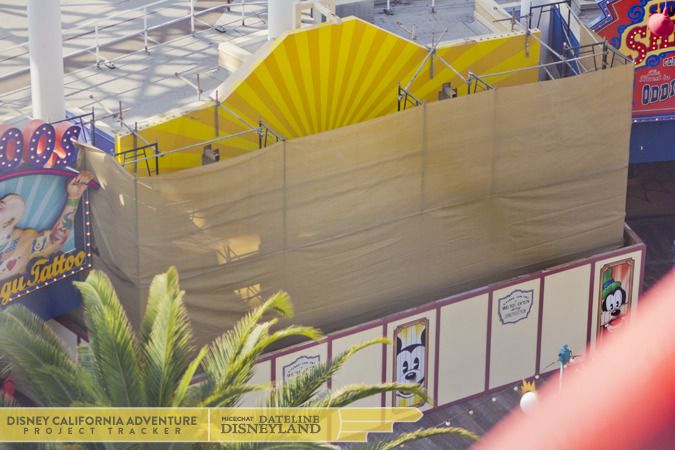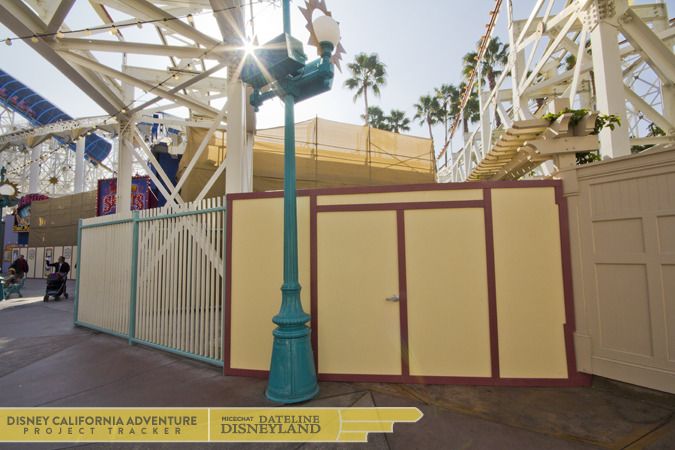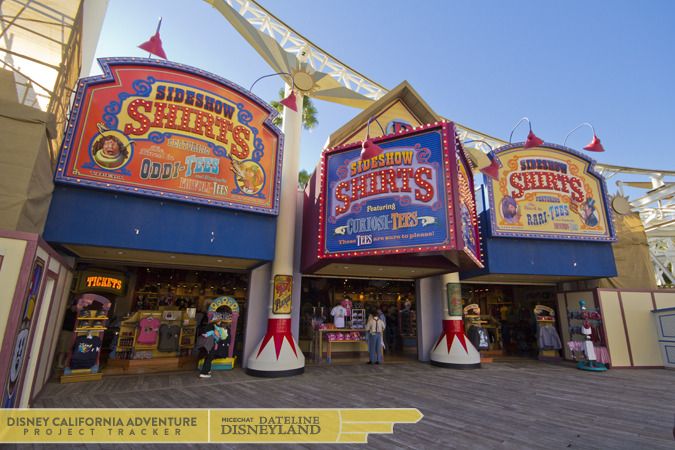 By the end of January, the new facade and wood paneling on remaining facades was starting to emerge.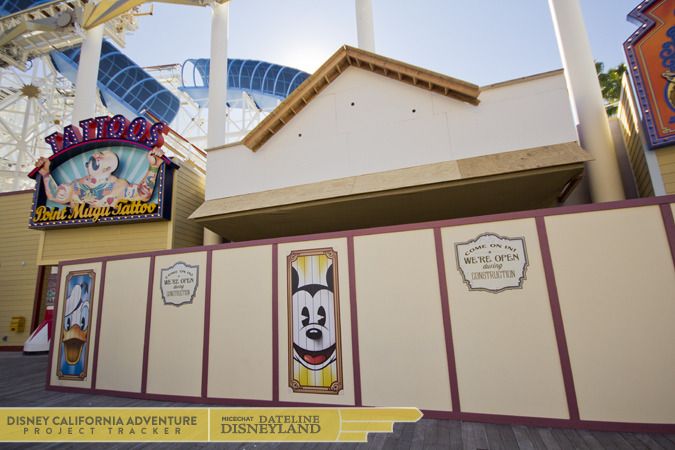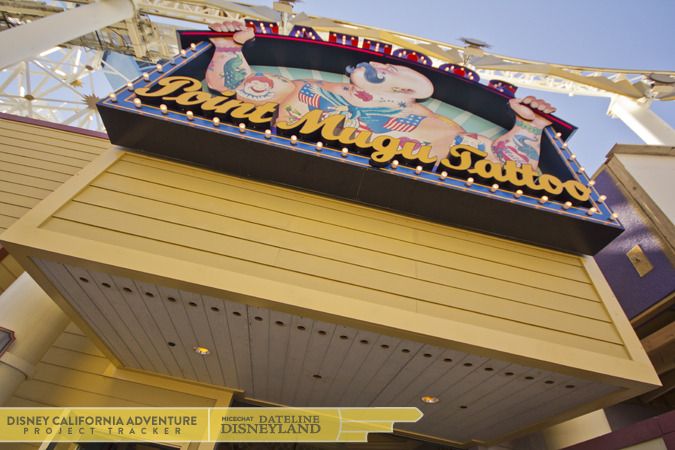 The reworked facades were finished by mid-February, giving this stretch of the pier a look more consistent with the nearby Toy Story Midway Mania. While some old marquees remain and the shop interiors weren't changed, the facades do look much better than they did before. Good news is that this stretch of shops along with the nearby site of the former Maliboomer are expected to become the site of a new attraction in the next several years.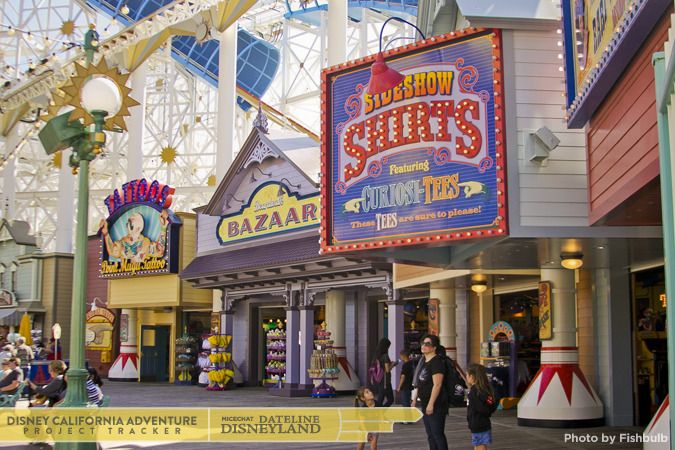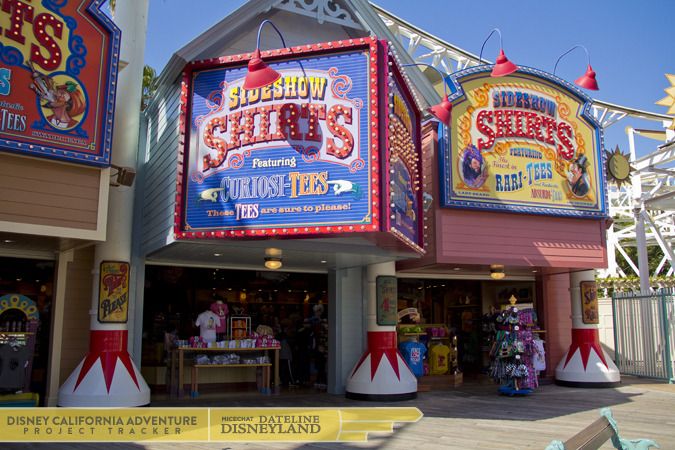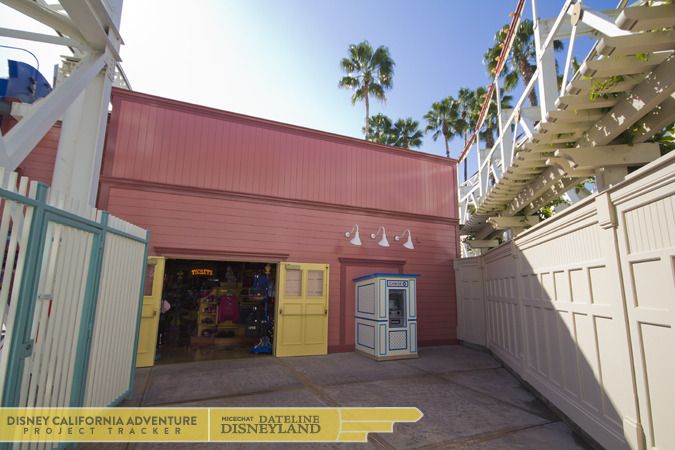 In early March, another project fixing up the Grizzly Peak area began to wrap up. New paint jobs helped turn the clock back a bit, bringing a 1950s-era National Parks feel to the area. The new paint replaced the run-down extreme sports theme that this area of the park opened with in 2001.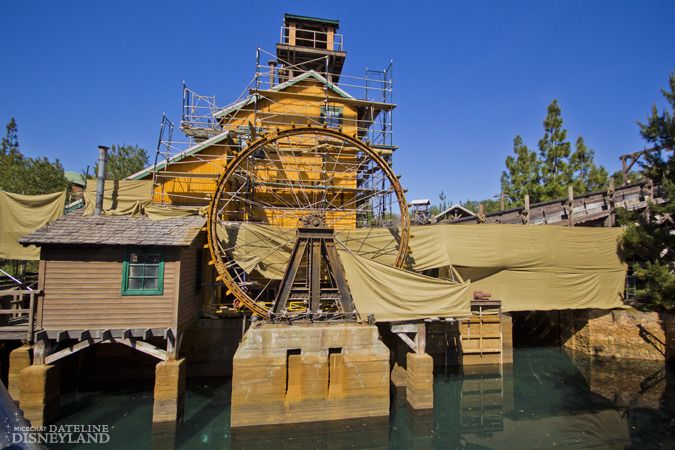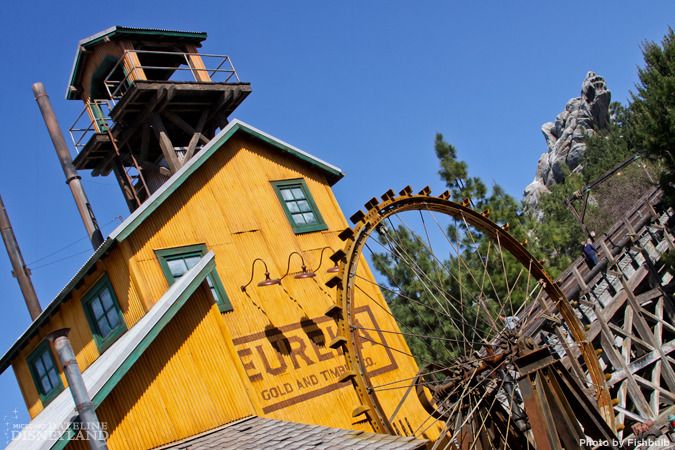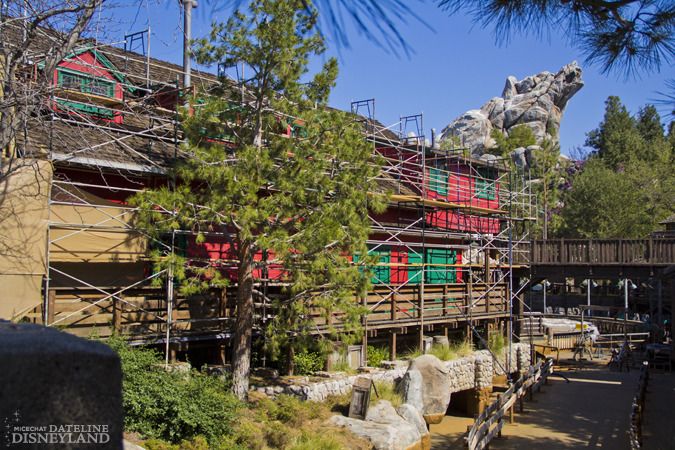 Scaffolding went up in March along some facades on Hollywood Blvd.

The quick facade refurbishments included repaints and the removal of some more opening day signage that was characterized by bad puns.

By the end of March, the Hollywood Pictures Backlot's name change to Hollywood Land was official with new decals on the land's trash cans.

Meanwhile, March also saw the closure of the popular Cove Bar on Paradise Pier for a complete remodel of the space.

…and the California Screamin' queue got a minor change when the awning structures were repainted blue.

…and new awnings were in place by mid-April

By the end of May, the Cove Bar reopened sporting a great new period-appropriate look with vintage-style carnival signage and photos.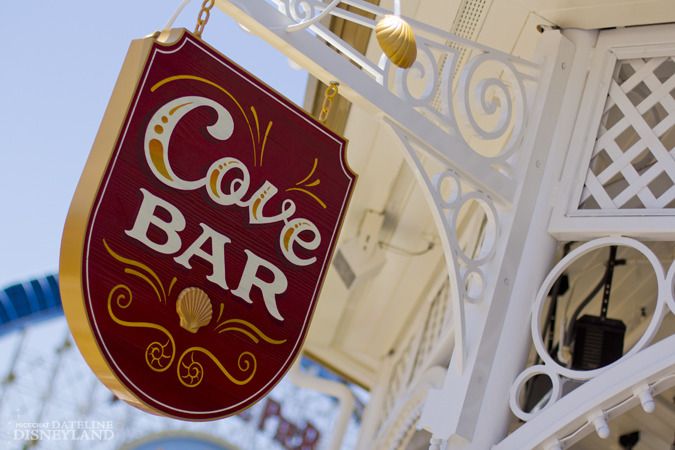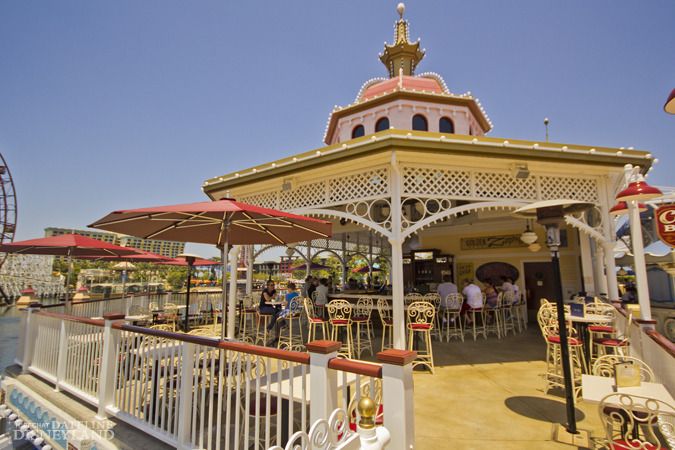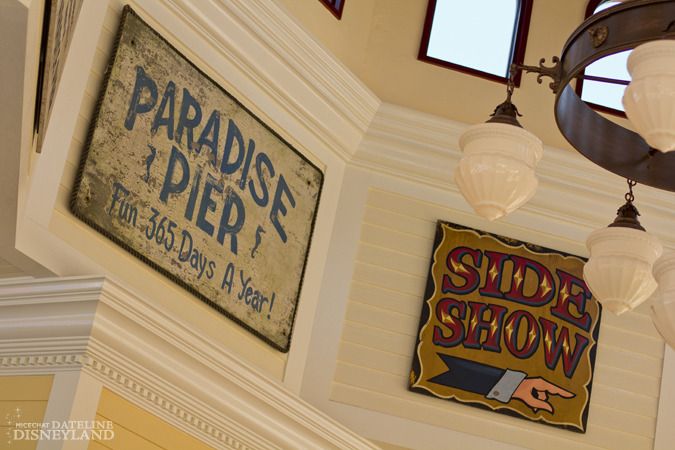 May also saw outdoor vending carts throughout the park got new signage and new costumes for ODV Cast Members.

In January, Disney announced the replacement for the Hollywood Pictures Backlot's nighttime dance party, ElecTRONica. A announcement broke the news that a new Alice In Wonderland-themed dance party would replace the TRON-themed offering in June.

Bad concept art for the new Mad T Party was a matter of concern for park fans.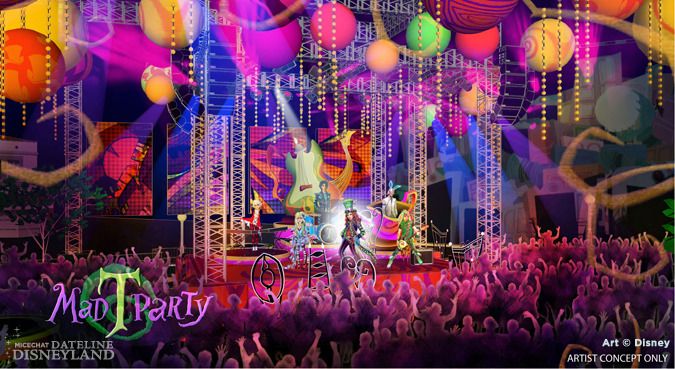 ElecTRONica finally said good-bye in April and was quickly dismantled to make way for the new Mad T Party.

Below, our video clip of ElecTRONica's final night:

By May, the Mad T Party was just about ready to get started with its huge set-up taking over most of of the Hollywood Studios portion of Hollywood Land

..and at the end of May, the new nighttime dance party was soft-opened to generally favorable reviews.

In early February, tarps and scaffolding went up to transform the facade of the former Mission Tortilla Factory into the new brick facade of the Ghirardelli Soda Fountain and Chocolate Shop.

The new soda fountain soft-opened in late May, just in time for the park's grand reopening in June.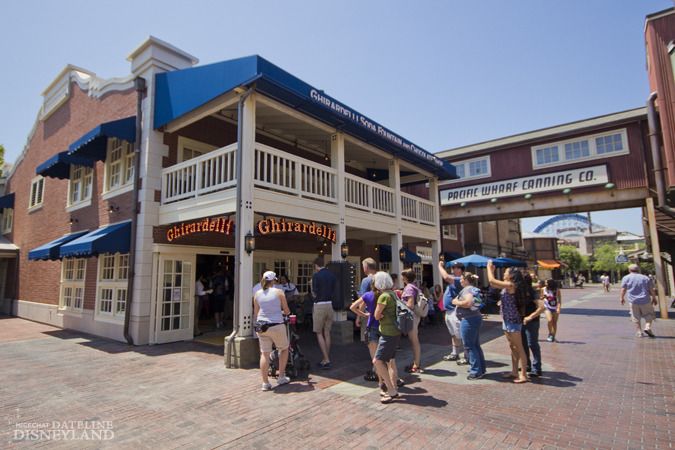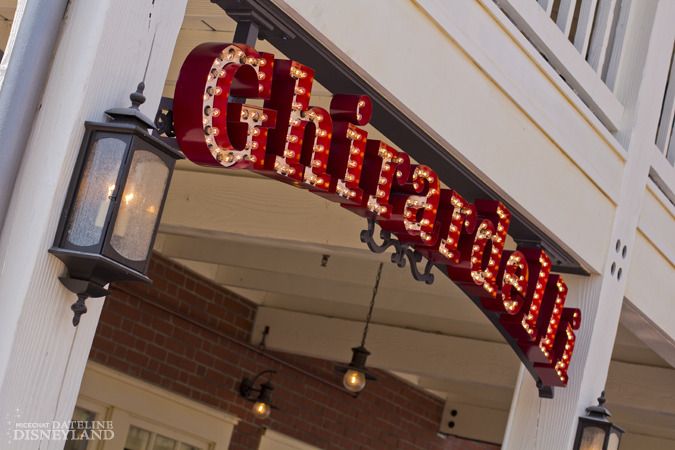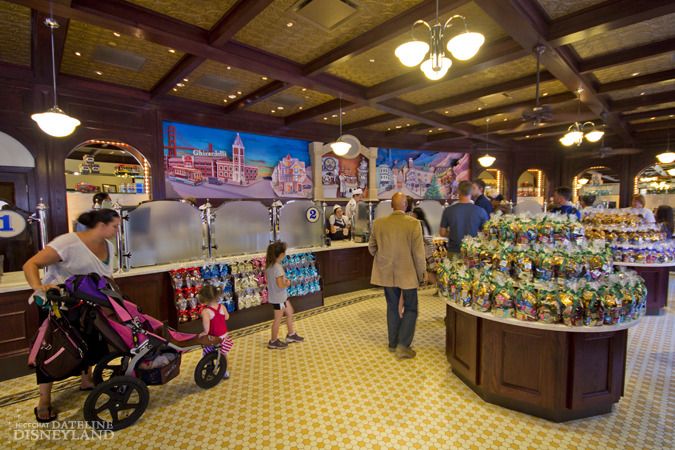 Our video of the animated mural behind the ice cream counter:

Minnie Soars, Ariel Changes, and Pixar Plays
In Condor Flats, Minnie flew into a new show celebrating aviation with the new "Minnie's Fly Girls Charter Airlines." The show debuted in mid-February and is a charming show that helps support the land's revised temporal setting.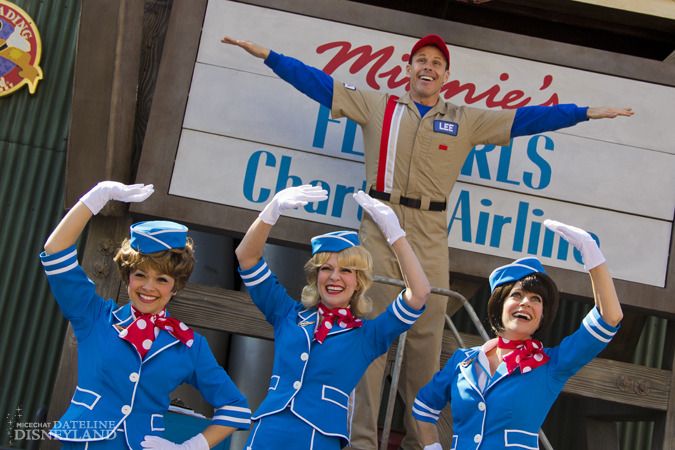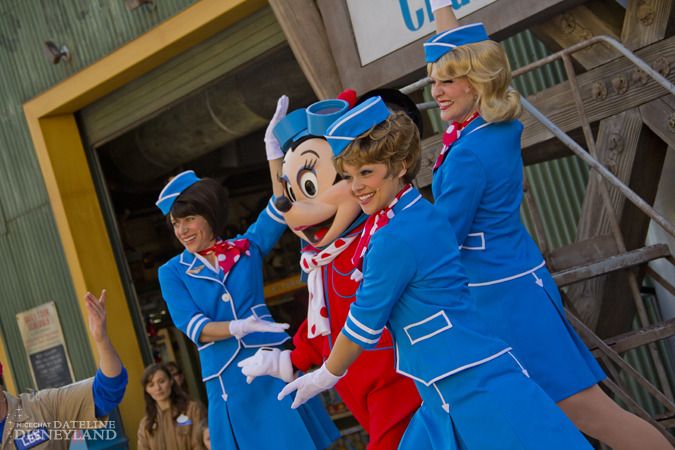 Over at Paradise Pier's The Little Mermaid ~ Ariel's Undersea Adventure, the ride saw several changes in May, with new hair for Ariel in the "Under the Sea" room and revised animation for the projected scenes.

Our video of Ariel's new hair:

With work along the parade route completed, the Pixar Play Parade returned to California Adventure in the end of May, ready for the park's reopening in June.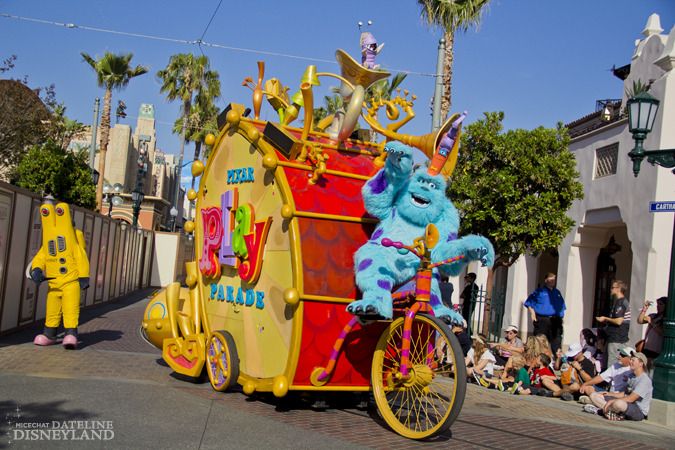 The parade had a few modifications due to the new Red Car Trolley wires through Hollywood Land and Carthay Circle. The Ratatouille float was removed entirely due to height and below, Jack Jack was relocated to avoid the wires.

Adventurous New Beginnings
All of Disney's hard work paid off in June as Cast Members and Annual Passholders were treated to previews earning rave reviews for the re-imagined park before its June 15th Grand Re-Opening. Buena Vista Street revealed a charming and intimate new main entrance for the park that takes guests back to a Los Angeles Walt Disney might have known when he arrived in the late 1920s.

Below, our video of the first guest ride aboard the Red Car Trolley

The Fiddler, Fifer and Practical Cafe is Disney's first in-park Starbucks location.

Red Car News Boys, Five and Dime and the Citizens of Buena Vista Street entertain guests along Buena Vista Street:

The Cast Member and Annual Passholder previews also gave guests a sneak peek at the new 12-acre Cars Land area. Rich with detail and featuring a great new E-Ticket ride, Cars Land proved to be the game changer Disney was looking for.

Some views around Radiator Springs Racers:

And a full ride-through video:

Not everything in Cars Land was a home run, though. The DJ's Dance 'n' Drive show was particularly painful to watch.

Oh.

At night, Cars Land glows with all of its spectacular neon:

On June 14, Cars Land opened in a private ceremony for invited guests and media.

Larry the Cable Guy at the Cars Land grand opening

On June 15, California Adventure reopened to the public with the grand opening of Buena Vista Street followed by the opening of the park to Guests.

Disney CEO Bob Iger rededicated the park

Mickey and the Red Car News Boys performed

…and a burst of fireworks marked the re-opening of Disney California Adventure.

The new "Storytellers" statue at the end of Buena Vista Street depicts a young Walt Disney and Mickey Mouse arriving in California

Crowds that had camped out overnight flooded the park, rushing to be some of the first official guests inside Cars Land.

Below, our video of the first guests racing into Cars Land

The grand opening of California Adventure also brought the new "Glow with the Show" ear hats to World of Color. While the ear hats have yet to catch on with regular guests, Disney previewed the hats at a media event where the entire audience was given hats and the effect was truly remarkable.

In the day time, the World of Color fountains come to life with some help from Maestro Goofy in the mini "Instant Concert!" shows:

Below, Disney's video look at the five-year expansion of the Disneyland Resort, including the transformation of Disney California Adventure:

With new so much happening at California Adventure, the first summer with all of its new toys was sure to be period where growing pains were experienced. First up, Luigi's Flying Tires had its beach balls removed.

The change hoped to help speed up loading/unloading times as the beach balls had made the already-low capacity attraction's wait times skyrocket.

By September, the gorgeously themed Buena Vista Street windows had been cluttered with cheap merchandise. Disney quickly reduced the amount of merchandise present in the displays after fan outcry flared online, but not all of it was removed.

For Halloween, Disney promoted its new stop-motion animation film "Frankenweenie" with a special exhibit in the Disney Animation building and a special sneak preview of the film in the Muppet*Vision Theater.

In October, padding was added to Mater's Junkyard Jamboree ride vehicles after Disney received reports of Guest injuries

In September, the Space Shuttle Endeavour flew over Disneyland Resort and Disney California Adventure during its historic final flight.

Disney's video of the fly-over below:

Disney California Adventure wrapped up 2012 with a spectacular holiday season offering a fantastic line-up of new holiday offerings in its new Buena Vista Street and Cars Land areas.

Buena Vista Street Community Bell Ringers brought Christmas carols to Buena Vista Street

Santa greeted guests at Elias & Co.

Below, Buena Vista Street's Christmas Tree lighting ceremony:

Cars Land was lavishly decked out for the season

A short walk from the park, HoJo Anaheim is conveniently located next to Matterhorn Mountain at Disneyland with nearby dining, freeway access, FREE parking and FREE Wi-Fi. For more information on HoJo Anaheim, room rates, or to book your stay today, visit HoJoAnaheim.com/MiceChat

MiceChat.com and Annual Passholder Discounts
Available Every Day!
The HoJo Anaheim is now offering deeper discounts for Disneyland Resort Annual Passholders! On select nights, Disneyland Resort Annual Passholders can get rooms for as low as $59 per night, plus tax. For more information visit the HoJo Anaheim Innsider Boards which features an up-to-date listing of available nights, or call (714) 776-6120 and ask for In-House Reservations to book. If your date isn't listed, the HoJo Anaheim still offers rooms for 20% off their best available rate if you call (714) 776-6120.
Weekly News & Information Round-Up

Weekly Theme Park Hours




December 31 — January 6, 2012

[B]Disneyland Park[/B]
[B]Disney California Adventure[/B]
New Year's Eve: 8 am – 2 am
Tuesday-Saturday: 8 am – 12 midnight
Sunday: 8 am – 11 pm
New Year's Eve: 8 am – 1 am
Tuesday-Saturday: 8 am – 11 pm
Sunday: 8 am – 10 pm
[CENTER]For a complete listing of theme park hours,
visit the

Disneyland.com Theme Park Calendar

[/CENTER]
[center]

Expected Crowd Levels

[/center] [center]presented by TouringPlans.com[/center]
[CENTER][B]Disneyland Park[/B][/CENTER]
[CENTER][B]Disney California Adventure[/B][/CENTER]
[CENTER][B]HIGH[/B]
[B]7.8—10.0[/B]

out of 10

[/CENTER]
[CENTER][B]MEDIUM—HIGH[/B]
[B]6.0—9.9[/B]

out of 10

[/CENTER]
[CENTER]Crowd levels are based on a scale from 1 to 10,
with 1 being the least crowded conditions and 10 being most crowded.
[B]For crowd predictions for the next 365 days, visit
[/B]
[center]

Closure and Refurbishment Schedule

[/center]
[b][center]Disneyland Park[/center][/b]

[b]Mark Twain Riverboat:[/b] Closed January 7, 2013 through March 28.
[b]Big Thunder Mountain Railroad:[/b] Closed for extensive refurbishment January 7, 2013 through October 30.
[b]Haunted Mansion:[/b] Closed January 7-17, 2013 to remove Holiday overlay.
[b]Big Thunder Ranch:[/b] Closed January 7-17, 2013 to remove holiday overlay.
[b]Fantasmic!:[/b] Dark January 7, 2013 through February 14 for refurbishment.
[B]Alice in Wonderland:[/B] Expected to close early 2013 to install permanent safety railing on outdoor ride portion.
[B]Fantasy Faire:[/B] New princess-themed meet-and-greet area in former Carnation Plaza Gardens is under construction and expected to open in early 2013.
[B]Princess Fantasy Faire at the Fantasyland Theater:[/B] Fantasyland Theater closed August 12. Princesses have relocated to Small World Promenade allowing the Fantasyland Theater to close and prepare for a new show.

[b][center]Disney California Adventure[/center][/b]

[B]Muppet*Vision 3D:[/B] Closed through January 6 for Prep & Landing overlay.
[B]Silly Symphony Swings:[/B] Closed January 7, 2013 through February 17 for refurbishment.
[B]Grizzly River Run:[/B] Closed January 7, 2013 through February 28 for refurbishment.
[B]World of Color:[/B] Closed January 28-31, 2013 and February 4-7 for refurbishment.

[b][center]Downtown Disney and Disneyland Resort Hotels[/center][/b]
[center]

Headline Roundup




A quick look at noteworthy Disney theme park headlines from around the web.[/center]

Disneyland will honor classic show with "A Salute to the Golden Horseshoe Revue" January 10 through February 4 as part of "Limited Time Magic"
Rose Bowl rivals Wisconsin Badgers and Stanford Cardinal recently celebrated their achievement at Disneyland
Alright, that wraps up the second part of our two-part 2012 Year in Review. It's been a spectacular year, hasn't it? Let us know what your favorite new thing at California Adventure was this year in the comments below. And once again, thanks for reading and we hope all of you have a happy and safe new year!

We're only here because of your continued support. If you've enjoy Dateline Disneyland over the last five years, please consider helping us out by donating a buck or two so we can pay the bills and keep the updates coming! You can donate with a click of a button via PayPal — click here!

For more Disneyland news, be sure to read MiceChat's weekly In the Parks blog. And be sure to check out our sister blog, Dateline Disney World – a fantastic weekly photo blog covering Walt Disney World in Orlando, Florida!

Thanks for reading. See you at Disneyland!
[B]- Andy[/B]

Support Dateline Disneyland

[center]Follow Dateline Disneyland!


|

|
|
|
[/center]