Lot's of fun news for you today from the Disneyland Resort. It seems the Dapper Dans have learned a few new tunes and are singing Boy Bands hits from the likes of One Direction, N'Synch and more. it's a small world and Grizzly River Run have both returned from refurb, along with the ongoing refurbishments of the Mark Twain, Big Thunder Mountain, and Silly Symphony Swings.  But first, don't forget to get your team registered for MiceChat's upcoming Gumball Rally on May the 4th.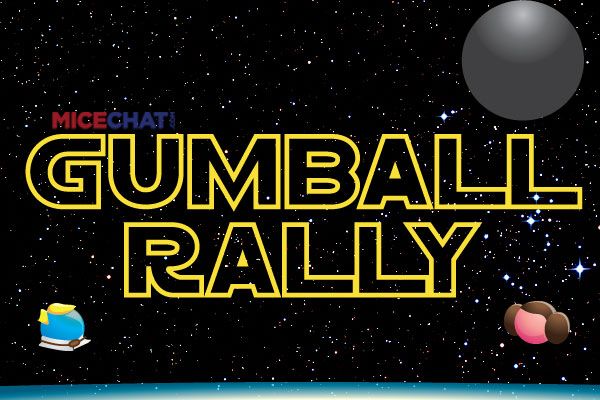 GUMBALL RALLY, MAY 4th at the
DISNEYLAND RESORT
Get your racing shoes on and grab your tickets for this years Gumball Rally! What's a Gumball Rally? The Rally is a race to find out who can ride the most attractions at Disneyland in a single day. Sounds fun, right? Well, it is even better than it sounds. You'll be riding attractions and figuring out the best path through the park based upon the challenges we place in front of you. In the end, it's a ton of fun for geeks and theme park fans alike.
Grab your tickets now for the May 4th event
TOWN SQUARE
Town Square is beginning to really shine as the spring blossoms come forth and the characters step out.
Also, to celebrate the Diamond Edition of Peter Pan's release on Blu-ray, Disneyland held a special event for pass holders.  For the entire day, AP'ers could reserve a spot to watch a screening of the beloved film.  Then, after the 8pm park closing, Passholders were invited to enjoy Fantasyland until 10pm.  A nice perk.
Further explanation of why there isn't a Dateline Disneyworld Today, Cory was enjoying the West Coast Parks.
DAPPER BOY BANDS
As part of Disneyland's Limited Time Magic promotion, the Dapper Dans are singing hits from the boy bands. Calling themselves  "The original boy band," the Dapper Dans sing a medley of "Bye Bye Bye" by 'N Sync, "What Makes You Beautiful" by One Direction and "Rock Your Body" from Justin Timberlake.  Watch the video and let us know what you think.
FANTASY FAIRE VILLAGE
More progress can be observed at the Fantasy Faire Village this week as final details are added before previews and soft openings begin this coming week.
what do you think about Disneyland's newest feline friend?
BIG THUNDER MOUNTAIN
Big Thunder's renovation rumbles along.  The crane is still a fixture of the Frontierland skyline at the moment.
KING ARTHUR'S CAROUSEL
The canopy of King Arthur's Carousel is still in need of a little TLC.  It is becoming downright ugly.  Rusty colored memories indeed.
it's a small world
According to the Disneyland Website, it's a small world should be up and running today.
FANTASYLAND THEATRE
It seems that an electrical problem has delayed any further progress at the moment in the Fantasyland Theatre.  This would explain why no rigging has been installed, nor have we seen any developments for several weeks.
GOOFY'S HOUSE
Goofy's house will be under refurbishment for  the next week for an exterior freshening.  It will return on March 8th.
MARK TWAIN
Mark Twain is also  down, but nearly ready for a return.  However in checking Disneyland's website, no return date has yet been announced. Hmmmmm.
GHIRARDELLI
Stop by Ghirardelli now to get your discount holiday peppermint bark!   Also the Easter candy is on the shelves now and pretty reasonably priced.
GRIZZLY RIVER RUN
Grizzly is scheduled for a return today, Friday March 1st.  The shots taken yesterday show that the waterways were filled with water, although not circulating.
SILLY SYMPHONY SWINGS
And, of course, Silly Symphony Swings is still in pieces and under refurbishment.  Painting has also been happening on the surrounding structure.
That should do it for this week folks.  Enjoy the return of it's a small world and Grizzly, and we will see you soon, In The Parks.