Disneyland prices got their annual increase over the weekend, bumping a one-day ticket to Disneyland above the $90 mark. The increases affect admission, Annual Passports and parking prices across the board, but the quiet weekend announcement and roll-out allowed Disney to avoid negative press by avoiding the traditional news cycle. Meanwhile, as Disneyland raised prices, the first crowds of summer continued to arrive at the Anaheim theme parks to see Disney California Adventure's Cars Land and Disneyland's new Mickey and the Magical Map stage musical at Disneyland. Also in the news this week was the announcement that Disney California Adventure will host the world premiere of Disney's upcoming action-western flick, The Lone Ranger. Tickets for the Johnny Depp movie are available to the public for $1,000 each with a dinner catered by Subway. It's an expensive movie and sandwich, but don't balk at the price too much – proceeds will be donated to a good cause.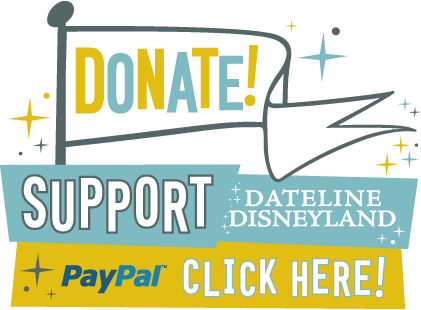 Get a closer look at today's update!
Click on any photo in the blog for a large, high-resolution version of the image.
There's a lot to get to this week, so let's get started!
On Saturday, Disney quietly announced it would be raising theme park admission prices the following day. The weekend announcement on the Disney Parks Blog was a smart move to avoid getting caught up in the regular weekday news cycle, but the fans heard the announcement loud and clear.

The price increases affected all ticket media across the board – from single-day tickets to Annual Passports. Nothing was spared from this round of price hikes and even theme park parking fees were raised. For the first time, a one-day, one-park ticket to Disneyland breached the $90 mark, jumping $5 from $87 to $92. The one-day Park Hopper ticket was hit with the biggest price hike for regular park tickets, jumping $12 to $137 for adults and $131 for children.

Below, we have a break-down of ticket prices, including the previous prices which went into effect in May 2012. A listing showing the price increase is also included.
Disneyland Resort Theme Park Ticket Price Increases




Effective June 2, 2013

Ticket
New Price
Age 10+ / Age 3-9
Old Price
Age 10+ / Age 3-9
Price Increase
Age 10+ / Age 3-9
5-Day
Park Hopper
$300 / $279
$290 / $270
+ $10 / + $9
5-Day
1-Park Per Day
$265 / $244
$260 / $240
+ $5 / + $4
4-Day
Park Hopper
$285 / $265
$275 / $255
+ $10 / + $10
4-Day
1-Park Per Day
$250 / $230
$245 / $225
+ $5 / + $5
3-Day
Park Hopper
$260 / $244
$250 / $235
+ $10 / + $9
3-Day
1-Park Per Day
$225 / $209
$220 / $205
+ $5 / + $4
2-Day
Park Hopper
$210 / $197
$200 / $188
+ $10 / + $9
2-Day
1-Park Per Day
$175 / $162
$170 / $158
+ $5 / + $4
1-Day
Park Hopper
$137 / $131
$125 / $119
+ $12 / + $12
1-Day
1-Park
$92 / $86
$87 / $81
+ $5 / + $5
Annual Passports also saw increases across the board, with Deluxe and Southern California passes seeing the biggest increase for Disneyland-only passes. The bi-coastal Premier Annual Passport that allows guests to visit Disneyland Resort and Walt Disney World saw the largest price jump – a whopping $130 spike, raising that pass' price to just under $1,000.

Below, a full break down of Disneyland Annual Passport prices, including previous prices and the new price increase.
Disneyland Resort Annual Passport Price Increases




Effective June 2, 2013

Annual Passport
New Price
Old Price
Price Increase
Premier
(Disneyland & Disney World)
$979
$849
+ $130
Premium
$669
$649
+ $20
Deluxe
$499
$469
+ $30
Southern California
$359
$329
+ $30
Southern California Select
$279
$269
+ $10
Block-Out Day Ticket
$84
$70
+ $14
Parking prices went up as well but only by a dollar.

Disneyland Resort Theme Park Parking Price Increases




Effective June 2, 2013

Vehicle Type
New Price
Old Price
Price Increase
Auto or Motorcycle
$16
$15
+ $1
Oversized Vehicles, Motor Homes
or Tractors without Trailers
$21
$20
+ $1
Buses or
Tractor with Extended Trailers
$26
$25
+ $1
Annual Passport Parking Pass
$139
$129
+ $10
Refurbishment Round-Up

Inside the park, Disneyland's busy summer season means a slow-down for refurbishments. Two major projects continue their refurbishment and construction projects, however. On Main Street, the Market House remains closed as Imagineers redesign and expand the interior as the coffee shop and general store become Disneyland's new Starbucks Coffee location. Still, not much progress can be seen from the outside.

Signage for the popular Disneyana shop remain in place, but the space occupied by the collectibles store will become Starbucks dining space.

A bit further down Main Street, the Fargo's Palm Parlor porch has emerged from refurbishment.

In Frontierland, the major Big Thunder Mountain Railroad refurbishment continues…

Around Disneyland, safety enhancements continue to be put into effect, with new railings going up along Main Street USA, New Orleans Square and Tomorrowland rooftops. Unthemed railings that are usually down while not in use can still be seen in Mickey's Toontown.

You can spot the new themed safety railing along the backside of the facade's roof

New themed safety railings can be seen atop this Emporium rooftop as well:

While they aren't ideal and certainly look a bit strange, at least effort was taken to theme them and try to have them blend in with their surroundings.

Some railings aren't themed yet:

Similar to what is happening on Main Street, some New Orleans Square rooftops are getting some new railings disguised as themed wrought iron detailing.

In Tomorrowland, the Innovention's roof got some new railings on the side closest to Autopia.

Apparently making the railings slanted and minimalist makes them appropriately themed for Tomorrowland.

And in Mickey's Toontown, the railings are still up along the hills next to Roger Rabbit's Car Toon Spin

Welcome to California Adventure
Last week Disney announced the world premiere for its upcoming film, "The Lone Ranger" would be held at Disney California Adventure. The movie hits theaters July 3 and the premiere will hit Buena Vista Street and Hollywood Land on Saturday, June 22.

The premiere will be the fifth Johnny Depp film to debut at the Disneyland Resort, with the first four Pirates of the Caribbean movies premiering on Disneyland's Rivers of America. Tickets for "The Lone Ranger" premiere are available to the public at $1,000 each, with all proceeds benefitting the American Indian College Fund. An train engine built for the film will be on display and The Lone Ranger'Äôs horse Silver will make an appearance. Below is the press release:
Walt Disney Studios Chairman, Alan Horn, announced today that ticket sales from the highly anticipated World Premiere of Disney/Jerry Bruckheimer Films' "The Lone Ranger" will benefit the American Indian College Fund. The event will take place on Saturday, June 22, at Disney California Adventure Park in Anaheim, California. A giant red carpet down the Park's iconic Hollywood Boulevard will be lined with thousands of park guests cheering for the film's stars, filmmakers and the many Hollywood celebrities in attendance. The Lone Ranger's horse Silver will make an appearance and an actual train engine built for the film will be on display.

"We've had a terrific collaboration with the Native American community throughout the production of Disney's 'The Lone Ranger,'" said Alan Horn, Chairman of The Walt Disney Studios. "With the world premiere of this exciting film at hand, we are pleased to commemorate the occasion by supporting the American Indian College Fund."

Produced by Jerry Bruckheimer and directed by Academy Award-winner Gore Verbinski, "The Lone Ranger," is a thrilling adventure infused with action and humor, in which the famed masked hero is brought to life through new eyes. Johnny Depp stars as a newly imagined Tonto and Armie Hammer plays the masked lawman himself' the Lone Ranger.

Tickets for the premiere event have been donated by Disney to the American Indian College Fund, which will offer them for sale to the public; tickets will be available for purchase starting today. Because Disney is also underwriting the entire cost of the premiere, 100% of the revenues received by the American Indian College Fund for the tickets will be used for scholarships and other support for Native American students. Tickets are priced at $1000.

Fund President, Cheryl Crazy Bull, stated: "The Fund is pleased to be the beneficiary of this event because our scholarships are an investment in a healthier, more prosperous future for tribal students and their families. We are poised to serve over 20,000 American Indian and Alaska Native students attending the tribal colleges across this country. Currently our scholarships serve less than 21% of those students so we appreciate any opportunity to bring resources into our scholarship program."

Disney California Adventure Park will be hosting the premiere and sponsors will be offering opportunities for the guests in conjunction with the event. Commenting on the premiere event, Tom Staggs, Chairman of Walt Disney Parks and Resorts, said, "All of us at Disney Parks are thrilled to host the world premiere of 'The Lone Ranger,' at Disney California Adventure. Disney brings unforgettable stories and characters to life in our movies and in our parks and resorts, so there's no better place than Disney California Adventure to start this trailblazing film on its journey."

Time Warner Cable, a title sponsor of the world premiere of Disney/Jerry Bruckheimer Films' "The Lone Ranger" will stream the event LIVE from Disney California Adventure Park.

[ . . . ]

A one-of-a-kind Lone Ranger Ninja motorcycle from Kawasaki, a sponsor of the premiere, will be displayed at the event and will be available for the stars in attendance to autograph. The bike will be auctioned off at a later date, with all proceeds going to the American Indian College Fund.

Subway is providing sandwiches for the premiere guests.

Disney/Jerry Bruckheimer Films' "The Lone Ranger" opens in theaters July 3, 2013.
Below, a trailer for the film:

The new awnings installed on the Carthay Circle Restaurant terraces are complete. They as nice as you'd expect minimally-themed new awnings to look. They don't look terrible, but they aren't nice either. It's too bad they couldn't have gotten some thematic consideration, but they get the job done and that's what's most important for guest comfort.

Some nice wrought-iron to match the window awning and balcony railings would have been a great touch

Nearby in Hollywood Land, the Monstrous Summer All-Nighter specialty hot dog at Award Wieners is still being offered.

Over in Cars Land, the fountain at the Cozy Cone Motel is getting some work done.

Don't miss the new MiceChat Podcast!
If you didn't catch our latest MiceChat podcast, we bring you our guide to the best new attractions of summer 2013. Take a listen below!
[center]Embark on Mickey's Compass Quest
at Disneyland Park
June 3 – 9, 2013[/center]
Disneyland is offering "Mickey's Compass Quest" an interactive in-park game that you can participate in after you see the new "Mickey and the Magical Map" show in the Fantasyland Theatre. Below is Disney's description of the event:
Celebrate the opening of the all-new live show "Mickey and the Magical Map" at Disneyland Park with a little extra Limited Time Magic! This June, Guests who join Mickey Mouse on this musical journey to imagination and back will be invited to extend their experience, courtesy of Mickey's Compass Quest. Once the show comes to a close at the Fantasyland Theater, fetch yourself a map and follow a series of show-inspired clues to secret spots around the park. Uncover hidden markers, complete each challenge and take home a special reward! What are you waiting for? The quest awaits!
[center]Mickey and the Magical Map: Show and Presentation
A Limited Time Annual Passholder Magic Event
at Disneyland Park
June 4 and June 11, 2013[/center]
Annual Passholders can attend a special showing of the new "Mickey and the Magical Map" show and a behind-the-scenes presentation on the creation of the show. Event details below:
Celebrate the opening of the new magical, musical show, Mickey and the Magical Map. Annual Passholders are invited to attend special, Passholder performances of this thrilling production. After the performance there will be a special behind-the-magic presentation by some of the creative team responsible for the production.
Mickey and the Magical Map: Show & Presentation

Dates
May 28, June 4 & 11, 2013

Show & Presentation Location
Fantasyland Theatre in Disneyland Park

Show Time
5:40 p.m.

Event Information

All participating Annual Passholders (ages 3 and older) must present their active Annual Passport for event admission to the event Cast Member at the Fantasyland Theatre in Disneyland Park, who will validate and scan the Passport and check event availability. Photo ID may be required.
Each participating Annual Passholder may bring up to three (3) guests, and such guests need not be Passholders themselves. Children under 3 years of age may attend the event as a guest of an active Passholder.
All members of your party must enter the theater together.
Back in Fantasyland, a few leftover scrims that were installed on the "it's a small world" facade for the now-defunct "The Memories, the Magic and You!" show are looking pretty grimy. It would be nice to finally just get rid of them altogether.

Nearby, the turkey leg stand across from the Matterhorn Bobsleds entrance is now serving the BBQ-glazed pork shank that was introduced as part of Walt Disney World's New Fantasyland food offerings.

It's as big as a turkey leg and the same price, too

Outside the parks, a Wii U pop-up store and free play zone has sprung up in Downtown Disney between the ESPN Zone and Earl of Sandwich. The Wii U area is set to stick around through June 23.

You can test drive the Wii U and one of its games in one of several big game boxes that are complete little mini living rooms with HD TVs, gaming consoles and cushy chairs. A Wii U Guru will help you out if you need any help or have any questions.

A fun photo-op puts you in the world of Super Mario Bros.

Nearby, the Disneyland Hotel's main entrance sign that guests see when driving into the Hotel entrance has been ripped out and is now being replaced, likely with a new sign that will complement the hotel's recent retro remodel.

And back in Downtown Disney, Monsters University is being promoted at the AMC Theaters

Finally, to end today's Dateline Disneyland, we're going to take a quick field trip to Knott's Berry Farm where the park recently unveiled its new Boardwalk area and a radically revamped Timber Mountain Log Ride. I attended the media event last week to help with help cover the event for MiceChat's In the Parks blog. I wanted to share some personal thoughts on the Knott's projects and encourage you all to read the In the Parks blog where MiceChat blogger Jeff Heimbuch reviews and recaps the new offerings, with a full ride-through video of the newly refreshed Timber Mountain Log Ride.

Knott's Berry Farm is often scoffed at by dedicated Disney fans as not being up-to-par with Disney, and in some ways, those fans are right. Knott's doesn't have the budgets needed to have rides comparable to Disney's Audio-Animatronic spectacles and E-Tickets, but I wouldn't let that turn you away from a trip to Knott's. In recent years, the park has undertaken a significant effort to offer a higher-quality experience and that shows when you enter the park and explore its totally refurbished Ghost Town.

Knott's Ghost Town is a gem in Southern California's various theme parks and Knott's management has realized this and completely revitalized the area. Ghost Town shines and offers a truly special experience throughout. All of Ghost Town's peek-ins have been restored, a working blacksmith forges unique items you can buy, and you can even go panning for gold or ride a real stagecoach. Knott's may not have the Rivers of America or Big Thunder Mountain, but Ghost Town offers an amazingly charming and authentic wild west experience that Disneyland just can't compete with.

The park's crown jewels, however, are the Calico Mine Train and the Timber Mountain Log Ride. Despite its dated figures and sets, the Mine Train is a fantastic experience, packing in a lot of charm and a surprising amount of awe, first in the ride's magnificent cavern sequence and then again when the Calico glory hole is revealed. Considering the ride is over 50 years old, it remains a remarkable experience even today.

The big news from Knott's last week, however, was the re-opening of its historic Timber Mountain Log Ride, which has just completed a major $5 million overhaul with new sets, scenery, special effects and animatronic figures. The project was led by Garner Holt Productions, the company that is now in charge of much of Disney's Audio-Animatronics development.

The ride unfortunately didn't open in time for its big rededication on Thursday, and I was unable to return before this writing to ride the refreshed ride. I've seen video and publicity images, however, and have been told that now, more than ever, the log ride is now Knott's premier attraction. I'm excited to head back to Knott's to finally experience the ride very soon.

Below, a ride-through video of the Timber Mountain Log Ride from MiceChat's In the Parks blog:

Don't miss a great historic exhibit about the Timber Mountain Log Ride in the park's Wilderness Dance Hall, including great concept art and scale models:

Thursday also marked the grand opening of Knott's new Boardwalk area. The Boardwalk replaces the massive Perilous Plunge attraction, and in its place are three new family-friendly rides. The offerings here aren't much to write home about, but it's part of a bigger picture Knott's is working on and is a good step forward for the park as it continues its efforts to reinvent itself as a quality destination with a variety of offerings for the entire family. The new Boardwalk area in general is quite nice and if maintained as well as Ghost Town, it will continue to be a great area for years to come. The area is colorful and full of energy and stands in stark contrast to other areas and attractions around it that are showing their age. I hear plans are to spread the TLC around, which is good news and I hope it pans out.

The Pacific Scrambler packs more punch that it may seem. We have an on-ride video below:

Surfside Gliders and the Coast Rider wild mouse coaster:

Coast Rider is essentially an un-themed version of California Adventure's Goofy's Sky School. The ride is what you'd expect, but it fits alongside Knott's Berry Farm's other coasters and offers a much-needed family-friendly option for younger kids and pre-teens.

What's great about the new Boardwalk area is that it helps bring some new life to a corner of the park that seriously needed it. The color and activity add a lot back here. While it might not reach Disney-level theming, a lot of care went into the new area and it shows. Decorative fencing and some beautiful landscaping surround the new Coast Rider roller coaster, helping soften the industrial harshness of the coaster. This is a new level of showmanship for Knott's and worth taking note of.

Is the new Boardwalk a must-see if you're visiting Southern California? Maybe not, but Knott's as a whole is worth a visit if you've got the time. If you're a local, there's little excuse to not pay the park a visit (season passes are currently only $88 – less than a single day's admission to Disneyland!). The folks in charge are leading the historic little theme park into a new era and I'm personally excited to see where they take it.

A short walk from the park, HoJo Anaheim is conveniently located next to Matterhorn Mountain at Disneyland with nearby dining, freeway access, FREE parking and FREE Wi-Fi. For more information on HoJo Anaheim, room rates, or to book your stay today, visit HoJoAnaheim.com/MiceChat

MiceChat.com and Annual Passholder Discounts
Available Every Day!
The HoJo Anaheim is now offering deeper discounts for Disneyland Resort Annual Passholders! On select nights, Disneyland Resort Annual Passholders can get rooms for as low as $59 per night, plus tax. For more information visit the HoJo Anaheim Innsider Boards which features an up-to-date listing of available nights, or call (714) 776-6120 and ask for In-House Reservations to book. If your date isn't listed, the HoJo Anaheim still offers rooms for 20% off their best available rate if you call (714) 776-6120.
Weekly News & Information Round-Up

Weekly Theme Park Hours




June 3 – 9, 2013

>
[B]Disneyland Park[/B]
[B]California Adventure[/B]
Mon.-Thurs.:
8am – 12am
Fri.-Sat.:
9am – 12am
Sunday:
8am – 12am
Mon.-Thurs.:
8am – 10pm
Fri.-Sat.:
9am – 10pm
Sunday:
8am – 10pm
[CENTER]For a complete listing of theme park hours,
visit the

Disneyland.com Theme Park Calendar

[/CENTER]
[center]

Closure and Refurbishment Schedule

[/center]
[b][center]Disneyland Park[/center][/b]

[b]Big Thunder Mountain Railroad:[/b] Closed for extensive refurbishment through October 30.
[b]Market House:[/b] Closed for conversion and expansion for new Starbucks location. Opens fall 2013.
[B]Alice in Wonderland:[/B] Expected to close in 2013 to install permanent safety railing on outdoor ride portion.

[b][center]Disney California Adventure[/center][/b]
[b][center]Downtown Disney and Disneyland Resort Hotels[/center][/b]
[center]

Headline Roundup




A quick look at noteworthy Disney theme park headlines from around the web.[/center]
Alright, that wraps up this week's edition of Dateline Disneyland. Thanks for reading! Are you planning on attending "The Lone Ranger" premiere? What do you think of Disneyland's new ticket prices? Join the discussion and let us know in the comments section below!

We're only here because of generous readers like you. Do you enjoy reading Dateline Disneyland every week? Consider helping us out by donating so we can pay the bills and keep the weekly updates coming! You can donate with a click of a button via PayPal, click here!

For more Disneyland news, be sure to read MiceChat's weekly In the Parks blog. And be sure to check out our sister blog, Dateline Disney World – a fantastic weekly photo blog covering Walt Disney World in Orlando, Florida!

Thanks for reading. See you at Disneyland!
[B]- Andy[/B]

Support Dateline Disneyland

[center]Follow Dateline Disneyland!


|

|
|
|
[/center]