Summer at Disneyland is now in full swing, with most attractions open and the parks open late every night. Summer typically means a ramp up in crowd levels and a slow-down on major construction and refurbishment projects. At Disneyland, the only two projects underway at the on-going Starbucks Coffee construction in Main Street's Market House general store and the major 10-month Big Thunder Mountain Railroad refurbishment. At Disney California Adventure, no major news to speak of, save for some additional changes to the window displays along Buena Vista Street. Meanwhile, some small offerings from the fledgling Limited Time Magic promotion continue in both parks…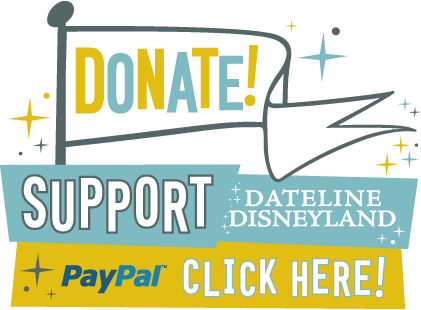 Get a closer look at today's update!
Click on any photo in the blog for a large, high-resolution version of the image.
Let's get started!

Summer is in full swing at Disneyland. With the park looking great and temperatures not too high yet, it's a great time to visit the parks.

You can still spot some railings up along Main Street USA after recent safety changes.

A look at wait times mid-day on Saturday — With all Annual Passports blocked out (except for Premium), crowds were very pleasant.

Disney's PhotoPass photographers have now taken to carrying around big, cheap frames and have guests hold up when posing for photos.

It's weird and is kind of tacky, but it seems like guests tend to enjoy it.

Personally, if I were posing for a photo in front of the Matterhorn, I wouldn't think a big blue frame would be needed to make the picture more interesting…

Refurbishment Round-Up

Work continues inside the Market House as the space is expanded and remodeled for the addition of Disneyland's new Starbucks location. Not much progress can be seen from outside, though…

Over in Frontierland, the Big Thunder Mountain Railroad refurbishment continues toward its late-October reopening.

Welcome to California Adventure
Not much to report on at California Adventure as summer crowds continue to pour in to see the new Cars Land and Buena Vista Street, both of which will celebrate their first anniversary on Saturday!

Buena Vista Street is still as gorgeous as ever, except, of course, for the various window displays along the street.

The windows at the Los Feliz Five and Dime and Julius Katz shops saw more changes last week, with new mannequins added.

Child mannequins were added at the Five and Dime but with the mannequins looking absolutely miserable, it'll be a small miracle if they boost t-shirt sales for Disney.

Does this look like a kid happy to be at Disneyland?

The other window, which was originally filled with great custom-made Buena Vista All-Stars jerseys and other props, now features a boy mannequin that looks just as upset as his female counterpart.

You'd probably look like this if you were trapped in these clutter-filled windows, too.

Over at Julius Katz and Sons, some of the remaining original props have been removed, others rearranged and a new mannequin has been added.

Does he make you want to buy one of those Red Car Trolley shirts? Note the adhesive left on the wall behind the mannequin where a tin sign featuring the Red Car Trolley attraction poster was hastily stuck up overnight but fell before park opening.

I'd like to know if the mannequins are really helping boost t-shirt sales, cause all they're doing to the windows is adding clutter and making them look worse than before.

Over at the Carthay Circle Theater, the new awnings on the outdoor dining terraces look finished and ready for guest use

[center]Embark on Mickey's Compass Quest
at Disneyland Park
June 3 – 9, 2013[/center]
Last week Disneyland offered "Mickey's Compass Quest," an interactive in-park scavenger hunt that guests could participate in after watching the new "Mickey and the Magical Map" stage show at the Fantasyland Theatre.

The Quest was a simple multiple-choice scavenger hunt around the park where guests had to find hidden compasses near or inside specific attractions. You scratched off the correct answer on your Compass Quest map for each compass location question. Upon completion, guests got a sticker at the information booth in the Central Plaza.

Hidden compasses blended in with their surroundings and were themed to each of their locations. Below, the Enchanted Tiki Room compass

At the French Market in New Orleans Square:

At the Davy Crockett Explorer Canoes

At the Fantasyland Rapunzel meet-and-greet

The sticker given out for completing the quest:

[center]Give Dad an Incredible Father's Day
at Disney California Adventure
June 10 – 16, 2013[/center]
Limited Time Magic will honor Father's Day this weekend by repackaging the regular meet-and-greet with characters from The Incredibles. Mr. Incredible and Frozone will move to Paradise Pier for the week and appear at a special meet-and-greet location there, rather than roaming around in Hollywood Land as they usually do. Below is Disney's official blurb:
This Father's Day, show dad he's incredible with a gift he won't soon forget'Äîas part of Limited Time Magic at Disney California Adventure Park, head to Paradise Pier, where a duo of "supers" from Disney'Ä¢Pixar's The Incredibles will be posing for pictures. Stop by for a chance to meet Mr. Incredible or Frozone, and see how these larger-than-life Disney Characters stack up against the fatherly hero in your family!
[center]Mickey and the Magical Map: Show and Presentation
A Limited Time Annual Passholder Magic Event
at Disneyland Park
June 11, 2013[/center]
Annual Passholders can attend a special showing of the new "Mickey and the Magical Map" show and a behind-the-scenes presentation on the creation of the show. Event details below:

Celebrate the opening of the new magical, musical show, Mickey and the Magical Map. Annual Passholders are invited to attend special, Passholder performances of this thrilling production. After the performance there will be a special behind-the-magic presentation by some of the creative team responsible for the production.
Mickey and the Magical Map: Show & Presentation

Dates
May 28, June 4 & 11, 2013

Show & Presentation Location
Fantasyland Theatre in Disneyland Park

Show Time
5:40 p.m.

Event Information

All participating Annual Passholders (ages 3 and older) must present their active Annual Passport for event admission to the event Cast Member at the Fantasyland Theatre in Disneyland Park, who will validate and scan the Passport and check event availability. Photo ID may be required.
Each participating Annual Passholder may bring up to three (3) guests, and such guests need not be Passholders themselves. Children under 3 years of age may attend the event as a guest of an active Passholder.
All members of your party must enter the theater together.
[center]Enchanted Tiki Room – 50th Anniversary Souvenir
A Limited Time Annual Passholder Magic Event
at Disneyland Park
June 23 – 27, 2013[/center]
To celebrate the Enchanted Tiki Room's 50th Anniversary, Annual Passholders can receive a special reproduction of a vintage brochure for the Tiki Room. Details below:

Celebrate 50 years of the iconic Audio-Animatronic attraction the Enchanted Tiki Room at Disneyland Park! In honor of this milestone, Annual Passholders can receive a special recreation of the 1963 Enchanted Tiki Room brochure, available while supplies last, which includes the original graphics, copy and even a special message from Walt Disney. This Limited Time Annual Passholder Magic giveaway is truly for the birds.
Enchanted Tiki Room – 50th Anniversary Souvenir

Dates
June 23 – 27, 2013

Location
Enchanted Tiki Room in Adventureland

Giveaway Time
During regular Disneyland park operating hours.

Brochure Distribution Information

All Guests (ages 3 and older) must be valid Annual Passholders on the days of the giveaway.
All participating Annual Passholders must present their active Annual Passport to the event Cast Member at the Enchanted Tiki Room.
Annual Passholders are limited to one souvenir brochure per day.
Subject to availability, and offer valid while supplies last. A limited amount of souvenir brochures will be printed.
In Downtown Disney, banners have gone up to promote Disney's upcoming "The Lone Ranger," which will have its premiere in California Adventure later this month.

A short walk from the park, HoJo Anaheim is conveniently located next to Matterhorn Mountain at Disneyland with nearby dining, freeway access, FREE parking and FREE Wi-Fi. For more information on HoJo Anaheim, room rates, or to book your stay today, visit HoJoAnaheim.com/MiceChat

MiceChat.com and Annual Passholder Discounts
Available Every Day!
The HoJo Anaheim is now offering deeper discounts for Disneyland Resort Annual Passholders! On select nights, Disneyland Resort Annual Passholders can get rooms for as low as $59 per night, plus tax. For more information visit the HoJo Anaheim Innsider Boards which features an up-to-date listing of available nights, or call (714) 776-6120 and ask for In-House Reservations to book. If your date isn't listed, the HoJo Anaheim still offers rooms for 20% off their best available rate if you call (714) 776-6120.
Weekly News & Information Round-Up

Weekly Theme Park Hours




June 10 – 16, 2013

[B]Disneyland Park[/B]
[B]California Adventure[/B]
Daily:
8am – 12am
Daily:
8am – 10pm
[CENTER]For a complete listing of theme park hours,
visit the

Disneyland.com Theme Park Calendar

[/CENTER]
[center]

Closure and Refurbishment Schedule

[/center]
[b][center]Disneyland Park[/center][/b]

[b]Big Thunder Mountain Railroad:[/b] Closed for extensive refurbishment through October 30.
[b]Market House:[/b] Closed for conversion and expansion for new Starbucks location. Opens fall 2013.
[B]Alice in Wonderland:[/B] Expected to close in 2013 to install permanent safety railing on outdoor ride portion.

[b][center]Disney California Adventure[/center][/b]
[b][center]Downtown Disney and Disneyland Resort Hotels[/center][/b]
[center]

Headline Roundup




A quick look at noteworthy Disney theme park headlines from around the web.[/center]
OK, that's it for this week's Dateline Disneyland. Thanks for reading and be sure to join in the discussion below!

We're only here because of generous readers like you. Do you enjoy reading Dateline Disneyland every week? Consider helping us out by donating so we can pay the bills and keep the weekly updates coming! You can donate with a click of a button via PayPal, click here!

For more Disneyland news, be sure to read MiceChat's weekly In the Parks blog. And be sure to check out our sister blog, Dateline Disney World – a fantastic weekly photo blog covering Walt Disney World in Orlando, Florida!

Thanks for reading. See you at Disneyland!
[B]- Andy[/B]

Support Dateline Disneyland

[center]Follow Dateline Disneyland!


|

|
|
|
[/center]