Disney California Adventure rolled out the red carpet over the weekend for the World Premiere of Disney's new action-adventure film, The Lone Ranger. Saturday's star-studded event included the likes of film stars Johnny Depp and Armie Hammer, along with a number of other stars and hundreds of guests who purchased tickets to the event, benefiting the American Indian College Fund. Over 3,000 fans lined up along the 1,500-foot-long red carpet that ran down Buena Vista Street and Hollywood Boulevard to catch glimpses of their favorite stars. Meanwhile, Disneyland's historic Enchanted Tiki Room celebrated its 50th anniversary on Sunday as refurbishments and construction projects continued around the park.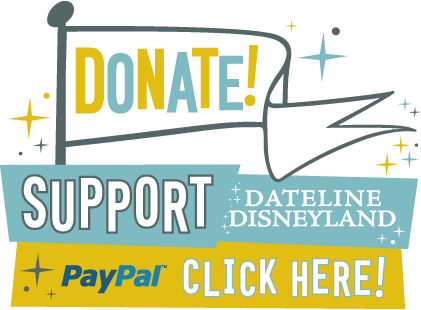 A huge thanks today to Chris Perley and MiceChat's Legally Brunette for contributing photos from the The Lone Ranger world premiere in today's update.
Get a closer look at today's update!
Click on any photo in the blog for a large, high-resolution version of the image.
There's a lot to cover today, so let's get started!
Welcome to California Adventure
Disney California Adventure rolled out the red carpet over the weekend for the star-studded premiere of Disney's new film, The Lone Ranger.

Park guests last week were met with the set-up required to host a big movie premiere in a theme park, but unlike the construction needed for the Pirates of the Caribbean movie premieres at Disneyland in recent years, the impact at California Adventure was rather minimal.

The locomotive used in the film was on stage over the weekend for the premiere, giving guests the opportunity to check out a rather large prop from the film up-close and have their photo snapped with it.

Flat screen TVs played the film trailer on a loop for park guests

Tickets for the premiere were available to the public at the high price of $1,000 per person, however, all proceeds went to the American Indian College Fund. Premiere guests entered through California Adventure main entrance, right onto Buena Vista Street's red carpet.

The $1,000 per-person tickets were accompanied with a simple Subway sandwich for dinner and a Lone Ranger-branded tote bag and a $10 Subway gift card. The underwhelming swag for the $1,000 tickets might have been more disappointing if all of the ticket proceeds weren't being donated.

Disney broadcast the two-hour red carpet event live on YouTube. If you missed it live, you can watch a replay of the event below:

Guests who lined up along the red carpet were able to see various celebrity arrivals

William Fichtner

Johnny Knoxville

Dominic Monaghan

Joey Lawrence

Verne Troyer

Orlando Jones

Andy Garcia

Audrina Patridge

Disneyland's 2013 All-American College Band made an appearance

Guests in traditional Native American dress

Saginaw Grant

Blessing by the Los Angeles basin's Gabrielino Tribe

Producer Jerry Bruckheimer

Director Gore Verbinski

Johnny Depp and Armie Hammer

Mr. Depp

For more photos from the premiere, visit Chris Perley's Facebook page.

Beyond the premiere, Disneyland shops including the Pioneer Merchantile in Frontierland, are now stocked with a variety of merchandise offerings from the new film.

Kids' costume

Over in Disneyland, some refurbishment and construction projects continue as Disneyland's Enchanted Tiki Room celebrates its 50th anniversary.

Refurbishment Round-Up

New work is underway in the Disney Gallery and Main Street Opera House lobby, with rumors that new gallery space will be added to the Main Street Opera House lobby. It's unclear what exactly will happen, but rumors point toward moving some of the Disney Gallery exhibit space into the Opera House lobby to allow for expanded retail space inside the Gallery. In any case, a new show celebrating the 50th Anniversary of the Enchanted Tiki Room is expected to open soon.

The back room of the Disney Gallery is currently closed to prepare for the new exhibit.

In the Opera House lobby…

Curtains block a good potion of the lobby, including the space that previously featured the Sleeping Beauty Castle and Splash Mountain scale models.

Further down Main Street, the Market House expansion continues, absorbing the space previously home to the Disneyana collectibles shop. The expansion and Market House remodel is underway to allow for the introduction of Starbucks to Disneyland.

Disney fans in Florida are now enjoying their first taste of Starbucks at Disney with last week's opening of their remodeled Main Street Bakery featuring Starbucks. Our sister blog Dateline Disney World has photos and a review and a look at how Starbucks may be implemented on Disneyland's Main Street, which will be a smaller space than California Adventure's Practical Cafe.

More of the recent exposed safety handrails up on top of park buildings have received themed cover-ups, but others remain in plain view. Below, safety railings are still up on the top of the Main Street Photo Supply:

At Sleeping Beauty Castle, some safety railings are up on the backside of the Castle

Back in Mickey's Toon Town, the safety railings have been hidden by painted walls that blend in with the facades and Toon Town hills.

Over in Frontierland, tarps have come down at Tom and Huck's Treehouse on Tom Sawyer Island after some recent safety enhancements. The treehouse still has walls surrounding it and remains closed to guests.

In Frontierland, the Big Thunder Mountain refurbishment project continues and the newly-rebuilt town of Rainbow Ridge is starting to get paint and signage applied.

Scaffolding is up around significant portions of the mountain for repainting

The El Dorado Hotel has its signage painted on now…

Walt Disney's Enchanted Tiki Room celebrated its 50th Anniversary on Sunday. The show, while remaining a timeless Disney experience, is most notable for introducing the world to Walt Disney's groundbreaking Audio-Animatronics technology. Annual Passholders and park guests packed the attraction throughout the day on Sunday, a fitting way to honor the Disneyland classic.

Disney will celebrate the attraction's milestone this weekend with a special merchandise event with commemorative art and collectibles.

[center]Enchanted Tiki Room – 50th Anniversary Souvenir
A Limited Time Annual Passholder Magic Event
at Disneyland Park
Now through June 27, 2013[/center]
To celebrate the Enchanted Tiki Room's 50th Anniversary, Annual Passholders can receive a special reproduction of a vintage brochure for the Tiki Room. Details below:

Celebrate 50 years of the iconic Audio-Animatronic attraction the Enchanted Tiki Room at Disneyland Park! In honor of this milestone, Annual Passholders can receive a special recreation of the 1963 Enchanted Tiki Room brochure, available while supplies last, which includes the original graphics, copy and even a special message from Walt Disney. This Limited Time Annual Passholder Magic giveaway is truly for the birds.
Enchanted Tiki Room – 50th Anniversary Souvenir

Dates
June 23 – 27, 2013

Location
Enchanted Tiki Room in Adventureland

Giveaway Time
During regular Disneyland park operating hours.

Brochure Distribution Information

All Guests (ages 3 and older) must be valid Annual Passholders on the days of the giveaway.
All participating Annual Passholders must present their active Annual Passport to the event Cast Member at the Enchanted Tiki Room.
Annual Passholders are limited to one souvenir brochure per day.
Subject to availability, and offer valid while supplies last. A limited amount of souvenir brochures will be printed.
Below is the special brochure Disney is giving out to Annual Passholders:

[center]Bring Home a Lone Ranger Boot Mug
at Disneyland Park
Available now while supplies last[/center]
You can get a special "Lone Ranger" boot mug when you buy a root beer float at the Golden Horseshoe as part of Disneyland's latest Limited Time Magic offering. The boot mugs will be available while supplies last. Below is Disney's official blurb on the offering:

Celebrate the release of The Lone Ranger by kicking up some sizzling summer fun at Disneyland Park! Find your way to Frontierland and beat the heat at Golden Horseshoe, where you can buy a boot-shaped souvenir mug, "branded" with the Lone Ranger's logo. Fill your "boot" with a frosty root beer slush, or enjoy other offerings in the spirit of Disney's latest adventure film, including the "Masked Ranger Favorite"'Äîa deluxe Angus cheeseburger with bacon, onion rings and all the fixin's. You won't want to miss this delicious offer, available for a limited time, thanks to a little Limited Time Magic!
[center]Independence Day Celebration
at Disneyland Resort
July 1 – 7, 2013[/center]
Disneyland has been offering its Independence Day fireworks and special "World of Color" pre-show for a the first four days of July each year for a few years now, but this year it'll be offered for a full week and marketed as part of the Limited Time Magic promotion. In any case, expect to catch Disneyland's special Fourth of July fireworks show in place of the regular "Magical" show nightly July 1-7. The fireworks show will be a shortened version of the full holiday show, except for on July 4 when the full show will be presented. At World of Color, a special patriotic pre-show with fireworks will be presented July 1-7. Below is Disney's information on the Fourth of July offerings:

At Disneyland, we're saluting our nation'Äö√Ñ√¥s birth in a big way with "Disney's Celebrate America! A Fourth of July Concert in the Sky." The Disneyland Resort fireworks spectacular will be held each night at 9:30 p.m. during Independence Week.

Every evening, you can also wear a pair of illuminated Mouse Ears and Glow with the Show" during performances of "Celebrate America!" at Disneyland park and the patriotic pre-show to World of Color at Disney California Adventure park.

And at the Disneyland Resort, you can enjoy Red, White and Blue Mason Jar Desserts at Carnation Cafe, and Patriotic Cotton Candy, Apple Pie Pockets or 4th of July Cupcakes, in shops all along Main Street, U.S.A., at Disneyland park.
Last week we showed you a couple returning traditions at Disneyland and this weekend another long-time tradition returned for its annual summer run. The 2013 All-American College Band made their debut on Thursday and the group, under the direction of Dr. Ron McCurdy. The band will perform five days every week at Disneyland and Disney California Adventure through the summer season.

Below, a video of the band's Disney theme park music medley:

To help with the process, Disneyland now is now placing signs at exit turnstiles to ensure guests needing a hand stamp offer their left hand to Cast Members giving stamps.

Meanwhile, the billboards on the backside of California Adventure's Hollywood Land sound stages are in dire need of updating or removal. The billboards are visible from the Harbor Blvd. guest transportation hub as well as the main entrance esplanade, so plenty of folks see these advertisements every day. Unfortunately, it's been over a year now since they've been updated. The Timothy Green billboard is advertising a movie that came out last August!

Similarly, billboards seen from the main entrance esplanade are promoting Disney/Pixar's Brave, which hit theaters a year ago!

A short walk from the park, HoJo Anaheim is conveniently located next to Matterhorn Mountain at Disneyland with nearby dining, freeway access, FREE parking and FREE Wi-Fi. For more information on HoJo Anaheim, room rates, or to book your stay today, visit HoJoAnaheim.com/MiceChat

MiceChat.com and Annual Passholder Discounts
Available Every Day!
The HoJo Anaheim is now offering deeper discounts for Disneyland Resort Annual Passholders! On select nights, Disneyland Resort Annual Passholders can get rooms for as low as $59 per night, plus tax. For more information visit the HoJo Anaheim Innsider Boards which features an up-to-date listing of available nights, or call (714) 776-6120 and ask for In-House Reservations to book. If your date isn't listed, the HoJo Anaheim still offers rooms for 20% off their best available rate if you call (714) 776-6120.
Weekly News & Information Round-Up

Weekly Theme Park Hours




June 24 – 30, 2013

[B]Disneyland Park[/B]
[B]California Adventure[/B]
Daily:
8am – 12am
Daily:
8am – 10pm
[CENTER]For a complete listing of theme park hours,
visit the

Disneyland.com Theme Park Calendar

[/CENTER]
[center]

Closure and Refurbishment Schedule

[/center]
[b][center]Disneyland Park[/center][/b]

[b]Big Thunder Mountain Railroad:[/b] Closed for extensive refurbishment through October 30.
[b]Market House:[/b] Closed for conversion and expansion for new Starbucks location. Opens fall 2013.
[B]Alice in Wonderland:[/B] Expected to close in 2013 to install permanent safety railing on outdoor ride portion.

[b][center]Disney California Adventure[/center][/b]
[b][center]Downtown Disney and Disneyland Resort Hotels[/center][/b]
[center]

Headline Roundup




A quick look at noteworthy Disney theme park headlines from around the web.[/center]
OK – That wraps up this week's special Lone Ranger edition of Dateline Disneyland. Did you line up along the red carpet on Saturday or did you watch the events from home? Let us know in the comments section below!

We're only here because of generous readers like you. Do you enjoy reading Dateline Disneyland every week? Consider helping us out by donating so we can pay the bills and keep the weekly updates coming! You can donate with a click of a button via PayPal, click here!

For more Disneyland news, be sure to read MiceChat's weekly In the Parks blog. And be sure to check out our sister blog, Dateline Disney World – a fantastic weekly photo blog covering Walt Disney World in Orlando, Florida!

Thanks for reading. See you at Disneyland!
[B]- Andy[/B]

Support Dateline Disneyland

[center]Follow Dateline Disneyland!


|

|
|
|
[/center]