The introduction of Starbucks on Disneyland's Main Street, U.S.A. continues to bring some unexpected changes to the 58-year-old theme park's main entrance. The latest change has pushed The Disney Gallery from its home in the former Bank of Main Street building into a corner of the Main Street Opera House's main lobby. Disney Gallery's relocation made way for the popular Disneyana shop to move in after Starbucks construction displaced the art store. The Main Street shop shuffle also came with the unveiling of a new exhibit for the Disney Gallery, this time celebrating Walt Disney's Enchanted Tiki Room's 50th anniversary. Meanwhile, Disneyland Resort theme parks are kicking off a week of Fourth of July festivities today which will include special food, merchandise as well as a special fireworks show at Disneyland and a patriotic World of Color pre-show at Disney California Adventure.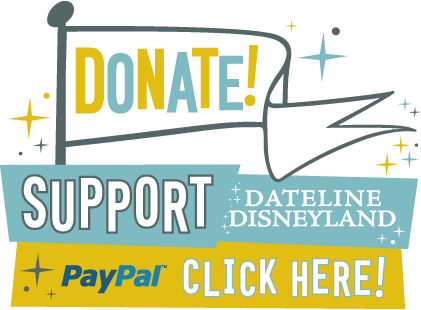 Get a closer look at today's update!
Click on any photo in the blog for a large, high-resolution version of the image.
We've got a full update today, so let's get started.
Disneyland's summer season continued last week with the Southern California heat wave kicking up temperatures over the weekend.

Annual Passholder blackouts and high temperatures did manage to keep big crowds at bay, with wait times proving to be rather manageable Saturday afternoon.

In Town Square, work has been completed in the Disney Gallery and Main Street Opera House. The changes have resulted in the loss of a proper home for the Disney Gallery, with the Gallery space now officially the new home to Disneyana.

Disneyana was previously located next door to the Market House on Main Street but was closed to make way for the expanded Market House, which will be home to Disneyland's new Starbucks location.

All signage has been switched out to reflect the change to Disneyana art and collectibles shop.

Inside, the first room largely remains the same, offering a collection of various Disney art and collectibles

Further inside, the second room still features various limited edition prints and original works by Disney-commissioned artists, based on the latest exhibition. On Saturday, work from the previous Fantasyland-themed show were still up but by Sunday, the room was covered with new art released at the Enchanted Tiki Room 50th Anniversary merchandise event on Saturday.

The custom-designed display cases that also doubled as bench seating for the Disney Gallery has been removed and the simple glass display cases from the previous Disneyana location have been moved in.

The final room is where the biggest changes have occurred. Special Disney Gallery art shows will no longer be presented back here. Instead, the space now functions as more wall space for Disney-commissioned art by artists like Noah. The Disney sketch artist desk has been relocated here as well. It was previously located in the first room of the Gallery after being moved from the previous Disneyana location when it closed for Starbucks construction.

The custom furniture and display cases for this room have also been removed and replaced with simple glass display cases for merchandise.

Space designed to showcase Imagineering art is now covered by a lot of overpriced work that is far less inspiring.

The Disney Gallery isn't completely dead, though. In fact, the Gallery is now showcasing a collection of fantastic work in honor of the Enchanted Tiki Room's 50th Anniversary.

The show, "Tiki Tiki Tiki Realms," effectively relocates the Disney Gallery to a small portion of the Main Street Opera House's main lobby. Don't worry if all of this seems a bit confusing to you, it's confusing to everybody – even Disney. The poster for the show says "The Disney Gallery Presents" the new Tiki-themed exhibit…

…but at the bottom it notes "Exclusive Engagement within The Disneyland Story." So is the show inside the Opera House now "The Disneyland Story presenting Great Moments with Mr. Lincoln and The Disney Gallery"?

Inside, a placard for the show gives some history on the Tiki Room. (Click for larger view)

This is the extent of the new Disney Gallery. The custom furniture that was made for the Disney Gallery when it moved into the former Bank of Main Street next door has been moved into the Opera House lobby, despite not matching the Opera House's interior design. The gallery space has taken over the exhibit space that previously included the Sleeping Beauty Castle and Splash Mountain scale models as well as several wall panels that detailed the early years of Disneyland.

The Disney Gallery sign that hung over the doorway connecting the Opera House lobby and the Gallery has been moved and now awkwardly hangs in the lobby designating the space carved out for Gallery exhibits.

The display cases built for the Gallery when it was housed next door are here and display some great Tiki Room items.

Despite its awkward new location, the new Disney Gallery exhibit is actually rather nice and worth a look if you're at the park. While you won't see any original art works here, the reproductions on display are beautifully presented and the cases include some fantastic pieces including the original Enchanted Tiki Room Barker Bird animatronic.

Overall, the new "Tiki Tiki Tiki Realms" exhibit is a delight. It's a shame, however, that the Disney Gallery continues to be moved around and made smaller with each move. The latest iteration of the Disney Gallery feels decidedly temporary and I wouldn't be surprised if this is the last time we see the Disney Gallery at Disneyland. And honestly, at this point, perhaps its time to retire the Gallery. If Disney is more interested in selling high-cost second-rate art instead of showcasing and celebrating its legacy and history, then the Disney Gallery will only continue to suffer. Gone are the glory days of the Disney Gallery when it was located high above New Orleans Square and offered guests a truly unique space to explore and discover incredible art and learn about Disney history.

After moving to the its smaller Main Street location in the former Bank of Main Street, the Disney Gallery was never able to capture the same charm the New Orleans Square location had. It was obvious Disney was more interested in cashing in on the space as a retail location rather than creating a unique attraction for guests. It's a shame because for 20 years the Disney Gallery in New Orleans Square proved that a unique gallery attraction for guests that also functioned as a successful high-end art and collectibles retail location was possible, Disney just had to care. The original home to the Disney Gallery, now the lavish Disneyland Dream Suite, sits above Pirates of the Caribbean closed to regular park guests. The Dream Suite is now something only VIPs, corporate executives and sweepstakes winners can enjoy.

So, if this is indeed the end of the Disney Gallery, then so be it. It has been an incredible pleasure being able to enjoy the exhibits over the years, especially when the Gallery was still in New Orleans Square. Thanks to the Imagineering team in charge of putting together the shows and creating something truly unique for those of us who took the time to enjoy it over the last 25+ years.

If you're looking for merchandise celebrating the Enchanted Tiki Room's 50th Anniversary, Disneyana is now stocked full of items from Saturday's Enchanted Tiki Room 50th Anniversary merchandise event. Tickets for the event started at $85 and gave attendees the first opportunity to buy the new art and collectibles and a chance to mingle with the artists. While it would be great to get some of this work signed by the artists, I'm not sure it's worth an extra $85, unless you're planning on making a profit by selling the signed pieces on eBay. In any case, huge amounts of merchandise leftover from the event made its way to Disneyana by Sunday morning where the public can now buy it without the $85 event surcharge.

Some of the items are especially great, including the work above and below by artist team Kevin Kidney and Jody Daily.

Stunning figurines of Tiki goddesses Uti and Pele

A neat little paperclip box by Robert Olszewski

Shag postcard set

Shag ceramic coaster set.

Petite prints

The second room of Disneyana now features a variety of original works as well as giclee prints of commissioned art based on the Tiki Room.

Refurbishment Round-Up

Meanwhile, further down on Main Street, the old Disneyana shop continues contsruction to accommodate the expanded Market House, which will be home to Disneyland's new Starbucks location. Signage for Disneyana is still up for now…

On Center Street, the old Main Street Cone Shop had its signage finally removed a few weeks ago. The walk-up ice cream window hasn't been used since the Gibson Girl Ice Cream Parlor remodel was completed last summer.

Rumors say that the Cone Shop will be removed completely in the future and this will be an entrance/exit point for guests using the Main Street alley thoroughfare that is expected to be built behind the Main Street shops. The alley will help alleviate Main Street crowd flow, especially during peak seasons.

Ice cream motif on the glass is still visible

In Frontierland, the Big Thunder Mountain Railroad refurbishment continues…

Progress on the Rainbow Ridge facades continues – they look great!

On the Rivers of America, Tom and Huck's Treehouse on Tom Sawyer Island remains closed after recent DOSH safety issues.

Retractable black safety posts and wire on the top of the Mark Twain are always up now for the safety of the captain.

Luckily, it's only on one side of the top of the riverboat and isn't terribly noticeable.

In the back of Frontierland, the Big Thunder Ranch Jamboree has been hosting a new summertime offering for a couple weeks now. Woody's All-American Round-Up essentially copies the recent Dia de Reyes and other celebrations hosted back here. This time, however, there's no cultural celebration or holiday involved, instead it's just a collection of "Americana" offerings with Woody and Jessie from the Toy Story films.

Live entertainment schedule

A lot of these very "crafty" patriotic decorations are scattered throughout the area. It kind of looks like Disney teamed up with the Michaels Arts & Crafts stores

A couple games for kids

The stage plays host to a new "talent roundup" as well as Billy Hill and the Hillbillies.

Woody's Talent Roundup is basically a guy with a guitar that sings Toy Story songs and is later joined by Woody and Jessie on stage and Jessie does a bit where she sling-shots a rock and it ricochets around Big Thunder Ranch until landing in a bucket that the host is holding.

Of course, the highlight back here is always Billy Hill and the Hillbillies

An outdoor vending cart sells drinks as well as pork shanks, hot dogs and new Cowboy Crunchies treats…

There's also a merchandise cart with some Toy Story and Frontierland merchandise

[center]Independence Day Celebration
at Disneyland Resort
July 1 – 7, 2013[/center]
Disneyland Resort theme parks will offer a variety of Fourth of July-themed offerings throughout the week, including the popular Fourth of July fireworks and World of Color pre-shows. This year, the Fourth of July fireworks at Disneyland and the World of Color pre-show at Disney California Adventure will interact with Disney's Glow with the Show light-up ear hats. Mickey Mouse will also meet with guests on Main Street throughout the day, dressed in his finest patriotic attire. Special merchandise will be available in both parks as well as specialty desserts on Main Street, including: Red, White and Blue Mason Jar Desserts at Carnation Café and enjoy Patriotic Cotton Candy, Apple Pie Pockets and Fourth of July Cupcakes at other locations.
Disney's Celebrate America!
A Fourth of July Concert in the Sky
at Disneyland Park
July 1 – 7 | 9:30 p.m.
---
World of Color
with a special Fourth of July pre-show
at Disney California Adventure Park
July 1 – 7 | 9:00, 10:15 p.m.
[center]Disneyland Park – A Salute to 58 Years of Magic
A Limited Time Annual Passholder Magic Event
at Disneyland Park
July 2, 9 and 16, 2013[/center]
Disneyland will celebrate its 58th anniversary over the course of three weeks, starting tomorrow, with special presentations by Disney artist Stacia Martin. The events are Annual Passholder-exclusive and each week the presentations will focus on a different part of Disneyland. Each presentation will be offered twice. Details are below:
Celebrate 58 years of the "Happiest Place on Earth" with 3 special presentations highlighting the original lands of Disneyland Park. Passholders are invited to join Disney artist Stacia Martin for this series that features videos and slides of historic photographs spanning over 5 decades of Disneyland Park.
Anniversary Tributes to the Original Lands

Schedule of Presentations
Week 1 – July 2, 2013: Adventureland & Frontierland
Week 2 – July 9, 2013: Fantasyland & Tomorrowland
Week 3 – July 16, 2013: Main Street, U.S.A. & Disneyland in 1955

Presentation Location
Main Street Opera House in Disneyland

Presentation Times
5:30 p.m. & 7:30 p.m.

Event Registration and Wristband Distribution

Passholders may begin registration at 12:00 noon at the Main Street, U.S.A. Opera House (home to Great Moments with Mr. Lincoln) in Disneyland Park.
All participating Guests (ages 3 and older) must be valid Annual Passholders on the day of the event. Guests under the age of 3 do not need an Annual Pass, but will need a wristband to attend.
Registration must be completed in person at the Main Street, U.S.A. Opera House on the day of the event only; no phone reservations or other registration will be accepted.
It is recommended that all members of your party register together to help ensure that everyone receives a wristband.
All participating Annual Passholders must present their active Annual Passport to the event Cast Member, who will check event availability. Photo ID may be required.
[center]Bring Home a Lone Ranger Boot Mug
at Disneyland Park
Available now while supplies last[/center]
You can get a special "Lone Ranger" boot mug when you buy a root beer float at the Golden Horseshoe as part of Disneyland's latest Limited Time Magic offering. The boot mugs will be available while supplies last. Below is Disney's official blurb on the offering:

Celebrate the release of The Lone Ranger by kicking up some sizzling summer fun at Disneyland Park! Find your way to Frontierland and beat the heat at Golden Horseshoe, where you can buy a boot-shaped souvenir mug, "branded" with the Lone Ranger's logo. Fill your "boot" with a frosty root beer slush, or enjoy other offerings in the spirit of Disney's latest adventure film, including the "Masked Ranger Favorite" deluxe Angus cheeseburger with bacon, onion rings and all the fixin's. You won't want to miss this delicious offer, available for a limited time, thanks to a little Limited Time Magic!
Welcome to California Adventure
Over in California Adventure, summer continues along without much news for the park.

A look at Saturday afternoon's wait times:

With Annual Passport block outs and the weekend heat wave, wait times in Cars Land were very manageable on Saturday.

Where's everybody at?

Over in Hollywood Land, the special menu offerings from the Monstrous Summer All-Nighter are still available at Award Wieners, but the signage has changed. It no longer says "Monstrous Summer All-Nighter" and now just looks like a normal "Monsters University" promo.

Nearby, those big ugly merchandise trunks that popped up all over California Adventure during heavy construction a couple years ago continue to be used, this time for Jake and the Neverland Pirates and Sofia the First merchandise.

These little pop-up retail spaces were understandable during heavy construction when all of the shops in the park's main entrance were closed but now it's just tacky. It's really time to get rid of them.

Disney has been slowly releasing digital versions of some great theme park audio online in recent months. The releases have been quietly rolled out on Amazon MP3 and iTunes without any big announcements, which is a shame because some of the new offerings is great stuff that fans are sure to want. Below is a list of some recent new releases from Disney of some great theme park audio, including the Electrical Parade Soundtrack (only $2.99!) and the original official album from Disney's California Adventure (yes, you really can download the soundtrack to Superstar Limo). Also available is a new compilation of piano performances recorded for the Carthay Circle Restaurant's lobby and lounge area, which compliments the CD Disney released in the parks last year of the instrumental versions heard in the upstairs dining room.

Below are some additional theme park releases that have been available for some time now, including the original Carthay Circle Sessions album as well as soundtracks from Disneyland's iconic Haunted Mansion and Pirates of the Caribbean attractions.

Any audio you buy through the Amazon links above will also help support Dateline Disneyland (at no additional cost to you) which will help keep this blog running!
Outside the parks, the East Esplanade is now playing host to the locomotive from the Lone Ranger that was on display last weekend in Disney California Adventure. It's a bizarre location for this, especially when Disneyland has Frontierland or Big Thunder Ranch Jamboree where this could be part of a nice Lone Ranger promotional offering. Perhaps the logistics of getting the locomotive into Frontierland proved too difficult? In any case, the train now sits awkwardly in the middle of nowhere, some a few guests entering from Harbor Blvd. stopping to take pictures with it.

Not too far away, the billboard for last year's "The Odd Life of Timothy Green" movie that we showed you last week has been swapped out for an ad promoting ABC Family's new show "The Fosters." Finally.

The Brave billboards that you can see from the main entrance esplanade are still up, however.

A short walk from the park, HoJo Anaheim is conveniently located next to Matterhorn Mountain at Disneyland with nearby dining, freeway access, FREE parking and FREE Wi-Fi. For more information on HoJo Anaheim, room rates, or to book your stay today, visit HoJoAnaheim.com/MiceChat

MiceChat.com and Annual Passholder Discounts
Available Every Day!
The HoJo Anaheim is now offering deeper discounts for Disneyland Resort Annual Passholders! On select nights, Disneyland Resort Annual Passholders can get rooms for as low as $59 per night, plus tax. For more information visit the HoJo Anaheim Innsider Boards which features an up-to-date listing of available nights, or call (714) 776-6120 and ask for In-House Reservations to book. If your date isn't listed, the HoJo Anaheim still offers rooms for 20% off their best available rate if you call (714) 776-6120.
Weekly News & Information Round-Up

Weekly Theme Park Hours




July 1 – 7, 2013

[B]Disneyland Park[/B]
[B]California Adventure[/B]
Daily:
8am – 12am
Daily:
8am – 10pm
[CENTER]For a complete listing of theme park hours,
visit the

Disneyland.com Theme Park Calendar

[/CENTER]
[center]

Closure and Refurbishment Schedule

[/center]
[b][center]Disneyland Park[/center][/b]

[b]Big Thunder Mountain Railroad:[/b] Closed for extensive refurbishment through October 30.
[b]Market House:[/b] Closed for conversion and expansion for new Starbucks location. Opens fall 2013.
[B]Alice in Wonderland:[/B] Expected to close in 2013 to install permanent safety railing on outdoor ride portion.

[b][center]Disney California Adventure[/center][/b]
[b][center]Downtown Disney and Disneyland Resort Hotels[/center][/b]
[center]

Headline Roundup




A quick look at noteworthy Disney theme park headlines from around the web.[/center]

MiceChat has an exclusive interview with the folks from D23 with details on what to expect at this year's D23 Expo
Orange County Transportation Authority's board of directors postponed action on approving funds for a new Disney-area streetcar system due to its high price
A Disneyland machinist was arrested at work last week on suspicion of having sex with an 11-year-old female relative.
Alright, that wraps up this week's edition of Dateline Disneyland. Do you think it's time to say farewell to the Disney Gallery or do you think it fits in fine in the Opera House? Will you be visiting for the Fourth of July? Let us know by joining in the discussion below!

We're only here because of generous readers like you. Do you enjoy reading Dateline Disneyland every week? Consider helping us out by donating so we can pay the bills and keep the weekly updates coming! You can donate with a click of a button via PayPal, click here!

For more Disneyland news, be sure to read MiceChat's weekly In the Parks blog. And be sure to check out our sister blog, Dateline Disney World – a fantastic weekly photo blog covering Walt Disney World in Orlando, Florida!

Thanks for reading. See you at Disneyland!
[B]- Andy[/B]

Support Dateline Disneyland

[center]Follow Dateline Disneyland!


|

|
|
|
[/center]