Disneyland celebrated America's Independence all last week with special fireworks shows, desserts and character meet-and-greets. The Independence Week offerings were part of Disney's continuing Limited Time Magic promotion, which expanded the traditional four-day run of Disneyland's Fourth of July fireworks show to a full week. Around the parks, Disneyland's Big Thunder Mountain Railroad continues its major refurbishment project with details continuing to emerge along the newly rebuilt mining town of Rainbow Ridge. At Disney California Adventure, a new grab-and-go menu is being tested at the Fiddler, Fifer and Practical Cafe which has currently replaced the regular menu of hot sandwiches and soups.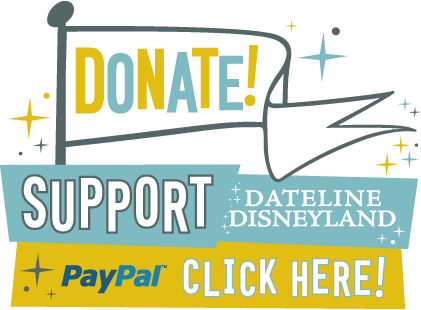 Get a closer look at today's update!
Click on any photo in the blog for a large, high-resolution version of the image.
Let's get started!
A look at wait times around noon on Saturday

Celebrating the Stars & Stripes
Disneyland celebrated the Fourth of July with a week of special fireworks shows, specialty treats, and a photo-op with Mickey Mouse in Town Square.

The photo-op with patriotic Mickey was in Town Square, next to to the Disney Showcase.

Mickey appeared in the evenings, starting at 7 p.m.

The Candy Palace, Jolly Holiday Bakery and Plaza Inn had some special treats available for Fourth of July.

Plaza Inn's "apple crostata" was the special offering for the week, however, I'm pretty sure this dessert is a standard offering at the restaurant.

In the evenings, Disneyland featured its special "Celebrate America! A Fourth of July Concert in the Sky" fireworks show. The show was offered in a trimmed 10-minute format every night throughout the week, except for July 4th, when the full show was presented. In any case, it's a good show that crowds seem to enjoy, especially at this time of the year.

MiceChat's In the Parks blog has a video of the full 14-minute show:

Refurbishment Round-Up

On Main Street, Starbucks construction in the Market House continues…

In Frontierland, the Big Thunder Mountain Railroad refurbishment project continues, with new rumors suggesting the extensive overhaul may be seeing delays.

The newly rebuilt Rainbow Ridge facades are looking pretty nice, though

Every week I take a ride on the Mark Twain Riverboat to get photos of Big Thunder Mountain progress. Every week, this trip around the Rivers of America is one of the highlights of my visit. If you haven't taken a trip around the Rivers of America aboard the Mark Twain recently, you really should make a point to do so the next time you visit. It's a great escape from the hustle and bustle of the park and is a really fantastic classic Disneyland experience.

[center]Disneyland Park – A Salute to 58 Years of Magic
A Limited Time Annual Passholder Magic Event
at Disneyland Park
July 2, 9 and 16, 2013[/center]
Disneyland will celebrate its 58th anniversary over the course of three weeks, starting tomorrow, with special presentations by Disney artist Stacia Martin. The events are Annual Passholder-exclusive and each week the presentations will focus on a different part of Disneyland. Each presentation will be offered twice. Details are below:
Celebrate 58 years of the "Happiest Place on Earth" with 3 special presentations highlighting the original lands of Disneyland Park. Passholders are invited to join Disney artist Stacia Martin for this series that features videos and slides of historic photographs spanning over 5 decades of Disneyland Park.
Anniversary Tributes to the Original Lands

Schedule of Presentations
Week 1 – July 2, 2013: Adventureland & Frontierland
Week 2 – July 9, 2013: Fantasyland & Tomorrowland
Week 3 – July 16, 2013: Main Street, U.S.A. & Disneyland in 1955

Presentation Location
Main Street Opera House in Disneyland

Presentation Times
5:30 p.m. & 7:30 p.m.

Event Registration and Wristband Distribution

Passholders may begin registration at 12:00 noon at the Main Street, U.S.A. Opera House (home to Great Moments with Mr. Lincoln) in Disneyland Park.
All participating Guests (ages 3 and older) must be valid Annual Passholders on the day of the event. Guests under the age of 3 do not need an Annual Pass, but will need a wristband to attend.
Registration must be completed in person at the Main Street, U.S.A. Opera House on the day of the event only; no phone reservations or other registration will be accepted.
It is recommended that all members of your party register together to help ensure that everyone receives a wristband.
All participating Annual Passholders must present their active Annual Passport to the event Cast Member, who will check event availability. Photo ID may be required.
The first presentation of this series took place last week and did not disappoint. Stacia Martin offered a really great look at the early days of Disneyland, weaving in information on the Disney studio artists and Imagineers that helped form the park in its early days. Also featured was some great, rare audio including the official theme songs for Adventureland, Frontierland and Disneyland. Below are some photos of some of the slides Stacia featured in her presentation.

Lots of old record sleeve art work was featured due to Stacia's love of old Disneyland LPs.

Firehouse Five plus Two

Stacia shared some great information on Imagineer Harper Goff who was responsible for a lot of early Disneyland work including the Jungle Cruise. Goff has his own window in Adventureland.

Stacia shared footage of the first time Fess Parker appeared on TV as Davy Crockett.

The Rainbow Caverns' soundtrack was the first time the theremin was used in a Disney project.

The next presentation in this series takes place tomorrow evening and will focus on Fantasyland and Tomorrowland. If you can make it to the park, don't miss it!

[center]Enjoy the Magic of Matterhorn Mountain
at Disneyland Park
July 8-14, 2013[/center]
Disneyland's Matterhorn Mountain climbers will be joined by Alpine musicians this week as part of Limited Time Magic. The musicians will perform while the Matterhorn climbers scale the icy peak during the mornings at Disneyland. You'll also be able to get a Matterhorn Macaroon (regularly available at the Jolly Holiday Bakery) at the Edelweiss Snacks stand near the Matterhorn.
Alpine Musicians return to the Majestic Matterhorn
This July, take advantage of your chance to indulge in the return of a tasty treat near Matterhorn Mountain! Make your way to Edelweiss Snacks for a delicious Matterhorn Macaroon, available while supplies last as part of Limited Time Magic. Then, while you munch down on your scrumptious sweet, direct your attention toward the icy white slopes of the mountain to enjoy the delightful Alpine melodies of Happy Hans and his strapping son Erik as they celebrate the brave climb of mountaineers ascending the famous peak!
Welcome to California Adventure
A new edition of the Buena Vista Bugle is now available on Buena Vista Street newsstands

A look at wait times Saturday afternoon

Cars Land's smaller rides continue to see short wait times even with big summer holiday crowds in the parks.

Radiator Springs Racers, however, continues to draw big wait times.

Over at the Cozy Cones, the fountain has been turned back on but it seemed like it was still having problems on Saturday. The jet of water wasn't making it to the cones to turn the wheel.

Over in the Grizzly Peak area, the truck leftover from Grizzly River Run's extreme sports theme has been removed.

Back on Buena Vista Street at the Fiddler, Fifer and Practical Cafe… a new grab-and-go menu is being tested out. During the test, guests can choose from a selection of cold sandwiches and salads from coolers. The regular menu at Practical Cafe is not available during the test, so none of the hot sandwiches or soups are currently available.

The new grab-and-go selection consists of a roast beef sandwich, roasted turkey sandwich, an apple cheddar salad and a turkey apple cheddar salad. The four-item grab-and-go menu is smaller than the previous menu which offered three hot sandwiches and one cold sandwich along with two daily soups.

You grab your sandwich or salad from the cooler now and take it to the register with you.

Hopefully this grab-and-go only menu won't stay. Practical Cafe offered some great items on their regular menu including the Turkey Reuben and Salami Royale – along with two soups that changed daily. It would be a shame to see the soups and hot sandwiches go for pre-made cold sandwiches that are sold for about the same price.

The regular food menu has been covered up for now. The Starbucks breakfast sandwiches are still available.

Nearby at Trolley Treats, the gourmet marshmallows that came in various flavors such as banana split, s'mores and luscious lemon have now been discontinued.

The display table that featured the various marshmallow flavors has now been taken over by Disney kitchen merchandise and peanut brittle.

If you haven't had a chance to listen to the latest edition of the MiceChat Podcast you should take a listen now. It includes amazing special guests Pat Carroll – the voice of Ursula from The Little Mermaid, and Disney Legend and Imagineer Bob Gurr! It's an incredible show this time – don't miss out!

Note: We got a lot of positive feedback on this feature from readers last week, so we're including it here again in case you missed it.
Disney has been slowly releasing digital versions of some great theme park audio online in recent months. The releases have been quietly rolled out on Amazon MP3 and iTunes without any big announcements, which is a shame because some of the new offerings is great stuff that fans are sure to want. Below is a list of some recent new releases from Disney of some great theme park audio, including the Electrical Parade Soundtrack (only $2.99!) and the original official album from Disney's California Adventure (yes, you really can download the soundtrack to Superstar Limo). Also available is a new compilation of piano performances recorded for the Carthay Circle Restaurant's lobby and lounge area, which compliments the CD Disney released in the parks last year of the instrumental versions heard in the upstairs dining room.

Below are some additional theme park releases that have been available for some time now, including the original Carthay Circle Sessions album as well as soundtracks from Disneyland's iconic Haunted Mansion and Pirates of the Caribbean attractions.

Any audio you buy through the Amazon links above will also help support Dateline Disneyland (at no additional cost to you) which will help keep this blog running!
On Sunday, Downtown Disney hosted the Disney Interactive team out on the first stop of their "Summer of Endless Fun Tour" promoting the new Disney Infinity video game.

This weird modified Cinderella coach from the game was on display

Disney Radio folks were on the Downtown Disney stage giving away free Disney Infinity swag

Lines to get into the tent to preview the game were long

Inside folks could test drive the new game on a variety of consoles.

Players use small character figurines with RFID chips on the Disney Infinity base to play the game. You can read more about the game and some early thoughts on it by Imaginerding's George Taylor.

The Lone Ranger and Tonto are among characters available to buy

If you preordered at the event, you got a free Dash figurine for free.

A couple new Oswald shirts were recently added to Oswald's Filling Station on Buena Vista Street

Back in Disneyland, the new 50th anniversary Enchanted Tiki Room merchandise seems to be selling well – a victory for quality merchandise offerings. The tiki mugs are already sold out. (Note the Disneyana sign has been fixed, with the "Gifts" portion replaced)

The gorgeous figurines of tiki goddesses Pele and Uti are still available

As are these great bowls

A short walk from the park, HoJo Anaheim is conveniently located next to Matterhorn Mountain at Disneyland with nearby dining, freeway access, FREE parking and FREE Wi-Fi. For more information on HoJo Anaheim, room rates, or to book your stay today, visit HoJoAnaheim.com/MiceChat

MiceChat.com and Annual Passholder Discounts
Available Every Day!
The HoJo Anaheim is now offering deeper discounts for Disneyland Resort Annual Passholders! On select nights, Disneyland Resort Annual Passholders can get rooms for as low as $59 per night, plus tax. For more information visit the HoJo Anaheim Innsider Boards which features an up-to-date listing of available nights, or call (714) 776-6120 and ask for In-House Reservations to book. If your date isn't listed, the HoJo Anaheim still offers rooms for 20% off their best available rate if you call (714) 776-6120.
Weekly News & Information Round-Up

Weekly Theme Park Hours




July 1 – 7, 2013

[B]Disneyland Park[/B]
[B]California Adventure[/B]
Daily:
8am – 12am
Daily:
8am – 10pm
[CENTER]For a complete listing of theme park hours,
visit the

Disneyland.com Theme Park Calendar

[/CENTER]
[center]

Closure and Refurbishment Schedule

[/center]
[b][center]Disneyland Park[/center][/b]

[b]Big Thunder Mountain Railroad:[/b] Closed for extensive refurbishment through October 30.
[b]Market House:[/b] Closed for conversion and expansion for new Starbucks location. Opens fall 2013.
[B]Alice in Wonderland:[/B] Expected to close early 2014 to install permanent safety railing on outdoor ride portion.

[b][center]Disney California Adventure[/center][/b]
[b][center]Downtown Disney and Disneyland Resort Hotels[/center][/b]
[center]

Headline Roundup




A quick look at noteworthy Disney theme park headlines from around the web.[/center]

Disneyland's popular Halloween Time will return September 13-Octover 30 this year, with the special-ticket Mickey's Halloween Party expanding to 13 nights.
The oversized C-A-L-I-F-O-R-N-I-A letters from Disney California Adventrue's old main entrance have been installed in front of the CalExpo entrance in Sacramento, home of the California State Fair.
OK — That does it for this week's edition of Dateline Disneyland. Thanks reading and be sure to share your thoughts in the comments section below!

We're only here because of generous readers like you. Do you enjoy reading Dateline Disneyland every week? Consider helping us out by donating so we can pay the bills and keep the weekly updates coming! You can donate with a click of a button via PayPal, click here!

For more Disneyland news, be sure to read MiceChat's weekly In the Parks blog. And be sure to check out our sister blog, Dateline Disney World – a fantastic weekly photo blog covering Walt Disney World in Orlando, Florida!

Thanks for reading. See you at Disneyland!
[B]- Andy[/B]

Support Dateline Disneyland

[center]Follow Dateline Disneyland!


|

|
|
|
[/center]