The Walt Disney Family Museum is really working hard to present some interesting and thought-provoking programming. Along these lines, the Museum recently presented "The Maurice Sendak Exhibit: 50 Years, 50 Works, 50 Reasons". Of course, the Walt Disney/Maurice Sendak connection was explored. Scarlett Stahl had the privilege of viewing the exhibit with some very special tour guides. ~~Rick
THE MAURICE SENDAK EXHIBIT
Maurice Sendak: 50 Years, 50 Works, 50 Reasons
at
THE WALT DISNEY FAMILY MUSEUM
by
Scarlett Stahl
Last year at the Disneyana Fan Club Convention in Anaheim, I was a program director for the Convention, as well as a hostess at their Legend Luncheon. I enjoyed meeting Joanna Miller, Walt Disney's granddaughter, when she was seated at my table. She is the second eldest of seven children, born to Ron and Diane Disney Miller and has two sons of her own. Joanna also spoke at a seminar the same day about her remembrances of her grandfather. I was impressed with her unique low voice, which kept the listeners attention, in addition to the interesting subject matter. If she chose, she could have a career as a TV anchor woman or even be reading children's books for DVD's!
We discussed my visiting the Walt Disney Family Museum and her giving me a tour of it for an article after I explained that I had not been to San Francisco since the Museum had opened on Oct 1, 2009 in one of the main buildings in the Presideo. The Presideo was a military base for 219 years but became a park on Oct 1, 1994. The main WDFM building, a restored 1890s army barracks, is located on the Main Post of the Presidio adjacent to the parade grounds, and includes The Lobby, The Cafe, The Porch, and The Theater. The Riley building, built in 1904, was previously the military post's gymnasium. It houses the elegant Special Exhibition Hall.
In addition to meeting Joanna last year, at Disney Legend Alice Davis Birthday Party several years ago I was fortunate to meet Maggie Richardson, who is co-executress, along with her sister, of the estate of the famed Disney artist, Mary Blair. A friendship had grown out of that meeting and I must admit that I was disappointed when Maggie re-located to Northern California. However I enjoyed visiting her recently for the pre opening of the Camille Rose Garcia exhibit of Down the Rabbit Hole at the Walt Disney Family Museum, as well as visiting the Silverado Winery of Ron and Diane Disney Miller and meeting Diane Disney Miller, Walt Disney's daughter.
Unfortunately Joanna was out of town at that time and couldn't give me my promised tour. And I admit that the thought of a tour of the Walt Disney Family Museum by one of Walt's grandchildren did intrigue me. I also liked her and admired her enthusiasm for her family's museum. In fact, I learned that last year, Joanna participated in the intricate process of conserving The Auto Ride, a large, scenic Mickey Mouse mural.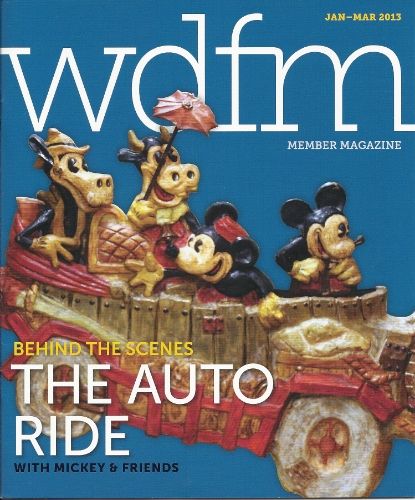 Working two days a week, it took more than a full year of her working with the collections department to finish the conservation. Hopefully the mural will be on display sometime this year for us to enjoy. In the meantime, Joanna serves on the Board of the Walt Disney Family Museum.
Therefore I made it a point to go back to San Francisco for the Maurice Sendak exhibit, when Joanna was free to meet me and Maggie Richardson could join us. The exhibit was from May 23 –July 7, 2013. Maurice Sendak's children's book of Where The Wild Things Are was published in 1963 and is considered to be one of the most favorite books for boys (and even some girls) born around that time and continues even today to enthrall youngsters. In 1964 it won the Caldecott Medal from the children's librarians as the "most distinguished American picture book for children." It was also voted more than once the number one picture book, most recently in a 2012 survey of School Library Journal readers. Maurice Sendak has illustrated more than one hundred picture books throughout his 60-year career.
I met Joanna and Maggie at the Walt Disney Family Museum and Joanna first took me on a tour of the exhibit. I was most impressed by the way it was displayed. Pictures from the book had been blown up to poster size and were displayed on the walls and glass dividers. One room had blackboards for children to draw upon, with chalk readily available. Another wall had books available to read, while sitting on bean bags. It really was child friendly…..no, not child friendly but child inviting and enticing. I heard a couple of children begging their parents to bring them back again as they didn't want to leave.
There was a picture of Maurice Sendak looking in a mirror and seeing himself as Mickey Mouse. Next to it was a note that read "Disney's Influence on Sendak…Oh, I admired Mickey Mouse when I was a child, Sendak said. He was the emblem of happiness and funniness. You went to the movies then, you saw two movies and a short. When Mickey Mouse came on the screen and there was his big head, my sister said she had to hold onto me. I went berserk. I stood on the chair screaming My Hero! My Hero! He had a lot of guts when he was young. We're both about the same age; we're about a month apart. He was the little brother I always wanted."
Joanna even told me the story of another Sendak book that her own son had loved when he was small, called In the Night Kitchen where Mickey flies his airplane, made from bread dough, into a milk jug to escape some chefs, who want to cook him. It was interesting that Sendak's character was named Mickey.
Reluctantly I was led away from the exhibit to the main museum building for an appetizer taste of all that was there to enjoy by Joanna. She explained that though she always intended her tours to be shorter, she found she couldn't leave before two hours had passed and even then had only scratched the surface. Just by starting at the entrance of the museum, you can stop and listen to Walt Disney, himself, telling his story from beginning to end, while looking upon pictures, placards and unique exhibits. It is as entertaining as Disneyland, which Walt created. However this is a place created by his family to honor him and is entirely separate from the Walt Disney Company.
There are state of the art exhibits in ten interactive galleries which include: original drawings that Walt Disney did when he was young, drawings and cartoons from Laugh-O-gram Films, early drawings of Mickey Mouse, 2 storyboards, a Disney innovation that maps out timeless film classics, the innovative Multiplane Camera that brought vibrancy and depth to his revolutionary feature film, Snow White and the Seven Dwarfs, an interactive station that allows visitors to synchronize film and music, Disney's 26 individual Academy Awards as well as the unique Snow White Academy Award®, which includes a full-size Oscar® and seven miniature castings, Gallery 9, an eye-popping 2-story gallery that features the narrow-gauge Lilly Belle train Disney built for his Hollywood home, a 14-foot diameter model of the Disneyland of Walt's imagination and dozens of video screens that showcase his television programs from the 1950s and beyond.
In addition to the galleries, the Museum contains a 114-seat screening facility, a learning center, a store, and a café.
His daughter, Diane Disney Miller, who co-founded the Museum said "My father has one of the most well-known names around the world, but as the Disney 'brand' has grown, the man has become lost. We are committed to telling the story of Walt Disney's life, in his own words, and in the words of others who knew him well and worked with him. My father was very open, and in the many conversations and interviews that you will hear in the galleries, you learn the story of his life. It is a wonderful story, and Dad himself loved to tell it. Thanks to the amazing work of many dedicated people, we are fortunate to be able to tell it here using the tools he worked with—art, music, film and technology—to present an honest yet affectionate portrait of this amazing artist and man."
When I told Joanna that I had heard more than once that during World War II Hitler had wanted to eliminate both Shirley Temple and Mickey Mouse, as they were American beloved icons, she was amazed. And Maggie embarrassed but complimented me by saying that I should be on a quiz show regarding Disney.
After the visit to the Museum, we all went to dinner and a relaxing talk nearby at the Presideo Social Club. Both of them had met previously and have much in common as they are both protecting and promoting their families heritage. This also gave us a chance to become better acquainted. At the end, Joanna graciously drove me down historic Lombard Street to my hotel at Fisherman's Wharf. What a wondrous afternoon and evening!
There is always something new to see at the Walt Disney Family Museum and of course I want to go back to see the Tyrus Wong exhibit, which will be from August 15, 2013 to February 3, 2014. Besides the wonderful WDFM, San Francisco is a great place to vacation as you can walk almost everywhere, Fisherman's Wharf with the sea lions and boats to Alcatraz, as well as the Golden Gate Bridge, Chinatown, Little Italy, Lombard Street and on and on.
www.waltdisney.org
The Walt Disney Family Museum will present the exhibition Water to Paper, Paint to Sky: The Art of Tyrus Wong. Organized by Michael Labrie, the museum's director of collections, the exhibition will focus on the life and work of Chinese-American artist Tyrus Wong—a celebrated painter, muralist, kite maker, lithographer, Hollywood sketch artist, calligrapher, ceramicist, and Disney Legend. At age 102, Wong is still a practicing artist today.
Please see below for more information re Maurice Sendak, reproduced with permission from the Walt Disney Family Museum
Maurice Sendak: 50 Years, 50 Works, 50 Reasons
May 23–July 7, 2013
From May 23 to July 7, 2013, The Walt Disney Family Museum presents the special exhibition Maurice Sendak: 50 Years, 50 Works, 50 Reasons. The exhibition features 50 works by the legendary author and illustrator, accompanied by 50 statements from celebrities, authors, and noted personalities on the influence of Sendak's work, all in celebration the 50th anniversary of his universally revered book, Where the Wild Things Are.
The exhibition includes 50 original works from Where the Wild Things Are in a variety of mediums including sketches, illustrations, and works on paper, and showcases highlights from Sendak's career and the diverse art forms in which he was renowned. Many of the works are from private collections and friends of the artist, offering a survey of his range as an artist and author. It is widely known that Sendak decided to become an illustrator at the young age of 12 after watching Disney's film Fantasia (1940). He also amassed a collection of Mickey Mouse and other Disney memorabilia throughout his lifetime.
From children's literature, animated films, and textbooks to Broadway and opera, Sendak garnered worldwide acclaim for his genius and insight. Among the contributing commentators to the exhibition are playwright and screenwriter Tony Kushner, comedian Stephan Colbert, artist Robert Crumb, director Spike Jonze, President Barack Obama, New York Mayor Michael Bloomberg, actor/director Tom Hanks, and author Lemony Snicket.
"Perhaps no one has done as much to show the power of the written word on children, not to mention on their parents, as Maurice Sendak."
―Former President Bill Clinton
"Early collaborations on Sesame Street and a shared appreciation for the inventive possibilities of monsters launched a life-long relationship between Jim Henson and Maurice Sendak infused with imaginative thinking, daring creativity, and their mutual admiration for the expansive world view of children."
―Bonnie Erickson, Executive Director of The Jim Henson Legacy
"I was a huge fan, not just because [Maurice Sendak] could illustrate so beautifully, but because he wrote in a way that had never been presented before."
―Whoopi Goldberg, Actor
"Maurice Sendak helped raise my kids—all four of them heard 'The night Max wore his wolf suit…' many times."
―Tom Hanks, Actor/Producer
"I would look at those pictures—where Max's bedroom turns into a forest—and there was something that felt like magic there."
―Spike Jonze, Director (Where the Wild Things Are Motion Picture, 2009
"Where the Wild Things Are [is] one of my favorite classic books of all time."
―President Barack Obama
"Maurice Sendak captured childhood in brilliant stories and drawings that will live forever."
―Richard Robinson, Scholastic Chairman, President and CEO
About Maurice Sendak
Maurice Sendak has illustrated more than one hundred picture books throughout his 60-year career. Some of his best known books include Chicken Soup with Rice, Where the Wild Things Are, and In the Night Kitchen. Born in Brooklyn in 1928 to Jewish immigrant parents from northern Poland, Sendak grew up idolizing the storytelling abilities of his father, Philip, and his big brother, Jack. As a child he illustrated his first stories on shirt cardboard provided by his tailor-father. Aside from a few night classes in art after graduating from high school, Sendak is largely a self-taught artist. Throughout his career, he has taken characters, stories, and inspirations from his among his own neighbors and family, pop culture, historical sources, and long-held childhood memories. Sendak began a second career as a costume and stage designer in the late 1970s, designing operas by Mozart, Prokofiev, Ravel, and Tchaikovsky, among others. He won numerous awards as both an artist and illustrator, including a Caldecott Award, a Newberry Medal, the international Hans Christian Andersen Award, a National Book Award, the Astrid Lindgren Memorial Award, and a National Medal of Arts. His books continue to be read by millions of children and adults and have been translated into dozens of languages to be enjoyed all over the world.
Maurice Sendak: 50 Years, 50 Works, 50 Reasons exhibition tour is managed by Opar Media, LLC. Content © MSME. Media sponsor: Juxtapoz.
– See more at: http://www.waltdisney.org/sendak#sthash.oPJCzFxr.dpuf