Disney California Adventure's new 12-acre Cars Land is getting a final finishing touch over a year after opening but guests inside the park won't be seeing it. The massive Cars Land mountain range is in the process of getting a printed wrap to cover up its unfinished backside which can be seen outside of the park along Harbor Boulevard and Katella Avenue. The wrap is covering up the largely exposed steel framework for the mountain range, which was only partially obscured by a decorative zig-zag design before the new land opened last June. Meanwhile, Disneyland will celebrate its 58th anniversary this week while projects in the park including a major refurbishment for Big Thunder Mountain Railroad and the construction of Starbucks on Main Street, U.S.A. continue.
We're excited to welcome our friends from Mouseaddict to Dateline Disneyland! Starting this week, you'll be able to find weekly crowd forecasts and tips for visiting right here in Dateline Disneyland from our friends at Mouseaddict!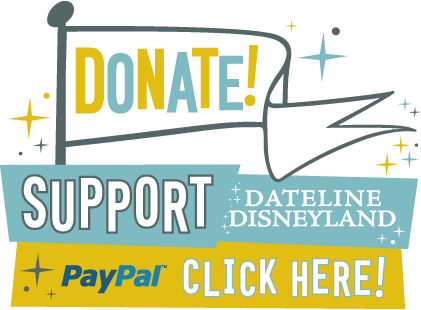 Get a closer look at today's update!
Click on any photo in the blog for a large, high-resolution version of the image.
We're happy to announce a new feature to Dateline Disneyland this week. Our friends over at the Mouseaddict app for iPhone and iPad are now offering daily crowd levels for the Disneyland Resort and we're happy to be teaming up with them to bring crowd forecasts back to the blog to help you plan your weekly visit to the parks! In addition to crowd forecasts, attraction wait times, theme park information and interactive park maps, Mouseaddict also offers the latest MiceChat columns for quick reading on-the-go — all for FREE, right on your iOS device!
Plenty of Monstrous Summer buttons are still available and often being given out for free at Main Entrance turnstiles.

If you're surprised by Mouseaddict's medium crowd level rating for the weekend, you shouldn't be. With Annual Passport block outs in full effect, Fridays and Saturdays this summer are often two of the least busy days at the parks. Below, a look at wait times midday Friday.

Refurbishment Round-Up

On Main Street, construction walls have sprung up along a portion of the Market House facade as work its expansion and Starbucks conversion continues…

Over in Frontierland, Big Thunder Mountain Railroad continues its major refurbishment project.

[center]Enjoy the Magic of Matterhorn Mountain
at Disneyland Park
July 8-14, 2013[/center]
Last week's Limited Time Magic was actually a fun addition to Disneyland 'Äî and probably something that should be offered on a regular basis. The Matterhorn Mountain climbers were joined by Alpine musicians 'Äî Happy Hans and Erik.

The musicians performed Alpine melodies and yodeled from the icy slopes of Matterhorn Mountain several times daily.

Below, a video clip of Happy Hans and his son Erik performing on the Matterhorn.

[center]Disneyland Park – A Salute to 58 Years of Magic
A Limited Time Annual Passholder Magic Event
at Disneyland Park
July 16, 2013[/center]
Disneyland will finish its three-week celebration of its 58th anniversary with its final presentation by Disney artist Stacia Martin. The event is Annual Passholder-exclusive and this week's final presentation will focus on Main Street, USA and Disneyland in 1955.
Celebrate 58 years of the "Happiest Place on Earth" with 3 special presentations highlighting the original lands of Disneyland Park. Passholders are invited to join Disney artist Stacia Martin for this series that features videos and slides of historic photographs spanning over 5 decades of Disneyland Park.
Anniversary Tributes to the Original Lands

Schedule of Presentations
Week 1 – July 2, 2013: Adventureland & Frontierland
Week 2 – July 9, 2013: Fantasyland & Tomorrowland
Week 3 – July 16, 2013: Main Street, U.S.A. & Disneyland in 1955

Presentation Location
Main Street Opera House in Disneyland

Presentation Times
5:30 p.m. & 7:30 p.m.

Event Registration and Wristband Distribution

Passholders may begin registration at 12:00 noon at the Main Street, U.S.A. Opera House (home to Great Moments with Mr. Lincoln) in Disneyland Park.
All participating Guests (ages 3 and older) must be valid Annual Passholders on the day of the event. Guests under the age of 3 do not need an Annual Pass, but will need a wristband to attend.
Registration must be completed in person at the Main Street, U.S.A. Opera House on the day of the event only; no phone reservations or other registration will be accepted.
It is recommended that all members of your party register together to help ensure that everyone receives a wristband.
All participating Annual Passholders must present their active Annual Passport to the event Cast Member, who will check event availability. Photo ID may be required.
On Tuesday, the second presentation in this series was held in the Main Street Opera House.

Unfortunately, all forms of photography were banned from the actual presentation, but Disney artist Stacia Martin once again delivered a fantastic presentation covering the early history of Tomorrowland and Fantasyland.

[center]Dapper Dans sing Boy Bands… Again.
at Disneyland Park
July 15-21, 2013[/center]
Apparently out of ideas, Disneyland is reviving the Dapper Dans' boy bands show, which was first offered at the end of February for Limited Time Magic. In true Disney Parks fashion, the obvious idea to do something small to honor Disneyland's 58th Anniversary this week (special rare footage in the Main Street Cinema, a special photo-op, a historical exhibit, a daily rededication ceremony, really – anything) was passed up to have the Dapper Dans sing boy band songs on Main Street again. Happy birthday Disneyland!

Below, video from the first run of this so-called "Limited Time Magic" below:

Disney has announced that The Pirates League will return to Disneyland again in mid-September. The pirate-themed kids makeover experience was located in New Orleans Square's charming Court of Angels last year. While the location this year has yet to be confirmed, there's no reason why they wouldn't use the Court of Angels again.

If the Pirates League does set up shop here once again, August will be your last chance to enjoy a quiet moment in the beautiful Court of Angels until 2014. Following the closure of the Pirates League after Halloween, the space will be converted into a seasonal holiday ornament shop. The ornament shop will remain in place until the holiday season is over in early January.

Enjoy it while you can!

Welcome to California Adventure
Meanwhile, Disney California Adventure continues through its post-makeover period with minimal news.

A look at wait times Friday afternoon.

Back in the Paradise Garden area, we learned that the Paradise Garden Grill is still serving the beef gyro platter that had been featured during the Opa! A Celebration of Greece event back at the end of May.

The price is a bit high, but on-par with the other offerings at this quick service restaurant.

Still, even with the high price, the food here is great and a worthwhile choice while at California Adventure. The beef gyro platter isn't the best gyro I've ever had, but it was flavorful and filling. I'm not a fan of tabouli, so I was happy when the Cast Member allowed me to substitute for the rice instead.

Not only can you get a great meal at Paradise Garden Grill or the adjacent Boardwalk Pizza and Pasta, but the outdoor Paradise Garden dining area really makes these two restaurants some of the best quick service options in the whole resort. The outdoor dining area, complete with bandstand, puts it on-par with the fantastic French Market restaurant in Disneyland's New Orleans Square.

The live music here is great, too – especially the Ellis Island Boys. If you have the opportunity, don't miss enjoying a meal while listening to these guys. They're fantastic.

Below, a video clip of the Ellis Island Boys at Paradise Garden.

On the other side of California Adventure, Cars Land is getting a big change, but not something guests inside the park will be able to easily notice (unless they're riding California Screamin').

While views of the Cadillac Range have been stunning since the land opened last year, the backside of Cars Land has been less impressive for those seeing the backside of the new mountain range from outside the park, along Harbor Blvd. and Katella Ave.

Spectacular views inside the park…

When Cars Land was completed, the backside of the mountain range was given a simple zig-zag motif on the backside, looking decidedly unfinished from outside of the park.

That's now changing, and those driving or walking along Katella Avenue, behind Disney California Adventure, will now see that the backside of the mountain range is getting wrapped up with printed scrims.

The unfinished backside of the Cars Land mountain range looms over the defunct Katella Ave. pedestrian entrance. The old Katella Ave. pedestrian entrance used to drop guests off in the former Timon Parking Lot, not too far from the tram loading area. The pedestrian entrance, along with the Timon Lot, closed to make way for Cars Land but the Disneyland marquee remains in place, directly across from the Anaheim Convention Center.

The new wrap isn't the most elegant solution and it'll be interesting to see how this ages, but at least Disney is trying to dress it up a bit.

The Cadillac Range towers over the Alpine Inn.

The folks over at the Season Pass Podcast, which is now part of MiceChat's MicePod podcast network, just released an amazing interview with Disney Imagineer (and soon-to-be Disney Legend) Tony Baxter in their latest episode. You don't want to miss this!

Back in Disneyland, the Main Street Emporium has spent the last several months adding small changes here and there to help guests find what they need. The store emerged from a major remodeling project in October 2011 that moved most of its cash wraps from a central location to locations around the store perimeter.

In recent months, new directional signage has been added at the entrances to the store, highlighting the various departments and directing guests where to go for the items they're looking for. Now, new "CASHIER" signs have been added at the various cashier locations. The Emporium is Disneyland's biggest store, but it isn't exactly difficult to find a place to check out at and these signs look a little unnecessary, making this move look a little desperate on Disney's part.

A short walk from the park, HoJo Anaheim is conveniently located next to Matterhorn Mountain at Disneyland with nearby dining, freeway access, FREE parking and FREE Wi-Fi. For more information on HoJo Anaheim, room rates, or to book your stay today, visit HoJoAnaheim.com/MiceChat

MiceChat.com and Annual Passholder Discounts
Available Every Day!
The HoJo Anaheim is now offering deeper discounts for Disneyland Resort Annual Passholders! On select nights, Disneyland Resort Annual Passholders can get rooms for as low as $59 per night, plus tax. For more information visit the HoJo Anaheim Innsider Boards which features an up-to-date listing of available nights, or call (714) 776-6120 and ask for In-House Reservations to book. If your date isn't listed, the HoJo Anaheim still offers rooms for 20% off their best available rate if you call (714) 776-6120.
Weekly News & Information Round-Up

Weekly Theme Park Hours




July 15 – 21, 2013

[B]Disneyland Park[/B]
[B]California Adventure[/B]
Daily:
8am – 12am
Daily:
8am – 10pm
[CENTER]For a complete listing of theme park hours,
visit the

Disneyland.com Theme Park Calendar

[/CENTER]
[center]

Closure and Refurbishment Schedule

[/center]
[b][center]Disneyland Park[/center][/b]

[b]Big Thunder Mountain Railroad:[/b] Closed for extensive refurbishment through October 30.
[b]Market House:[/b] Closed for conversion and expansion for new Starbucks location. Opens fall 2013.
[B]Alice in Wonderland:[/B] Expected to close early 2014 to install permanent safety railing on outdoor ride portion.

[b][center]Disney California Adventure[/center][/b]
[b][center]Downtown Disney and Disneyland Resort Hotels[/center][/b]
[center]

Headline Roundup




A quick look at noteworthy Disney theme park headlines from around the web.[/center]
Alright, that's all for this week's Dateline Disneyland. What do you think about the new wrap for the backside of Cars Land? Are you planning on visiting Disneyland for its 58th anniversary on Wednesday? Let us know in the comments section below!

We're only here because of generous readers like you. Do you enjoy reading Dateline Disneyland every week? Consider helping us out by donating so we can pay the bills and keep the weekly updates coming! You can donate with a click of a button via PayPal, click here!

For more Disneyland news, be sure to read MiceChat's weekly In the Parks blog. And be sure to check out our sister blog, Dateline Disney World – a fantastic weekly photo blog covering Walt Disney World in Orlando, Florida!

Thanks for reading. See you at Disneyland!
[B]- Andy[/B]

Support Dateline Disneyland

[center]Follow Dateline Disneyland!


|

|
|
|
[/center]