This Wednesday Starbucks finally opened on Main Street U.S.A. after years of rumors and speculation.  Many are happy with the change and many others are not. We'll take you on a tour and let you decide for yourself if the execution of the new coffee shop fits in. We also explore the idea of Thor coming to . . . Tomorrowland. We also round things out by showing you what is behind the first door on the Haunted Mansion Holiday gingerbread advent calendar.  And finally we share our thoughts on the permanent refurbishment of yet another Tom Sawyer Island icon.  We start with news about a free MiceChat Eye Spy game on October 6th that we invite you to join in on . . .
The Fabulous Gumshoe Gallop is a free Disney California Adventure eye spy game brought to you by MiceChat.com and the Hidden Mickey's Adventures books.

Full details at the bottom of today's update, but you can
Sign Up For FREE HERE Now!
Starbucks on Main Street
Wednesday morning Starbucks finally made its debut on Disneyland Park's Main Street U.S.A. It was argued by some that the arrival of the coffee giant was was sure to kill any feeling of home town charm in favor of the mighty dollar. Is this true? Does the space feel more like a Walt Disney World shop than something that is more at home in Walt Disney's original park? Let's take a look and you let us know what you think.
INSIDE
As we enter the corner door, we are immediately confronted with a confusing configuration of queue lines. Of course, a smiling cast member was there to direct customers, but still it gave me a bit of pause. Basically, the counters have been constructed at the far corner, directly opposite the entry. You can choose to go the left or right of the cooling case that shelves the bottle water and fresh fruit as you make your way to the counter.
Some of the little touches remain. Although the seem shoved to the far periphery in favor of making more room for the massive crowds that are certain to descend on this location.
The Book Rest
The old Disneyana entry room is now indoor dining for Starbucks. You can no longer enter from the street. You must enter through the Market House. Festooned with old books stacked on shelves of dark stained wood, it is certainly a cozy spot. Dark and intimate, it seems like it will be the perfect place to people watch while sipping a latte.
The walls feature references to Peter Pan and other sources of material that Disney has mined for inspiration. It is here that the potbelly stove was relocated, serving as an anchor to those little touches from the previous market house.
Oliver Twist must have been on sale, because there are lots of copies of it on the shelves.
Here's a little video we took of the new space:
So, what do you think of the new Starbucks on Main Street? We'd like to know what you think works and what doesn't in the new Market House and Book Rest.
Feelin' Thor
November 1st will mark the first time a Marvel character will be meeting and greeting with guests at Disneyland.  That's right, Thor will be setting up shop inside Innoventions and hammering guests with salutations.  The exhibit and character spot will be located next to the successful Iron Man interactive display.
Disney offers a convoluted storyline to excuse the fact that the character is suddenly in the land of Tomorrow…
Astrophysicist Jane Foster, who established a special relationship with Thor, has been studying the "Bifrost," a cosmic bridge that allows Thor to travel between the Nine Realms, including Earth. She has determined that the Bifrost is set to open again in Southern California and pinpointed the precise location as Innoventions at Disneyland park.

Inside Innoventions, Foster and her team are preparing for the opening of the Bifrost with the installation of Thor: Treasures of Asgard, a collection of objects brought to Earth straight from Asgard. After viewing the exhibit, you'll be invited to enter a chamber where the Bifrost will transport you to Asgard for an audience with Thor himself!
Got that? Ready to enter the "Bifrost"? The exhibit precedes the new film, Thor: The Dark World, which is scheduled to be released on November 8th.
Haunted Mansion Holiday
The Advent calendar gingerbread house featured in the ballroom scene of Haunted Mansion Holiday has revealed what is behind its first door.  A new surprise will be revealed every week until Christmas.
Big Thunder Refurb
The train is moving along, slowly, but surely to the final destination.  Yes Big Thunder is still under refurbishment and is not set to return until February of next year (with the possibility that the date may slip even further).  Here are current pictures from the construction site.
Treehouse of Horrors
Set in a perpetual state of "refurbishment," the Treehouse on Tom Sawyer Island has been walled off for months now under the guise of improvement. In reality, the fall and fence scenario that has been playing out across the resort has hit this classic spot on the island and Disney's still trying to figure out what to do about the situation.
The march of time and safety continues throughout the park.  But it is a shame to see classic elements like the tree house tangled up in this mess. Will it be boarded up?  One wonders what else on the island may disappear soon.
Safetyland
The safety railing project along the rooftops of Fantasyland is still going on.  Thankfully they are trying to blend the railings and safety walls into the existing surroundings.
Snow White Grotto
The small corner of the park with Snow White's wishing well and Seven Dwarfs statues is receiving an overhaul.  We love seeing these little touches being maintained.  Especially when so many of the other intimate areas of the park are being removed in favor of the greater good.
UPCOMING MICECHAT EVENTS:
Meet Chris Wakefield – September 29th – MiceChat Noon Meet
The talking head behind the popular Wakefield Report, Chris Wakefield, will be at the MiceChat noon meet this Sunday (September 29th). Meet us at the Walt and Mickey statue in Disneyland's central hub. We'll meet for half an hour and then head to Riverbelle Terrace for lunch. Then we'll ride a couple of attractions and visit Disney super artist Dave Avanzino.
MiceChat Gay Days Meet – Saturday Oct 5th at Disneyland

Noon – MiceChat Noon Meet at the Walt and Mickey statue in Disneyland
12:30 – Group Picture
12:45 – Lunch at Hungry Bear Restaurant
2 pm – We'd do a fabulous tour of Disneyland stopping at over the top Disneyland attractions Pirates of the Caribbean, Enchanted Tiki Room, Captain EO, and Small World.
MiceChat EYE SPY and Sunday Meet at California Adventure – Oct 6th
Noon – MiceChat Noon Meet in the little park between Flo's V8 Cafe and Sarge's Surplus Hut at Disney California Adventure's Car's Land.
12:30 – Lunch at Flo's V8 Cafe
2pm – FREE Eye Spy Game – Golden Vine Winery (near Blue Sky Cellar entry)

The Fabulous Gumshoe Gallop

is a free Disney California Adventure eye spy game brought to you by MiceChat.com and the Hidden Mickey's Adventures books. Fun Hidden Mickey inspired prizes will be awarded to the top teams.



Where

: Meet on the Mendocino Terrace of the Golden Vine Winery (between the wine bar and the Blue Sky Cellar) – See map below

When

: Sunday, October 6th at 2pm

Team Size

: You may compete alone or in teams of 2, 3 or 4. Please note that prizes are awarded to the team regardless of size

Sign Up For FREE HERE (while you can just show up, it helps us tremendously if you'll sign up in advance so we know how many packets to prepare.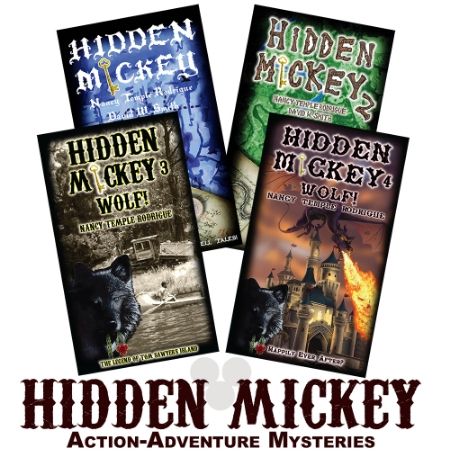 (Learn More About The Hidden Mickey Books HERE)

This adventure will last approximately an hour and a half, with awards scheduled to be given out at 3:30pm.

The eye spy is a fun for all ages event. You don't need to be a Disney expert to play. You'll have a great time exploring some of the details of Disney California Adventure.

Hope to see all you FABULOUS super sleuths in the park on October 6th!
* Please note that while the game is free to play, you will need to purchase your own theme park admission.
Please help us spread the word about these great events. Share this thread with your friends and family! See ya real soon!
And now, for your listening pleasure:
Need a feel good Disney experience? The last MiceChat Podcast delivers on that promise. In fact, some of you may even experience tears of joy, as our own Dusty Sage did during the recording of this episode. And the broadcast seems to have touched a nerve, delivering record downloads for the last week.
And so we close another chapter in the ever changing story that is the Disneyland Resort.  What are your thoughts on the brand new Starbucks on Main Street U.S.A.  Are you upset that the old Market house is no more or are you happy with our new coffee bean overlords?  What should be done with the tree house on Tom Sawyer Island.