The all-new, 12-acre Cars Land at Disney California Adventure is ready to take you down Route 66 with all your friends from Disney-Pixar's Cars. Cars Land is set to be a smash success for Disney this summer with three new attractions, including the impressive Radiator Springs Racers E-Ticket ride. With every detail in place, the new land will immerse guests in the world of Radiator Springs, adding new attractions, shopping and dining to California Adventure.
You may notice our format here at Dateline Disneyland and MiceChat has changed. You'll continue to see changes over the next few weeks as we adjust our format as we transition to our new home. In the future, Dateline Disneyland will be split up into smaller portions that are easier to read and share with your friends and family. You'll see a taste of that today with our Disney California Adventure coverage. Thank you for reading and your patience as we change to bring you a better MiceChat!
Get a closer look at today's update! Click on any photo in today's column for a large, high-quality version of the image.
Inside Dateline Disneyland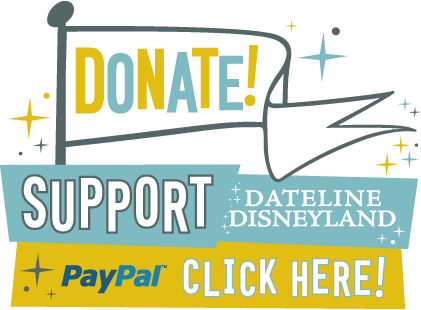 Test Driving Cars Land


Explore the all-new Radiator Springs

A look at Cars Land

Radiator Springs Racers

Luigi's Flying Tires

Mater's Junkyard Jamboree

Flo's V8 Cafe

Cozy Cone Motel
For Buena Vista Street coverage or our regular Disneyland Resort update, see our separate features here:

Sponsored by
TouringPlans.com | Do More. Wait Less.
Cars Land proved to be a huge hit for Disney over the weekend's Annual Passholder and D23 previews. The land is rich in detail, faithfully recreating every detail from the film, resulting in a fully-immersive environment for park guests. In many places thorugouht Cars Land, you can't see anything beyond Radiator Springs — you are completely in the world of Cars. It's quite the accomplishment and definitely a must-see for theme park fans.

Mater's Junkyard Jamboree is the first thing most guests will see when entering Cars Land. Located on the outskirts of Radiator Springs, Mater's junkyard is home to squaredancing with baby tractors. The ride may not look like much, but it packs a surprising amount of fun.

The queue is covered in inside jokes from the Mater's Tall Tales short films

Take a ride on Mater's Junkyard Jamboree in our video below:
Across from Mater's, Fillmore's Taste-In serves up fresh fruit, juices and soft drinks

Sarge's Surplus Hut offers toys and Cars-branded souvenirs

The Cozy Cone Motel is a dining location that offers different cone-themed snacks at each of its five cones:

Cozy Cone Motel
Cone #1
Churro bites with cinnamon-chocolate sauce
Cinnamon-spiced hot cocoa
Ramone's Pear of Dice Soda made with dessert pear flavor, mojito flavor and Sprite.
Cone #2
Soft-serve ice cream cones
"Route" beer floats.
Cone #3
Savory bites all served in edible bread cones:
Bacon-scrambled egg cone (breakfast)
Chicken verde (lunch and dinner)
Chili "cone" queso (lunch and dinner)
Cone #4
Cone Number 4
Pretzel bites with cheesy sauce
Red's Apple Freeze, a fat-free, frozen concoction with apple juice, toasted marshmallow syrup and passion fruit-mango foam.
Cone #5
Two flavored popcorns daily
Flavors change daily: Dill pickle, sweet & spicy, bacon and cheddar, nacho cheese, salt and vinegar. Doc's Wild Grape Tonic (Sprite with wild grape syrup and wild berry foam).
Tail light flowers at the Cozy Cone

If you've got a bigger appetite, Flo's V8 Cafe across the way serves up full meals that are quite tasty.

Flo's V8 Cafe
Breakfast
American Breakfast – $7.99
Scrambled eggs, breakfast potatoes, bacon and a biscuit
Chicken Tamale Breakfast – $7.99
Chicken tamale, scrambled eggs, salsa verde and pico de gallo
Brioche French Toast – $6.99
Baked and served with salted caramel sauce and bananas
Seasonal Fruit Plate – $5.49
Served with low-fat yogurt and blueberry muffin
Breakfast – Kid's Meals:
American Breakfast – $5.99
Scrambled eggs, bacon potatoes with fresh fruit
Seasonal Fruit Plate – $5.49
Served with low-fat yogurt and blueberry muffin
Waffles – $5.99
Served with bacon and fresh fruit
Lunch & Dinner
Entrees
Served with a garlic chive roll and choice of two sides
NY Strip Loin – $11.99
Served with home-style gravy
Pork Loin – $11.49
Served with Coca-Cola BBQ sauce
Citrus Turkey Breast – $11.49
Served with old fashioned turkey gravy
Citrus Turkey Salad – $10.99
Mixed greens, arugula, carrots, cucumbers and yellow peppers tossed in a citrus tarragon dressing.
Veggie Tater Bake – $10.49
Roasted vegetables, cauliflour, bulger wheat, soy crumbles and smashed red potatoes. Topped with cheddar cheese and served with one side.
Side Dishes:
Hot: Roasted corn medley, Peas and carrots, mashed potatoes, vegetarian baked beans
Cold: "Radiator" pasta salad, Cole slaw
Desserts:
Flo's Pie-O-Ramas - $4.99
Signature apple-cheddar, chocolate mud, seasonal fruit.
Flo's Classic Shakes - $3.99 or $9.59 in a souvenir sipper
Vanilla, Chocolate or Strawberry. Topped with "road gravel"
Wine & Beer
Fess Parker Riesling – $6
Silverado Charddonay – $8
MacMurray Ranch Pinot Noir, Sonoma Coast – $8
Eppa Superfruit Red Sangria – $6
Racer 5 Pale Ale IPA – $7
Red Rocket Ale – $7
Specialty Drink
Mater's Tulsa Tea – $3.29
Gold Peak sweet green iced tea topped with tropical fruit foam.
Radiator Springs Curios sells Route 66-themed souvenirs along with Disney Pin Trading

Ramone's House of Body Art offers exclusive lines of merchandise designed for Cars Land

Luigi's Flying Tires has proved to be somewhat controversial. Some have commented on potential safety issues with the ride – ranging from how guests are required to climb aboard their tires, to the requirements that Cast Members face when operating this attraction. There's plenty of discussion on the matter in our Luigi's Flying Tires thread on MiceChat.

Of course, the biggest hit of Cars Land is the new Radiator Springs Racers attraction. The ride blends traditional Disney dark ride, state-of-the-art
Audio-Animatronics figures and high-speed thrills to create a pretty impressive new experience. The attraction runs for just about five minutes, but a lot is packed in. We only wish that the dark ride portion of the attraction was longer.

Take advantage of the Single Rider line — it could save you a lot of time!

See the original Radiator Spring

And pass through Stanley's original town

The attraction's dark ride portion is pretty fantastic.

See our complete ride-through video of Radiator Springs Racers:
At night, Cars Land lights up with spectacular neon signs

For more on Cars Land, including additional photos, video, reviews and more, visit our special guide to Cars Land. Click here!

Alright, that's it for our overview of California Adventure's excellent new Cars Land! We'll be continuing with more in-depth coverage of California Adventure's new offerings throughout the week, so be sure to keep checking back!

Looking for Buena Vista Street or our regular Disneyland Resort update?


Thank you for reading and please be sure to share your thoughts in the comments section below! Don't forget to visit our great sponsors over at Touring Plans when planning your next visit to Disneyland!

You can help us by buying yourself something through one of our Amazon.com product links! All you need to do is click on any Amazon link you see in today's column. It doesn't cost you anything, but your purchases will help support Dateline Disneyland so we can keep the updates coming to you every week! To start shopping on Amazon using our referral code, click any Amazon item in today's update or click here.

We're only here because of your continued support. If you've enjoy Dateline Disneyland over the last five years, please consider helping us out by donating a buck or two so we can pay the bills and keep the updates coming! You can donate with a click of a button via PayPal — click here! Don't forget that MiceChat has lots of new content throughout the week! For even more Disneyland news, photos and information check out the In the Parks column on Fridays. And MiceChat's Weekend Update tours the world of Disney theme parks and other worldly sights and landmarks! See you at Disneyland!

- Andy

Please support our sponsors

---

---

FTC-Mandated Disclosure:
Promotional consideration for the June 11, 2012 edition of Dateline Disneyland was provided by:


TouringPlans.com
Do More. Wait Less.