Yesterday we gave you an overview of the all-new Buena Vista Street at Disney California Adventure. Today we're taking a closer look at California Adventure's new main entrance. Here, we go in-depth on the new offerings, with a look inside the new shops and restaurants including Elias and Co. Department Store and the Fiddler, Fifer and Pracitcal Cafe. We'll also get a sampling of the new food and merchandise offerings found throughout Buena Vista Street. And we'll take another look at the Red Car Trolley and various entertainment including the Red Car News Boys, Citizens of Buena Vista Street and Mickey and friends in their new Buena Vista Street costumes!
You may notice our format here at Dateline Disneyland and MiceChat has changed. You'll continue to see changes over the next few weeks as we adjust our format as we transition to our new home. Thank you for reading and your patience as we change to bring you a better MiceChat!
Get a closer look at today's update! Click on any photo in today's column for a large, high-quality version of the image.
[center]

Inside Dateline Disneyland

[/center]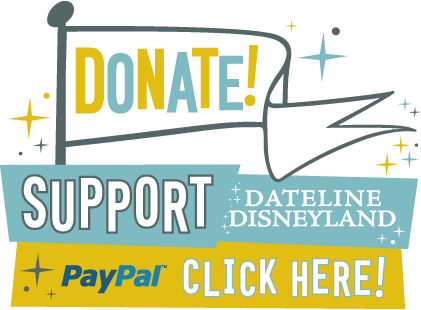 A Closer Look at Buena Vista Street


Explore Disney California Adventure's new entrance plaza

Buena Vista Street Plaza

The Red Car Trolley

Oswald's and Guest Relations

Los Feliz Five & Dime

Fiddler, Fifer and Pracitcal Cafe

Clarabelle's Hand-Scooped Ice Cream

Trolley Treats and Mortimer's Market

Citizens of Buena Vista Street

Red Car News Boys
[center]

Sponsored by

TouringPlans.com | Do More. Wait Less.

[/center]
[center]A CLOSER LOOK AT BUENA VISTA STREET[/center]
Oswald's Filling Station is new shop, named after Walt Disney's original Oswald the Lucky Rabbit.

Antique car parked at the station

The Chamber of Commerce is Disney California Adventure's new Guest Relations location

Note the "Disney Bros Studio" door on the right

In the center of Buena Vista Plaza, the California Adventure re-dedication time capsule is buried underneath its plaque

Buena Vista Street's Red Car Trolley stop

Aboard the Red Car Trolley:

Great vintage-style ads for locations along Buena Vista Street and Hollywood Boulevard.

Buena Vista Street Lockers utilized the same locker facility from the former Sunshine Plaza.

Vintage Pacific Electric Railway route maps are on display in the locker area

Mortimer's Market serves up fresh fruit, juices and soft drinks. The Market is named after Mortimer Mouse, the name Walt Disney originally gave to Mickey Mouse before his wife Lillian recommended he change it.
Mortimer's Market sells fresh fruit, juices and soft drinks

Detail on the facade reliefs include "M" for Mortimer and mice

The entrance to the Elysian Arcade is between Mortimer's Market and Buena Vista Street Lockers. The Arcade runs the length of west Buena Vista Street and ends next to Clarabelle's Hand-Scooped Ice Cream

Inside the Elysian Arcade, Kingswell Camera is the park's PhotoPass location, sponsored by Kodak.

Across the street, Los Feliz Five and Dime is one of Buena Vista Street's many new stores.

Gorgeous tile murals

Some great Red Car Trolley-themed merchandise is available here

Next door, Big Top Toys can be found underneath the Hyperion Bridge.

The Elias and Company Department Store is Buena Vista Street's biggest store and is split into several departments.

Women's apparel

Men's

Children's

And the jewelry department occupies the space that was previously the Sunshine Plaza Candy Shoppe

A nice courtyard to rest in outside of Elias and Co.

The new "Storytellers" statue of a young Walt Disney arriving in California with Mickey Mouse is waiting to be revealed at Buena Vista Street's grand opening June 15.

Sidewalk lights can be found along Buena Vista Street. These sidewalk lights were common in cities, allowing light during the daytime into store basements below street level.

Storm drains

Benches line Buena Vista Street

Across the street from Elias and Company is the new Julius Katz and Sons and Trolley Treats shops.

A large, onstage candy kitchen can be seen from Buena Vista Street as well as inside the shop

Candy Mountain can be found in the window of Trolley Treats

A Red Car Trolley zips in and out of the moountain!

Insdie Trolley Treats

The back of Candy Mountain from insdie the store

Next door, Clarabelle's Hand-Scooped Ice Cream

Gorgeous stained glass above the entrance

[center]
Clarabelle's Hand-Scooped Ice Cream
Scoops and Cups
Regular Cone/Cup
Single Scoop $3.69 / Double Scoop $4.19
Waffle Cone/Cup
Single Scoop $4.19 / Double Scoop $4.79
Dipped Waffle Cone/Cup
Chocolate or chocolate with sprinkles
Single Scoop $4.69 / Double Scoop $5.19
Ice Cream Flavors
Vanilla, Chocolate, Strawberry, Mint Chocolate Chip, Cookies and Cream, Mocha Almond Fudge, Chocolate Chip, Butter Pecan (No sugar added).
Hand-Dipped Ice Cream Bars – $4.99
Choose Your Bar: Vanilla Bean, Cocolate or Mixed Berry Sorbet
Choose Your Bar: Vanilla Bean, Cocolate or Mixed Berry Sorbet
Choose Your Chocolate: Milk or Dark
Choose Your Topping: Chocolate Chip Morsels, Confetti Mickeys, Blue Raspberry Bursts, Rainbow Sprinkles or "The Whole Herd."
[/center]
Clarabelle's Hand-Dipped Ice Cream Bar:

Next to Clarabelle's, the Fiddler Fifer and Practical Cafe offers some great sandwiches and a full Starbucks menu in a beautiful open dinig space.

It's really fantastic in here

Nice lighting fixtures and sky lights

Bar seating along windows will provide great views of Buena Vista Street this summer

Stained glass booth dividers

More great stained glass above the cashiers

The full Starbucks menu with prices (click for larger view):

Starbucks cups feature the Disney Parks logo

The Cafe menu featuring sandwiches and soups
[center]
Fiddler, Fifer and Practical Cafe
Hot Sandwiches
Served with pickle and house chips
Roast Beef and Cheddar Sandwich – $9.69
Tender roast beef, creamy horseradish sauce, cheddar cheese sauce on a garlic-chive bun.
Turkey Rueben Sandwich– $9.69
Turkey, sauerkraut, Swiss cheese and signature sauce on rye bread.
Paneer & Roasted Vegetable Sandwich – $8.99
Marinated paneer cheese, roasted vegetables and spicy tomato sauce on toasted garlic naan bread.
Cold Sandwiches
Served with pickle and house chips
Salami Royale Sandwich – $8.99
Layers of salami, fennel salami, sopressata, provolone and asiago cheeses, pepperoncini, red onions and olive tapenade on ciabatta bread.
Soup of the Day – $5.49
Two soups offered daily.
[/center]
The sandwiches here are really delicious. Below, the hot roast beef sandwich

…and the Turkey Reuben

The restaurant feautres the full line-up of Starbucks pastries along with a large selection of Disney pastries and desserts.

Disney desserts

Disney's tiramisu cup

The restaurant features photos and memorabilia from the musical career of the "Silver Lake Sisters," a trio of sisters nicknamed "Fiddler," "Fifer" and "Practical"

The Sisters were known to perform at the Hollywood Tower Hotel (look at these gorgeous poster designs! Hey Disney, where can we buy prints of these?!)

In Carthay Circle, the Red Car News Boys take to the streets, singing the news of the day with Mickey. It's a cute show, even if the background music could use some tweeking to sound less contemporary.

Heading back down Buena Vista Street, Atwater Ink and Paint features household items and kitchen supplies

A window upstairs at the Atwater School of Art and Animation plays audio of an animation class where a young animator named Walt is attending class… make sure you stop to listen.

Next door at Julius Katz and Sons, you can find collectibles such as big figs and collectibles, including this figurine of the new "Storytellers" statue that will be at the end of Buena Vista Street. Price: $155

Store props

The Citizens of Buena Vista Street bring their eccentric personalites to the mix, adding to the rich fabric of Buena Vista Street.

Each of the citizens has their own unique story — and they'll be happy to share it with you!

Mickey and Goofy pose in their new Buena Vista Street costumes

Buena Vista Street shines at night.

The sidwalk skylights light up at night! Very cool!

Mortimer's Market

For more on Buena Vista Street, including additional photos, video, reviews and more, visit our special guide to Bunea Vista Street. Click here!

Okay, that's it for our overview of California Adventure's all-new Buena Vista Street! We'll be continuing with more in-depth coverage of California Adventure's new offerings throughout the week, so be sure to keep checking back!

Looking for this week's regular Dateline Disneyland update?


Also, check out our overviews of Cars Land and Buena Vista Street here:


Thank you for reading and please be sure to share your thoughts in the comments section below! Don't forget to visit our great sponsors over at Touring Plans when planning your next visit to Disneyland!

You can help us by buying yourself something through one of our Amazon.com product links! All you need to do is click on any Amazon link you see in today's column. It doesn't cost you anything, but your purchases will help support Dateline Disneyland so we can keep the updates coming to you every week! To start shopping on Amazon using our referral code, click any Amazon item in today's update or click here.

We're only here because of your continued support. If you've enjoy Dateline Disneyland over the last five years, please consider helping us out by donating a buck or two so we can pay the bills and keep the updates coming! You can donate with a click of a button via PayPal — click here! Don't forget that MiceChat has lots of new content throughout the week!

For even more Disneyland news, photos and information check out the In the Parks column on Fridays. And [b]MiceChat's[/b] Weekend Update tours the world of Disney theme parks and other worldly sights and landmarks! See you at Disneyland!

[B]- Andy[/B]

[CENTER]Please support our sponsors

---

---

[/CENTER][B]FTC-Mandated Disclosure:[/B]
Promotional consideration for the June 12, 2012 edition of [I]Dateline Disneyland[/I] was provided by:
[center]TouringPlans.com
Do More. Wait Less.[/center]