It's just after Thanksgiving of 2010, and I'm sitting in my car in front of Wal-Mart. It's 6:54 in the morning, and I have to be at work at 7:15. The first thing that comes to mind is probably: "After Thanksgiving? It must be Black Friday!"
But in fact, Black Friday was almost a week before. Those great deals have long passed. So why exactly am I staking out my local Wally Mart, risking being late for work, waiting for it to open its doors?
Because on that day, November 30th, 2010, Epic Mickey would finally be released.
Obsessed much?
If you were one of the many gamers like me, you also eagerly awaited the release of Epic Mickey for months. Those first bits of promotional artwork teased at a game of (no pun intended) epic portions.
Much like his film career, Mickey Mouse has a long and storied history in video games. In fact, it may be hard to believe, but Nintendo has actually put out MORE games featuring Mickey Mouse than they have using their own F-Zero or Star Fox characters.
So while a new generation was introduced to "Mickey Mouse – Video Game Star" in the recently released Epic Mickey game, some of us were enjoying a virtual version of him back in 1981. Before a certain portly plumber even had a name, Mickey Mouse made his video game debut in one of Nintendo's infamous handheld Game & Watch units simply entitled "Mickey Mouse." For those of you way too young to even remember them, the Game & Watch units were the very early predecessor to every hand held gaming system around today. Through a series of blinking LCD screens (which were considered a rudimentary form of animation for games back then), Mickey was tasked with catching eggs. It was one of those simple "get him into position and catch the objects before they fall" type games, which proved to be a smash hit.
Mickey's second appearance was in 1982's semi-sequel "Mickey & Donald." Again, it was a Game & Watch, but the design was very similar to today's Nintendo DS system. It had dual screens; Donald was controlled on the top, while Mickey was on the bottom.
In 1983, Mickey made his debut on home consoles in Atari 2600's "Sorcerer's Apprentice." As you would guess, it was based on Mickey's role from the film Fantasia. Players controlled the Mouse as he kept a tower from flooding.
Just a few short years after that, Mickey made the jump to 8-Bit gaming on NES with Capcom's "Mickey Mousecapade." Most early NES gamers remember how absolutely frustrating it was. You once again controlled Mickey through a variety of side scrolling levels, armed with stars to defeat your enemies. However, Minnie was also tagging along behind you, and you had to constantly monitor her actions…one false move, and you'd be done for!  The game was notable for giving cameos to a lot of familiar Disney faces. Characters from The Jungle Book, Peter Pan and Alice in Wonderland all showed up. This very early example of cross-over between the different Disney "worlds" foreshadowed a theme that would show up often in later games.
"Mickey Mousecapade" was so successful that it lead Capcom to sign a deal with Disney to release quite a few other games based on their properties, including the classic DuckTales, Darkwing Duck, and TaleSpin games.
However, Mickey's other forays in the 8-bit gaming world were all of the edutainment kind. He spent his days helping kids learn reading and math in "Mickey's Safari in Letterland" and "Mickey's Adventure in Numberland."
Mickey's adventures in the world of 16-Bit gaming on the SNES started with the 1992 release of "Disney's Magical Quest." In this classic, Mickey was able to switch costumes between a wizard, firefighter, and a mountaineer to accomplish his tasks. This was the beginning of an entire trilogy of Magical Quest games on the SNES, which continued with "The Great Circus Mystery" (adding Minnie Mouse, and therefore, a second player into the mix) and "Disney's Magical Quest 3" (where Minnie was replaced by Donald). However, the third and final installment was only available in Japan and never made it to the States in the SNES form. It wasn't until 2005, when it was made for the Game Boy Advance, that Americans were able to complete this game trilogy.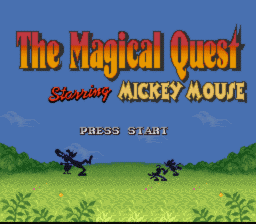 The Magical Quest games weren't the only ones that Mickey starred in during his SNES days. He also appeared in many other stand-alone games. The most popular of these was "Mickey Mania: The Timeless Adventures of Mickey Mouse," a platformer that celebrated the history of Mickey's career by sending him through levels based on several of his original cartoons such as "Steamboat Willie," "The Prince and The Pauper," and "Moose Hunters."
Over on the Sega Genesis, Mickey was making a splash as well. "Castle of Illusion" was released in 1990, just before a popular blue hedgehog made his debut. It was your standard platformer game that many people still hold in very high esteem as one of the best ever made. This game also launched yet another trilogy for the Sega systems, with "World of Illusion" coming out a few years later for Sega Master System and the hand held Game Gear, and "Legend of Illusion" rounding out the series in 1994.
After all these incredibly popular games, it seemed like Mickey Mouse took a step back. He was missing from consoles for a few years, and when he did return, he wasn't in the spotlight.  He began to appear in a few "generic" titles, which could easily swap Mickey out for any other character in a heart beat. The first was "Magical Tetris Challenge" on Nintendo 64, which offended many because it was Tetris with a Disney coat of paint. Shortly after that came "Mickey's Speedway USA," a clone of "Diddy Kong Racing" that swapped out the gorillas for characters from the Mouse House. The game did not fare well, and was quietly forgotten.
The early 90s also saw the trend of taking games that had previously come out in Japan, and replacing their main character with someone else to create a brand new game. Mickey wasn't immune to this, and appeared in the abysmal "Mickey Mouse: Magic Wands!," which was nothing more than the popular "Bugs Bunny Crazy Castle" with the lead roles switched.
Mickey's video game image got a major redesign with 2002's "Kingdom Hearts." This incredibly popular franchise chose to keep the main man out of the spotlight, and used him only sparingly, where Donald and Goofy were in the more titular roles. The air of mystery surrounding Mickey as King had him embarking on his own to defeat evil (and made him kind of a bad ass in many gamers' eyes!).
The franchise continues to this day with countless sequels, spin offs, comics, and more. A game for the Nintendo 3DS has been announced, and rumor has it that an official third installment of the game is on its way soon.
Finally, we arrive where we began….with me awaiting Mickey's latest foray into the gaming world, Epic Mickey. While a few gamers were disappointed in it, I found it a refreshing take on a classic character, and a great way to introduce his long lost, older brother Oswald into the fold. The future looks bright for Mickey's return to consoles, and Epic Mickey 2 is going to cement that fact later this year.
Well, was it worth the wait, sitting in my car on that very cold late November morning? You bet it was.
This article was originally published at http://www.thishappyplaceblog.com
---
Tickets are now on sale for the
COMMUNICORE WEEKLY 38TH WEEKAVERSARY
&
EPCOT 30 YEAR ANNIVERSARY CELEBRATION!

Come celebrate EPCOT's 30th Anniversary in style with a live taping of MiceChat's Communicore Weekly! Join co-hosts Jeff Heimbuch & George Taylor, along with MiceChat's Dusty Sage, Kevin Yee, and the Communicore Weekly Orchestra, for a fun-filled night of fandom and frivolity as they tape a special hour long episode of the hit show, Communicore Weekly.
Join us on the evening of Saturday, September 29th 2912 in the Norway Pavilion Special Events Lounge in EPCOT's World Showcase for this one of a kind event!
Your ticket includes:
Admission into the live taping of CW in the Norway Pavilion of EPCOT (note: admission into the park is NOT included)!
Meet special guest, Ron Schneider, the original Dreamfinder!
Decadent dessert reception!
Short scavenger hunt hosted by Kevin Yee before the show will be available to those who would like to participate (prizes will be awarded)!
Prizes, giveaways and more!
The chance to be a part of EPCOT and Communicore Weekly history!
Endless Five Legged Goats and perhaps even a real life Bathroom Break!
Exclusive late night ride after park closing on a selected EPCOT attraction to cap off the evening!
For more tickets and more information, be sure to visit MiceChat.com/store!

---
by Jeff Heimbuch
If you have a tip, questions, comments, or gripes, please feel free email me at [email protected] or leave a comment below. I'd love to hear from you!
You can read past columns of The 626 by clicking here!
Jeff can help you plan your perfect Disney vacation with Fairy Godmother Travel! Call him at 732-278-7404 or email him at [email protected] for a free, no-obligation quote for Walt Disney World, Disneyland, Disney Cruise Line, Aulani or Adventures By Disney.
Jeff also writes another column called From The Mouth Of The Mouse. We invite you to check it out.
Jeff co-hosts the weekly VidCast Communicore Weekly as well!

FOLLOW ME ON TWITTER: www.twitter.com/jeffheimbuch
FRIEND ME ON FACEBOOK: www.facebook.com/jeffheimbuch