This morning, Disney California Adventure's major five-year expansion and remodeling efforts officially came to an end when Disney's CEO Bob Iger rededicated the park at a grand reopening ceremony in front of the new Carthay Circle Theatre. Crowds of excited fans camped out overnight in the Disneyland Resort's Main Entrance Plaza, waiting to get their first glimpse at the newly re-imagined park and the moments following the splashy rededication ceremony were marked by thousands of excited guests rushing through Buena Vista Street toward the all-new 12-acre Cars Land. We've got a quick recap of today's reopening here in this special edition of Dateline Disneyland.
You may notice our format here at Dateline Disneyland and MiceChat has changed. You'll continue to see changes over the next few weeks as we adjust our format as we transition to our new home. Thank you for reading and your patience as we change to bring you a better MiceChat!
Get a closer look at today's update! Click on any photo in today's column for a large, high-quality version of the image.
Inside Dateline Disneyland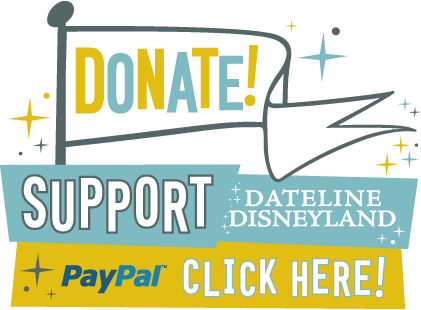 Thousands turn out for Disney California Adventure grand re-opening


Disney CEO Bob Iger rededicates re-imagined park

Disney California Adventure re-dedication ceremony

Crowds race to see Cars Land
Sponsored by
TouringPlans.com | Do More. Wait Less.
DISNEY CALIFORNIA ADVENTURE
GRAND RE-OPENING
Disney California Adventure held it's grand reopening ceremony this morning, capping off an extensive five-year remodeling and expansion effort culminating with the massive Cars Land and Buena Vista Street projects. The ceremony was held on a special stage in front of the new Carthay Circle Theatre at the end of the beautiful new Buena Vista Street main entrance plaza.

The ceremony got underway with a performance by the Red Car News Boys

The News Boys welcomed Disney CEO Bob Iger on stage

Iger took the stage and discussed Walt Disney's California story and how his dreams are reflected in the newly re-imagined park.

Iger welcomed Mickey Mouse on stage to help with the grand re-opening

Mickey led the Red Car News Boys in a rousing rendition of "California, Here I Come," in which a huge group of California Adventure Cast Members joined the celebration in the streets

The streets around Carthay Circle were flooded with California Adventure Cast Members dancing and singing along, celebrating the grand reopening of their park

And with a burst of fireworks, Bob Iger announced "Ladies and Gentlemen, welcome to the new Disney California Adventure!"

Disney Parks Chariman Tom Staggs shared his thoughts on today's grand reopening on the Disney Parks Blog:
Celebrating the Culmination of a Five-Year Journey with the Grand Reopening of Disney California Adventure Park

Today, we celebrate a defining moment in the history of the Disneyland Resort: the Grand Reopening of Disney California Adventure park.

Cars Land and Buena Vista Street are the culmination of a five-year journey that has infused the park with more of our guests' favorite characters and stories, more attractions and entertainment and more of the creative touches that make a Disney Parks experience truly unique.

These new areas are examples of what we do best — transporting guests to magical times and places where our characters and stories truly come to life. From the rockwork of the Ornament Valley Mountain Range to the hand-laid tile mosaics of the Carthay Circle Theatre, the level of artistry, craftsmanship and attention to detail is spectacular.

As you have seen here on the Disney Parks Blog over the last three days, the Disneyland Resort has hosted tons of media, celebrities and invited guests from around the world to give them an in-depth look at the transformation.

Today also marks the completion of an extraordinary period of expansion across the entire Disneyland Resort. Since 2007, we've completed major projects at both the Disneyland Hotel and Disney's Grand Californian Hotel & Spa, and have added more than 20 new attractions and shows.

At Disney California Adventure park alone, "World of Color," Toy Story Mania!, The Little Mermaid ~ Ariel's Undersea Adventure and Silly Symphony Swings have already proven to be extremely popular, and now Radiator Springs Racers, Luigi's Flying Tires and Mater's Junkyard Jamboree are exciting additions that give guests even more entertainment options.

I'd like to thank all of the Imagineers, cast members, artists, designers, builders and craftspeople who worked so tirelessly and collaboratively to make this remarkable transformation possible. I'd also like to thank all of you — our loyal guests — who have believed in our dream for Disney California Adventure park and supported us every step of the way. [ LINK ]
A line of Cast Members waited to pace thousands and anxious guests into Cars Land

The first guests enter Cars Land
Long lines formed immediately for Radiator Springs Racers, with queues stretching out of Cars Land and through Pacific Wharf throughout the day.

Disney executives including CEO Bob Iger and Parks and Resorts Chairman Tom Staggs toured Cars Land as the first guests poured into the new land

They stopped to greet guests along the way

The new Radiator Springs Racers FASTPASS distribution area near A Bug's Land drew big lines, with FASTPASSes selling out before noon.

Back on Buena Vista Street, the new wait time board in Carthay Circle was handy new addition for guests looking for information

Cast Members were handing out the new Buena Vista Bugle newspaper and stacks were on racks on Buena Vista Street. A great opening day souvenir

Finally, the walls are down!

Also, the fantastic new "Storytellers" statue of a young Walt Disney arriving in California with Mickey Mouse is now unveiled and was a popular location for photos with guests

Finally, the new dedication plaque at the base of the Buena Vista Street flag pole at the entrance of Disney California Adventure

Below, Disney has released a video of highlights from the opening day events
And a look at the five-year journey that brought us this incredible revamped, expaned and greatly improved theme park
That's all for our special edition recap of California Adventure's grand re-opening. We will be back on Monday with our regular edition of Dateline Disneyland with an in-depth look at this week's special events, premieres and grand openings! Be sure to check back then!Thank you for reading and please be sure to share your thoughts in the comments section below! Don't forget to visit our great sponsors over at

Touring Plans

when planning your next visit to Disneyland!

We're only here because of your continued support. If you've enjoy Dateline Disneyland over the last five years, please consider helping us out by donating a buck or two so we can pay the bills and keep the updates coming! You can donate with a click of a button via PayPal — click here! Don't forget that MiceChat has lots of new content throughout the week!

For even more Disneyland news, photos and information check out the In the Parks column on Fridays. And MiceChat's Weekend Update tours the world of Disney theme parks and other worldly sights and landmarks! See you at Disneyland!

- Andy

Please support our sponsors

---

---

FTC-Mandated Disclosure:
Promotional consideration for the June 15, 2012 edition of Dateline Disneyland was provided by:


TouringPlans.com
Do More. Wait Less.