We always perk up when we see a new Scarlett Stahl article pop into our mailbox. She does such interesting things! This time around is no exception. We think you'll be as charmed as we were. So let's find out what happens when Flat Catherine and Flat James meet Disney Dignitaries . . .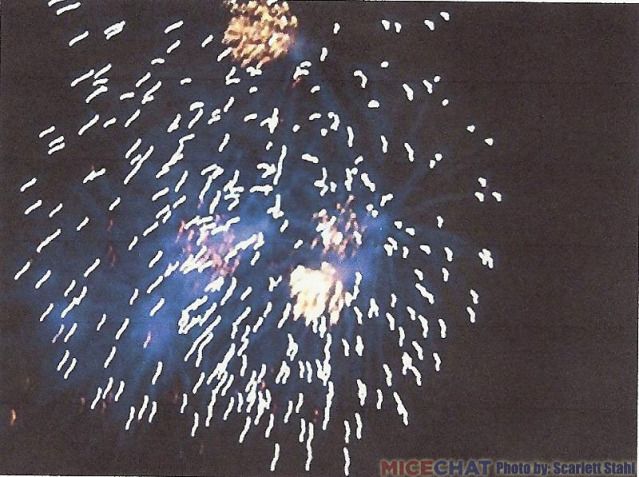 When opening my mail awhile back, I was surprised to find two envelopes from my twin grandchildren, Catherine and James. Inside one was a paper doll from my granddaughter, Catherine and inside the other was a paper doll from my grandson, James. And inside both were notes explaining that their classes had read a book, Flat Stanley, which was about a little boy, who was flattened by his bulletin board, folded himself up inside an envelope and mailed himself to a relative to have adventures. The class project was to mail themselves to a relative for adventures and to be returned with pictures, story and souvenirs at the end of a month. I was flattered that they chose me. But since the paper doll didn't look a lot like them, I decided to put a picture of their faces on the paper dolls.
For our first adventure, I decided to take Flat Catherine and Flat James to a luncheon of my DAR (Daughters of the American Revolution) club for a history lesson. I told them "You always enjoy the fireworks on the Fourth of July and like hearing the song The Star Spangled Banner, which became our national anthem or song in 1931, which was written from a poem during the War of 1812. But have you ever thought about what the fireworks represent? The fireworks represent the words in the song about the rocket's red glare, the bombs bursting in air. If it weren't for our forefathers fighting the British for our freedom in the Revolutionary War and the War of 1812, we would still be controlled by Great Britain. There would be no America as we know it today. In the Revolutionary War your G G Great Grandfather William Crutcher of Virginia served as a soldier under George Washington. Another G G G G G Great Grandfather Richard Bland of Virginia was with the Continental Congress. One served with weapons and the other served with words but both were equally important. The ladies, who belong to the DAR, are direct descendants of those brave men (as you are) and we don't just meet for luncheons and fun. For example at Christmas we didn't exchange gifts, but gave the money instead to buy caps, warm gloves and socks, as well as phone cards to call home for homeless veterans at the Veteran's Administration Hospital. This is only one small example but there are many different ways we help the service men and women of today."
Enclosed is a picture of Flat Catherine and another picture of Flat James with our DAR Chapter Regent Barbara Spiegel and me (Nana Scarlett) at our luncheon with the American flag. Their souvenirs of their adventure were small American flags.
For our next adventure, I decided to take them with me to the Annie Awards, which I was attending as press. I explained to them that the Annies are the highest honor given for animation. And what is animation, they asked? I told them that characters in cartoons such as Sponge Bob Square Pants or films such as Cinderella were drawn by artists and were then filmed so that the drawings appear to move. I explained that actors are the voices for the characters in the drawings. Many famous artists and voice actors will be at U.C.L.A.'s Royce Hall for the Awards. We met my friend, June at her home to ride in a limousine that they had sent for her, as she is one of the founders of ASIFA-Hollywood, the animation society, that puts on the annual Annie Awards. I introduced them and told the Flat twins "June Foray has gotten the Academy of Motion Picture Arts and Sciences to recognize animation in their Academy Award Ceremony with their own awards. June has a star on the Hollywood Walk of Fame and is well known as the Voice of Rocky in Rocky and Bullwinkle. She is Granny in Tweety and Sylvester, as well as Lucifer the cat in Cinderella and Grandmother Fa in Mulan, Cindy Lou in The Grinch Who Stole Christmas, amongst many, many others. She is known as the First Lady of Animation Voices."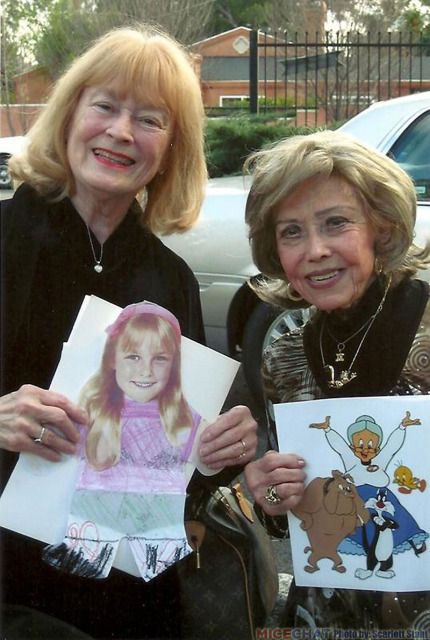 After we arrived at the Hall, there were snacks and beverages for the guests to enjoy, while visiting with friends. Then everyone went into the auditorium for the award ceremony. The film UP from Pixar won The Best Animated Feature award.
Afterwards at the buffet dinner, I introduced my Flat Twins to Tom Kenny, the Voice of Sponge Bob Square Pants, who is also the Voice of Rabbit in the Disney Winne the Pooh film, and took a picture of them together. I explained that Tom has been the host of the Annie Awards for many years and is a favorite of the crowd.
I also introduced them to Bill Farmer, the official Voice of Goofy, and took a picture of them together. We had a great time but it was way past Flat Catherine and Flat James's bedtime when we returned home. For this adventure they collected the following souvenirs: Annie programs autographed by June Foray and Bill Farmer, autographed pictures signed by Tom Kenny (Sponge Bob) as well as signed pictures of Granny from Tweety and Sylvester for their teachers and themselves.
On our third adventure we met my good friend, Margaret Kerry, who was the original model for Tinker Bell in the Walt Disney film, Peter Pan of the 1950's. We visited the Japanese Gardens in Balboa Park and had a lovely stroll around the Lake. Margaret was quite knowledgeable about all of lovely trees, flowers and birds and gave my Flat Twins lessons in nature. She enjoyed meeting them and gladly posed with us for pictures. She also gave them autographed pictures of Tinker Bell. At the gift shop I found a Japanese fan for Flat Catherine and a Japanese whistle for Flat James as more souvenirs of the day's adventure. Margaret jokingly asked me if I hoped to get an "A" on my school assignment.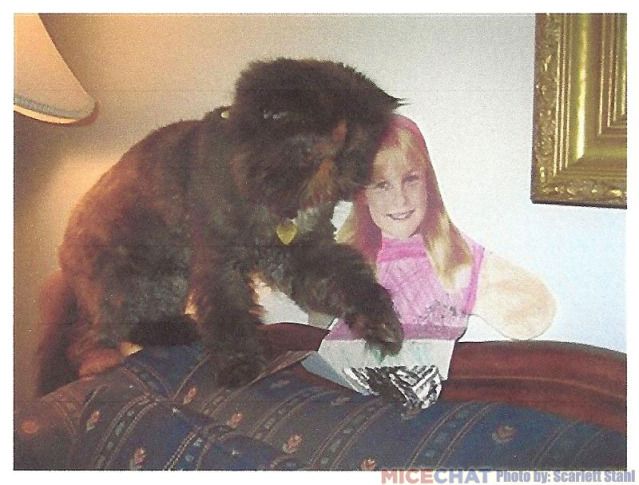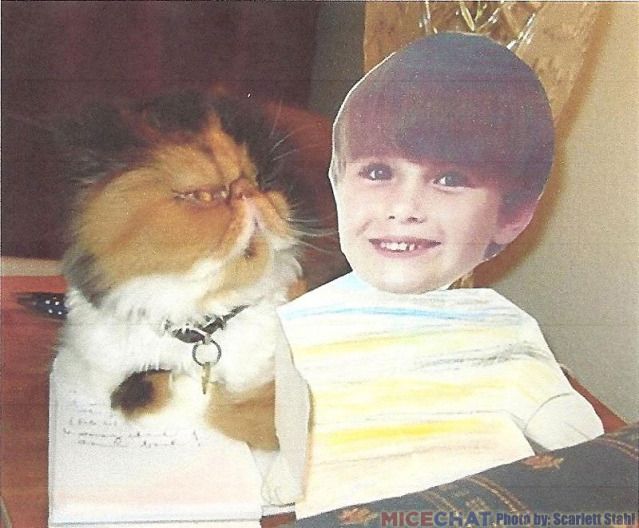 I took a picture of Flat Catherine meeting my cat, Cleo Bear, which Flat Catherine also enjoyed as she loves animals. There is another picture of my cat, Suzy Anne, meeting Flat James. They all seemed to have a good time and it was yet another adventure for them. It was rather sad, when the adventures were over and my Flat Twins had to return home.
P.S. Tom Kenny (Sponge Bob Square Pants) was so impressed with my Flat Twins, that he invited us all to lunch with him later on. Needless to say, Catherine and James adored him and had a great time. He gave them both autographed pictures. Additionally he invited them to attend one of the tapings of his show at a later date.
He also shared with me a special moment of his. The White House had called Nickolodeon and requested that Tom aka Sponge Bob call and wish the First Daughters a Happy Birthday, which he graciously did. Later he received a special Thank you note from the First Lady herself, Michelle Obama and learned that Sponge Bob Square Pants is President Obama's favorite cartoon!!!!
Bill Farmer (Goofy) wanted to meet Catherine and James in their regular size, instead of flattened out. So we were invited and went to his home for cookies and lemonade and met his lovely wife, Jennifer. Catherine was delighted to be able to pat his dogs and James jumped at the invitation to come back with swim suits another time to swim in their pool. Both children enjoyed seeing and touching Bill's Disney Legend Award and appreciated the autographed pictures that he gave them.
After our adventure with Margaret Tinker Bell Kerry at the Japanese Gardens, she invited us for a tour of the Walt Disney Studios and lunch in the commissary. While there, it was a nice surprise to be introduced to Disney Legend Dave Smith, historian and former Archives Director, who gave them autographed animated business cards.
They had never been on a set before, which was a big thrill. The Archives with all the Disney memorabilia kept their attention. The Michael Eisner Building with the Dwarfs holding the roof up caught their eyes, while sitting on a bench with Roy Disney and Minnie Mouse and Tinker Bell in the flesh at the Legend Plaza was unique too. When we left Margaret, she was talking about dinner with them at another time!!!!
After all these special adventures, it is a wonder that they were able to come down from the clouds and return to reality.