MiceChat's Scarlett Stahl gets to do a lot of amazing things and meet some of the most incredible people. Today, she takes it up a notch. Warning Disney fans, you are about to be green with envy.  – Rixter
THE DISNEYANA FAN CLUB'S 2012 CONVENTION
By
Scarlett Stahl
The Disneyana Fan Club is a club for Disney enthusiasts, comprised of members from all over the world. This non-profit club was founded in 1984 and is dedicated to honoring and celebrating the people, places and things that Walt Disney and his various companies have produced for 109 years. The Club is open to anyone who wants to join for only $29 per year, which will register you and everyone in your household as a Club Member. Club Members are entitled to full access to the website, receive copies of the "FantasyLine Express" (bi-monthly publication) by U.S. mail, and have online access to several back issues on the website of the "FantasyLine Express". In addition there is a one day Show and Sale held in Anaheim/Garden Grove, CA in January every year. There is also a Convention held around Disneyland's Birthday for four days, which also includes a one day Show and Sale.
This year, in addition to the convention, there was a special event on Tuesday evening July 17 (Disneyland's Birthday), which was held at Aladdin's Oasis in Disneyland. The event was to honor Ron Clements and John Musker as Disneyana Fan Club Legends, with a buffet dinner followed by a question and answer session with DFC moderator, Allan Halcrow. I had the pleasure of hitching a ride with Tami Clements and her husband, Ron, as they live near me in the San Fernando Valley. Tami and I laughed and talked the entire way there and back, while her patient husband, Ron, relaxed as a passenger after a hard days work at Walt Disney Studios. Tami and Ron prefer to leave extra time and not be rushed going to their destination. John had chosen to work later and meet us at the venue. To be honest we were concerned that with the horrendous traffic that John might be late for the event but he met us there shortly after we arrived. Ron and John have completely different personalities but possibly that is precisely why they work so well together.

(l to r ) John Musker, Scarlett Stahl, the Genie, Tami Clements, Ron Clements. Jasmine and Aladdin
Being from the South, I do take my responsibilities as a hostess seriously and proceeded to serve my guests little plates of fruit as appetizers. And like a good hostess, I asked if they preferred coffee, tea or ? After a moment of silence, I realized that I had had a blonde moment and quickly added, "But not me", to which they all laughed.
Ron and John are both fine animators as well as a directing team, who wrote and co directed (different segments) of The Great Mouse Detective, The Little Mermaid and Aladdin. They also co-directed Hercules and Treasure Planet (nominated for a 2002 Academy Award as Best Animated Feature). After leaving Disney in 2004, they returned to co-direct The Princess and the Frog, which was released in 2009.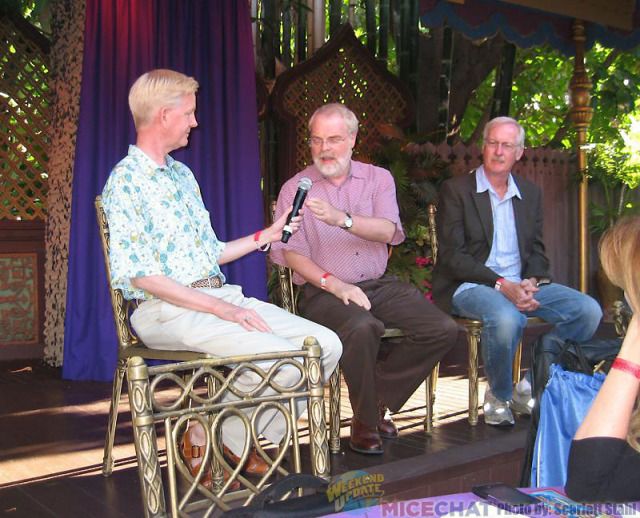 Allan Halcrow, Ron Clements, John Musker
Ron, originally from Sioux City, Iowa, found his inspiration in animation as a boy, after seeing Pinocchio. As a young man Ron read a magazine article by John Canemaker about a talent development program at Disney and applied there. John was also a Midwest boy, from Chicago, Ill and his pivotal moment was when he saw Sleeping Beauty and knew he wanted to be an animator. He became a student at CalArts at Disney's suggestion and at the end of the first year, the Review Board from Disney came in to see the students work. The rest is history for this famed pair of directors.
After the discussion, Ron and John were given their DFC awards and graciously posed for photographs and signed autographs for their avid fans. Some of the club members later attended the performance of the Disneyland nighttime show "Fantasmic." John attended the World of Color at Disney California Adventure, while Tami, Ron and I headed back to the Valley taking John's award with us to free him for the evening's show…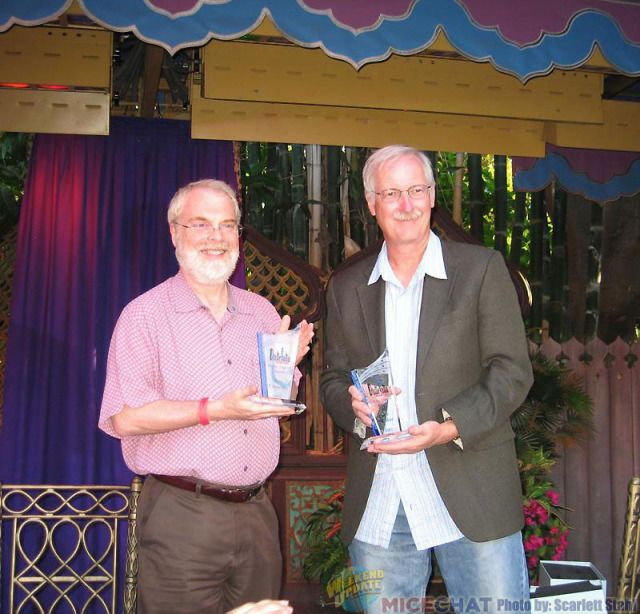 Ron and John with their DFC Legend Awards
I did apologize to Ron for the chattering that he endured both coming and going, I told him that I knew he didn't mind his wife chattering but that after a hard day of work, I was sure he didn't need my adding to it. He politely said that he was tired. However, when Tami stopped at the Studio to let him drive his car home and I moved to the front seat, he gave me a warm hug, which reassured me that I had not worn out my welcome with the Clements.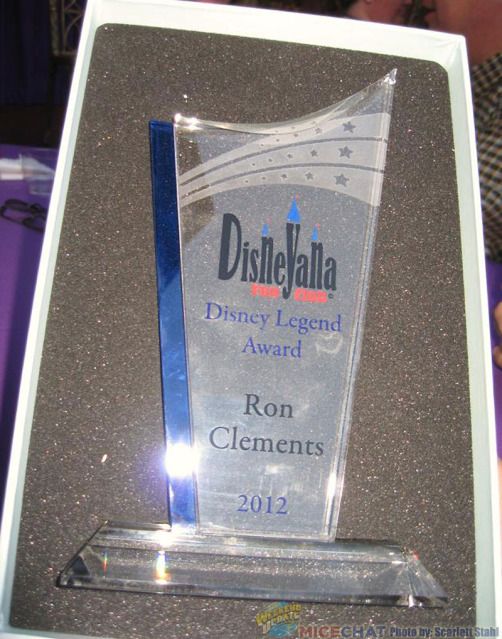 DFC Legend Award
Thursday evening July 19 was the Disneyana Fan Club/Ryman Arts "Goofy's Anniversary Party Dinner", which was held at the Crowne Plaza Hotel in Anaheim/Garden Grove, as were the remainder of the Convention activities. This is the 80th anniversary of the creation of Goofy and also the 25th anniversary of Bill Farmer as the official Voice of Goofy. As Bill did a standby comedy routine to entertain the guests, it was a fitting title for the dinner.
Ryman Arts teaches teens essential skills for art and life in a rigorous, nurturing studio environment. Courses, taught by professional teaching artists, foster students' artistic development and personal confidence, and provide the knowledge they need to pursue higher education and careers in the arts. Ryman Arts is the only such program in southern California that is totally free and that selects participants solely on the basis of their ability and commitment. By doing so, Ryman Arts is able to serve talented youth from a wide variety of backgrounds without regard to their family's financial status. Every fifty dollars donated buys a paint box and art supplies for a student.
Celebrity guest hosts included the following:
Marty Sklar, one of the founders of Ryman Arts, who is a Disney Legend and Retired Vice Chairman and Principal Creative Executive of Walt Disney Imagineering (WDI)
Diane Brigham, Executive Director of Ryman Arts

Diane Brigham
Bill Farmer, Disney Legend and Official Voice of Goofy and Pluto as
well as other Voices
Dick Jones, Disney Legend and the Original Voice of Pinocchio
Floyd Norman, Disney Legend and animator and cartoonist.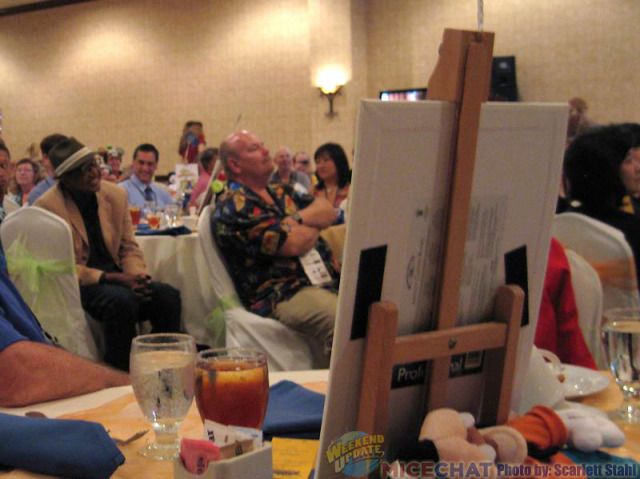 Crowd picture with Floyd Norman
Bob Gurr, Disney Legend and Imagineer, who is said to have
designed most, if not all, of the ride vehicles of the Disneyland
attractions, including Autopia, Haunted Mansion, the Disneyland
Monorail, the Submarine Voyage, and the Matterhorn Bobsleds
Margaret Tinker Bell Kerry, original reference model for Tinker Bell
in the animated film Peter Pan, as well as the Voice of one of the
Mermaids. Margaret is also a motivational speaker, who recently
spoke at the Ronald Reagan Presidential Library
Rick Farmiloe, animator of Scuttle in Little Mermaid, Abu in Aladdin
as well as Directing Animator on The Prince of Egypt (1998)
Carolyn Carroll, widow of Eddie Carroll-voice of Jiminy Cricket and
author
Mark Silverman, voice of Rod Serling in Tower of Terror and many
other voices
Terri Hardin, sculptor and puppeteer
Elisabete Gomes, Disney merchandise designer
Stacia Martin, Disney Artist and Historian
There was a cocktail reception to open the festivities. During the reception, Maria Hall Brown of Real Orange at KOCE TV interviewed some of the Celebrity guests and a photographer taped the interviews for the TV show. DVDs of the Real Orange show, which aired on July 26, can be purchased from the station by calling 714-241-4100.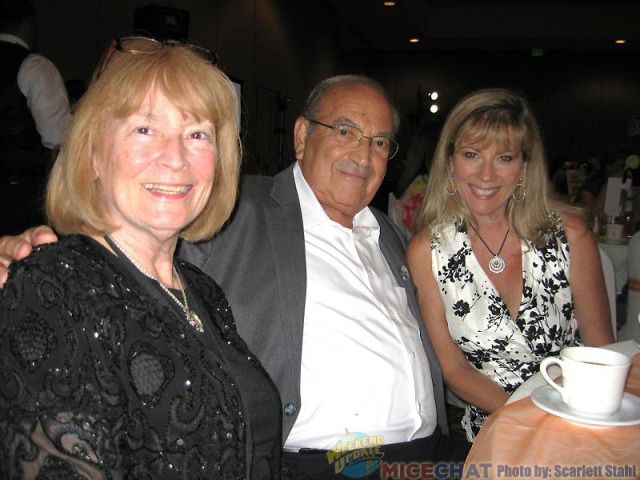 Scarlett Stahl, Marty Sklar, Maria Hall Brown of Real Orange at KOCE TV
Everyone attending the event sat at a table with one of the celebrities and tables were drawn at random. This was a sit down dinner with choices of steak, chicken or vegetarian, which was followed by a hilarious comedic show performed by Voice artist Bill Farmer, who voiced some of the presidents to everyone's glee.
President of the Disneyana Fan Club, Gary Schaengold, surprised Margaret Tinker Bell Kerry with the Presidents Award, which read:
Disneyana Fan Club
President Award
Presented to
Margaret Kerry
In recognition of your
contribution and promotion of
the ideals, goals & aspirations of
the Disneyana Fan Club
July 2012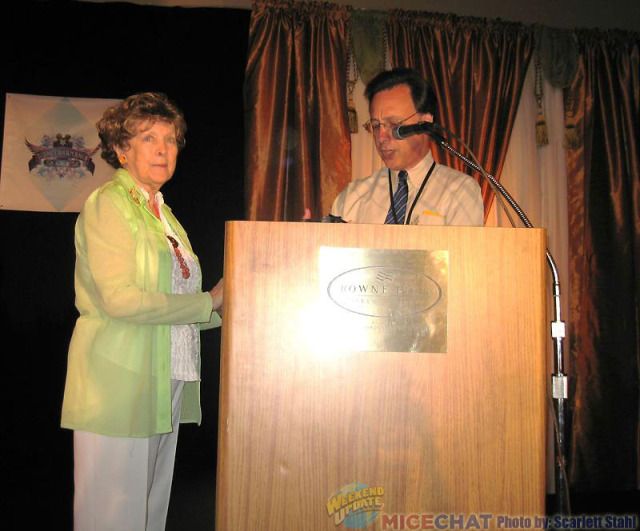 Margaret Tinker Bell Kerry receiving first President's Award from Gary Schaengold, DFC President
As Margaret is one of the favorites of Disney fans, she received a standing ovation,
Later Marty Sklar, Diane Brigham and two Ryman students, Beverly Chen and Caitlyn Nee, spoke to the audience, followed by an auction to benefit the charity. All the celebrities had graciously donated items for the auction, which raised $7,000 for Ryman Arts. Bill Atwood, skillfully and humorously, was a great auctioneer. Some of the items were autographed so I added to the merriment by shouting out "They are signed and can be personalized" over and over again.  When an autographed piece by Eddie Carroll (Jiminy Cricket), who is deceased, was held up, I called out "And it can be signed by Pinocchio, as Dick Jones is in the house." I knew Dick would be willing to help for charity. Finally Bill Atwood said "Frankly, my dear Scarlett, I don't give a damn," This brought a round of laughter from the crowd.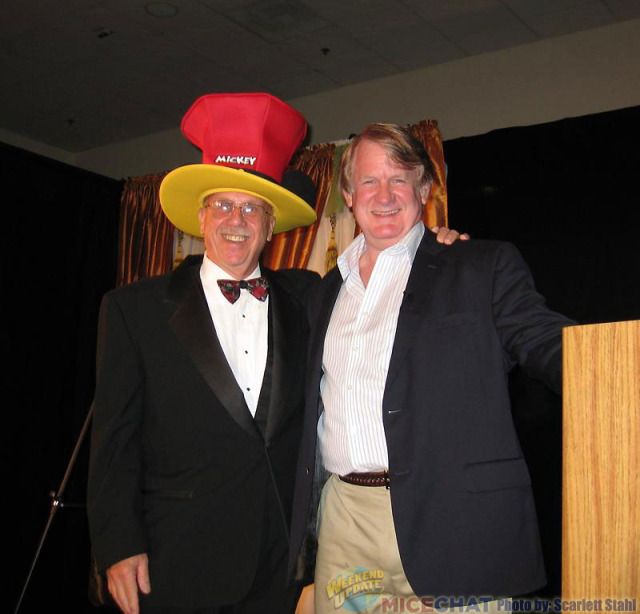 Auctioneer with Bill Farmer (Goofy)

Auctioneer with Marty Sklar
One of the Ryman students flattered me by asking to take a picture with me and even asked for my autograph. I advised her that I certainly was certainly not famous but honored her request. She mentioned that she really had wanted to meet Dick Jones as she loved Pinocchio but he had already left. However I invited both Beverly and Caitlyn back the next day as he was going to attend the DFC Legend Luncheon. Only one of them was able to return, as the other one had a previous commitment. She did get to meet Dick Jones and get his autograph and picture, as I had promised. She also was able to stay for the rest of the panels that afternoon.
Friday, July 20, panels included the following:
Perennial favorites, Kevin (Kidney) and Jody (Daily) had a panel on Historic Anaheim, which was a crowd pleaser.
Marty Sklar had the audience enthralled with a talk on Epcot and how it changed the world.
Jeff Swampy Marsh and Dan Povenmire discussed Phineas and Ferb.

Dan Povenmire and Jeff Swampy Marsh of Phineas and Ferb
They are co-creators and animators of the show, while Povenmire also performs the voice of Heinz Doofenshmirtz and Marsh the voice of Major Francis Monogram. There was a long line afterwards for sketches and autographs.
Joanna Miller, Walt's granddaughter, showed slides and discussed growing up Disney. With her unique voice and attractive looks, she could have been an anchor woman from a network show.
Nick Ranieri, great grandson of Walt Disney, Joanna Miller, Walt's granddaughter, Alice Davis
Lisa Girolami discussed WDU: Buena Vista Street
The main event of the day was the Disneyana Fan Club Legend Luncheon. The Disneyana Fan Club, formerly known as the NFFC, has honored 104 individuals since 1993. These were chosen because they made significant contributions to the Disney legacy. This year, the honorees were Roger Broggie Sr. (posthumously), Roger Broggie Jr and Glen Keane. The honorees, accompanied by members of their family, met in the Visitors Lounge prior to the luncheon to visit with previous Legends and friends. There were soft drinks and fresh fruit for the guests. Roger Broggie Jr had about 13 members of his family accompanying him, so he was kept busy with them and his friends, Kevin Rafferty, Tony Anselmo and others.

Glen Keane and Roger Broggie Jr with their awards
Glen Keane was especially pleased to meet Dick Jones, the Voice of Pinocchio and said that he could see the young boy that Frank Thomas animated for Pinocchio in the adult face of Dick. Glen wanted a photo taken with me, as he had animated my 10th generation great grandmother, Pocahontas for his film. Looking at me through the eyes of an artist, he commented on my high Indian cheek bones like Pochontas and said my nose looked like the nose of my cousin, Thomas Jefferson. Glen was accompanied by his radiant daughter, Clare, who was due to give birth the following week and his adorable and sweet tempered little granddaughter, Matisse.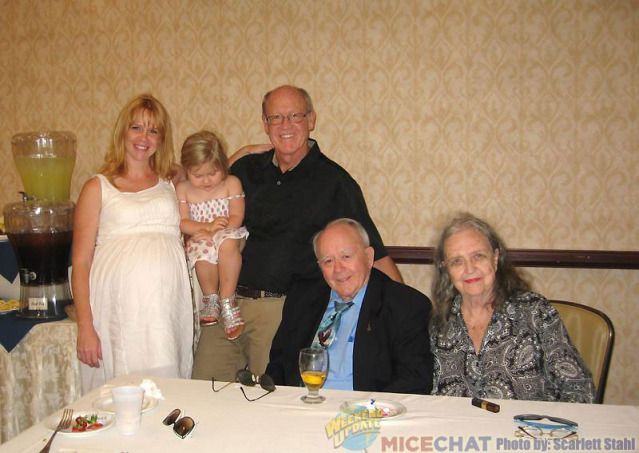 Glen Keane with his very expectant daughter, Claire, and his granddaughter Matisse with Dick Jones (Pinocchio) and wife Betty Jones
Glen Keane with Scarlett Stahl and a sketch of Pocahontas
The ballroom was packed with people, who had come to honor the special guests. After the lovely sit down luncheon, Allan Halcrow, the moderator and director of the Legend Awards, skillfully led them through a discussion of their careers, before giving them their Legend Awards.
Roger Broggie, Jr. accepted his father's posthumous award as well as his own.  Roger said that his father started Disney's machine shop, which he himself later took over. The elder Broggie is credited with developing the first audio-animatronics figure of Abraham Lincoln. Both father and son worked on the attractions for the 1964 World's Fair, as well as Pirates of the Caribbean and the Haunted Mansion. Roger's son (third generation) continues on the tradition and is working for Disney.
Glen Keane said that "Sincerity is to believe in the characters that you draw." After nearly 38 years, Glen chose to leave Disney this past spring to pursue other artistic endeavors and Tangled was his final film for the company. He brought with him a short film of his characters for the audience to enjoy. Glen had also requested a document reader be available to project sketches of  characters that he drew onto the nearby screen, which kept the audience enthralled, seeing his characters spring to life before their eyes.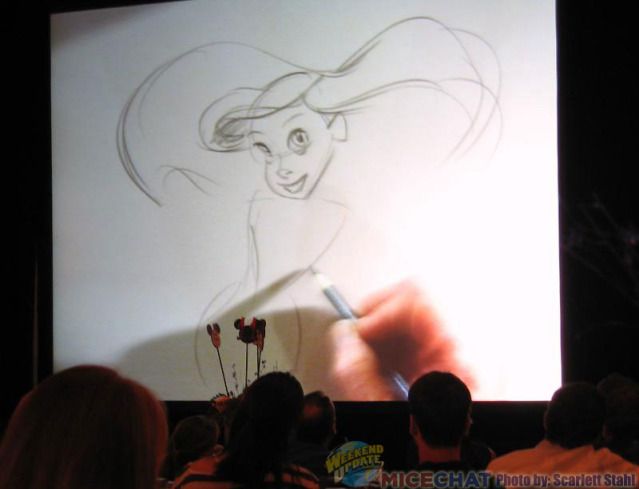 Ariel being drawn by Glen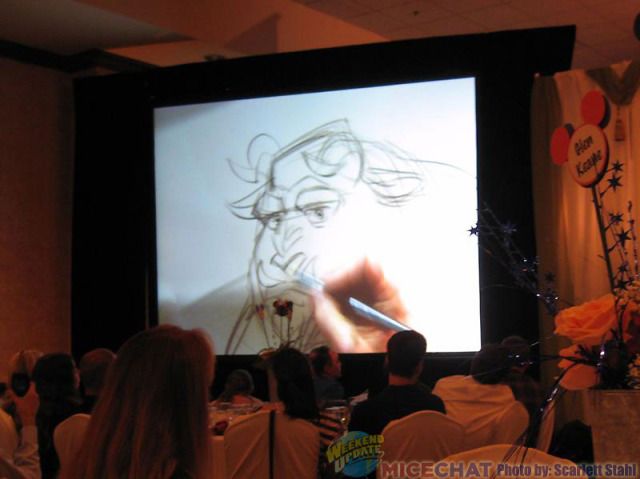 The Beast being drawn by Glen
Both men were gracious and stayed behind to sign autographs for their fans. Amongst some of the celebrities present were Marty Sklar, Joanna Miller, Bob Gurr and Dick Jones.
Luckily the only thing scheduled that evening was the Hospitality Suite, as everyone was tired after the late night before and the wonderful panels and Luncheon that day.
Saturday, July 21 was another full day with panels, followed by the Pirates Celebration Banquet that evening.
Robert Tieman's panel was Selling Disney- The Art (And Fun of Movie Promotions).
ASIFA-Hollywood Aladdin panel was moderated by Tom Sito, VP of  ASIFA-Hollywood and featured Andreas Deja, Mark Henn, Duncan Majoribanks, Rick Farmiloe (all animators on the film) and also Scott Weinger (the Voice of Aladdin). After the panel, they signed autographs outside with proceeds to benefit ASIFA-Hollywood, followed by lunch, which I was able to attend and enjoyed greatly. The animators had noticed Margaret Tinker Bell Kerry was lunching with the President of the DFC and requested that I bring her over to be introduced. Of course many of them already knew her as she has been on the Board of ASIFA-Hollywood, but a few did not. They had heard she had received a standing ovation the week prior when she spoke at the Reagan Presidential Library and wanted to congratulate her. Of course, Margaret excused herself from her table and graciously came to oblige the animators at my table briefly. What was the conversation like, you may ask? All about animation and old time Hollywood, of course. I learned that Helene Stanley was the live action model for Sleeping Beauty and that she had been married to Johnny Stompanato, before he started dating the famous star, Lana Turner and had been killed by Lana's daughter. If I wrote in detail about everything that I heard and saw at the convention, it would be a book and not an article.

l to r Scott Weinger, Andreas Deja, Mark Henn, Duncan Majoribanks, Rick Farmiloe, Tom Sito and Gary Schaengold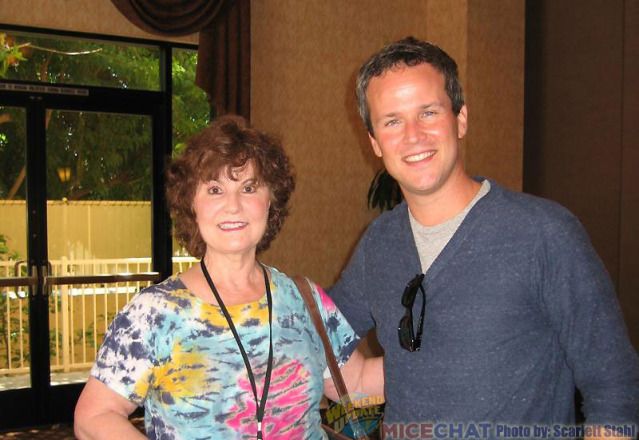 Linda Swisher with Scott Weinger

Left side front to back : Scarlett Stahl, Frank Gladstone (President of ASIFA-Hollywood, Duncan Majoribanks, Tom Sito (VP of ASIFA-Hollywood, Andreas Deja…..Right side front to back: Scott Weinger, Mark Henn, Debbie Henn, Rick Farmiloe, Amanda Raymond
The next panel was the Authors Panel with guests: Jack Lindquist (first president of Disneyland), Dave Smith (retired Director of Disney Archives, Margaret Tinker Bell Kerry, Bob Gurr (Imagineer extrodinaire) , Carolyn Carroll (widow of Eddie Carroll-Jiminy Cricket) and Sam Gennawey (urban planner)'
David Stollery from Spin and Marty discussed Around the World with Marty.
Kevin Rafferty with WDI: Cars Land.
The evening event was Pirates of the Caribbean Celebration Banquet. There was a lovely sit down dinner, followed by Pirate songs from Nora Linden, who won the Best Wench's costume and then a panel moderated by Allan Halcrow with Alice Davis, Roger Broggie Jr and Bob Gurr. Alice told how she had gone from designing for sweet little children in Small World to dirty old men in Pirates. Alice shared with me that she has seen the Convention getting better and better in the last two or three years but this one was the best of all!!! High praise for the Disneyana Fan Club indeed!!.

Nora Linden, Bob Gurr and Anita Schaengold
Anita and Gary Schaengold
Sunday, July 22 was the Show and Sale which opened to the Conventioneers at 9a and at 10a the DFC members were allowed in. At 11a the doors were opened to the General Public with paid admission and remained open till 5p. Present were Mickey's of Glendale with Imagineering logo items, including limited edition pins. The Disney Studio store had exclusive merchandise. Paige O'Hara (the Voice of Belle from the animated film Beauty and the Beast) had autographed pictures for sale as well as paintings that she had done. Margaret Tinker Bell Kerry was present with autographed items as was Mark Silverman (Rod Serling in the Tower of Terror), while Carolyn Carroll (the widow of Eddie Carroll – voice of Jiminy Cricket) was there with autographed items from her deceased husband. There were rows and rows of vintage Disney items for sale, while people thronged the aisles looking for that one special item that would add to their collections.  I myself admit that I succumbed and purchased the remaining few that I didn't already have of the series of six dessert plates that were designed by Kim Irvine for the 50th Anniversary of Disneyland. I had some already autographed by the greats of Disney and had more signed that day. These will be framed and placed on my hall walls. Then there was this stuffed Lucify cat from Cinderella that called to me to take him home to my cat scratcher. It appears that my original real kitty, Cleo, doesn't seem to mind sharing one of the perches with him.

signed by Dick Jones, Pinocchio…Blue Fairy plate…1972 -94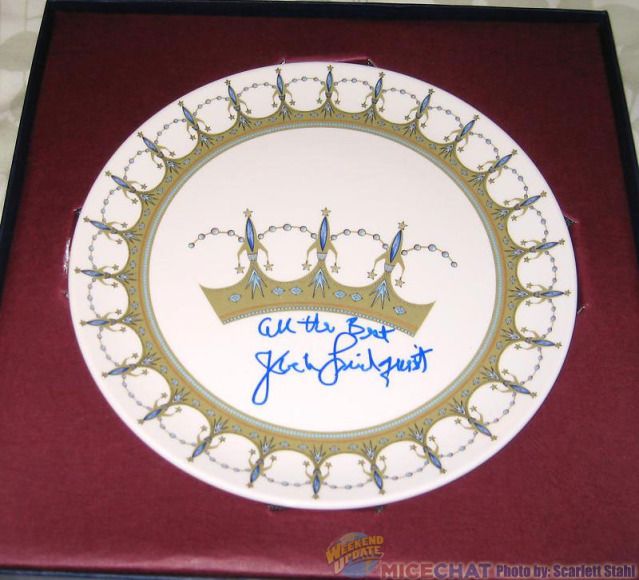 signed by Jack Lindquist, First President of Disneyland….Tomorrowland 1961 -71
signed by Margaret Tinker Bell Kerry…Tinker Bell plate


signed by Marty Sklar, Vice Chaiman and Principal Creative Exectutive of WDI …Indiana Jones Adventure 1995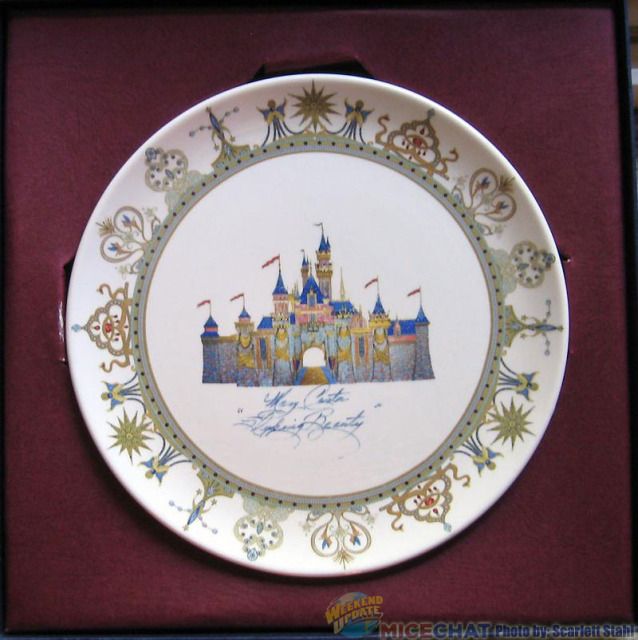 signed by Mary Costa, Sleeping Beauty..Sleeping Beauty Castle ( I think I mentioned that I am an autograph hound?)

My cat, Cleo, with the stuffed cat that came home with me from the Show and Sale…Lucify from Cinderella
I have attached a copy of the convention schedule for you to see all the different panels. And yes, I did ask Joanna Miller to sign it for me. I really am an autograph hound. I know that the autographs are more valuable, if they aren't personalized but some of them I know that I want to have the rest of my life.
I wish I could have seen all the panels myself, but as a hostess/program director, I was on call to assist our celebrity guests, which did not allow for the luxury of actually seeing the entirety of the events, though I did get to see parts of them. And I did enjoy getting to be with all the wonderful celebrities, who came to the convention. Some of them have become close friends over the years and others were a pleasure to meet for the first time!!! It really was the best Disneyana Fan Club Convention that I have been to and I am proud that I have able to help contribute to its success.
Did you attend any of this year's Disneyana convention events?