The time for Knott's Halloween Haunt is upon us once again. Prepare to sink deep into the thick fog and roam the night looking for the most terrifying fun to be had. Welcome to MiceChat Nights of Horror at Knott's Scary Farm!

SAVE THE DATE – SAT, Sept 24th
KNOTT'S SCARY FARM
We are meeting up with our friends at Theme Park Review for a night of terrifying fun at the grand daddy of Haunt events. The day will start around 3pm and include a backstage tour, a lights on tour of one of the mazes, dinner, meet and greet with Haunt makers, and front of the line access to all mazes (excluding the mine train and log ride) Pricing available soon!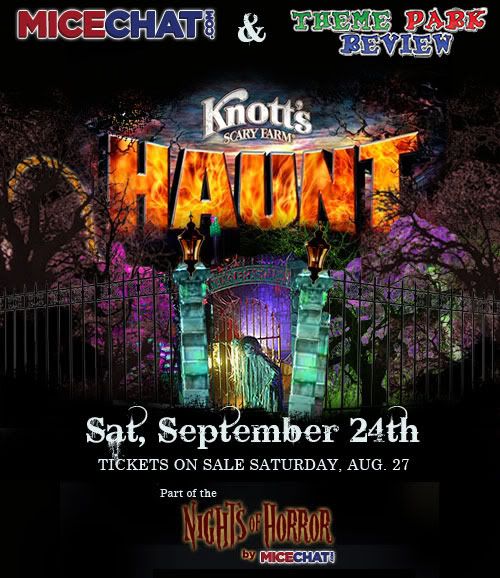 Admission

Backstage tour (Maze/costuming/make-up)

Pre-Scare Dinner

Meet and Greet with Haunt makers and legends

Raffle with your chance to be a monster in a haunt maze that night

Front of the line access to mazes

VIP seating to all shows

Early entry into Haunt
MiceChat nights of horror will be a series of events and Haunt meet ups with all your friends from MiceChat during late September through to late October. Aside from the Knott's event about, we'll also be visiting: Universal Halloween Horror Nights, Queen Mary's Dark Harbor, The Empty Grave and Sinister Pointe and Universal Orlando to name a few. Click the links above to visit the individual discussions for each of these events. We will be offering very special pricing only available through MiceChat that will give us access to backstage tours and, in some cases, front of the line privileges.
---

HERE IS WHAT YOU NEED TO KNOW IF YOU ATTENDING THIS EVENT

•NO COSTUMES are allowed at this event.
•Cameras are welcome but you will be asked NOT to take pictures in the mazes during Haunt.
•If you are taking pictures of the monsters or with them, please be polite and ask permission first.

Below are directions to Knott's Berry Farm and directions on where you can find parking.  General Parking is $15.   You will need to arrive by 2:30pm for check-in.

We will meet at the check-in point behind Virginia's Gift Shop at 2:30pm for official check in.  Here is a map from parking to the exact spot.