What does Disneyland have planned for their LeapYear party? Is it worth it to travel to the Tokyo Disney Resort just for the unique rides? Will Transformers live up to the hype created by the Super Bowl ads? Does the Magic Kingdom in Florida look better from the sky? All are answered in today's MiceChat Round-Up. We have Trip reports from Disneyland, Walt Disney World, the Orlando theme parks and from abroad too. All this plus new MiceTube videos from Sarah and Communicore. So, you better get started! You don't want to be left out of the discussion.~ CakvalaSC
EDITOR'S PICK
Recent Aerial View of Fantasyland Expansion and MK
flynnibus shares with us some fantastic images from Fantasyland taken from the air. Truly worth a look!
Sign up for the monthly

MICE

CHAT

newsletter:




MiceChat is NOT affiliated with the Walt Disney Company in ANY way.
The Disney web site is located at www.disney.com
---
Q. The Disneyland website's being awfully stingy as far as information about the big event on Leap Day. Are there any sorts of special events/entertainment planned, or is the place simply open all night? I understand the lack of fireworks on a non-summer Wednesday night, but any chance Fantasmic will make it back in time? Also, "I Was There" merch that doesn't go on sale until 5am seems like a no-brainer, but will there be any? - Andy
A. Disneyland's website is notoriously stingy with the types of information most visitors are looking for, but that has more to do with the plodding bureaucracy the "Disney Parks" empire is now saddled with more than any real lack of planning on Team Disney Anaheim's (TDA) part.
In fact, once this gimmicky promotion was hatched last fall by marketing gurus who have absolutely no idea how a modern theme park operates, TDA's planners leapt into action and began reaching out to the various operating departments that will play host to this 24 hour party. They've really been trying to come up with a menu of offerings that will keep people entertained through the wee hours, but only in just the past few weeks have the plans begun falling firmly into place.
What TDA has recently decided is that a special Leap Year Day Fantasmic! will be performed at 1:00AM, and this will be the first showing after this winter's eight week rehab. This current Fantasmic! rehab is plussing up the lasers and adding more digital projections to the stage, plus tackling plenty of stagecraft maintenance and technical upgrading for the entire show, in addition to a big cosmetic rehab for the Sailing Ship Columbia that is used as Captain Hook's pirate ship. The rehab timeline for both the show and the Columbia had to be scooted up just a few days to allow enough testing and rehearsal time in late February, but Fantasmic! will now be a key element of the overnight Leap Year party at Disneyland.
TDA is still trying to figure out a possible time to kick off the overnight party with a late evening fireworks show, and perhaps a Grad Nite style party kickoff in front of the Castle. The timing on the fireworks is up in the air however as there is an agreement with the neighbors not to perform fireworks late on a school night. The low-level pyrotechnic shows they use for Grad Nite might have to suffice if the timeline goes past 9:30PM.
The Entertainment department is also planning to roll out a stream of Characters all night long, both famous and not so famous, as TDA knows the majority of the visitors coming that night will be diehard Disneyland fans who appreciate those rare Character sightings. Also still being bandied about is a late night performance of Mickey's Soundsational Parade, after the first parade of the evening is performed at 7:00PM. Steve Davison always insists plenty of lighting be installed on Disneyland's parade floats, thus Soundsational really sparkles at night and a late night showing is on TDA's party menu.
One thing the marketing team is good for however is inspiring the merchandise team to pump out branded merchandise and some free give-aways for this event. There will be special Leap Year Day merchandise available during the overnight hours of the party, and TDA has been toying with the idea of releasing it in batches throughout the night to create a feeding frenzy in the Emporium and Star Trader.
TDA has been using their popular Grad Nite events as a template for this event, and they want to make sure it's something that feels special and unique for those who choose to spend the night at the park. - Al
Got a question for Al or any of the MiceAge columnists?
Email them to

[email protected]


Your question may be featured in a future MiceChat Round-Up,
but keep in mind due to the volume of mail received he may not be able to personally respond.
---
Announcing the Next Big MiceChat Adventure
So, where are the MiceChatters going next? We were looking for something we hadn't done before, something affordable, and something that was FUN. Teresa from Fairy Godmother Travel found the perfect cruise from Vancouver to Los Angeles with a two day stop in San Francisco. Learn how you can join in on the fun and take advantage of this great deal.
---

This week we have a wonderfully wacky wet winter trip report. Then we go back in time to look at Disneyland circa 1957. We also set some dates for the premiere of DCA's future! ~ Aladdin
Bamato's Long Overdue Family Vacay TR, and Club 33 First Timer!
bamato has this entertaining family trip report from Disneyland during December. Just how entertaining? Well, it looks like Maynard may have met his match!

DLR: After you've ridden the E tickets 50 times.. what do you do?
Cadaverous asks a question that long term Annual Passholders have a wide variety of answers for: What do you do in Disneyland after you've ridden all the rides fifty times over?

Newly Restored Footage from Disneyland 1957
thedustycoyote takes us back 55 years, with this color video of Disneyland 1957!

Cars Land Grand Opening Date Set
Al gives us the dates for DCA's Grand Re-opening. Find out what is planned so far, and what is yet to be planned!
---

Hey there, buckaroos! Lots of posts recently from new MiceChat members. Welcome! And with those posts come some interesting ideas and a rumor or two. Read on, and remember to keep posting - you never know if they'll make it to the weekly Round-Up or not! -Demigod-
New California Screamin' cars coming soon?
MiceChatter WildForMrToad has heard through the grapevine that some new ride cars might be headed this way.

Haunted Mansion Remodel
PozEmerald makes a first post suggesting some remodeling ideas for The Haunted Mansion.

Designing a new Disneyland ("fan-imagineering" project)
From new MiceChat member Chandelierh comes a re-Imagineering of Disneyland. Lots of detail in this post!

Merge the Starcade with Flynn's, yes/no?
Omnitographer wonders if merging Flynn's Arcade with Tomorrowland's Starcade might make sense as ElecTRONica will be going away soon.

Disney should install some electric car recharging stations at the DLR
Here is an idea that doesn't need Imagineering: MiceChat member Mojave thinks that Disney should put some recharging stations in at the resort for electric cars. What do you think?

The Jungle Book Cruise
MiceChatter Thumper&Bambi had a thought about Disney adding elements from The Jungle Book movie into the Jungle Cruise ride at Disneyland. Good idea, or bad?
---
The A/V Room
Sarah has a brand new MiceChatter video for you today:
Here's the most recent Communicore Weekly:

LIVE BROADCAST AT RALPH BRENNAN'S JAZZ KITCHEN
As the official venue of choice for MAGIC 24.7, Ralph Brennan's Jazz Kitchen in Downtown Disney Anaheim will be hosting a live broadcast from the Ralph Brennan Radio Booth in the Jazz Kitchen on August 11, 2012 (exact time of broadcast TBA).

We'll be doing a live cooking demo, featuring our station's own signature drink (Twisted Magic), doing live contests and bringing on special Disney Park guests. We hope you can join us! For the full itinerary, check out our special event website: magic247live.com!

YOUR DISNEY TOP FIVE
The Time Rovers are going live again this Thursday at 6pm Pacific for one hour! Here's what we're discussing: If Disney gave you a free pass to do ANYTHING to any of it's parks...what would it be? Call us LIVE on Skype (username Magic24.7) or on our MAGICLINE at (424) 270-1955 and get in the discussion!

Remember to bookmark our site (magic247radio.com) and listen between 6am-4pm Pacific Monday to Friday for your official MiceChat.com Newscasts featuring YOUR posts and more Disney Park news! We also have welcomed former Weather Channel meteorologist Jeff Mielcarz to the station, who will provide you with Disneyland & WDW weather Monday to Friday!

PODCAST UPDATE
Every Monday to Friday between 6-9 am Pacific, we give you your MiceChat.com Newscast. Coming soon, you'll be able to get a full recap of news from your favorite site.
---
Have you signed up for MiceDeals?
Don't miss out on 50% to 80% off Southern California and
Orlando area theme park, restaurant, hotel and attractions!
Visit MiceDeals.com today and sign up at the top of the page for your daily
deal reminder. Hurry, because they sell out quick and don't last long.
---

With Valentine's Day around the corner, does anyone have plans to surprise their special someone with a trip to Walt Disney World? If yes, take a look and see what we're talking about this week. DCA vs. DHS, a nice January trip report, and some gorgeous shots of the Fantasyland Expansion...from above! All this and more! ~yoyoflamingo
Has DCA surpassed DHS?
An interesting question: Sure, we compare Magic Kingdom style parks all the time, but is DCA a better park than Disney's Hollywood Studios? Join the debate here!

January trip to WDW!!!
It seems there haven't been many Walt Disney World trip reports lately. However, proradvlx shares a recent trip report to WDW. If you're interested in a good read, take a look at this thread!

January trip pics
If you need some visuals for proradvlx's trip report, here they are. Take a look!

Would you give up Big Thunder and Splash Mountain for Thunder Mesa?
An intriguing question: Is the appeal of Thunder Mesa, complete with Western River Expedition, worth the price of Big Thunder in its current form and Splash? Voice your thoughts here.
---
TDR's unique attractions
Tokyo Disneyland Resort has some unique attractions, and disneyfann121 wonders if it is worth the expense to travel halfway around the world to experience them. You can bet a lot of advice has been offered.

Easter Wonderland 2012
Tokyo Disneyland's much anticipated Easter Wonderland is just around the corner, and Danimated starts this thread with a link to the official website.

Tokyo Disneyland to participate in Taiwan's Lantern Festival
It has just been announce that performers from Tokyo Disneyland will be performing in Taiwan for the Lantern festival. TravisMT81 links us to that story.
---
Rare Disneyland Paris book set to return!
The rights to the book, which was once sold at Disneyland Paris, have gone to a new publishing company, and as Alain went through the details with them, they discovered that about 730 of the English "Collectors Edition" were never printed (due to printing expenses and other reasons at the time). I've offered to help finance the printing of the remainder of the allotment of the Collectors Edition if we meet a certain number of preorders (200 to 250 preordered books on my end).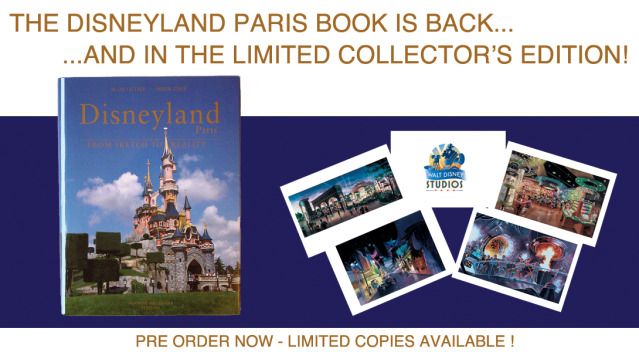 If we are able to obtain 200 preorders (at the original printing price of the book), we'll have the books sent to print and deliver them to those who preorder. If we don't meet the preorder requirement by March 15, 2012, we'll cancel the print and refund all the money. If we are able to complete the printing, those who buy the book after preorders are over will pay the new 'higher' cover price (the book will go up an additional $40 after the preorder). So, it definitely pays to get in early and help us with the preorder requirement.
For those of you who aren't familiar with the collector's edition of Disneyland Paris, From Sketch To Reality, it is one of the most collectible Disney books ever printed. The collector's edition is printed on a luxury glossy paper and has gold printing on the cover and dust jacket, it was limited to 2000 copies in English ( and 2000 in french ), each copy has a number, AND each copy includes four beautiful "lithographs" of WDI artwork for the Walt Disney Studios. Each of these lithographs is suitable for framing. It's a big book with 320 pages and 750 pictures in it. We're pretty confident that we can achieve the required number of preorders and have the book printed and shipped this Spring.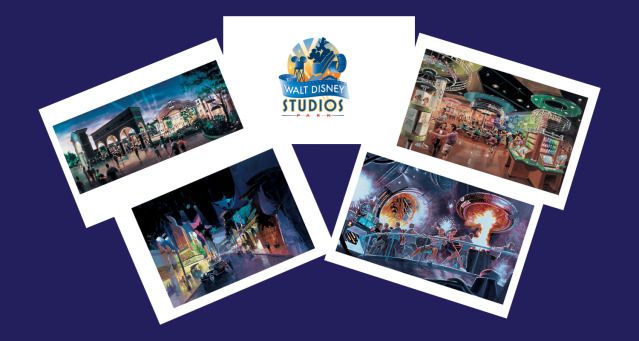 10 years ago, the collector's edition was 100 euros (plus 15 for shipping, which is about $150). When the pre-orders are over and the book is back in regular stock, its price will increase to 130 euros plus 15 euro shipping (about $190), which means that pre-ordering the book will help you save a substantial amount and does a good deed at the same time.
The book is expected to be released late March or April 2012, as we hope to have the collector's edition released in time for Disneyland Paris' 20th Anniversary.
---
Six Flags Hurricane Harbor to get 'Virtual Queue' system this summer
Six Flags Hurricane Harbor will be rolling out a new virtual queue system using Lo-Q. This system uses a wristband to hold your 'virtual' place in line. Is this the future of Fast Passes?

Non-Disney Theme Park Photography
Do you have stunning photos from non-Disney theme parks? KingEric starts us off with some great panoramic shows, so take a look and share with your pictures.

Universal Studios Hollywood gears up to promote Transformers the Ride
Universal Studios Hollywood is gearing up for the launch of Transformers the Ride. With their launch of their promotional site you can play games get information about the ride and even enter to win tickets to Universal Studios.
---
Madonna: Tight Performance At Equally Tight Super Bowl Game
Last Sunday's Super Bowl featured a half time performance by Madonna that seamlessly transitioned from classic songs to her newer offerings. If you missed the event, Ride Warrior has shared a video. So what do you think, could this be one of the best half time shows yet?

The Avengers Superbowl Super Trailer
The Super Bowl is almost as well know for the commercials it produces as it is for the actual game. This year Disney snuck in a few of their own including one for the upcoming movie The Avengers. For those of you that missed it, you can check it out here.

NEW Disney Junior channel.... Any thoughts?
Starting in March, Disney Junior will have its own channel as Disney expands their television brand. This move closely follows Nickelodeon's model of splitting younger programming from the teen base. criss77 is still unsure about this, so what are your thoughts?
---

2/7: Kevin Yee - Bad Habits
Kevin discusses the uneven pace around at Walt Disney World. Continuing on some inexcusable show breakdowns and the mess of some other attractions.


2/7: Manning In The Magic Kingdom, Unfortunate Habits, Universal Construction and more
Eli Manning visits the Magic Kingdom, Heroes have habits at Epcot, and we get a birds-eye view of the Fantasyland expansion all right here in the later Orlando Parkhopper. We don't just breeze through the Disney parks, no sir. We also stop by Universal and Islands of Adventure for a look at old amity, Despicable me and the upcoming Mardi Gras celebration.


2/6: Romance and Ragtime, Cars Land and Construction
Disneyland continues its off-season with a number of big and small refurbishments, including the major six-month Matterhorn Bobsleds project. Meanwhile, work continues on projects along Main Street, U.S.A. as the Disneyana collectibles shop reopens after getting some work done. Over at Disney California Adventure, new details continue to emerge on Buena Vista Street as that project and the major new Cars Land expansion gear up for a mid-June grandopening. Meanwhile, on Paradise Pier the Midway Shops continue to get new facades. Nearby in Pacific Wharf, the Ghirardelli Chocolate Company moves into the former Mission Tortilla Factory. Outside the parks, big projects get underway in Downtown Disney and the Disneyland Hotel continues to get some additional final touches as it wraps up its multi-year remodeling effort. Join us for a huge photo and video update in today's Dateline Disneyland!


2/5: More Secrets and Tributes of Disney's Haunted Mansion
Join us for a deeper look at Disney's beloved Haunted Mansion and the many secrets and tributes it contains. Who are those names on the tombstones and what are the secret mysteries and stories that those headstones and busts tell? Let's find out.


2/4: Walt Disney World Update; Hollywood Studios In Depth; Disneyland Paris; Hilton Head
Nautilus is falling apart at Disneyland Paris, but the Cinderella Castle in Walt Disney World is full of magical memories. Find adventure around the globe with the Weekend Update. We also travel to Tampa for a new show at Busch Gardens, mickey topiary at Hollywood Studios and a look at new Brave artwork. Let's get ready for the weekend update!


2/2: Disneyland Matterhorn Refurb, DCA's Buena Vista Street, SeaWorld Update, Knott's News
Knott's Ghost Town is behind construction walls with major renovation under way, the Matterhorn is behind scaffolds, and the entrance of Disney California Adventure is making big progress. But that is just the tip of the iceberg with this week's In the Parks. We get a sneak peek at the Transformers Ride commercial that will air during the Super Bowl, News from SeaWorld and an introduction to the newest addition to MiceChat's YouTube Channel. Plus, steam punk in Anaheim, gardens, libraries and much more. Hang on kids, it's going to be a wild ride!


2/2: Pressing Matters
Everyone ready for the Super Bowl? If you're like me (not a fan), fear not, there's still plenty to amuse this weekend, Sue finds cool things and fun events you may have missed.


2/2: Werner Weiss - My Visit to the Walt Disney Family Museum
Werner Weiss takes a long awaited trip to the Walt Disney Family Museum to hear Sam Gennawey's lecture on the Mineral King resort. What Werner found was that this is a must do for any fan of Disney related anything. The museum's expansive story and history are a must do.


2/1: Mineral King - The Rest of the Story, Part One
Sam Gennawey first wrote about Walt Disney's lost, last project, Mineral King in the article From Slope to Nope. He returns to the subject after a very successful lecture he gave at the Walt Disney Family Museum with even more information and insight about the big project that never was. Newly released photography show Walt and his team exploring the possibilities around the globe.