It's Wednesday as we inch ever closer to the weekend with a new MiceChat Round-Up! Disneyland is still recovering from Bat's day and thoughts to share on the Fantalusion parade in Paris. Don't forget this is the last week to sign up for the Gumball Rally! - Fishbulb
EDITOR'S PICK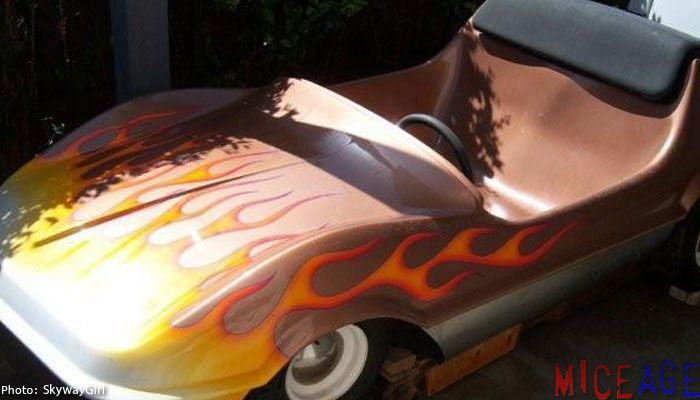 Rare Disneyland Park Used Items!!!
Skywaygirl offers a look at her treasure trove of goodies. These are actually some amazing finds for avid Disney collectors. "Right now on Ebay I have an Autopia attraction vehicle, Monorail sign, store display and a CM service award listed. The vehicle was displayed in the Winner's Circle store in Tomorrowland. It is the ONLY Autopia car in the world painted this metallic root beer brown with flames. " Get it before it's gone!

This week we have more Bat's Day pictures, a closed snack location prepares to reopen, name your favorite Disneyland attraction vehicle, and time for some more Photoshopping! ~ Aladdin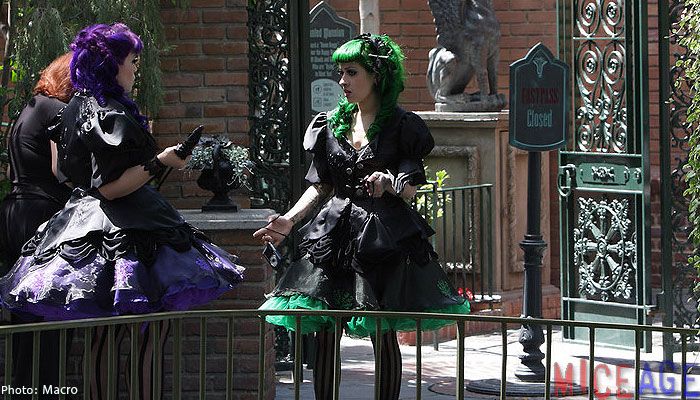 Extremely tardy Bats Day report
Macro takes us on a Bat's Day tour of Disneyland, and shows us some of the more showy guests!

Alice & Mad Hatter video!
AliceinWonderland has a charming video of her namesake and a=2 0delightfully silly friend of hers! If today is YOUR unbirthday, celebrate by watching this little video!

Harbour Galley opening soon
salasavandy brings us news that an old McDonald's French Fry location will open soon, with a new menu! Take a look and tell us what you think!

Cast Members: Past, Present, Future
Jakob the Butler wants to know who here at MiceChat Was, Is, or Will Be a Disneyland Cast Member, and if so, where and when?

Suggest a Disneyland special effect to recreate.
ACDCmaniac921=2 0has summer vacation coming soon, and wants to create some of Disneyland's special effects, at home! Tell us some of the special effects you think would be fun to recreate!

The Disneyland Photoshop contest - round 14!
Datameister moves us in different directions in different ride vehicles this week ~ take a look at, and take part in the most recent Photoshop competition!

One Vehicle
Ellis asks, If you had your choice of any Disneyland ride vehicle, to use as your source of transportation, what would You be traveling in?

This week, we have lovely pics a-plenty, some thoughts on WDW from a CA native, and how WDW looked (and looks) - from space! ~ PEZZ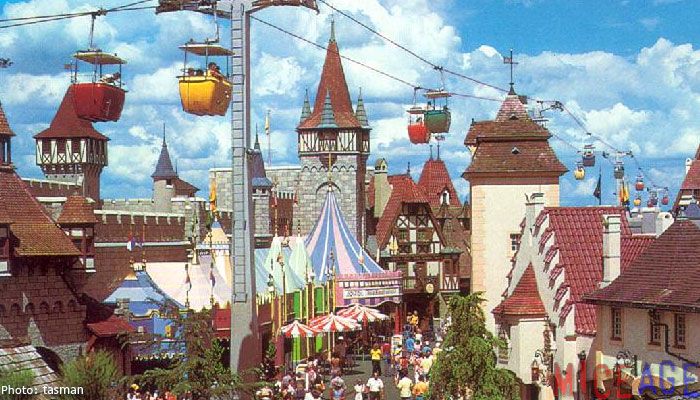 WDW - Yesteryear Photos from the Net
Tasman has some interesting, amazing, and very colorful looks at WDW from days gone by. Check it out!

My trip in pics!
After a couple false starts, Mel- gets the photos rolling in some serious style! Take a look at the beautiful shots and click through for more!

Some photos of Suzy and Perla
Tiny Tim has a deep appreciation for mice. Don't we all? Tim's affection is especially acute for the merry mice of Cinderella - Suzy and Perla. Take a look at some of the great shots he has of these winsome characters!

Do You Need To Stay On Property to Get the WDW Experience?
Pete's Dragon wonders if staying on Disney property is really the bees knees. Catch the buzz here!


This week, we have a wonderful Trip Report (in two parts) from Tokyo, a question about Fantillusion from Paris, and some musings on profitability from (of all places) Hong Kong. Take a look! ~ PEZZ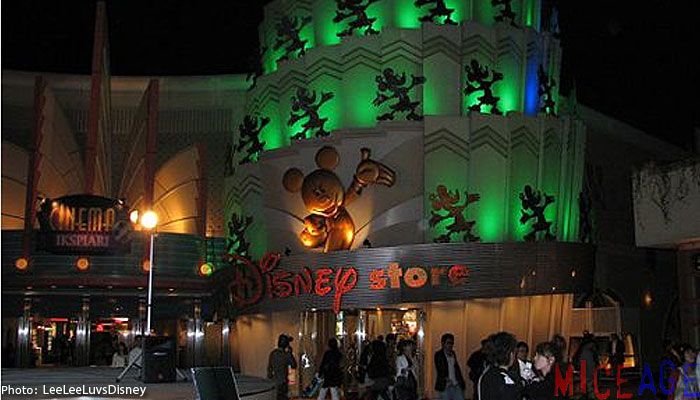 TDL and TDS Trip Report - April 19-25
LeeLeeLuvsDisney has a terrific Trip Report about her visit to TDL! This one has the text story of her adventures!

TDL and TDR - April 19-25
And this has the the terrific photos LeeLeeLuvsDisney took on her trip to Tokyo! Good eats, awesome popcorn buckets, and much much more!

Why DLP Fantillusion is different than TDL ?
DLRP_bopazot is wondering why Fantillusion in Paris is just a shadow of it's former glory in Tokyo? Chime in here!

Profit?
Dogtherock wonders how Disney plans to make a profit from Hong Kong Disneyland if it's in Communist hands? Assuming there are profits... Is this the next Red Scare?

Welcome once again fellow MiceChatters to the Other Parks section. After taking a look at this week's notable threads, be sure to check one of our older threads, Terminator Coaster is Going Vertical! for a link to video testing of this new wooden roller coaster at Six Flags Magic Mountain in Valencia, California. ~ elly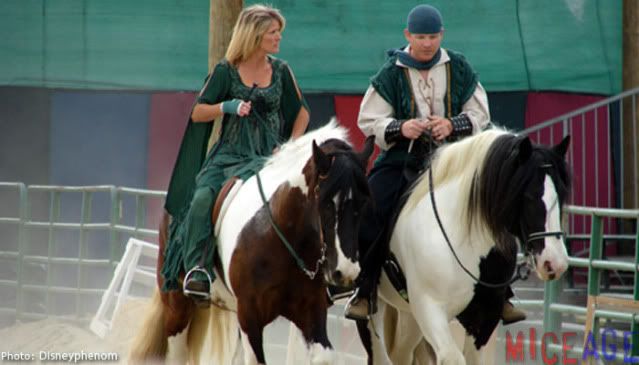 Renaissance Pleasure Faire -- 2009 season
This time of year wouldn't be complete without a trip report from the Renaissance Pleasure Faire in Southern California and lucky for us Disneyphenom and his lovely family share some lovely photos with us of this great event.

Bird Cage Theatre Returns (but not to Knott's)
sir clinksalot brings us the exciting information of way to relive one of my favorite childhood memories, the classic Bird Cage Theater melodrama's from Knott's Berry Farm, at a new venue in Long Beach, California.

Freestyle Park changes: CSI and monsters
The changes keep on rolling in at the newly monikered Freestyle Park in Myrtle Beach, South Carolina and AtomicBear shares links with us this week about a new show and updates to a dark ride.

Monster Plantation dark ride to reopen May 16, 2009
Also from AtomicBear this week is information on the Monster Plantation dark ride reopening at Six Flags Over Georgia. If you've been on this ride since it opened over the weekend, share your photos/videos with us here!


MiceChat Crew Member Spotlight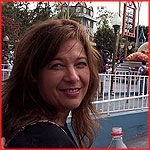 MiceChat Crewmember: Disneyballerina
Section covered: Lounges, Meets & Events
Location: Northern California
Home park: Disneyland, Anaheim, California
Favortie attractions: Pirates of the Caribbean, Disneyland

Disneyballerina (Deebs for short) lives with her family of people and pets in a cozy house, which is situated at the wrong end of California for frequenting Disneyland as often as she would like. In her younger days she danced a lot -- ballet, tap, tumbling, and jazz. Ballet is still her favorite thing to do. She also enjoys reading, embroidery, taking pictures, listening to music, and watching movies. The music and films of Charlie Chaplin are adored by Deebs and her two children and are kept in heavy rotation both at home and on the iPod. A favorite Disneyland memory for Deebs is finishing with her partners among the top ten teams in MiceChat's Gumball Rally 2. Without practice and essentially without a game plan, achieving anything above last place seems a satisfactory result on which to retire. Typically, if she is not reading threads on MiceChat, Deebs can be found at the barre (ballet) or purposely meandering in the aisles of the downtown library. She loves hanging out with friends, burning incense, drinking tea through a straw, the smell of old books, and the musty scent inside the Pirates of the Caribbean attraction at Disneyland.
Earthquake!
>>PW along with just about every other MiceChatter in Southern California reports on the Earthquakes centered in Lennox and Hawthorne, California.

Nick Adenhart Memorial Fund Established
Radiobarry reports that the Los Angeles Angels set up a fund for Nick Adenhart, the Angels pitcher who tragically lost his life earlier this year. It's for a good cause aimed at youth baseball leagues and possible anti-drunk driving programs.

AMAZING Picture of Space Shuttle
tiggerfan found a great shot of the space shuttle against the sun, check it out!


5/12: Kevin Yee - Take Flight
Kevin takes a look at the ups of SeaWorld Orlando's new Manta coaster, and the downs of DisneyWorld's new observational balloon. Discuss it all here!

5/15: Werner Weiss - Yellow World
When it's sunny at Yester-World, guests are dressed in every imaginable color. But when it rains, the predominant color is yellow. Join Werner on a trip back to a land filled with yellow ponchos.

5/15: David Michael - In The Parks
Why the 'Flushing' sound is a Good Thing, looking for a job, and much more!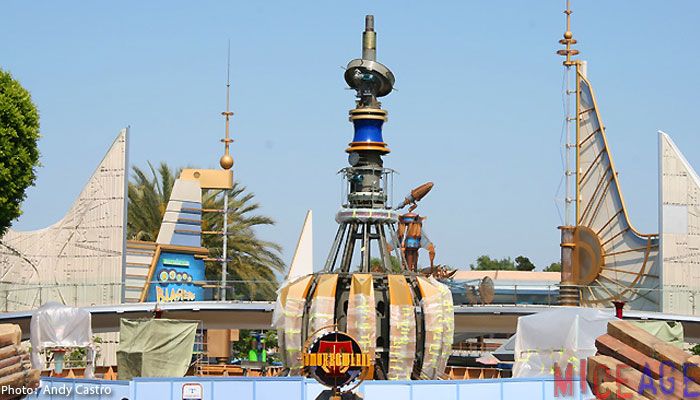 5/18: Andy Castro - Dateline Disneyland
DCA's new restrooms, Harbour Galley's new menu, Grand Californian expansion, +MORE!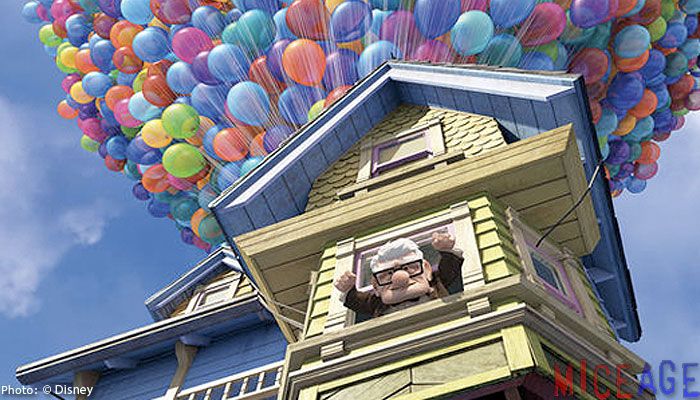 Who will see 'Up' on day one?
We're less than two weeks away from Pixar's newest movie, 'UP'. SILVERMOUSE21 wants to know if you will be there opening day to join Carl, Russell and Dug in their fantastic adventures.

Trip Report the DEAD
No, it's not a journey into the afterlife. But MC'er MouselyGrateful attended the recent Grateful Dead concert at The Forum. Get all the details here.

FOX announces new lineup
Browncoat brings us news of FOX's new Fall and mid-season lineups. Find out which shows made the cut and those that won't come back. Dollhouse? Fringe? Terminator TSCC?

This week Disneynature announced it's next two titles, Disney/Pixar's newest movie opens up at Cannes and how you can hop aboard the Christmas Carol Express. - sir clinksalot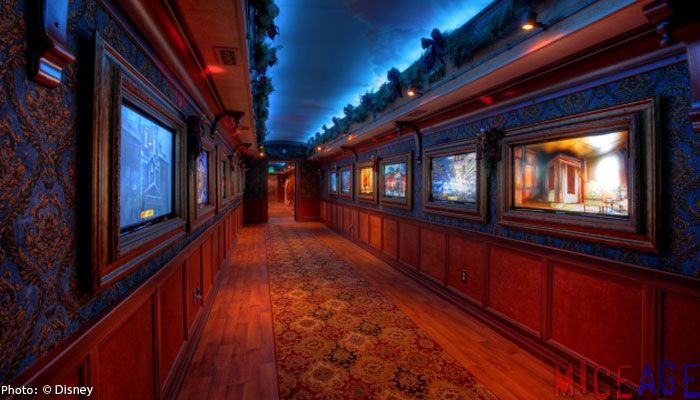 All aboard for "Disney's A Christmas Carol" train tour
Are you a fan of trains? Looking forward to Disney's remake of 'A Christmas Carol' due out this holiday season? A little bit of both? Well, has Disney got a treat for you. The 'A Christmas Carol' train is coming to a station near you. Starting in Los Angeles on May 22nd, it will travel more than 16,000 miles before all is said and done. Check out the schedule and make your plan to see it.

'Up' opens Cannes Film Festival
In a first for the world-famous Cannes film festival, the opening movie was an animated film. Disney/Pixar's UP opened the festival to great reviews and even a standing ovation.

Disneynature's next creature features
Disneynature released the titles of it's movies for 2011 and 2012. 2011 will see the release of the currently in production, 'African Cats: Kingdom of Courage' followed by 'Chimpanzee' in 2012. This is in addition to 'Oceans' due in 2010.