Welcome to the MiceChat Round-Up. Disneyland gets photogenic again in a few photo reports while Orlando sparkles with the reopened Triceratops Encounter at Islands of Adventure and Walt Disney World shares some new concept art of a soon to open resort. We also have a great event coming up on the 26th of December at Disney Hollywood Studios. Finally we take a trip to see TRON at the El Capitan Theatre and get a look at a MiceChatter who appeared on the Jimmy Fallon show. Let's get to it.- Fishbulb
Are you following us?
EDITOR'S PICK(S)
Magic Pursuit: Free Scavenger Hunt on December 26
Kevin Yee hosts a FREE scavenger hunt adventure at Disney World December 26th and all are invited to attend. If you can get into Disney Hollywood Studios on the 26th you should not miss this event. Kevin is a master at putting these fun events together and it will be a free event full of fun (admission into the park is not included of course)
BUT WAIT THERE'S MORE...
Win a Signed Copy of Disney Epic Mickey by Warren Spector,
Enter by December 31, 2010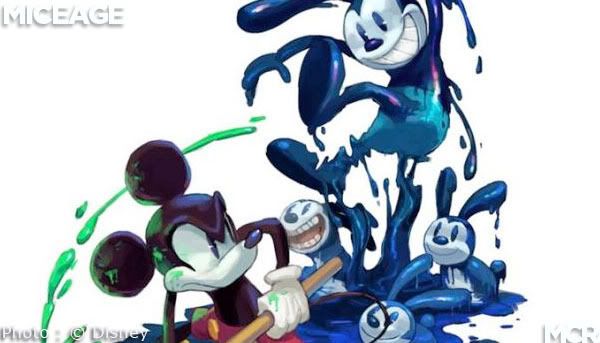 We have a very special holiday contest for you. From now until December 31st, you have a chance to win a copy of the Disney Epic Mickey Wii game which has been signed by designer Warren Spector! CLICK HERE
Sign up for the Monthly MiceChat Newsletter
MiceChat is NOT affiliated with the Walt Disney Company in ANY way.
The Disney web site is located at www.disney.com
Al is taking a holiday break, and will return after the new year.
Got a question for Al or any of the MiceAge columnists?
Email them at [email protected].
Your question may be featured in a future MiceChat Round-Up.

Merry Christmas, MiceChatters! Wishing all of you a very happy holiday! It's a busy time of year for many, and this week you can enjoy two of the Disneyland Resort's most famous shows, as we have a both shows on video, in just a fraction of their normal time, and that will give you enough time for a quick look around Disneyland, too! We also get ready to say goodbye to DCA's C-A-L-I-F-O-R-N-I-A letters, just prior to that park's 10th anniversary. ~ Aladdin
Mac Daddy's Annual Holiday Hodgepodge of Photographic Merriment
Mac Daddy works his magic and brings us phenomenal photos of Disneyland, during his favorite time of the year!

Trip Report = Christmas 12/12 to 12/17
Sorcerers Apprentice brings us some beautiful photos of their first trip to Disneyland during the Christmas holiday!

Vintage Disneyland Photo of the Day
Regions Beyond is bringing us some wonderful old photos all tied-in to Disneyland! He starts us off with a shot of Alice Davis working to prepare for one of Disneyland's most famous attractions.

Fantasmic in 12 seconds! (Time-lapse video of show)
In addition to a quick version of Fantasmic, Mr CEO also shows off a quick tour around Disneyland. Take a look and then be sure to catch your breath!

FULL World of Color Show in just 1 MIN. 35 SECONDS! and also a full 29 min video
asianbma brings us a video of World of Color, and don't worry that you don't have time to watch during this busy week, as the video only takes a little longer than one minute. You haven't seen World of Color like this before.

Buh-Bye To DCA's CALIFORNIA Sign On Jan 4th. Will We See New Park Name In 2012?
Ride Warrior wonders if the removal of the C-A-L-I-F-O-R-N-I-A letters in January, will result in a change of name for DCA. Tell us what you think.

MiceChatters vote! Expanded Frontierland or New Tomorrowland
Tomorrowland 1967 asks what you would prefer, an expanded Frontierland or a new Tomorrowland. Tell us which you would like to see first.


I hope everyone has a wonderful holiday, as this is the last round up before Santa visits. As the holiday season gears up for its biggest crowds of the year, Walt Disney World already seems prepared to shift into construction mode as the holidays end. We've already heard the announcement for the end of ToonTown Fair, let's see what other pieces of info we can round up this week. ~yoyoflamingo
Art of Animation Resort Rooms - Sneak Peak
A lot of information is starting to be shared about this resort, and in addition to some new concept art released on the DisneyParks blog last week, some pictures of mock rooms have been posted as well. What do you think: is the new resort a tacky nightmare or a themed delight for the kids?

ToonTown Tents Staying?
Even though the predecessor to this land debuted as temporary in 1988, it seems TDO has their heart set on keeping this as a legacy. Are the huge tents going to stick around for the Fantasyland makeover? Kidgenie says they are.

Magic Kingdom Tunnel Map
MiceChatter Yackerz stumbles across something interesting in his Internet adventures: a map of the Utilidors in the Magic Kingdom. Though apparently slightly outdated, take a peek at how the park uses this underground network.

If you could relive one WDW memory which would you relive?
A seemingly simple question, yet the answer is filled with so much weight. In the spirit of Disney's new memories campaign for the new year, what events would you relive in your Walt Disney World history? Or, if you don't want to share, why not take a peek at what other Chatters are sharing. Some very inspiring stories in here.


First Trip to Disneyland Paris
Nicoleloveswalt went on her first solo trip to a Disney park. She gives us her Disneyland Paris trip report and the retro kitsch hotel she stayed at.

HKDL 5th Anniversary - Celebration in the air
Hong Kong Disneyland celebrates its five year anniversary and details of the celebration are leaking out, like a Flights of Fancy parade. Check out the promo materials and the really cool Lilo & Stitch float.
Only a couple more days left until the big Christmas holiday is upon us. From our house to your, best wishes for a wonderful holiday season. ~elly
Blue Lights and Lasers! - TRON Legacy at the El Capitan (w/photos and video)
The El Capitan in Hollywood, CA went all out for the release of TRON Legacy and DisneyContinent shares this report of their trip with us this week.

TRON opening night laser show at the El Capitan Theatre
Grinchmas at Universal Hollywood - The mummy tunnel transforms into Avalanche HD VID
asianbma brings us a High Def video this week of the new Grinchmas overlay to the Mummy tunnel portion of the Studio Tour at Universal Studios Hollywood.

Triceratops encounter review & Wizarding World of Harry Potter Holiday Crowds at IOA
Universal Studios Orlando has brought back the Triceratops Encounter and KingEric lets us know what he thinks and how the crowds are for Harry Potter's first Florida Christmas.

D23 EXPO - Discounted Tickets If Purchased Before December 31, 2010
Are you thinking about attending the D23 Expo 2011? Dustysage lets us know that you can save on your tickets if you purchase before the end of the year. Come and learn about some of the highlights of the 2011 Expo and get more information on discount tickets...

Newly released Walt era DVDs at Disney Movie Club.
merlinjones informs us that some Walt era movies are being released for the first time on DVD. Join the discussion and share your thoughts on what is being released and what you would like to see in the future.

Paul Yanover out at Disney Interactive
Things are being shook up over at Disney Interactive. Paul Yanover, executive vice president and managing director of Disney Online, will be leaving in January. What does this mean to the future of Disney Interactive? And who will keep sending freebie plush Mickeys out to all the MommieBloggers? Join in to share your ideas on what is to come for this division of Disney.

Have you wrapped all your gifts, baked all your cookies, and cleaned your house yet? If you're like me, all that will have to wait until after I take a break to see what's new in the Lounges. ~yoyoflamingo
MiceChat 6th Anniversary Mega Meet - January 28th through 30th 2011 - Come join the fun.
It's been a while since I've brought this up, but it's never to early to plan for the MiceChat 6th anniversary. Save that Christmas money for the hotel, make your reservations, and plan on having a great weekend with some great people.

10 Minutes of Fame
Why this was overlooked last week, we'll never know, but take a look at an infamously wet encounter one of our own MiceChatters, martymcfly88 had on Jimmy Fallon. Caution: Do not drink while watching.

A Cure for HIV/AIDS May Have Been Discovered.
In a bit of surprising good news, there seems to be a breakthrough in the use of stem cells to help an HIV/AIDS patient. While clearly there is a long way to go, see what the big deal is in this thread.

Happy Birthday Monorail Man
While this news is a little late in posting, I would be negligent if I did not post this thread in here. As one of the people running this place, Monorail Man deserves all the praise we offer him and then some, so please wish our dear MM a happy (belated) birthday.


Paranormal Activities Caught on Videotape
LangenFox shares some intriguing videos of purported 'poltergeist' activity from the United Kingdom. Skeptic (as I am) or believer, these are fun to watch.

Favorite Songs of 2010...
Join JerrodDRagon in discussing the top music of the year and share your favorites after you listen to other picks.

Kevin Yee: Jurassic Wizarding
It's just too overwhelming here in Orlando. There's always so much to do, and never is that more true than during the holiday season. Disney rolls out its usual complement of events (Candlelight, Osborne, paid MK parties) every year, and this year SeaWorld made a serious bid to join the Mouse in respectability courtesy of the Sea of Trees, a new dancing lights display amid the harbor.

Andy Castro: Dateline Disneyland
Heavy winter rains soaked the Disneyland Resort over the weekend, washing out both crowds and construction crews in both parks. Still, Roger Rabbit's Car Toon Spin and Tomorrowland's Astro Orbiter reopened after refurbishments. Over at California Adventure, guests could still see construction-in-progress throughout the park even as rain temporarily stopped the Imagineers. Meanwhile, as the fledgling California theme park finds itself in the middle of a multi-year remodel and expansion, the Los Angeles Times gives a speculative sneak peek at what could come to DCA after Cars Land opens in 2012.

Weekend Update: Disney Christmases; TRON Pop-up Shop; Vintage Cards; Hometown Christmas Parade
Roger55 is back with part two of his report on Christmas at Tokyo DisneySea. The attention to detail at this park is unsurpassed and they certainly don't hold back anything during the holidays. Speaking of attention to detail, SummerInFL caught a lot of details at Disneyland during her recent trip out west. It's fun to see the park through her lens. It's going to be a TRON weekend, and David Yeh takes us on a tour of the TRON Pop-up Shop. If you're a TRON fan, you'll be drooling by the time you finish looking at these photos. By popular demand, we have more vintage post cards from the collection of RegionsBeyond. I hope my research notes add a little historical perspective to these classic images. We end the Update this week with photos from a hometown Christmas Parade courtesy of sir clinksalot. I guess it really isn't Christmas until Santa rides down Main Street.

Werner Weiss: Ho Ho No
Werner Weiss takes us back to Disney's California Adventure's first Christmas season. It's pretty amusing to see what they were hoping would pass as a theme park back then.

Sue Kruse: Pressing Matters
This week Sue covers Freshly made Candy Canes — Yum • They Scare Because They Care • What's Up — D23 Happenings • New Year's Eve in the OC — A Preview • The Perfect Xmas gift Idea for Walt Disney fans

In the Parks
Welcome to our winter wonderland of Holiday fun. This week we take a look at some of the things happening at Disneyland, including the continued closure of Astro-Orbiter and the re-opening of the area in front of Roger Rabbit's Car Toon Spin. We next venture over to Disney California Adventure to scope out the construction progress there. After that, we scoot on over to Knott's Berry Farm and share the wonderful "It's Christmas Snoopy!" ice show with you before heading up to Universal Studios Hollywood for Grinchmas. We also share info on a very special free event, the Newport Beach Christmas Boat Parade.